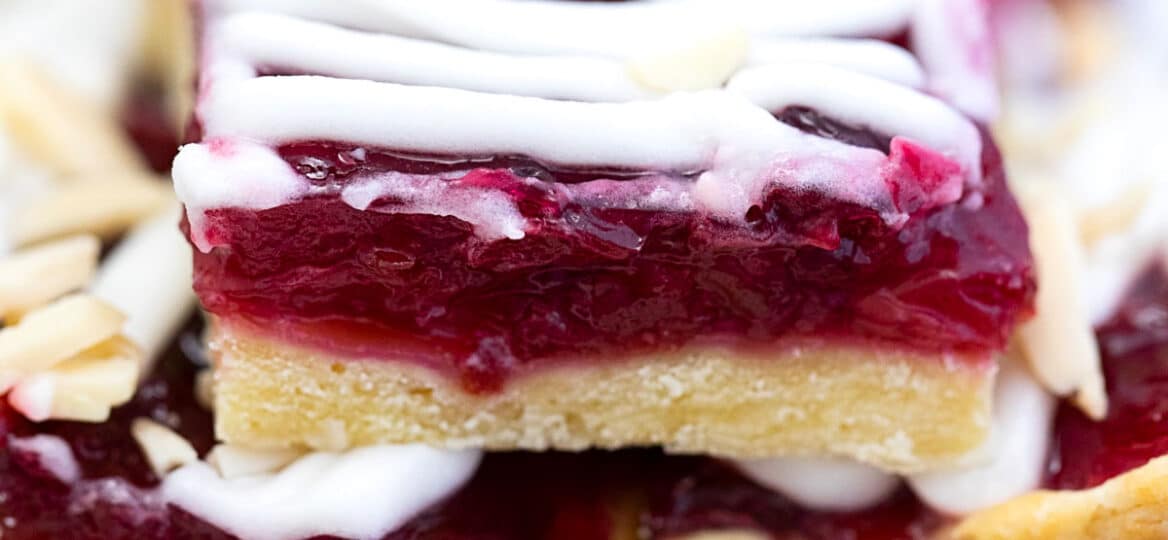 Cherry Bars Recipe [Video]
Cherry Bars are made with fresh, sweet cherries and a delicious buttery crust! Topped with a drizzle of vanilla glaze and crunchy slivered almonds.
Can't get enough of cherry goodness? Give room for some extra indulgence with my recipes for Lemon Cherry Cheese Danish, Cherry Kiwi Iced Tea, and Cherry Cream Cheese Coffee Cake.
Homemade Cherry Bars Recipe
Cherry Bars taste super good and chewy. No matter the occasion, it is always a hit with my guests.
I totally recommend preparing it during the holidays as the bright red bars with white glaze looks awesome for the Christmas season. Well, to be honest, it actually fits in any festivities which is what makes it so versatile.
You can also make this recipe with your kids and friends for a fun activity. Nothing beats bonding over baking something as delicious as Cherry bars.
It's safe to say that this is comfort food like no other. It has a colorful aesthetic paired with the right amount of sweetness, making it a one of a kind cherry dessert.
How to make Cherry Bars
Mix ingredients. In a bowl, add in the butter, sugar, and salt. I highly recommend using a stand mixer to make things easier. Set at medium speed then add eggs, extracts, and flour one at a time until a dough is formed.
Prep pan and oven. Set your oven to 350F and prepare a pan with its insides coated with baking spray. Place the dough into the pan using 3 separate cups then set aside.
Make the filling. In a saucepan heated on a medium level, throw in the pitted cherries, sugar, lemon juice, and lemon zest. Mix until sugar dissipates then let it simmer for 15 minutes over low heat. Afterward, add vanilla extracts, almond extracts, and cornstarch mixed with water. Cook until it thickens.

Bake. Using a spoon, spread the filling on top of the dough. Place in oven and leave for at least 35 minutes. Then, let it cool.
Make the glaze. In a bowl, mix sugar, extracts, and milk until the desired consistency is achieved. Drizzle it on the cooling dessert.
Serve.

Let it cool for at least 30 minutes. Cut into squares, then serve.
What pan should I use?
I recommend using a non-stick saucepan since the filling might get too sticky when using another kind.
Recipe Variations:
Baking fruit bars are just so convenient because they are easy to make, and everyone can't seem to help themselves with it. For other fruit variations of this recipe, check out the following:
If you are looking for holiday treats, you are in luck as I have these delicious delicacies for festivities:
Can I make these bars with frozen cherries?
Yes. In fact, you can opt to use frozen ones, just make sure you thaw them first.
How to store them?
Simply place the treat inside a sealed container such as a bowl with a plastic wrap cover or a zipper storage bag. Keep them in the freezer and you can still enjoy it for up to a month.
Just don't forget to thaw them before eating. Thawing maintains a soft and chewy goodness texture.
Expert tips:
Using a small spatula can help mix the ingredients of the dough better.
If you don't have fresh cherries, frozen ones work perfectly. Just be sure to thaw it out before placing it in the saucepan.
Using a masher is also advisable if you want to make the fruit smaller. This is great for those who prefer to avoid eating whole cherries in a dessert.
For a finer finish, sprinkle some sliced almonds on top after drizzling the glaze mixture.