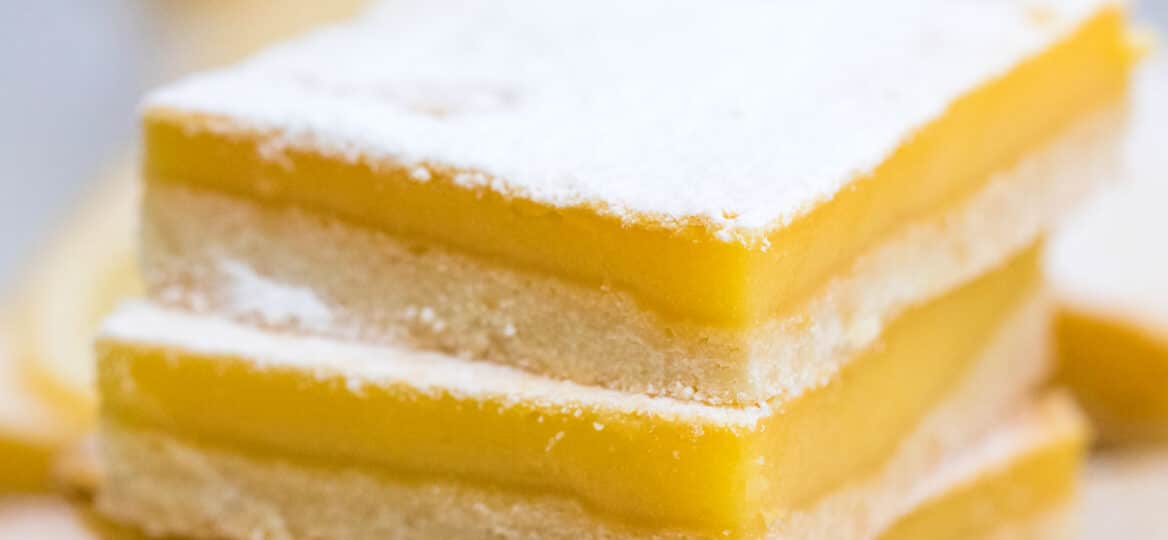 BEST Lemon Bars Recipe [Video]
Lemon Bars boast a luscious, creamy, lemony filling that sits over a buttery crust. A great choice for any occasion and it only requires seven ingredients!
Lemons are so versatile, and you can use them for everything. It's the star of delicious main dishes like my Lemon Pepper Shrimp as well as these Lemon Cupcakes with Lemon Buttercream. Of course, you can never go home with a cool and refreshing glass of Homemade Lemonade!
Creamy Lemon Bars
Lemon Bars remind me of sunshine, backyard BBQs, and bonding with friends and family. I remember these bright yellow squares as the quintessential summer treat.
It's also a popular choice in everything from baby showers, birthdays, bridal showers, family reunions, office potlucks – basically, everyone loves lemon bars, and anytime is the right time to make it!
The thing about lemon bars is that it's so hard to find ones that have excellent consistency. I've eaten my share of bars with flimsy lemon layers or tasteless crust. There's none of that in this recipe because it makes a nice and thick filling. Better yet, it sits on a crust that's irresistibly buttery and crisp.
Once you discover how good and easy it is to make these from scratch, you won't have them any other way again!
What are lemon bars?
Basically a baked custard dessert, it has two main components: the lemon custard and the crust. You can serve them as is, or top with confectioner's sugar.
I love the classic version, so I kept the recipe as simple as possible. You only need seven ingredients for this: lemons, butter, caster sugar, vanilla, salt, flour, and eggs (confectioner's sugar is optional).
How to make Lemon Bars
Make your crust by combining vanilla, sugar, butter, salt, and flour. Bake just until it's light brown.
Make your filling by combining the flour and sugar, and sifting them together. Add lemon juice, then your vanilla and eggs. Mix thoroughly. Pour the mixture in the pan, over the crust.
Bake until set, then cool. Sift powdered sugar on top if desired, cut, and serve.
Possible Variations:
You can use oranges, Meyer lemons, blood oranges, or limes in place of the lemons. For a delicious twist, you can add some coconut and cream cheese. Want a more intense lemon flavor?
Double the amount of lemon juice, and add some to the crust too. For a gluten-free version, make your crust with almond meal instead of flour and sweeten the filling with honey.
How to know when Lemon Bars are done baking?
Watch your lemon bars— and bake them only until they're not jiggly anymore. You don't want to overbake them. That delicate yet luscious texture is what makes these treats so good!
How to get lemon bars out of the pan and cut them easily?
I have a couple of nifty tricks for this. One, line your pan with parchment. Make sure it hangs over the sides. It becomes easy to lift the bars. Just take the edge of the parchment to get the bars out, and none of it sticks to the pan!
As for cutting, wipe your knife clean with each slice, and you'll end up with beautiful neat squares.
How to store and freeze:
This recipe keeps really well. Leave out the confectioner's sugar before storing the bars. Put the baking sheet, and freeze for an hour or so. Afterward, wrap in plastic cling wrap, then foil and stash in your fridge for up to four months.
To serve, thaw inside the fridge (not on the counter) and dust.
More delicious lemon desserts:
Recipe Tips:
Help the filling stick by poking the warm crust with a fork.
Garnish with candied lemon slices.
Serve chilled for best texture.
Deliciousness to your inbox
Enjoy weekly hand picked recipes and recommendations