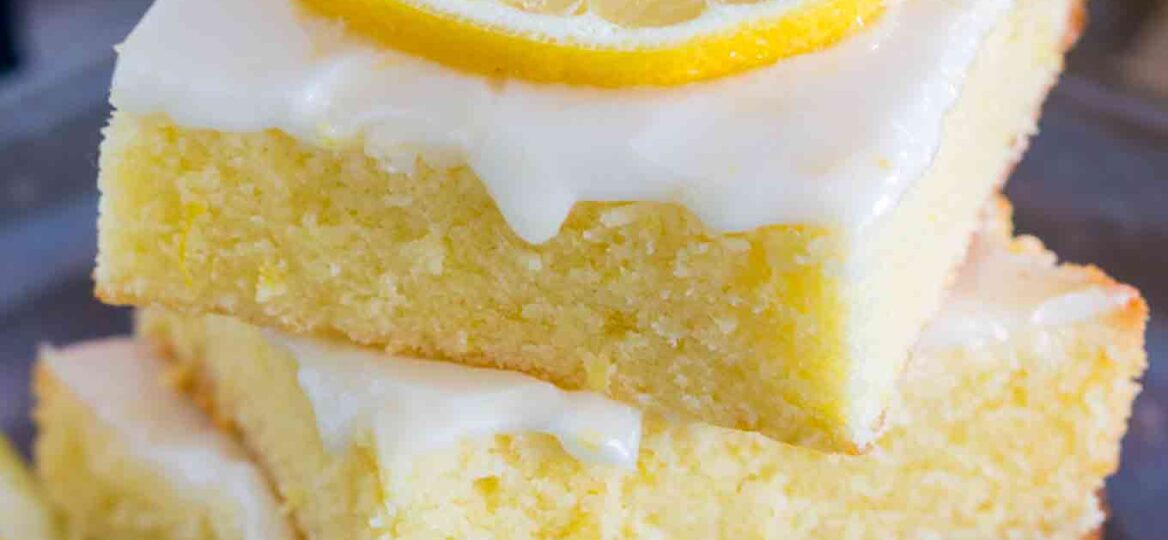 One Bowl Lemon Brownies [Video]
One Bowl Lemon Brownies are so buttery and full of fresh lemon flavor. They are easy to make with fresh lemon juice, lemon zest, and topped with lemon glaze.
I love making delicious and rich lemon desserts like my popular Blueberry Lemon Muffin, Lemon Cherry Danish, and Meyer Lemon Cheesecake.
One Bowl Lemon Brownies
I am a huge lemon fan, I love the freshness and tartness, especially in desserts when its balanced with something sweet. These Lemon Brownies are so rich, fudgy and tender, and the best part is that they are bursting with lemon flavor.
If you never had Lemon Brownies you should make some as soon as possible. First, they are so incredibly easy to make and require only a handful of ingredients that you most likely already have on hand. Second, I love one-bowl desserts, and this is one of those, fewer dishes to clean, that's always a plus! Last, but not least, they taste amazing!
Buttery, tender and rich, with the most amazing lemon flavor. Top them with a sweet and zesty lemon glaze or just dust them with confectioners sugar.
Looking for more Lemon Desserts? Check these out:
What do you need to make Lemon Brownies?
The recipe is very basic, with easy to find and budget friend ingredients. Here is what you need:
All-Purpose Flour
White Granulated Sugar
Fresh Lemon Juice or you can use store-bought Lemon Juice
Lemon Zest
Unsalted Butter
What do you need to make Lemon Glaze?
Lemon Glaze is done easily by combining lemon juice, lemon zest and confectioners sugar. You have to stir the mixture until fully combined and smooth.
How to make Lemon Zest?
Follow the easy steps below:
Rinse the lemon.
Set your tool over a cutting board. A microplane produces a very fine zest, perfect for baking and cooking. If you don't have a microplane, use the smallest holes on an ordinary grater.
Grate the yellow skin of the lemon only. Grate just enough to get through the yellow skin, this way you can avoid the bitter white pith underneath.
Rotate the lemon and repeat. Once the white pith is exposed, rotate the lemon and zest the next strip of peel. Repeat until most of the peel is removed, or until you have enough zest for your recipe.
Can you freeze the Lemon Brownie Bars?
Cool the Lemon Brownies completely and do not glaze them. Fully wrap the bars in plastic wrap, tightly. After that wrap in aluminum foil or place in freezer bags. Freeze for up to 3 months. Defrost before serving.