Peanut Butter Brownies [Video]
Peanut Butter Brownies are chewy, moist, and made rich with a layer of peanut butter filling! Make these from scratch now with this easy recipe!
After a savory meal, all I crave is an indulgent dessert. And this recipe makes just that! I have a sweet tooth, which you all know about, and this recipe is just one of the many mouthwatering desserts on the blog. Check these out: Strawberry Poke Cake, Apple Pie Coffee Cake, and Oreo Nutella Cake!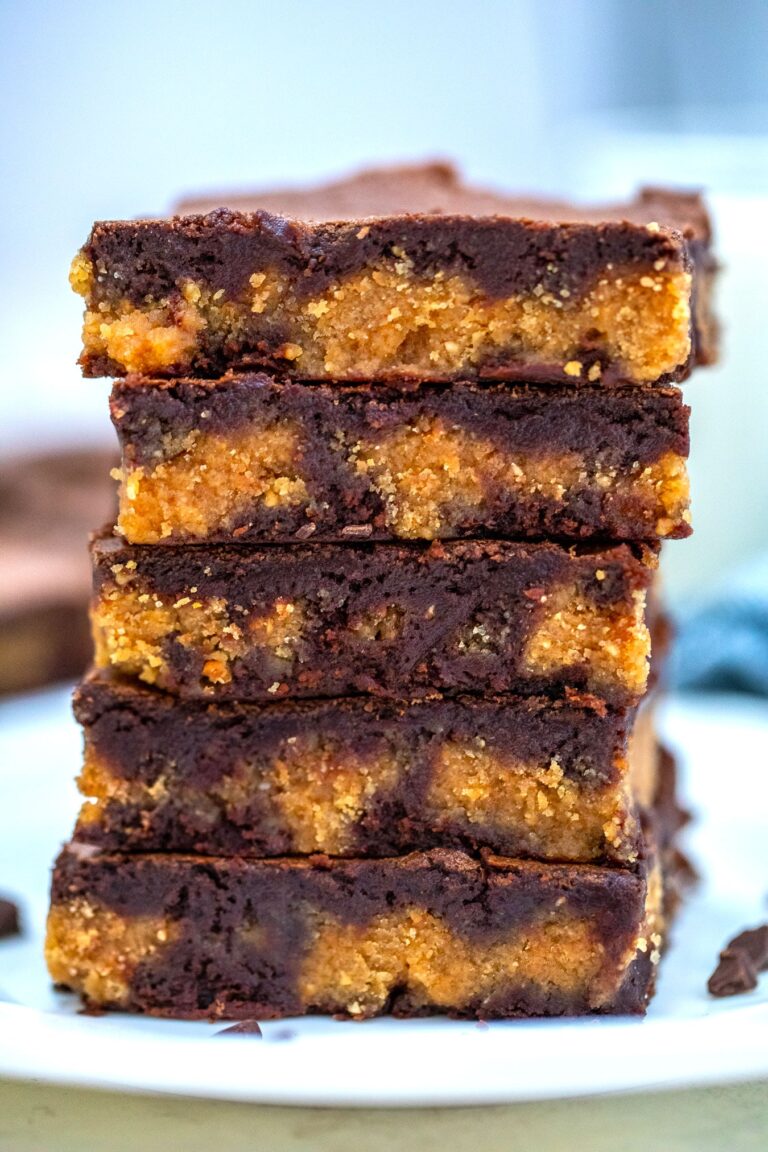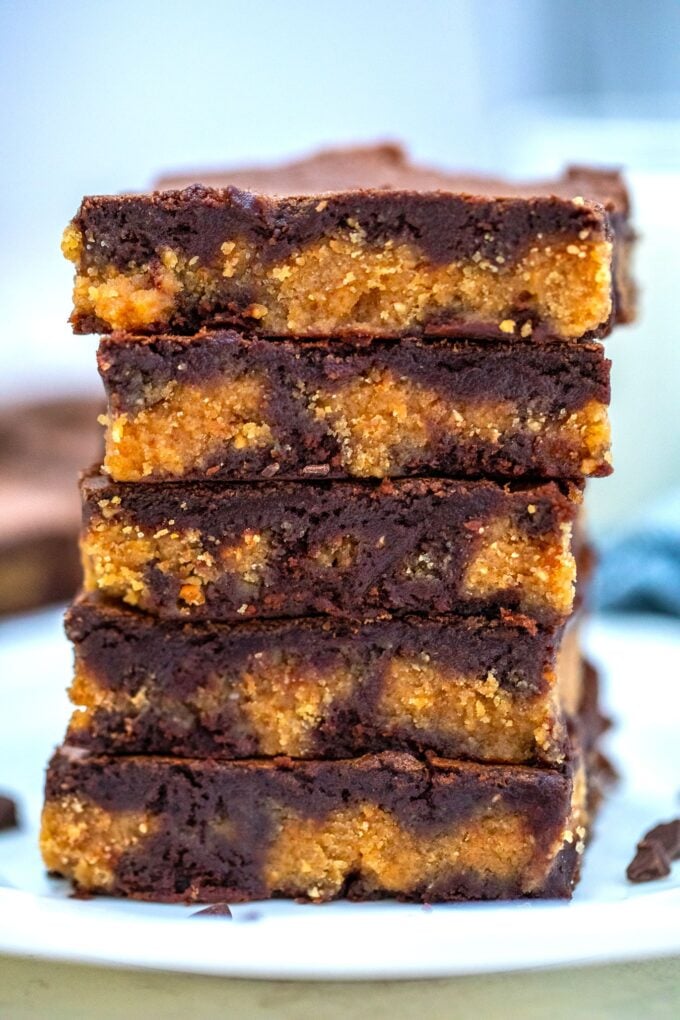 Peanut Butter Brownies Recipe
This Peanut Butter Brownies recipe is so easy and so good that you can quit using the store-bought boxed mixes. You get chewy ones after baking and the flavor combination is one of my favorites.
Once you take a bite, you will taste an explosion of the nutty flavor! In this dessert, you will get a strong taste of that because it is not infused totally in the brownie. In the middle, there is a layer of pure peanut butter filling!
And, it is easy to assemble, even for newbies. The entire process is simple and when you taste the outcome, it will be like it is done professionally! I have friends raving about these treats as I often give it out as gifts.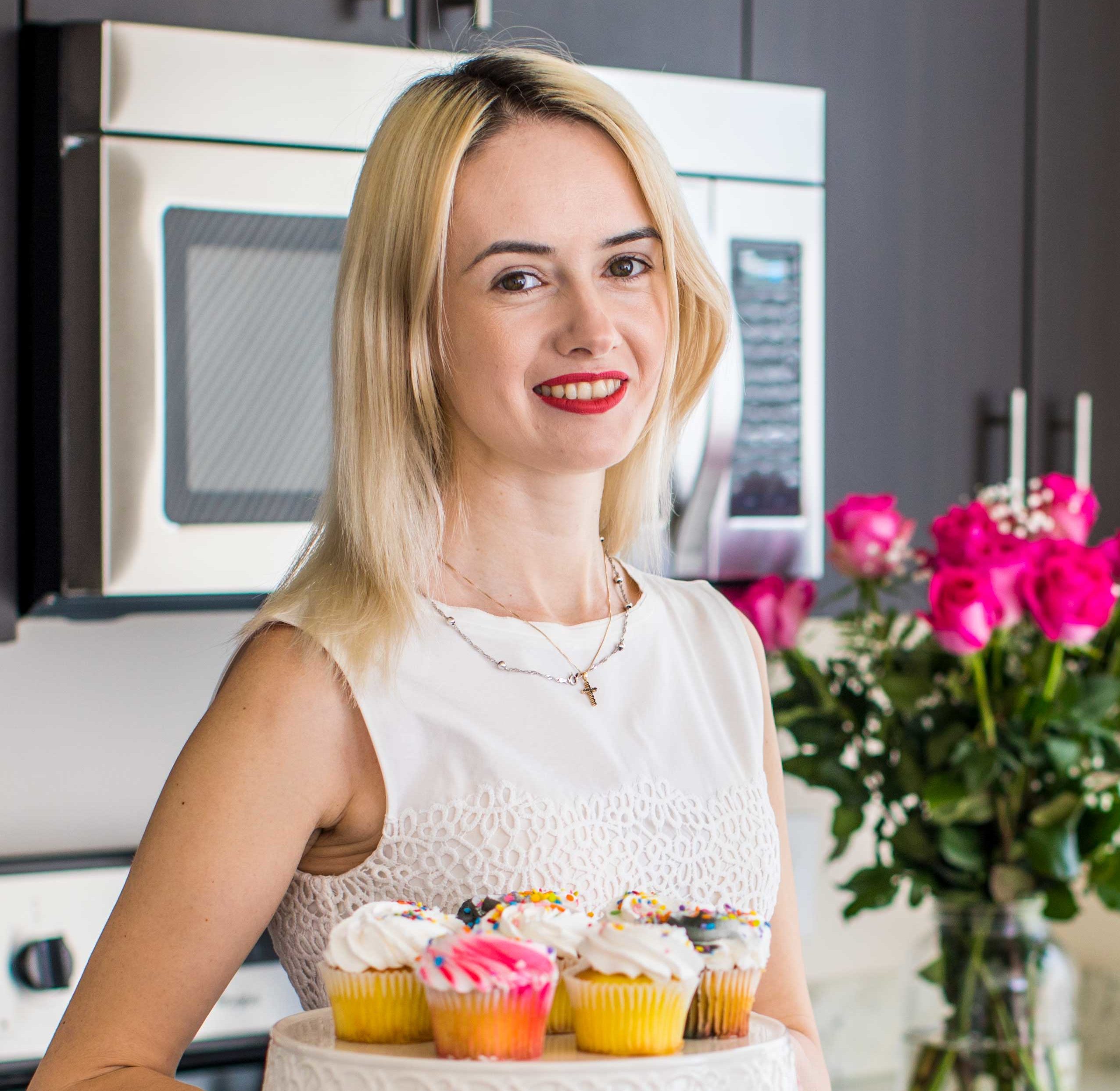 Follow us on Pinterest for more delicious recipes!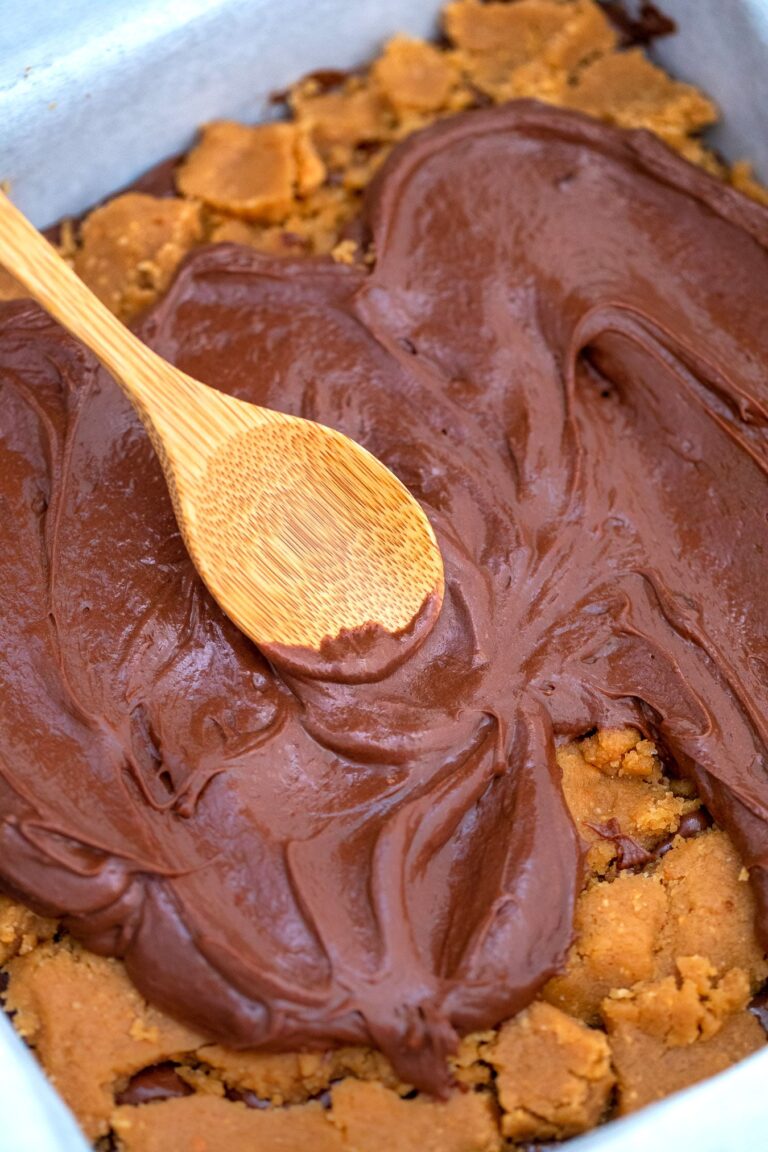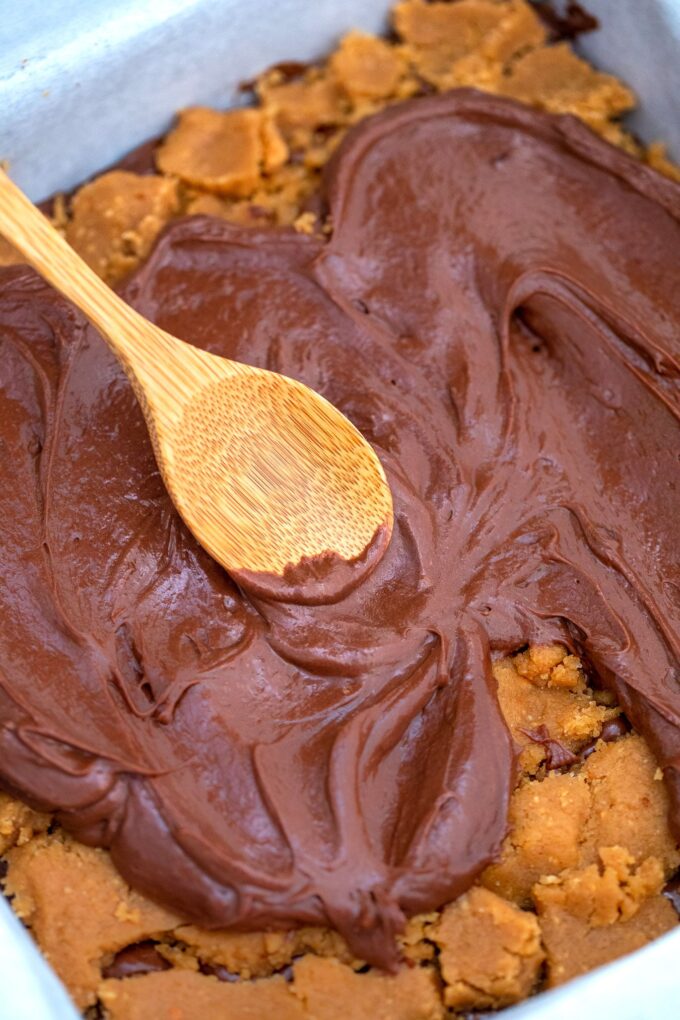 How to make Peanut Butter Brownies:
For a quick step by step tutorial, watch the recipe video attached above. But the general steps are as follows:
Prepare the filling: Simply beat together the filling ingredients using an electric mixer with the paddle attachment on medium-high speed. The mixture will have a dough-like consistency. When done, spread it on parchment paper in an even layer and freeze for 15-20 minutes, while working on the brownies.
Preheat the oven: Set it to 350 degrees Fahrenheit. Then, get your square pan and put parchment paper for easy removal later.
Make the batter: Put the chocolate and fat in the microwave and melt. Add in the sugar and whisk everything together until smooth. Stir in the wet ingredients followed by the dry ingredients.
Assemble: Pour half of the batter in the pan followed by a layer of the filling, then, top everything with the remaining brownie batter.
Bake: Bake for about 30 minutes, then, check it by inserting a toothpick. When done, the toothpick must still have some moist crumbs in the toothpick but no batter.
Cool: Once done, take it out of the oven and let it cool in the pan for another half an hour. Remove it from the pan and start slicing and serving half an hour later.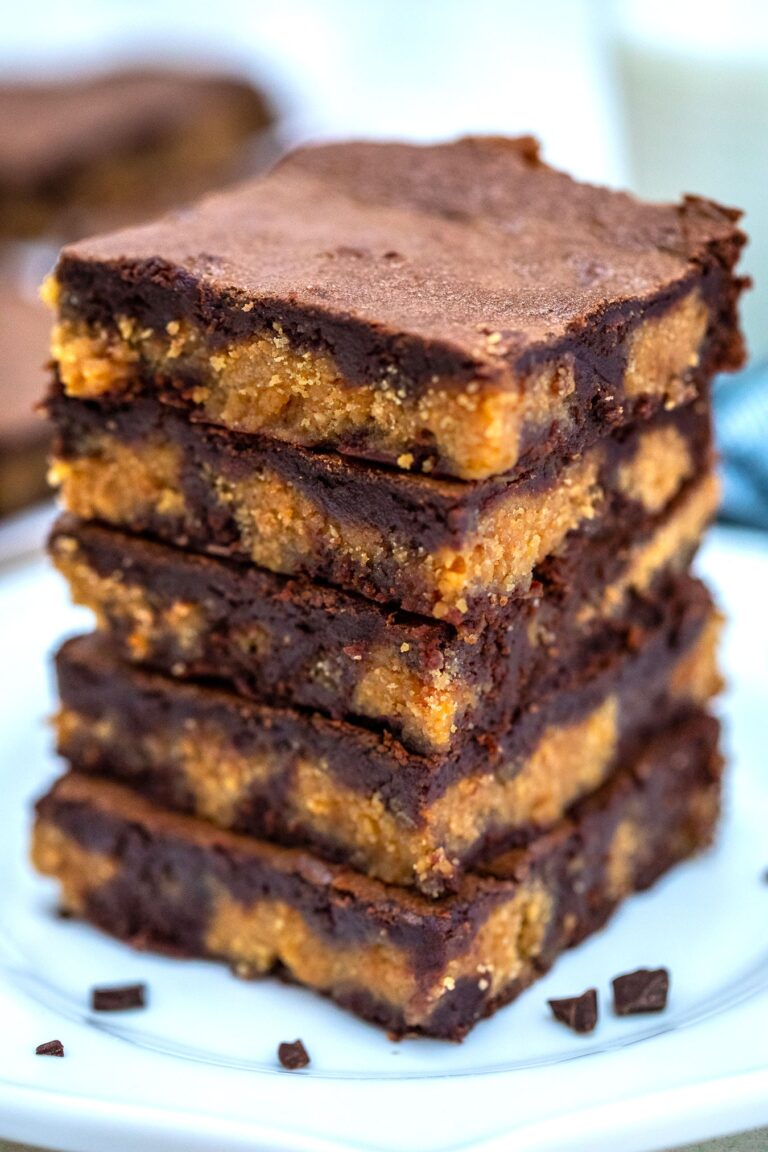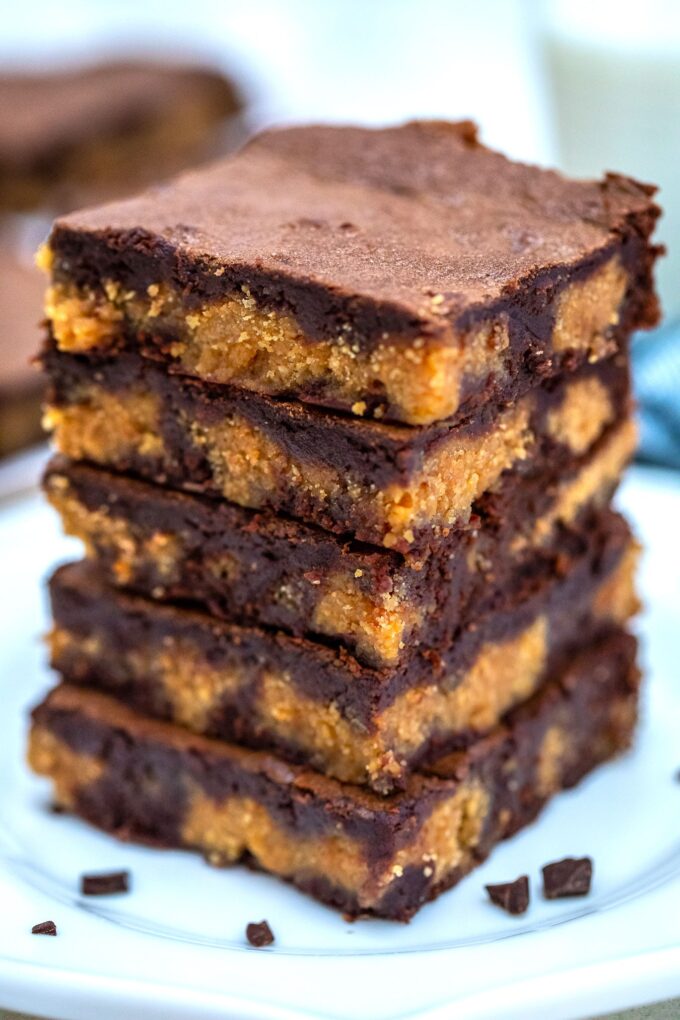 How to make fudgy brownies:
The key is to refrain from overbaking. Overbaking dries out the brownies and that is what you should avoid.
You can also add chocolate chips in the batter. When melted during baking, these will create pockets of moisture that will make the outcome chewy.
Are brownies supposed to be gooey in the middle?
As you cool them after baking, the center will continue to cook further. So, you can take it out in the oven while the middle is still not completely cooked and dry. If you do this, then, you are guaranteed with brownies that are gooey and chewy!
How to Store:
At room temperature: You can store them in an airtight container for 3 days in the pantry.
Refrigerate: You can also refrigerate them for up to 5 days.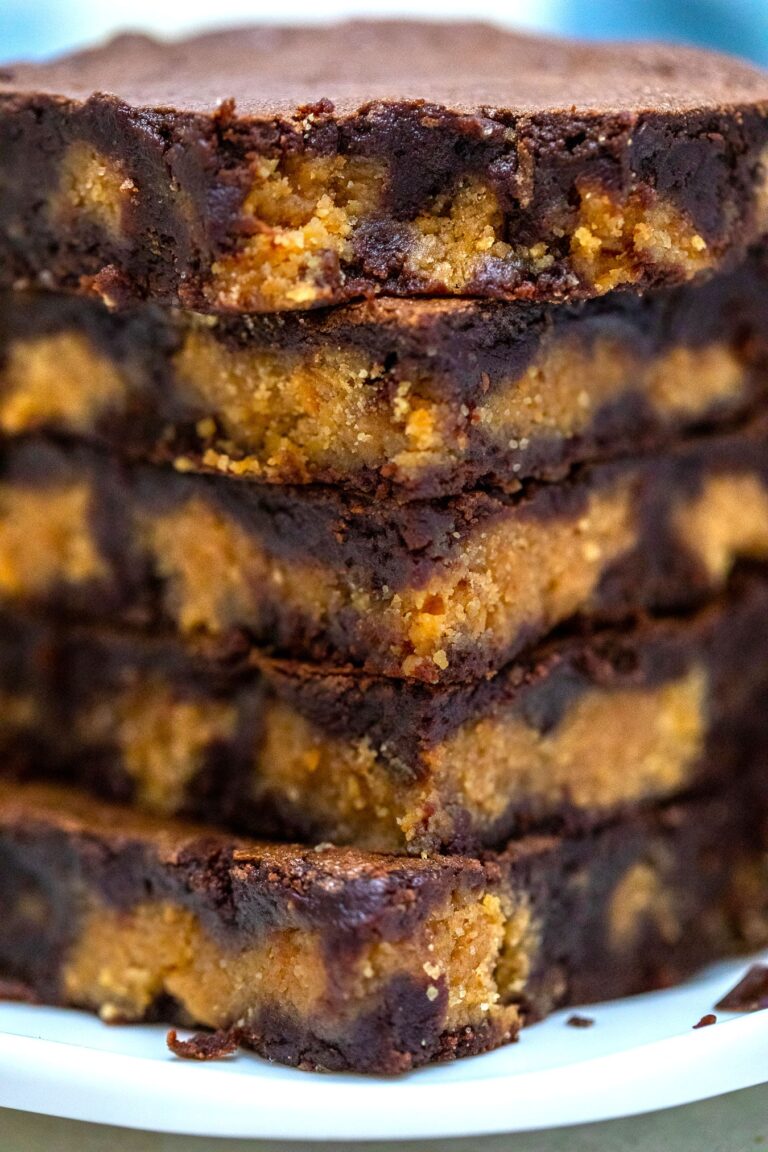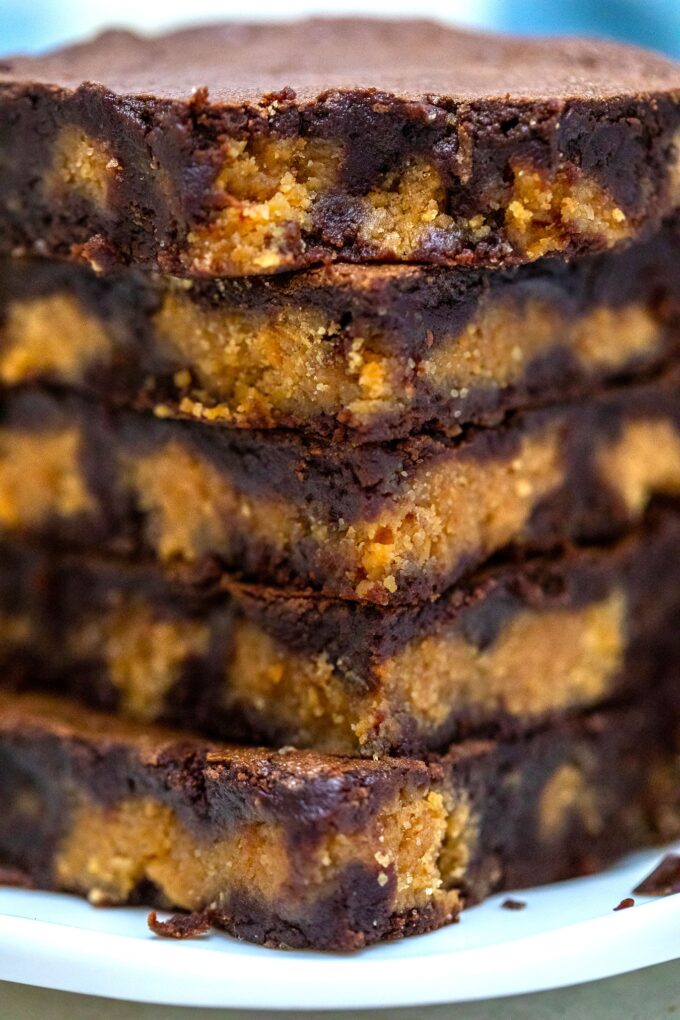 Recipe Tips:
Check them even before 30 minutes as your oven may be hotter than mine. And when you do check, rotate the pan. This simple trick may even out the baking.
Another thing to check if your brownies are done is the crack. If the surface looks cracked which are set, then, you can take them out of the oven.
Decorate the top with chocolate chips and peanut butter chips or cups. Or, swirl a layer of creamy peanut butter.
Save Recipe
Peanut Butter Brownies
Peanut Butter Brownies are chewy, moist, and made rich with a layer of peanut butter filling! Make these from scratch now with this easy recipe!
Author: Catalina Castravet
Serves: 9 brownies
Prep time:

25

minutes
Cook time:

25

minutes
Total time:

50

mins
Ingredients
Peanut Butter Filling:
Brownies:
Instructions
Peanut Butter Filling:
Brownies:
Nutrition information
Calories: 686 Carbohydrates: 68 Protein: 15 Fat: 42 Saturated Fat: 17 Cholesterol: 96 Sodium: 409 Potassium: 354 Fiber: 4 Sugar: 56 Vitamin A: 551 Vitamin C: 1 Calcium: 79 Iron: 2
Save Recipe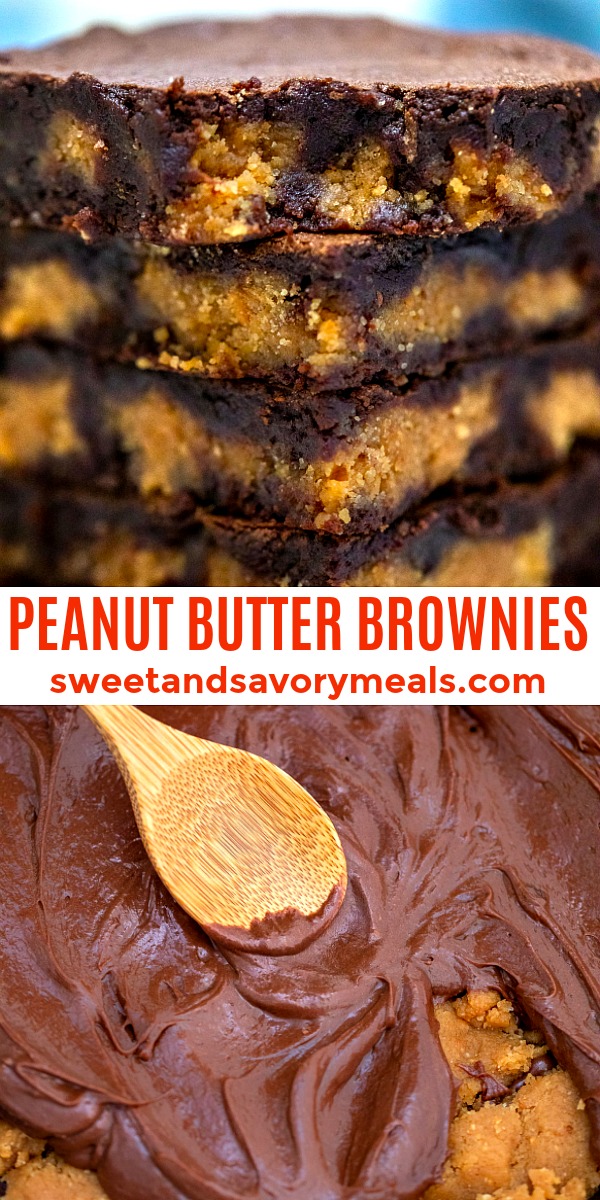 More recipes you might love
Categories: