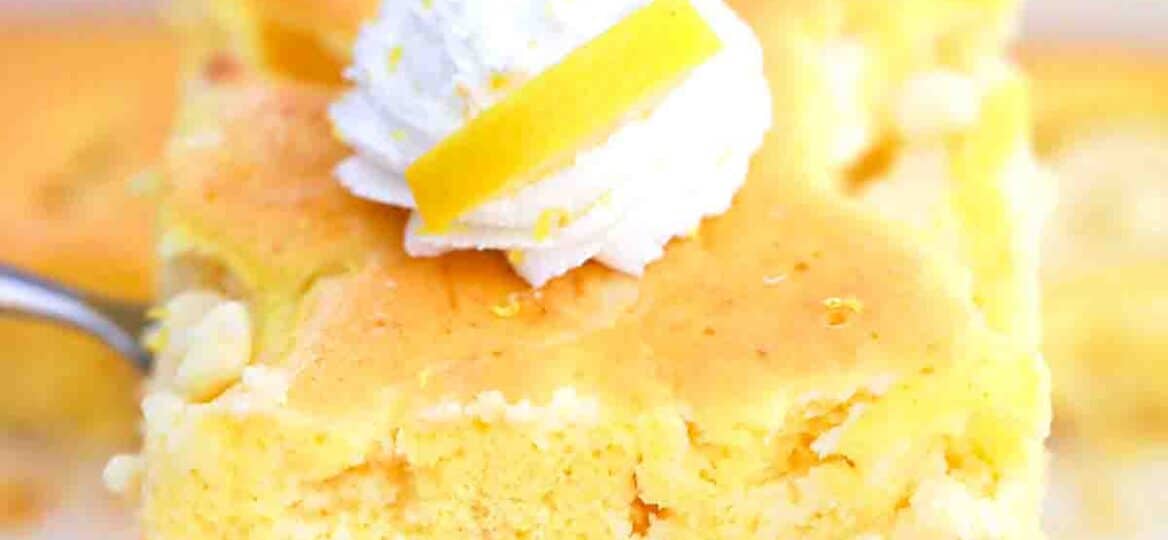 Lemon Earthquake Cake Recipe [Video]
Lemon Earthquake Cake is a yummy blend of sweet lemon cake, white chocolate chips, chopped macadamia nuts, sweetened shredded coconut, and cream cheese. And since it is supposed to look like it is cracked, you do not have to worry about making it look perfect on top. So easy and delicious!
Looking for more lemony desserts? Try our Lemon Blueberry Cake made from lemon juice, cream cheese, fresh blueberries, and buttermilk. Or you can try our tart and sweet Creamy Lemon Tart made with lemon zest, and lemon juice.
The cake was invented by the ancient Egyptians hundreds of years ago when they combined a bread mixture with honey. The Greeks also make cake early but theirs was more like a cheesecake. And the Romans made a simple type of dessert like a fruitcake with chopped fruit, nuts, and raisins. But in the 1600s, modern cakes were baked in Europe. They were round with a frosting made from egg whites, sugar, and flavorings.
Using a box cake instead of making one from scratch is what makes this lemon earthquake cake so fast and easy. And the flavor is amazing with melted white chocolate chips, shredded coconut, and macadamia nuts to give it a tropical taste. You can bake it in the oven or use our optional instructions to make it in the air fryer.
Want to try some more yummy lemon recipes? How about these lemon cupcakes with lemon buttercream icing? Instead of baking, try our no-bake lemon cheesecake with a graham cracker crust instead.
Follow us on Pinterest for more delicious recipes!
Ingredients needed:
Here are the basic ingredients for this simple but yummy lemon earthquake cake. When you are ready, scroll down to our recipe card for detailed instructions and exact measurements.
Lemon cake mix
White chocolate chips
Butter: Melted.
Cream cheese: Softened.
Chopped macadamia nuts
Sweetened shredded coconut
Confectioners' sugar: Or powdered sugar.
Vanilla extract
Kosher salt
Vanilla ice cream: Optional.
How to make lemon earthquake cake from scratch?
Preheat oven: First, preheat your oven to 350 F. Spray a 13×9-inch cake pan with non-stick cooking spray and set it aside.
Make the cake batter: In the meantime, prepare the lemon cake batter according to the package directions but do not bake it.
Add the ingredients to the pan: Next, sprinkle the nuts and coconut on the bottom of the prepared pan. Then, pour the cake batter on top of the coconut and macadamia nuts.
Make the cream cheese mixture: Now, mix the vanilla, powdered sugar, cream cheese, butter, and salt in a large bowl until it is completely combined.
Swirl it in: After, drop heaping tablespoons of the cream cheese mixture onto the cake mix and use a butter knife to swirl it around.
Add the chips: Last, sprinkle white chocolate chips on top and cook it for 55 to 60 minutes or until it passes the toothpick test.
Serve: Finally, serve warm with a dollop of vanilla ice cream.
How to make air fryer lemon earthquake cake from scratch?
Mix up the batter: To begin, make the lemon cake batter according to the package directions but do not bake it.
Pour it all in: After, put the coconut and macadamia nuts at the bottom of a greased cake pan and pour on the cake batter. You may have to use two cake pans and make two cakes if your air fryer is not large enough for one large pan.
Combine the cream cheese mix: Then, stir up the butter, salt, cream cheese, sugar, and vanilla in a large bowl before dropping it in spoonfuls on top of the cake. Swirl it around with a knife.
Air fry cake: Pour the chocolate chips on top and air fry at 360 degrees F for 35 to 40 minutes. Take it out when it passes the toothpick test.
Serve with ice cream: At last, cut a slice of warm cake and place it on a plate with a scoop of vanilla ice cream.
Recipe variations:
Different flavors: Feel free to use a different type of cake such as strawberry, white, or yellow.
Other chips: Why not switch the kind of chips as well? A strawberry cake would be great with vanilla chips while a yellow cake would go perfectly with butterscotch chips.
Different extracts: To add to the lemony taste, you could also use lemon extract. Or make it different by using a tablespoon of lime extract.
Add fruit: For a fruitier cake, add lemon zest or chop up some lemon and add it to the cake batter.
Other fruit: Instead of lemon, try adding some chopped strawberries, apples, or cherries.
Tropical fruit: For a more tropical cake, use pineapple tidbits, mangos, or papaya.
Different nuts: Rather than using macadamia nuts, feel free to use your own favorite nuts like pecans, walnuts, or cashews.
How to serve:
This easy but tasty cake is easy to make and delicious to eat. You do not have to worry about making it look pretty because it is supposed to look messy. It is probably one of the easiest cakes to make. Try one of these serving ideas or one of your own:
Add a dollop of whipped cream on top for a more creamy texture. Try our easy and delicious homemade whipped cream.
Feel free to add more white chocolate chips on top before serving.
Make your cake even more decadent by adding a layer of cream cheese icing.
To make this dessert more festive, toss on some rainbow sprinkles.
Instead of vanilla ice cream, you can use a different flavor.
Add 1 cup of regular chocolate chips to the cake before serving for a double chocolatey flavor.
Another great idea is to top these with lemon curd. Try our easy homemade lemon curd recipe.
Any dessert goes great with a glass of ice-cold milk.
Frequently asked questions
How do I make the perfect cheesecake swirl?
As beautiful as it looks, this is a very easy thing to do, especially with this kind of cake. First, add several spoonfuls of cream cheese mix to the cake. It does not have to be even or anything. Then, use a knife to make large looping zig zags vertically from one end to the other. Finally, do it again in the other direction.
Why do they call it earthquake cake?
One of the best things about this cake is that it does not need to be pretty. In fact, it gets its name from all the lumps, bumps, and cracks in the top. It is supposed to look like it has crevices running through it so it reminds you of what an earthquake can do to the ground.
Why is my earthquake cake dry?
It would be difficult to make a dry earthquake cake because of the added cream cheese and white chocolate chips. However, if you have used too much flour, it can be dry. When you measure your flour, be sure to spoon it into the measuring cup instead of scooping it or you will always end up with too much.
What are the nutrition facts?
If you are worried about nutrition, calories, or fat, have a smaller piece. This is cake. It is not supposed to be healthy! But it is not that bad. Each piece has 244 calories, 25 grams of carbs, and 14 grams of fat with 9 grams of saturated fat. It also contains 19 mg of cholesterol, 81 mg of sodium, and 23 grams of sugar. But you also get 1 mg of iron, 30 mg of calcium, 2 mg of vitamin C, 77 mg of potassium, and 182 units of vitamin A.
How to store leftovers:
Store: Wrap leftover lemon earthquake cake in plastic wrap and put it in an airtight container. It will stay fresh in the fridge for three to four days.
Freeze: You can also freeze your lemon earthquake cake for up to three months in a freezer bag or any freezer-safe container.
Thaw: For best results, thaw leftover cake in the fridge overnight before serving.
More lemon desserts:
Recipe tips:
To pass the toothpick test, a toothpick inserted into the center of the cake should come out clean or with a few crumbs.
Not all cakes are 15.25 ounces. You can use one that is a little bit less or more without having to alter the ingredients.
When making your cheese swirl, leave about a one-inch border on the edges so it is not too mixed in.
Cover the corners of the cake with foil when baking to keep them from browning too much.
To make this cake even easier, use an electric or hand mixer instead of stirring with a spoon.
You can leave out the coconut or the macadamia nuts if you do not like them.
Lemon Earthquake Cake
Ingredients
1

box lemon cake mix

15.25 ounces box plus ingredients according to package directions

1

cup

sweetened shredded coconut flakes

1/2

cup

macadamia nuts

chopped

8

ounces

cream cheese

softened to room temperature

1/2

cup

unsalted butter

melted

2 1/2

cups

powdered sugar

1 1/2

teaspoons

vanilla extract

1/4

teaspoon

kosher salt

1 1/4

cups

white chocolate chips

whipped cream

for serving
Instructions
Preheat oven to 350F and grease a 9×13-inch pan with cooking spray.

Prepare the lemon cake batter according to the package directions. Set it aside.

Sprinkle the coconut flakes and chopped macadamia nuts onto the bottom of the prepared pan, distributing evenly.

Pour the lemon cake batter on top of the coconut and nuts layer, and also try to spread it evenly. Set aside.

Next, in a large bowl, combine the cream cheese, butter, powdered sugar, vanilla, and salt. Beat with an electric mixer until smooth and combined. Stop to scrape the sides and bottom of the bowl.

Add dollops of the cream cheese mixture on top of the lemon cake batter, and use a knife to swirl it.

Lastly, sprinkle white chocolate chips on top.

Bake the cake for about 55-60 minutes, or until the center is set.

Serve warm with ice cream or whipped cream and garnish with fresh lemon slices if desired.