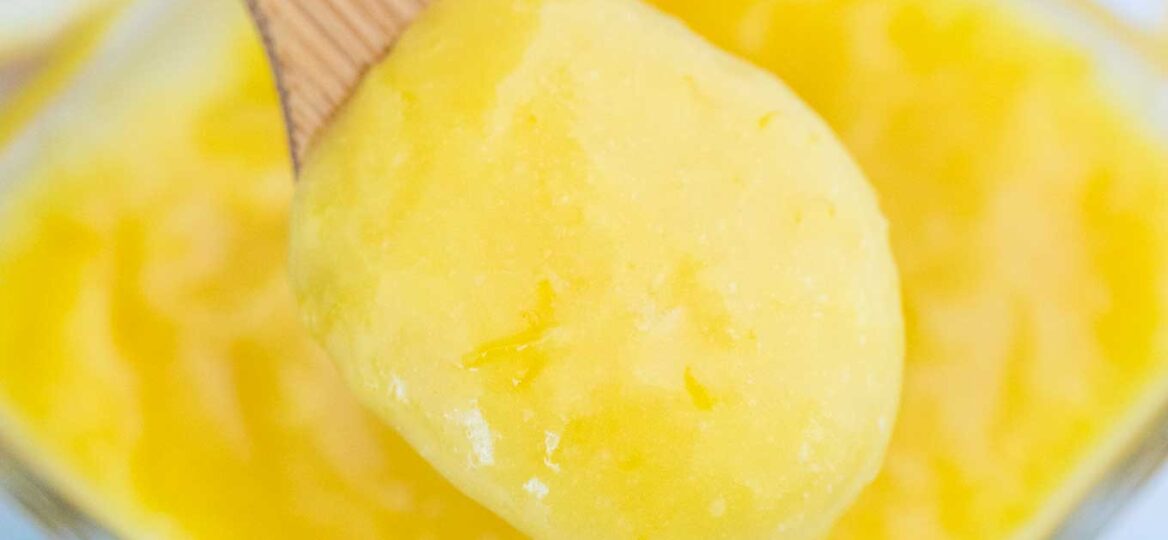 Homemade Lemon Curd Recipe
Homemade Lemon Curd Recipe is made with fresh lemon zest, and can be used pretty much on anything! It is ready in less than 20 minutes, and perfect to utilize on tarts!
If you are a lemon lover, this dish can be used on many desserts, such as Cupcakes, Bundt Cakes, Brownies, ice cream, or simply as a dip!
Perfect Lemon Curd
This Lemon Curd recipe quickly became our favorite. Last summer we used it in making lemonade, and it was so yummy and refreshing! However, this is such a versatile recipe, that you can use it pretty much on anything you wish.
Also, it is quite a simple recipe to make, as you only need a few simple ingredients and less than 20 minutes of your time. And do not forget, making it at home is just so much better than the store version. Not only it tastes way better but is also healthier and it will save you a few dollars!
If you are looking for some great ways to use those lemons then this recipe is it! Give it a try, it is quite delicious!
What ingredients are needed to make this recipe?
You will need the following:
Lemons – for juice and zest
Sugar
Unsalted butter
Eggs
How to make the best Lemon Curd at home?
Making this dish is super easy. First, ensure to wash and then zest the lemon properly. We recommend using a zester, as it will make the process easier. Also, be careful to zest up to the white pith.
Once you have the zest, whisk it together in a saucepan with the juice, sugar, eggs, and butter over low to medium heat. Stir frequently for about 8-10 minutes until it thickens. The curd will thicken at about 170 degrees F, or just below simmer.
Once it reached the desired thickness, remove it from heat, and transfer it to a bowl and chill, or place it in the refrigerator.
How long does Lemon Curd take to thicken?
Depending on your desired consistency, it will thicken using from 6 to 15 minutes. Also, it depends on how large a batch you are cooking. It is important to whisk the mixture the whole time until it starts to thicken.
What is Lemon Curd used for?
It can be used on pretty much anything, starting from sweets to main dishes. It is surprisingly versatile. Apart from eating it with a spoon, some of our favorite ways to use it are in:
Cupcakes
Bread as a spread
Tarts
Ice Cream
Frosting
Marinade for chicken or other meats
What is the difference between lemon curd and lemon pie filling?
They are both similar and have lemon as their main ingredient. However, the curd texture is smoother and also it has a more intense flavor. Also, the pie filling is thickened with flour or cornstarch, while the curd uses egg yolks for that.
Should Lemon Curd be refrigerated?
Yes! After cooking it, we recommend refrigerating, as it will maintain its best quality and freshness. To refrigerate, use a lidded jar, and store in the fridge for up to 2-3 weeks.
You could also freeze it. Ensure to use a freezer-proof container. It can be refrigerated for up to 6 months without losing its best quality. To thaw, simply place the container in the refrigerator, or on the counter overnight prior to serving.
Recipe Tips
For the best taste and quality, try always using the best and freshest lemons. Since this ingredient is the center of this recipe, you want to use a good product.
Also, avoid bottled juice, as the taste will not be the same.
As stated above, it is important to constantly stir the mixture while cooking it to prevent the eggs proteins from bonding too tightly.
In addition, you could use this recipe to make other flavors. So, feel free to use it with limes, tangerines, oranges, or grapefruit.
Adjust the sweetness based on your liking. Start with a little less sugar than suggested, and if it needs more, simply stir some more at the end.
Deliciousness to your inbox
Enjoy weekly hand picked recipes and recommendations