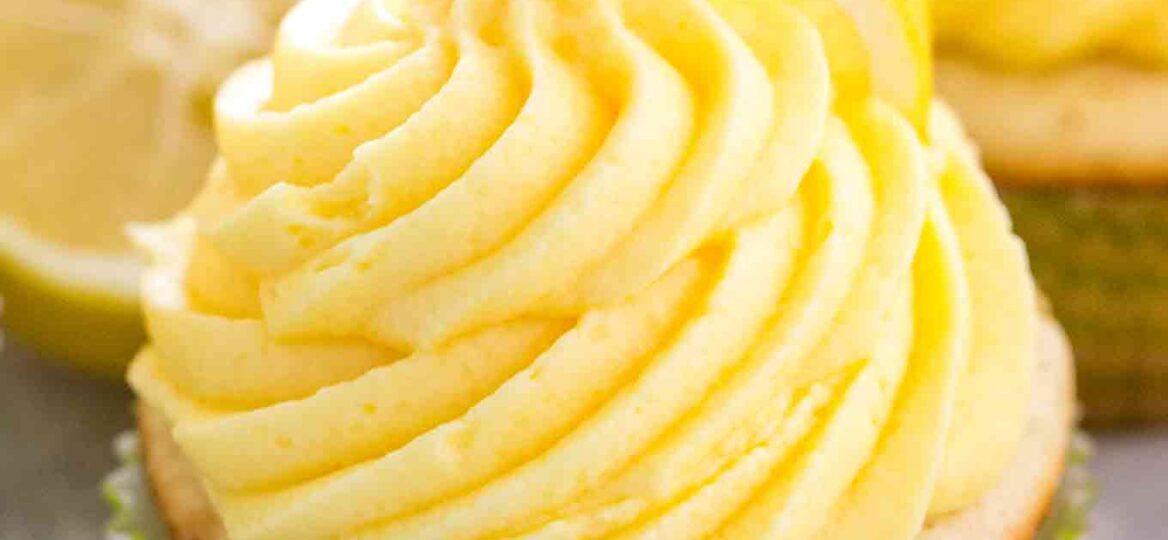 Lemon Cupcakes with Lemon Buttercream [video]
Homemade Lemon Cupcakes are soft and tender, topped with a sweet and creamy Lemon Buttercream frosting. Unbelievably cute and bursting with lemon flavor. Watch the recipe video tutorial and see how easy these are!
Cupcakes are the perfect dessert as you don't have to share, they are perfectly portioned and make such a cute addition to any dessert table. We have many variations on the blog and highly recommend you try our German Chocolate or Unicorn Cupcakes. In this post, you can also learn how to make a fun Galaxy inspired frosting.
Homemade Lemon Cupcakes
Lemon Cupcakes are the perfect spring dessert. They are a great addition to any celebration and especially cute if you serve them at a baby shower. They have the perfect cute color and are bursting with flavor from the lemon juice and zest.
Topped with a luxurious lemon buttercream frosting, they are the perfect combo of sweet and tart. We have used our go-to cupcake recipe that always turns out great. Make it, and you will have a great and delicious dessert.
How to Make Lemon Filled Cupcakes?
Definitely a delicious take on the classic recipe and very easy to make if you have time for a few extra steps. Also, see the recipe video attached.
Follow the recipe as is.
Once the cupcakes are ready, let them cool, and after that, cut a small well on top of each one.
Fill with store-bought or homemade lemon curd and top with the leftover cupcake cap.
Next, make the frosting per recipe directions, pipe onto the cakes, refrigerate and serve.
Lemon Cupcakes Variations:
Blueberry – add some blueberries to the butter, the flavor combo will be great.
Raspberries – a fun pop of color and goes perfect with the citrus flavor.
Blackberries – another fun berry, that combined well with the citrus flavor in this recipe.
Lemon Buttercream Recipe Notes:
To create a stiffer buttercream, replace half of the butter with shortening. The sugar amount does not change.
If you decide to use gel food coloring, be very careful and it can stain your hands and counter.
In case the buttercream is too thin and soft, add extra powdered sugar. If it's too stiff, add a few tablespoons of milk.
Don't add too much buttercream to the piping bag, it will overflow.
The frosting can be made ahead of time and refrigerated. When ready to use, bring it to room temperature and whisk it to make it fluffy again.
SHOULD YOU REFRIGERATE CUPCAKES?
Yes, you should keep them refrigerated, because the frosting will melt at room temperature and it also can go bad since it contains dairy products.
How to freeze lemon cupcakes?
Yes, you can! To freeze them follow the steps below.
First, you can freeze the cupcakes BEFORE they have been frosted. In this case, let them fully cool to room temperature, wrap in plastic wrap and after that in aluminum foil or add to freezer-safe bags. Freeze for up to 3 months.
Also, you can freeze the already frosted cupcakes. In this case, place them in the fridge for the buttercream to harden.
Next, wrap each one individually in plastic wrap and after that in foil, or add to freezer-safe bags and freeze for up to 3 months.
Also, you can add them to an air-tight, freezer-safe container and freeze them.
When ready to use or intend to serve, place them in the fridge overnight to thaw.
More lemon recipes to try:
RECIPE TIPS:
You can use a store-bought cake mix to save time. If you choose so, you can use a White Cake Mix, Yellow Cake Mix, or Lemon Cake Mix.
To make sure the cupcakes rise nicely in the oven, make sure to NOT over-mix the batter.
Another very important step is to make sure the oven is preheated before you transfer the batter into the oven.
Equally important is to use ingredients that are at room temperature.
I also recommend, to NOT open the oven door for 15 minutes during baking.