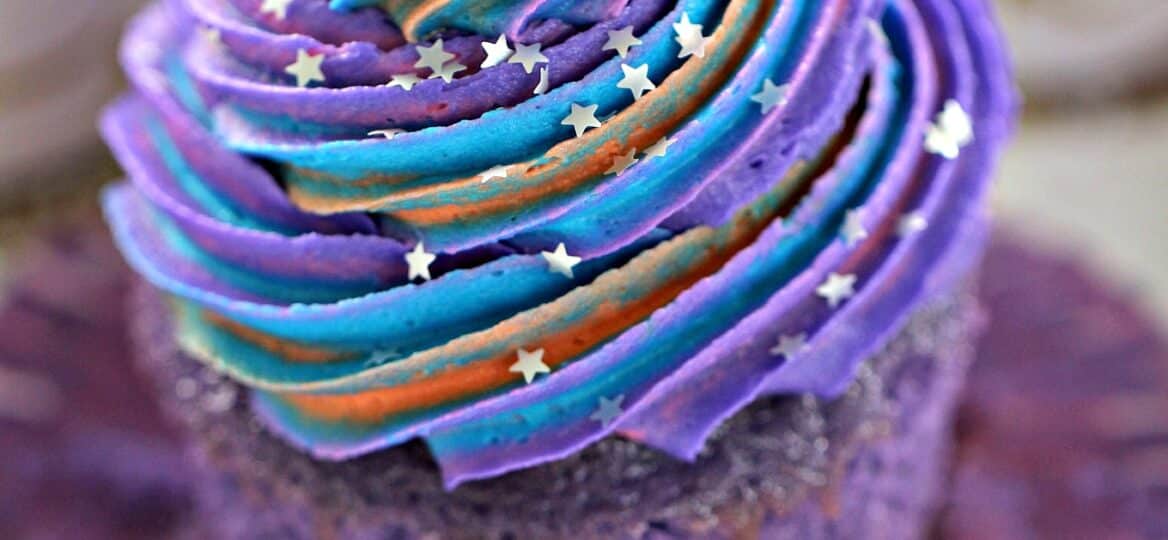 Unicorn Cupcakes Recipe [Video]
Unicorn Cupcakes are astonishingly pretty, delicious, and also easy to make. Perfect for themed parties, these are meant to be a hit with everyone.
These Unicorn Cupcakes are so pretty and tasty, that is perfect for themed parties, and is a hit with kids and adults alike! I am obsessed with the color purple, and I love making Galaxy Cupcakes, Magic Purple Cake, and Purple Muffins.
Unicorn Cupcakes Recipe
Unicorn Cupcakes are so pretty and tasty! My love for purple color goes way back, and that's why I am always excited when I get the chance to make purple desserts.
I made these Unicorn Cupcakes for my son's birthday party last year and somehow I forgot to post them. I was browsing through my photos yesterday and was pleasantly surprised when I found these.
The cupcakes were a huge hit with kids and adults. What's not to love about them? They are soft and moist and topped with sweet vanilla buttercream. The best part of this recipe is that it's easy to follow and you can make the cupcakes in any color you would like!

What do you need to make Unicorn Cupcakes:
flour
sugar
baking powder
salt
milk
vegetable oil
vanilla extract
eggs
water
food coloring
What do you need to make Unicorn Cupcakes Frosting:
butter
powdered sugar
vanilla extract
milk
food coloring
Can you make them gluten-free?
Yes! Simply substitute the all-purpose flour with a 1:1 type of gluten-free flour.
Unicorn Cupcakes Recipe Tips:
I used my go-to recipe for the cupcake batter for the Unicorn Cupcakes recipe, you can use any recipe that you like. I like this one, as the cupcakes are moist and soft. You can also use a store-bought cupcake mix to save time.
You can add different flavors to the batter, almond extract, vanilla extract or cherry extract are delicious options.
For the best cupcakes and for them to rise nicely in the oven, do NOT over-mix the batter.
Make sure the oven is preheated and the ingredients are at room temperature.
After you put the cupcakes in the oven, do NOT open the oven door for 15 minutes.
Colorful Buttercream Expert Tips:
When making the buttercream, it has a lot of sugar so it can hold its shape when piped. I do not like the taste of shortening, that's why I only use butter in my frosting. If you want to use shortening, to create a stiffer buttercream, replace half of the butter with shortening. The sugar amount stays the same in both cases.
Be extra careful when working with food gel coloring. It can easily stain your hands, counter, or carpet. Cover the surfaces accordingly.
When piling the colors on top of each other on plastic wrap, try to use the same amount of each color. Also, don't add too much buttercream, eye it so it can fit in the piping bag.
Storing instructions:
To refrigerate:
Let cool completely and refrigerate, covered loosely with plastic. It can keep for up to 4 days.
To freeze:
First, you can freeze the cupcakes BEFORE they have been frosted. Let them fully cool to room temperature, wrap in plastic wrap and after that in aluminium foil or add to freezer-safe bags. Freeze for up to 3 months.
Also, you can freeze the already frosted cupcakes. Place them in the fridge for the buttercream to harden.
Next, wrap each one individually in plastic wrap and after that in foil, or add to freezer-safe bags and freeze for up to 3 months.
Also, after you can add them to an air-tight, freezer-safe container and freeze.
When ready to use or intend to serve, place them in the fridge overnight to thaw.
Can you make these in other colors?
Yes! This recipe is great because you can just play with the colors as you please to match the theme you are going for.
A few suggestions would be:
Red, White, and Blue – for a patriotic dessert
Pastel Colors – for an Easter theme
Dark Blue, Purple, and Black – for a galaxy themed party
just mix and match to create the perfect dessert!
Tools/Ingredients used to make the Unicorn Cupcakes Recipe: