Magic Purple Cake flavor is incredibly easy to make, delicious and stunning. It is made of one batter and three magic purple layers.
This Purple Cake is so pretty and delicious, it will be a hit for themed parties, and perfect to make with kids! I am obsessed with color purple, and I love making Unicorn Cupcakes, Purple Muffins and Purple Cake with Lemon Buttercream.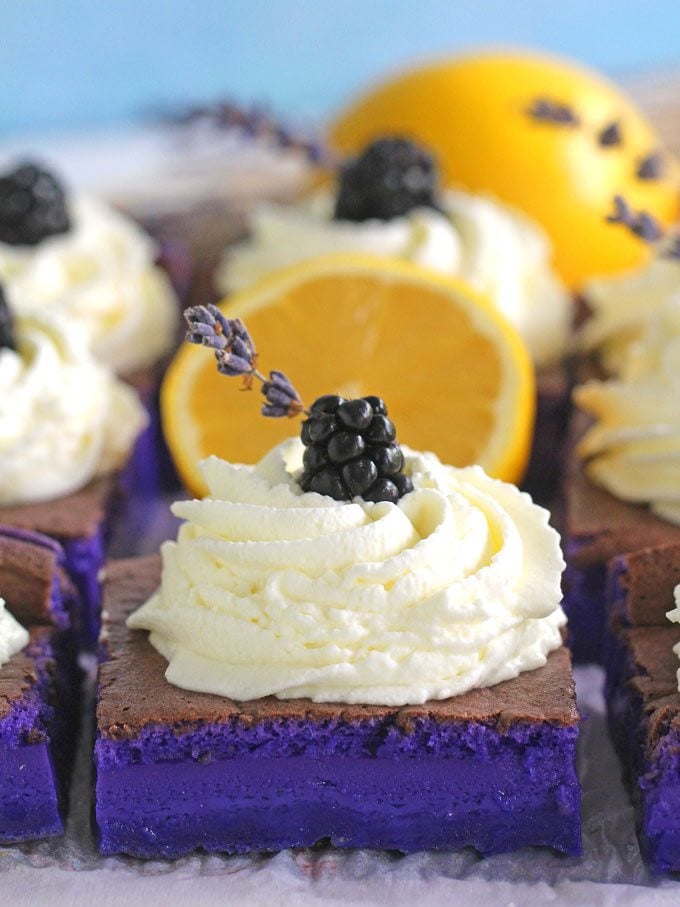 Magic Purple Cake
Magic Purple Cake with refreshing lemon zest and the lavender extract is the cake that you have to try this summer! With vibrant color and amazing flavor, this cake is also incredibly easy to make. Magic Cakes are popular and famous for their three layers, that are made using one batter.
You heard that right, you make one batter, and it bakes in three stunning layers. The first one is a more solid one, followed by a custardy middle and a puffy top layer. The best part of this recipe is that it's easy to follow and you can make the cake in any color you would like.
Why You Will Love This Magic Purple Cake:
Firstly, it's very easy to make with simple ingredients.
Also, it's a great summery flavor of lavender and lemon.
In addition, the flavors can be easily changed to suit your preference.
Looks festive with minimal effort.
Perfect for Mother's Day or any other celebration.
Follow Sweet and Savory Meals on Pinterest for more great recipes!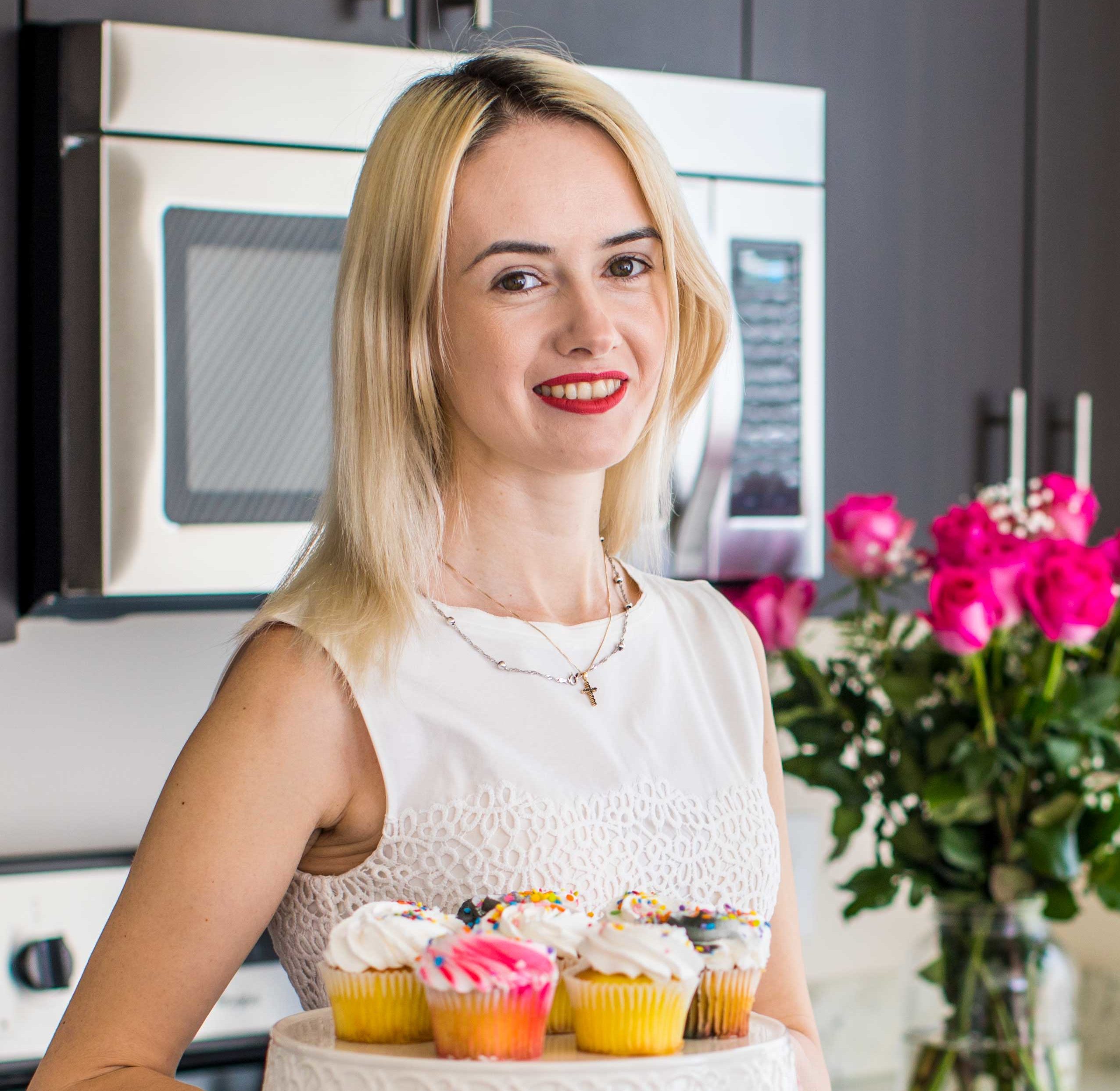 Follow us on Pinterest for more delicious recipes!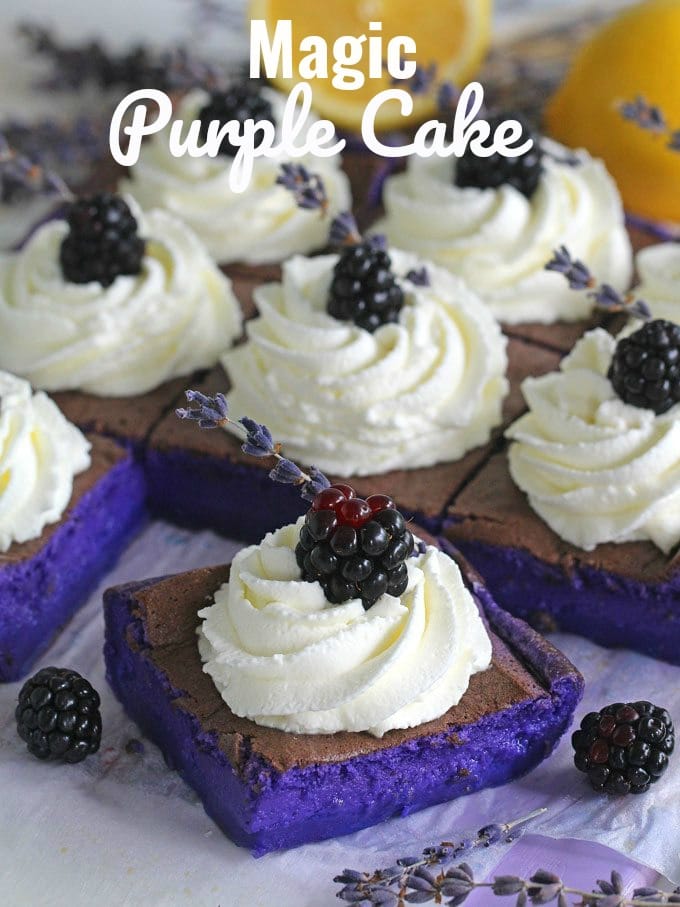 Magic Purple Cake Recipe Tips:
Make sure your ingredients are at room temperature and the milk is lukewarm.
For the best purple color, use gel food paste coloring, a little goes a long way. For a more pronounced purple shade, use more gel, for a lighter color use less.
Same with the lavender extract, if you are a huge fan of the flavor add a bit more 2-3 teaspoons if you want a milder flavor, 1 1/2 teaspoons are enough.
Also, if you want the top layer to be more visible, don't fold in the egg whites completely. Make sure you still have some of the

white

bits in it.
In addition, don't skip the lemon zest. It will make the cake flavors pop and add so much citrusy freshness.
The food coloring is obviously optional and it can be entirely skipped, it is up to you to use it or not.
Bake the cake until the top is golden brown, let it settle and cool completely before slicing.
I love serving it with whipped cream and fresh berries!
How to make lemon zest?
Follow these easy steps below:
First, rinse the lemon.
Next, set your tool over a cutting board. A Microplane produces a very fine zest, perfect for baking and cooking. If you don't have a microplane, use the smallest holes on an ordinary grater.
Then, grate the yellow skin of the lemon only. Grate just enough to get through the yellow skin, this way you can avoid the bitter white pith underneath.
Rotate the lemon and repeat. Once the white pith is exposed, rotate the lemon and zest the next strip of peel. Repeat until most of the peel is removed, or until you have enough zest for your recipe.
Can you use lemon juice instead of lemon zest?
Yes! Lemon zest adds citrus flavor to your recipes, including desserts, main dishes, and more. If you don't have a lemon and a zester handy, you can use regular store-bought lemon juice. 1 medium-size lemon = approximately 1 tablespoon of lemon zest = 2 to 3 tablespoons of lemon juice.
Save Recipe
Magic Purple Cake With Lavender And Lemon
Magic Purple Cake With Lavender And Lemon flavor is incredible easy to make, delicious and stunning.
Author: Catalina Castravet
Serves: 9 people
Prep time:

15

minutes
Cook time:

1

hour
Total time:

1

hr

15

mins
Ingredients
Lemon Whipped Cream:
Nutrition information
Calories: 212 Carbohydrates: 34 Protein: 6 Fat: 5 Saturated Fat: 2 Cholesterol: 83 Sodium: 74 Potassium: 181 Fiber: 0 Sugar: 26 Vitamin A: 280 Vitamin C: 1.7 Calcium: 135 Iron: 0.8 g
Save Recipe
More recipes you might love
Categories: