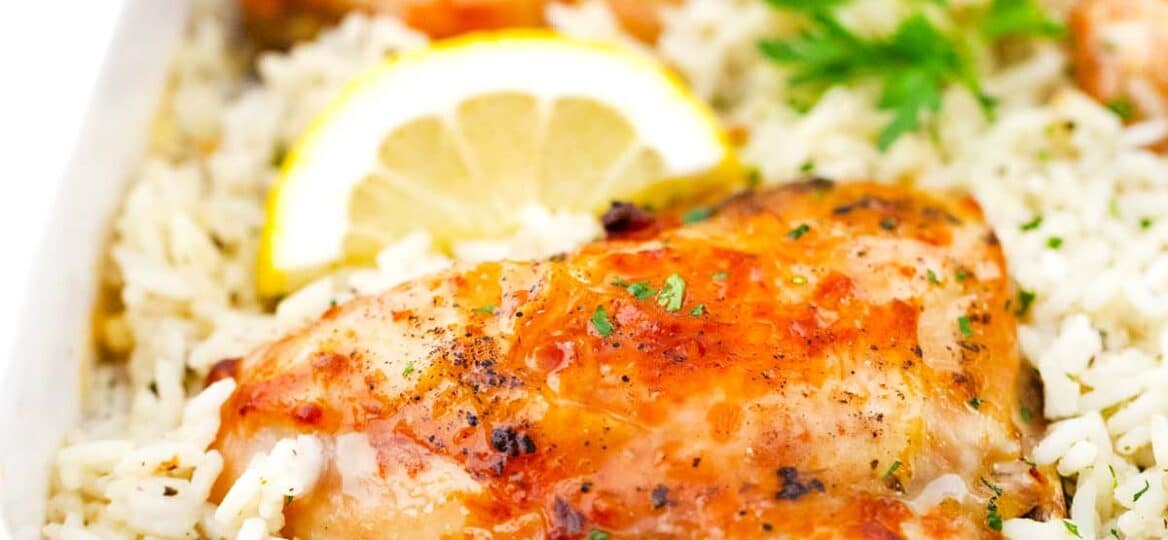 Lemon Chicken and Rice Casserole Recipe
Lemon Chicken and Rice Casserole is the perfect, easy to make, weeknight meal, with creamy citrusy rice and crispy chicken. You can make it all in one pan and it is so easy, anyone can do it. Just follow the recipe instructions or make it your own by adding or removing certain ingredients. For example, you can use lime instead of lemon and chicken breasts instead of thighs.
The word casserole is a French word that means saucepan because they would cook their meat and veggies in the same saucepan. The oldest casserole recorded was for macaroni and cheese casserole in 1250. However, some say it was a French immigrant, Elmire Jolicour, who invented the casserole in 1866.
To make this lemon chicken rice casserole recipe, you only need a handful of basic ingredients like chicken, rice, lemons, soup, mushrooms, butter, and seasonings. The chicken broth and soups meld with the seasonings to give your rice and chicken a delicious flavor and the lemon zest and juice give it an extra kick.
Ingredients needed:
Here are the basic ingredients for this lemon chicken rice bake recipe. After gathering what you need, find our recipe card with the instructions and measurements at the bottom of the page.
Bone-in chicken thighs
White rice
Fresh lemon juice
Fresh lemon zest
Cream of chicken soup
Cream of celery soup
Canned mushrooms
Paprika
Melted butter
Chopped fresh parsley
Oregano
Dried basil: Thinly sliced basil.
Chicken broth
Kosher salt
Black pepper
Cooking spray
How to make lemon chicken and rice casserole from scratch?
Preheat oven: First, preheat the oven to 350 degrees and coat a baking dish or casserole dish with cooking oil spray.
Mix the wet ingredients: While you wait for the oven to heat up, add rice, mushrooms, broth, lemon juice, lemon zest, and both soups to the prepared baking dish and stir to combine well.
Add chicken and seasonings: Now, put the chicken on top of the rice mixture and drizzle butter all over the whole thing. Season with salt, pepper, basil, oregano, and paprika.
Cover and bake: Next, cover the dish with aluminum foil and bake for 1 1/2 hours.
Uncover: Then, turn the oven to 400 degrees F, uncover, and bake for another 20 to 30 minutes or until the chicken is golden brown and the liquid is absorbed into the rice. If you want extra crispy chicken skin, broil for three to five minutes.
Sprinkle and serve: Finally, sprinkle parsley on top and serve.
How to make fried lemon chicken and rice casserole?
Preheat your oven: To start, preheat oven to 350 degrees F.
Heat up the oil: Meanwhile, heat olive oil in a large oven-safe skillet over medium heat until it is sizzling.
Brown the chicken: Then, add chicken skin side down and cook on medium-high heat for six to seven minutes. Flip and cook for another five to six minutes. Remove the chicken thighs and set them aside.
Cook the casserole: Now, mix together the remaining ingredients in the pan until completely combined. Then, place the chicken thighs on top and bake for 60 to 70 minutes covered with foil.
Serve with parsley: Lastly, serve with chopped parsley sprinkled on top.
Recipe variations:
Other chicken pieces: Alternatively, you could use chicken breasts or drumsticks.
Extra creamy lemon chicken: Add 1/4 cup of heavy cream for extra creamy lemon chicken and rice casserole.
Cream of mushroom soup: You can also use cream of mushroom soup instead of canned mushrooms for more creaminess.
Brown rice: Instead of white rice, feel free to use your favorite like brown rice or cauliflower rice.
Breaded chicken: If you want breaded chicken, mix flour and seasonings in a large shallow bowl and dredge each piece through the flour mixture before cooking.
Onion and garlic powder: Chicken and rice blend perfectly with garlic and onion powder. Add some to your seasonings.
Fresh herbs: Similarly, you can add whatever herbs you like such as thyme, rosemary, and dill.
Spice it up: If you like spicy food, add some red pepper flakes to your chicken dish.
How to serve:
You can use this chicken and rice recipe for a family dinner or a hearty lunch and still have plenty left over for later. Try one of these serving ideas or share some of your own in the comments section.
Serve with some lemon slices on the side so guests can add more lemon if they like.
Instead of rice, you can serve this chicken on top of pasta. Try it with this awesome recipe for angel hair pasta.
Sprinkle some parmesan cheese on top before serving for a rich and salty topping.
Give your chicken pasta casserole a more intense chicken flavor with homemade chicken stock.
For a burst of lemony flavor, just use part of the lemon zest in the recipe and then sprinkle the remaining lemon zest on top of the chicken when serving.
You could also serve this with our easy-to-make cucumber tomato avocado salad on the side.
This chicken and rice dish tastes great with a glass of white wine.
Frequently asked questions
What kind of rice is best for this lemon chicken casserole?
Although this recipe calls for regular white rice, you can use whatever you like. Long-grain rice would be good too. You can use brown or long-grain white rice. Basmati rice is another great choice with a slightly nutty flavor. Jasmine rice is long and thin, giving it a fluffier texture.
Can I use instant rice?
The only way I would suggest using instant rice is if you are using chicken that is already cooked like rotisserie chicken or leftover chicken from a previous meal. Just reduce the cooking time to 40 minutes instead of 80. Remember to cover the pan so the rice absorbs the liquid for the best flavor.
Why is my chicken dry?
Because of the lengthy cooking time, it is best to use bone-in chicken with the skin still on. Boneless chicken breasts will likely become dry and overcooked so if you are using boneless, shorten the cooking time to 50 to 60 minutes. Also, browning the chicken on both sides before baking will keep the juices inside where they belong.
Why is my casserole watery?
You may have used too much liquid. Be sure to drain the mushrooms before using them. It could also be that the rice has not been cooked long enough to absorb all of the juices. Put the foil back on and continue cooking for five to 10 minutes or until the juices have been absorbed.
What are the nutrition facts in this recipe?
The approximate numbers for nutrition, calories, and fat are 623 calories, 27 grams of fat, 12 grams of saturated fat, 144 mg of cholesterol, 60 grams of carbs, 1 gram of sugar, and 823 mg of sodium. But you will also get 30 grams of protein, 475 mg of potassium, 1 gram of fiber, 689 units of vitamin A, 60 mg of calcium, and 3 mg of iron.
More casserole recipes to try:
How to store leftovers:
Store: This dish will remain fresh for up to three days in the fridge in an airtight container.
Freeze: To freeze, wrap the chicken in plastic wrap and place it in a freezer bag. Place the leftover rice in a separate freezer bag. They will stay good for up to three months.
Thaw: Let your casserole thaw overnight in the fridge before serving.
Reheat: To reheat, place the casserole in a microwave-safe dish and heat for 60 to 90 seconds.
Cooking tips:
Instead of cooking spray, you can use olive oil or your favorite cooking oil.
For shorter prep time, use rotisserie chicken, instant or precooked rice, and bottled lemon juice. However, this dish tastes best with fresh lemons for the most incredible lemon flavor.
If you are worried about fat and calories, use skinless chicken thighs or skinless chicken breasts.
Instead of (or in addition to) lemon zest, use sliced lemons. Simply layer lemon slices on top of the chicken before baking.
Do not forget to cover your casserole dish. This helps make sure the rice cooks evenly for tender rice every time.
If you do not have an oven-safe skillet, just use any large skillet and then switch it to a casserole dish before baking.
Put your phone on cook mode so it will not go dark while you are cooking.
Looking for other dinner cuisine? We have lots of delicious recipes you can try on our food blog.
Lemon Chicken and Rice Casserole
Ingredients
6

bone-in skin-on chicken thighs

or drumsticks

2

cups

white rice

basmati is fine

2

cups

low-sodium chicken broth

1

lemon

juiced and zested

3

cans

cream of mushroom soup

10.5oz per can

Salt and pepper

to taste

1

teaspoon

paprika

1/3

teaspoon

dried oregano

1

teaspoon

dried basil

3

tablespoons

unsalted butter

melted

2

tablespoons

chopped parsley

cooking spray
Instructions
Preheat oven to 350 degrees. Coat a 9x13-inch baking dish with cooking spray or a bit of oil.

Next, add the rice, broth, 3 cans of soup, lemon juice, and lemon zest to the pan. Stir to combine.

After that, arrange the chicken pieces on top of the rice and drizzle the melted butter over the chicken and rice.

Season the chicken with salt, pepper, oregano, basil, and paprika.

Cover the baking pan with foil and bake for 1 1/2 hours.

After that, increase the oven temperature to 400 degrees F. Uncover the pan, and bake for an additional 20 to 30 minutes until all of the liquid is absorbed and the chicken is nicely browned.

For extra crispy chicken skin, broil the casserole for 3-5 minutes before removing it from the oven.

Let the dish cool for 5-10 before serving. Sprinkle with parsley and serve.
Deliciousness to your inbox
Enjoy weekly hand picked recipes and recommendations