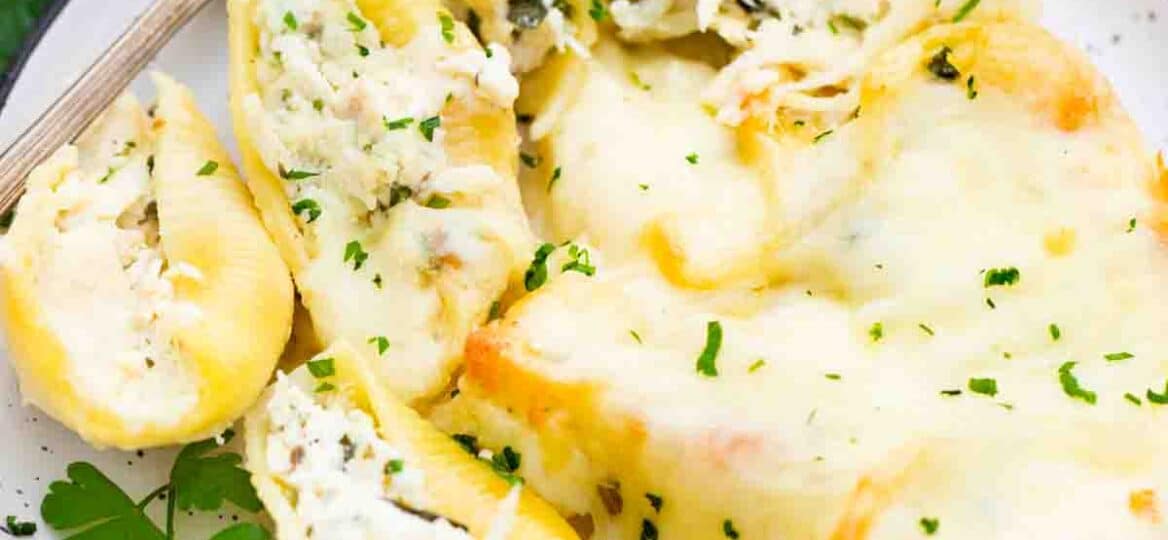 Chicken Alfredo Stuffed Shells [Video]
Chicken Alfredo Stuffed Shells make a filling and hearty meal, loaded with four types of cheese and baked in creamy Alfredo sauce. The shredded chicken breast meat is combined with a freshly shredded mozzarella cheese mixture of ricotta cheese, cream cheese, and sour cream and baked and topped with the creamy alfredo sauce and mozzarella cheese.
Of course, chicken Alfredo was invented in Italy like most pasta dishes. But this one was made by a man who was trying to get his wife to eat. Alfredo di Lelio first came up with a simple dish of butter, cheese, and noodles to get his wife to eat when she felt sick after the birth of their son in 1908. It was put on the menu soon after when it became popular.
The whole family will love this chicken alfredo stuffed shells recipe and you will love how easy it is to make. We have all sorts of easy pasta recipes on our food blog you can try too. For this one, you only need a handful of ingredients including shells, ricotta, cream cheese, mozzarella cheese, chicken, alfredo sauce, and sour cream with a bit of fresh spinach and spices.
Ingredients needed:
Gather up these ingredients and you can get started. For the exact measurements and directions, scroll down to our printable recipe card.
This may end up being one of your favorite recipes once you take the first bite of the smooth and rich melted cheeses blended with chicken, creamy sauce, and perfectly cooked jumbo shells. And you can have this delectable dinner ready in under 45 minutes.
You can make this easy pasta recipe with marinara sauce, vodka sauce, or alfredo sauce. The recipe is versatile and delicious, that's why it is so easy to tweak things to your liking and to what you have on hand.
Jumbo pasta shells: This recipe will fill about 21 jumbo shells.

Chicken: Cooked and shredded.
Ricotta cheese: Or cottage cheese.
Cream cheese: Softened to room temperature.
Sour cream: It adds creaminess and tanginess.
Parmesan cheese: Fresh and shredded is best. However, if you are short on time, store-bought shredded parmesan cheese will also work.
Mozzarella cheese: Shredded and divided as we use it for the filling and also as a topping.
Alfredo sauce: Store-bought or homemade. Therefore, to make this recipe we use our famous Homemade Alfredo Sauce which is one of the most popular recipes on the blog.
Spinach: Fresh or frozen, chopped.

If you plan on using frozen, make sure to thaw it and press it with your hands to remove the extra moisture.

Herbs: Fresh parsley and basil. In addition, you can add some chopped oregano and thyme, fresh herbs always add a nice flavor.
Salt: Sea salt or whatever kind you choose.
Black pepper: To taste.
How do you make chicken alfredo stuffed shells?
Preheat: First, preheat the oven to 375 degrees F.

Prepare: Next, prepare a 9×13-inch baking dish or casserole dish by lightly coating it with cooking spray.
Cook: Meanwhile, cook pasta shells in a large pot over medium heat according to the package directions minus one or two minutes to make them almost al dente. Drain pasta shells and set them aside.
Prepare chicken mixture: Then, mix shredded chicken, ricotta cheese, cream cheese, sour cream, 1 cup parmesan, 1 cup mozzarella cheese, herbs, and spinach.

Make sure to mix well. When done, for easier handling add the mixture to a piping bag.

Stuff: After, stuff the cooked pasta shells with the cheese mixture and place them in the prepared baking dish.

Pour: Finally, pour the creamy Alfredo pasta sauce over the pasta and add the remaining mozzarella cheese on top of the sauce.

Bake: Last, bake uncovered for 30 to 35 minutes.
Broil: This step is optional, but if you want a golden coating, broil the dish for a few minutes before removing it from the oven.
Serve: Finally, let it cool for a few minutes, and after that serve garnished with freshly chopped basil, parmesan cheese, and if you please extra sauce.
Recipe variations:
Crispy bacon: If you love stuffed shells, you will love them even more with crispy bacon filling. Add some crumbled cooked bacon or bacon bits.

More melted cheese: You can add more tasty cheese varieties that you like such as cheddar, Monterey Jack, or Swiss.

Heavy cream: Use heavy cream instead of sour cream for an extra creamy sauce without the tanginess.

Ranch dressing mix: To make this even more flavorful, add a package of ranch dressing mix to your filling.

Spicy shells: Spicy food lovers will enjoy a pinch of red pepper flakes mixed in.
Add herbs and spices: Make this your recipe by adding whatever herbs and spices you like such as onion or garlic powder, thyme, or rosemary.
Other meat: Feel free to use a different kind of meat like ground beef, turkey, or pork.
How to serve:
This delicious dinner recipe is easy to make, and you do not even have to make any side dishes. Try one of these serving ideas or you can share some of your own at the bottom of the page.
Top alfredo shells with fresh chopped parsley, extra shredded parmesan cheese, and Italian seasoning.

If you have a few extra shells add them to your next casserole. We have some delicious casserole dishes that would benefit from the Alfredo stuffed shells. Try this creamy chicken and mushroom casserole.

Do not forget to serve your chicken alfredo stuffed shells with extra toppings on the table such as olives, peppers, and other veggies.
Salads always go great with pasta. Whether you are looking for a simple side salad or an extravagant southwest salad, we have them all.
Serve with garlic bread or French bread on the side. Or it would be really tasty with this olive bread recipe.

Stuffed shells also go great with a glass of wine. Try a dry red or white variety.
Frequently asked questions
Can I use another pasta for this recipe?
You can use jumbo pasta shells or any large pasta shells to make these cheesy chicken pasta shells. As long as they are the kind of shells you can fill. Try using manicotti, caccavella, ravioli, or tortellini. Anything you can fill would be great with this recipe.
How do you keep pasta shells from sticking together?
The first thing to know is that the water should be boiling rapidly before adding your pasta. Another tip is to stir it a lot. Because pasta is covered in starch, the first few minutes is when the stickiness dissipates so you need to keep the noodles moving.
Some people add olive oil to their pasta as it cooks. While that makes your shells less sticky, it will also make them so slippery that sauce will not stick to them either.
How do I keep my shells from getting mushy?
First of all, that is why you want to cook them al dente. You may want to stop cooking them and cool them down with cold water for about one minute before they are all the way done. Remember, your stuffed shells continue to cook in the oven, and it soaks the juices from the meat and cheeses.
Why are my shells watery?
You may not have drained them well enough. Cooked pasta shells should be run under cold water to stop them from cooking before letting them drain. But even after they drain, you should use your hands or a slotted spoon to stir them around. Be sure to get all the excess water out of the middle of the shells.
Should you rinse pasta?
There are two answers to this question. For this recipe and other warm dishes, you should not rinse your pasta after cooking. The water is full of starch from the noodles, which you can use to thicken your sauce later. Drain it in a colander over a medium bowl to save the water for later.
If you are making a cold dish like pasta salad or noodle salad, you should rinse it after cooking. This will help lower the temperature and stops the cooking process. It also washes away the starch, which is good in this case because it will keep it from sticking together.
What is al dente pasta?
You have probably heard about cooking your pasta al dente and maybe wondered what it means. The words "al dente" mean "to the tooth," meaning your pasta should still have a bite to it. You do not want it to be hard, but you should be able to feel a bit of resistance when you bite into it.
More Casserole Recipes:
How to store leftovers:
Store: You can refrigerate your leftover chicken alfredo stuffed shells in an airtight container for several days.
Freeze: To freeze, wrap your leftover shells in plastic wrap and then in foil. Then, place them in a freezer bag and they will stay fresh in the freezer for up to 90 days.

Thaw: Do not forget to put your frozen leftovers in the fridge to thaw out overnight before serving them.
Reheat: To reheat, put the shells in a microwavable dish and cook on medium heat for one to two minutes.
Recipe tips:
If you do not have a piping bag, you can put your chicken Alfredo filling in a baggie and cut the end off.

To shorten prep time, make filled pasta shells ahead of time and keep them chilled until you are ready to bake them.

You can also prepare this easy dinner recipe ahead of time and freeze the unbaked shells for easy heating when you are ready.
To save more time, use packaged shredded mozzarella cheese instead of freshly grated mozzarella cheese.

Use frozen spinach to make this even easier. No chopping is needed!
These chicken stuffed shells instructions are measured carefully for the best results. If you change the amount of one ingredient, you will have to adjust the rest of them as well. This includes chicken breasts and unbaked stuffed shells.

Instead of cooking your chicken breasts, use leftovers or get a rotisserie chicken from the grocery store.

Save some extra sauce for topping your cooked pasta shells. Serve the remaining Alfredo sauce and any other remaining sauce as condiments when you serve dinner.
Chicken Alfredo Stuffed Shells
Ingredients
21

jumbo shells

1 1/2

cups

cooked chicken

shredded

1 1/2

cups

ricotta cheese

4

oz

cream cheese

softened

1/4

cup

sour cream

1

cup

grated parmesan cheese

2

cups

shredded mozzarella cheese

divided

15

oz

jar Alfredo sauce

2

cups

fresh spinach

chopped

1

tableespoon dried parsley

1

tableespoon dried basil
Instructions
Preheat oven to 375 degrees F.

Lightly spray a 9×13-inch baking dish with cooking spray. Set aside.

Bring a large pot of water to boil and cook pasta shells according to package directions aiming for al dente.

Drain and set aside. For them not to stick, gently toss them with some olive oil.

In the meantime, in a large bowl combine chicken, ricotta cheese, cream cheese, sour cream, parmesan, 1 cup of mozzarella cheese, and basil, parsley.

Stir in chopped spinach. Add the mixture to a piping bag.

Stuff pasta shells with the cheese mixture and arrange them in the prepared baking dish.

Spread Alfredo sauce on top

Next, top with the remaining mozzarella cheese, distributing it evenly.

Bake uncovered for 30 to 35 minutes.

Let the casserole cool for 10 minutes before serving. Garnish with fresh chopped parsley.
Deliciousness to your inbox
Enjoy weekly hand picked recipes and recommendations