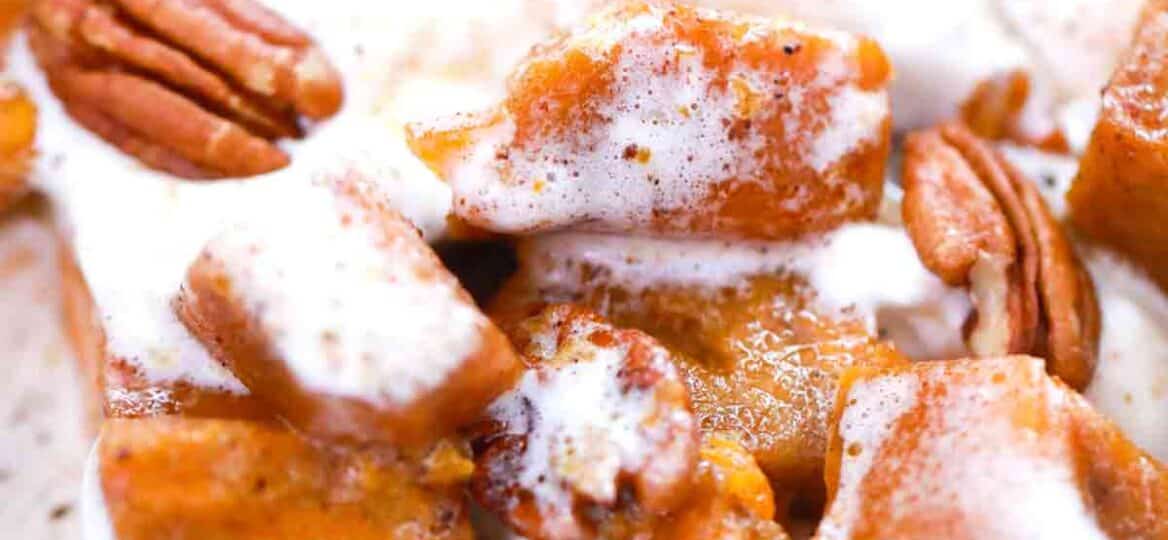 Crockpot Sweet Potato Casserole [Video]
Crockpot Sweet Potato Casserole is a creamy and delicious side dish perfect for Thanksgiving, entirely made in your slow cooker. Flavored with the traditional fall spices and lots of mini marshmallows, you may have a hard time deciding whether it is one of the side dishes or a dessert. And the toasted pecans add a bit of crunch to every bite.
You may also like this Sweet Potato Souffle recipe, which will be a big hit at the dinner table. Or for a more filling dish, try this Loaded Sweet Potato Casserole. It is similar to the original but has a cinnamon filling and streusel topping. Another scrumptious dish to make in the crock pot is these buttery Slow Cooker Mashed Sweet Potatoes.
If you have not used your potato masher in years, it is time to dig it out of the drawer and dust it off because you are going to use it for this recipe. Since sweet potatoes are so soft, they will be easy to mash by hand and it gives them a better texture than using an electric mixer, even if you leave a few potato chunks.
For many of us, the best part of the holiday season is eating. Thanksgiving dinner has many traditional dishes like green bean casserole, stuffing (or dressing), turkey, and pumpkin pie.
This slow cooker sweet potato casserole will fit right in with your Thanksgiving meal this year, and the gooey marshmallow topping will make everyone want seconds. You can easily make this dish whether it is for tonight's dinner or a holiday meal.
Follow us on Pinterest for more delicious recipes!
Ingredients needed:
To get the exact measurements and directions for this crock pot recipe, scroll down to our handy recipe card. But here are the basic ingredients you will be needing:
Sweet potatoes: Peeled and diced.
Marshmallows: Miniature marshmallows are best.
Pecans: Halved is what we used but you could use chopped.
Butter:

¼ cup butter, unsalted and melted.
Brown sugar: Light or dark and packed.
Vanilla: Pure vanilla extract works best.

Spices: We used cloves, ginger, nutmeg, and cinnamon.
How do you make crockpot sweet potato casserole?
Prepare: For easy cleanup, line your cooker with a slow cooker insert.
Combine: Then, whisk the melted butter, brown sugar, vanilla, and spices in a large bowl.
Add: Next, place the potatoes in the slow cooker and stir in the butter mixture.

Cook: Immediately, cover and cook on high heat for 3 to 4 hours or low heat for 7 to 8 hours.

Mash: After, use your potato masher to mash the potatoes until they are smooth.
Top: Lastly, add the marshmallows and pecans to the top and cook for another 5 to 10 minutes.

Let stand: After that, turn off the slow cooker and let the dish cool for a few minutes. Also, if you are having a party, select "keep warm" so you can have a warm side dish on your hands all the time.
Serve: Finally, scoop a hefty amount onto serving plates or bowls and enjoy it with your favorite main dish, or on its own.
Recipe variations:
Add pumpkin: For even more holiday flavor, add some pumpkin pie spice to your casserole.

Juice: For extra zest, add a tablespoon of orange juice.

No sugar: Alternatively, you can use maple syrup instead of brown sugar.
Other nuts: Try it with almonds, hazelnuts, or walnuts instead of pecans.

Topping: Add some cinnamon or crunchy pecan streusel on top of the potatoes instead of marshmallows.

Add meat: To make this a hearty main entrée, add turkey or some other kind of meat.
Oven bake: This is one of those crockpot recipes that taste just as good baked in the oven and takes a lot less time.
How to serve:
These crockpot sweet potatoes are best served warm after the marshmallow topping has melted. But you may also like one of these ideas:
Frequently asked questions
Are yams and sweet potatoes the same thing?
Real sweet potatoes originated in the 1600s but at the time, they were white or yellow instead of orange. The orange sweet potato was cultivated in the 1930s and had a different texture and harder skin. To differentiate this new color, they started calling them yams because they looked like an African vegetable called nyami.
So, in truth, the ones that we know and use now are not the original ones from the 1600s. But the old ones are no longer used in modern recipes. When you go to the grocery store or farmer's market, no matter whether they call them yams or sweet potatoes nowadays they are the same thing.
How many sweet potatoes make four pounds?
This is a difficult question to answer because it depends on the size of the potato. If you have ever seen fresh sweet potatoes in the store, you may have noticed that some are huge, and others are the size of a regular potato. So, the answer can vary depending on which ones you can find.
However, an average medium sweet potato weighs about six ounces but large sweet potatoes could weigh up to one pound or more. But using the average medium size, you will probably need about six to make four pounds. But since you have to peel and cube them, get seven just in case.
Is it better to boil or bake sweet potatoes?
Although boiling your taters can make them more tender, it tends to wash out the flavor quite a bit.
The water dilutes the flavor and since they are typically soft anyway, you really do not need to worry about that. So, most recipes that ask for boiled will taste better if you bake them instead.
How to store leftovers:
Store: After the potatoes are completely cooled off, refrigerate them in a shallow airtight container where they will stay fresh for up to five days.
Freeze: If you know ahead of time that you are going to freeze the casserole, do not add the marshmallows and you can freeze it for up to three months. You can even leave it in the casserole dish and lay a sheet of aluminum foil or plastic wrap right on top. Then, add a few more layers of foil or wrap to keep it fresh.
Thaw: Thaw the dish overnight in the refrigerator before reheating for best results.

Reheat: You can microwave it or add it to a baking dish and reheat it in the oven. Also, add the marshmallow topping right before baking.
More Thanksgiving Recipes:
Recipe tips:
Add ½ cup milk or heavy cream for a creamier casserole.
Similarly, adding an egg can make your dish fluffier.

Also, you could save a few calories by using light butter instead of regular.
Save time by using canned yams rather than fresh ones.

Additionally, cutting the sugar in half or using a sugar substitute is also a great way to cut calories.
Vanilla is not required so if you do not have any, just skip it.
Crockpot Sweet Potato Casserole
Ingredients
4

pounds

sweet potatoes

peeled and diced

1/4

cup

unsalted butter

melted

1/3

cup

brown sugar

packed

2

teaspoons

ground cinnamon

1

teaspoon

vanilla extract

1/4

teaspoon

ground nutmeg

1/4

teaspoon

ground ginger

1/8

teaspoon

ground cloves
Topping:
1 1/2

cups

miniature marshmallows

1/2

cup

pecan halves

toasted
Instructions
In a medium bowl, whisk together the melted butter, brown sugar, cinnamon, nutmeg, allspice, and vanilla.

Add the chopped sweet potatoes to a 4-qt slow cooker. Stir in the butter mixture.

Cover and cook on low heat for 7-8 hours or high heat for 3-4 hours, or until tender.

Top with marshmallows and pecan halves.

Cover again and cook on low heat for an additional 10 minutes, or until melted.