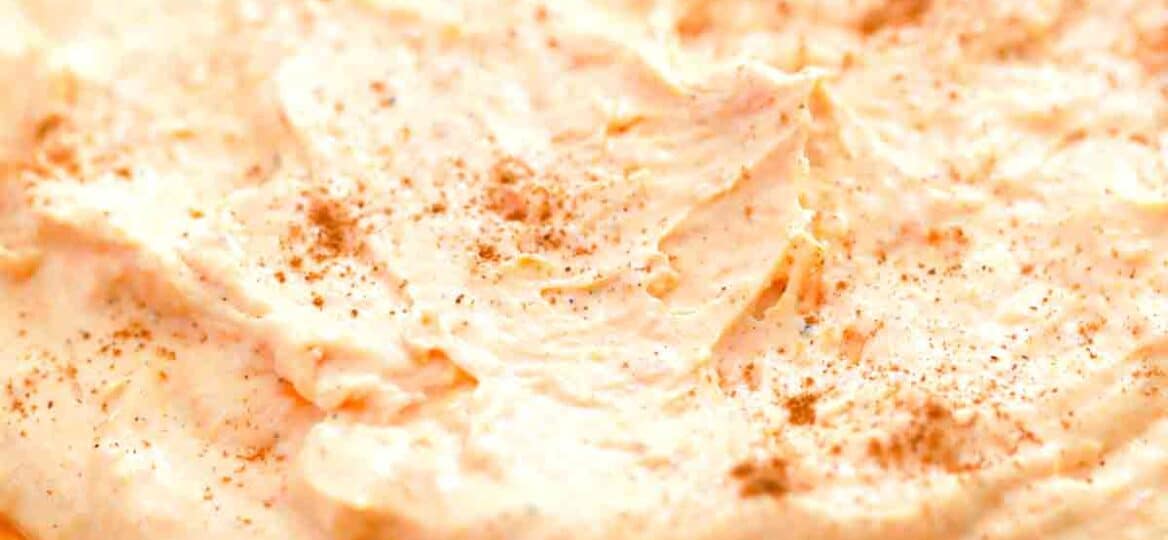 Pumpkin Pie Dip is the perfect recipe for Halloween parties, Thanksgiving dessert tables, or any fall special occasion. This easy pumpkin dip only is made with just 5 ingredients: pumpkin puree, cream cheese, spice, whipped topping, and vanilla pudding. Mix it all up and serve with gingersnap cookies, fruit slices, or graham crackers.
For a sweet treat with even more pumpkin flavor, try our luscious Ultimate Pumpkin Cheesecake Bars. Alternatively, if you are looking for more dips but want something savory instead of sweet, you will love this Deviled Eggs Dip or Spinach Artichoke Dip.
With six easy ingredients and a few minutes time, you can make this creamy no-bake dip for your family to enjoy during snack time. It is not difficult to make, and it is a fantastic way to get the kids to eat fresh fruit instead of sweets.
With this great recipe, you will all be enjoying a nice treat for whatever you choose to dip. After all, it is pumpkin season. This will quickly become one of your favorite recipes that the whole family will love.
Follow us on Pinterest for more delicious recipes!
Ingredients needed:
There are only six ingredients in this recipe, but you will need to scroll down to our helpful recipe card for the exact instructions and measurements. Here is what you need to start with:
Pumpkin: You can use canned or make your own puree.

Pudding: We used JELL-O instant vanilla pudding mix.
Sugar: Powdered sugar works best.
1 ½ teaspoon pumpkin pie spice: You can make your own from scratch.
Whipped topping: We used one tub of Cool Whip.
Cream cheese: Make sure it is softened.
How do you make pumpkin pie dip?
Mix: First, in a large bowl mix the sugar, pudding mix, and puree. Whisk it until it is completely blended.

Beat: Next, beat in the cream cheese.

Stir: Last, stir in the whipped topping.

Chill: Finally, refrigerate dip for at least one hour before serving.
Recipe variations:
Add juice: For a citrusy flavor, add one teaspoon of frozen orange juice concentrate.
Other juice: You could also try a dash of lemon juice to give it some zing.
Syrup: Add maple syrup for a sweeter dip.
Other sugar: Alternatively, you could use brown sugar instead of powdered sugar for a richer taste.
Give it a kick: Add a bit of cayenne or red pepper flakes for spicy pumpkin dip.
How to serve:
Serve this no-bake pumpkin dip with a sprinkle of cinnamon on top. Or try one of these awesome ideas:
Serve with ginger snaps or these homemade vanilla wafers.
You could also use fresh fruit like apple slices or pear slices in this delicious dip.
Another idea is to top holiday desserts like instant pot apple bread.
Pretzels or cinnamon graham crackers are also fantastic for dipping.
Add some sprinkles to give it a festive look for any holiday season party.
Frequently asked questions
Can I use pumpkin pie filling instead of pumpkin puree?
If you do not have pumpkin puree, you can make your own or substitute it with pureed sweet potato or butternut squash. Do not use pumpkin pie filling because they are not the same. The puree has 100% pumpkin with no additional flavors or spices.
The pie filling, on the other hand, has spices including sugar, cloves, nutmeg, ginger, and cinnamon. If this is all you have and you really want to make this dip or other pumpkin desserts, you can use the filling but omit the spices and half of the sugar.
How long does it take cream cheese to soften?
Because cream cheese has such a high-fat content, it does not take long for it to come to room temperature if your kitchen is warm. It usually takes about 30 to 45 minutes. If you are in a hurry, remove the foil and put the cream cheese in the microwave for 15 seconds. Poke the center to see if it is soft enough. If not, put it back in for 10 seconds.
Can you melt cream cheese without lumps?
Melting cream cheese is not a big deal whether you do it in the microwave or on the stove. Follow the directions above to soften the cheese before whisking it to get rid of any lumps. Keep putting it back in the microwave for 10-second intervals, whisking afterward, until it is completely smooth.
How to store leftovers:
Store: You can store your sweet dip in an airtight container in the fridge for up to four days.

Freeze: If you want to freeze your dip, make sure it is at room temperature and then put it in a freezer bag and it will stay good for up to three months.

Thaw: Thaw the dip overnight in the fridge and re-whip it before serving.
More Pumpkin Recipes:
Recipe tips:
If your puree is cold, let it come to room temperature before adding it to the rest of the ingredients.

When using homemade puree, be sure to squeeze out the excess moisture before using it.
For best results, chill this dip for several hours before serving.

Don't have cream cheese? Use sour cream instead.

For vegan pumpkin dip, use vegan whipped topping instead of Cool Whip.
Pumpkin Pie Dip
Ingredients
15

oz

can pumpkin puree

3.4

oz

package JELL-O Vanilla Flavor Instant Pudding

1/4

cup

powdered sugar

1 ½

teaspoons

pumpkin pie spice

8

oz

COOL WHIP

thawed

8

oz

cream cheese
Instructions
In a large bowl mix pumpkin, dry pudding mix, sugar, and spice in a large bowl with whisk until blended.

Beat in cream cheese, scrape the sides and bottom of the bowl.

With a spatula stir in COOL WHIP.

Cover and refrigerate for 1 hour.

Serve topped with a sprinkle of cinnamon and pumpkin candies.