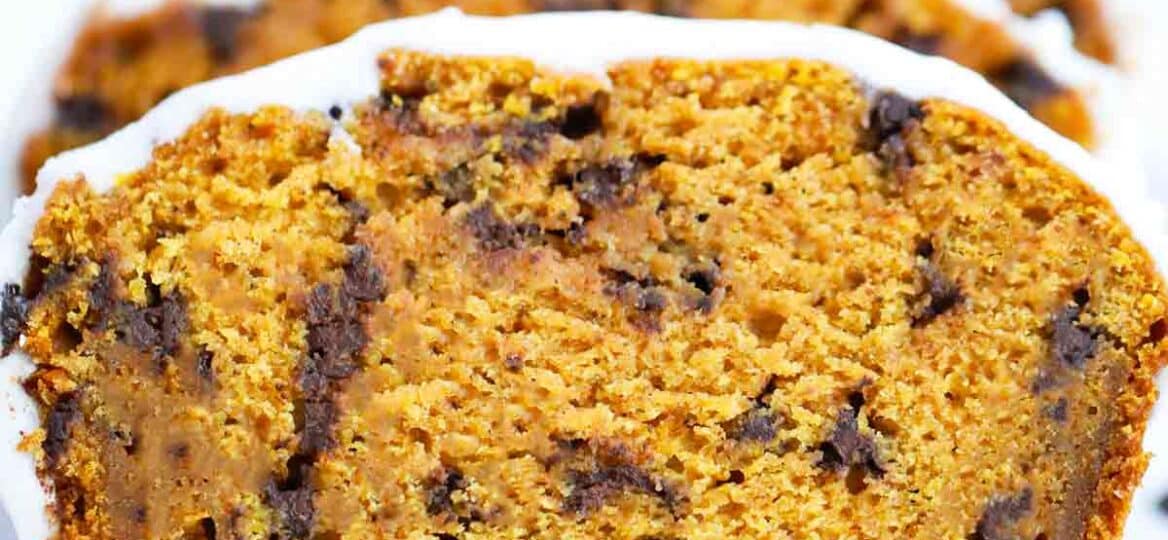 Chocolate Chip Pumpkin Bread [Video]
Chocolate Chip Pumpkin Bread is bursting with fall flavors like pumpkin pie spice, nutmeg, and cloves. With a delightful blend of autumn spices and chocolate chips for a bit of sweetness, this homemade pumpkin bread is going to be one of your favorites.
Not in the mood for pumpkin? Try this succulent Chocolate Banana Bread instead. Another yummy way to enjoy the flavors of fall is with our Chocolate Chip Pumpkin Bars. If you are not a fan of chocolate, make our regular (but oh so delicious) classic Pumpkin Bread instead.
Around this time of year, people start trying to find new pumpkin recipes to fill their homes with that heavenly aroma that goes with the season. With this easy recipe, you can have a loaf of mouthwatering goodness in about an hour. After all, it is pumpkin season.
Not only is this dish scrumptious, but it is also healthy. The pumpkin packs in more than your daily values of vitamin A and vitamin C. But don't tell the kids that it is healthy, or they may not try it. Once they do, you are going to be making it more often.
The bread is easy to make will stay moist and fresh for up to a week. It can be served as a snack, or as a dessert. As an alternative, you can make a double batch and freeze a loaf for later.
Ingredients needed:
To see our list of exact measurements and instructions, scroll down to our convenient recipe card. But here are the basic ingredients you will need:
For the bread:
All purpose flour: You can use coconut flour for gluten-free bread.
Baking soda: Make sure it is less than six months old.

Baking powder: Similarly, check to be sure it is less than one year old.
Spices: We used ground cinnamon, ginger, nutmeg, cloves, and salt.
Pumpkin puree: Not pumpkin pie filling.
Sugar: White granulated sugar.
Brown sugar: Light or dark will do.
Oil: We used canola oil.

Buttermilk: Try making your own homemade buttermilk.
Large eggs: Room temperature.

Vanilla extract: Pure vanilla extract is best.

Chocolate chips: Any brand is fine.
For the glaze:
Powdered sugar
Milk
Maple syrup
Vanilla extract
How do you make chocolate chip pumpkin bread recipe?
Preheat: To start, preheat the oven to 350 degrees F.

Prepare: Meanwhile, use cooking spray and parchment paper to prepare your loaf pan.
Whisk: Next, use a medium bowl to whisk the dry ingredients together.

Mix: Then, mix the pumpkin, sugars, oil, buttermilk, eggs, and vanilla in a large bowl.

Combine: After, pour the flour mixture into the large bowl of the pumpkin mixture and mix until combined before adding the chocolate chips.

Pour: Next, transfer the batter into your prepared loaf pan. Use a spatula to make it level.

Bake: Finally, bake it for 50 to 60 minutes until a toothpick inserted in the middle comes out clean.

Cool: After, let the bread cool in the pan for 15 minutes before removing it and transferring it to a cooling rack.

Glaze: Combine the glaze ingredients in a separate bowl and drizzle it over the bread.
Recipe variations:
Make muffins: Alternatively, put the batter into muffin cups for chocolate chip pumpkin muffins.

Mini loaves: Similarly, you could use mini loaf pans to make mini loaves.
Bundt cake: Use a silicone bundt pan to make this into a bundt cake.
Add nuts: Pecans or walnuts would make a great addition to this recipe.

Make it dark: Use dark chocolate chips instead of regular for less sugar.

Other oils: Feel free to use coconut oil or whatever your favorite is.

Nuts & Dried fruits: As an alternative, add extra crunch and texture by mixing in chopped nuts, raisins, or cranberries.
Flavoring: As an option, add extra flavor by mixing in some butter rum extract.
Homemade: You could also use homemade pumpkin puree.
Glaze: Skip the glaze and just use powdered sugar for a lighter version.
How to serve:
Once the glaze has settled a bit, serve this by the slice with a glass of milk or try one of these ideas:
Frequently asked questions
How do I keep pumpkin bread moist?
The key to keeping your pumpkin bread from drying out is to make sure it is moist enough in the first place. Be sure to put in the right amount of puree and other wet ingredients and do not cook it at too high of a temperature.
If it dries out after a few days, sprinkle it with a little water, wrap it in foil, and warm it up in the oven at 350 degrees F for 15 minutes. Alternatively, you could also place it on a moist paper towel and microwave it for 10 to 15 seconds.
Why is my bread undercooked?
This has happened to everyone who bakes at some point. You cook the bread as the directions say but when you take it out, the middle is not done. It could be that your oven cooks at a higher temperature than the one used by the person who wrote the recipe.
To fix this issue, lower the temp and put a loose tent of aluminum foil over the top when cooking. This way, the middle has plenty of time to get done without causing the ends to burn. Make sure you are using the right size pan too.
Why didn't my pumpkin bread rise?
One of the main reasons bread does not rise is because the pan is overfilled. If it is too close to the top, it cannot rise.
Another tip is to make sure the baking powder or baking soda was not too old. Discard them after the date on the package.
You may also need to lower your oven temperature if you are using a glass pan.
How to store leftovers:
Store: This delicious pumpkin chocolate chip bread can be stored in an airtight container at room temperature for up to four days. Or, wrap it in plastic wrap or foil and it will stay fresh in the fridge for up to a week.
Freeze: For those leftovers, you were not able to finish in a week, wrap them in foil or plastic before placing them in a freezer bag. They will stay good for up to three months.
Thaw: Take the bread out of the freezer and thaw it in the fridge overnight before reheating.
Reheat: Finally, reheat it in a microwave on a moist paper towel for 15 seconds.
More Fall Recipes:
Cooking tips:
For best results, only grease the bottom of the pan so the batter can cling to the sides. This helps make sure it rises as it should.

In addition, do not overmix the batter. It is best to mix by hand or with your mixer at the lowest speed.
Also, the crack down the center of the bread is not a mistake, it is a sign of the perfect loaf. The crack is just to let the steam escape and it happens to all perfect loaves.

You should also put the pan in the oven as soon as you are done adding the ingredients and make sure it is in the center of the oven.

Also, cool the bread for 10 minutes in the pan before removing it and placing it on a wire rack to finish cooling. This helps to keep its shape.
If you add fresh berries, toss them in flour first so they do not all sink to the bottom.
Chocolate Chip Pumpkin Bread
Ingredients
1 2/3

cups

all-purpose flour

1

teaspoon

baking soda

1/2

teaspoon

baking powder

1/2

teaspoon

salt

1 1/2

teaspoon

ground cinnamon

1/4

teaspoon

ground ginger

1/4

teaspoon

ground nutmeg

1/8

teaspoon

ground cloves

1

cup

pumpkin puree

not pumpkin pie filling

1/2

cup

white granulated sugar

1/2

cup

brown sugar

1/2

cup

canola oil

or vegetable oil

1/4

cup

buttermilk

2

large eggs

at room temperature

1

teaspoon

vanilla extract

1

cup

chocolate chips
Maple Glaze:
1 ½

cups

powdered sugar

1-2

tablespoons

milk

2

tablespoons

maple syrup

1

teaspoon

vanilla extract
Instructions
Spray a 9x5 loaf pan with nonstick cooking spray and line it with parchment paper in a way that has handles on the side. Set aside.

In a medium bowl, whisk together the flour, baking soda, baking powder, salt, cinnamon, ginger, nutmeg, and cloves until well combined. Set aside.

In a large bowl, beat together the pumpkin puree, white granulated sugar, brown sugar, oil, buttermilk, eggs, and vanilla until fully combined.

Add the dry ingredients to the wet mixture and mix just until combined. Stir in the chocolate chips.

Pour the batter into the prepared loaf pan, using a spatula to level the top.
Bake:
Bake in the preheated oven for 50-60 minutes or until a toothpick inserted into the center comes out clean.

If the bread starts getting brown too quickly, cover loosely with foil when baking.

When done, transfer to a wire rack to cool for 15 minutes.

Lift the pumpkin bread from the pan using the paper handles and place it on the wire rack to cool completely
Glaze:
Mix all the glaze ingredients in a bowl until smooth, drizzle on top of the fully cooled bread.

Once the glaze has settled, slice and serve the bread.
Deliciousness to your inbox
Enjoy weekly hand picked recipes and recommendations