Apple Slab Pie with Maple Glaze [Video]
Last updated on October 15th, 2021 at 02:03 pm
Apple Slab Pie is like a giant party-sized apple pie made on a jelly roll pan or cooking sheet. Made with a sweet and juicy apple mixture between layers of buttery pie crust. Instead of a traditional apple pie that feeds six, you will have a giant dessert that feeds up to 16! This is the perfect sweet dish for a crowd.
For a smaller apple pastry, try this delicious and easy Apple Pie Danish recipe. Or make an Orange Creamsicle Freezer Pie if you don't feel like turning the oven on. And these Air Fryer Copycat McDonald's Apple Pies are even better than the real thing without the oven or the drive to the fast-food joint.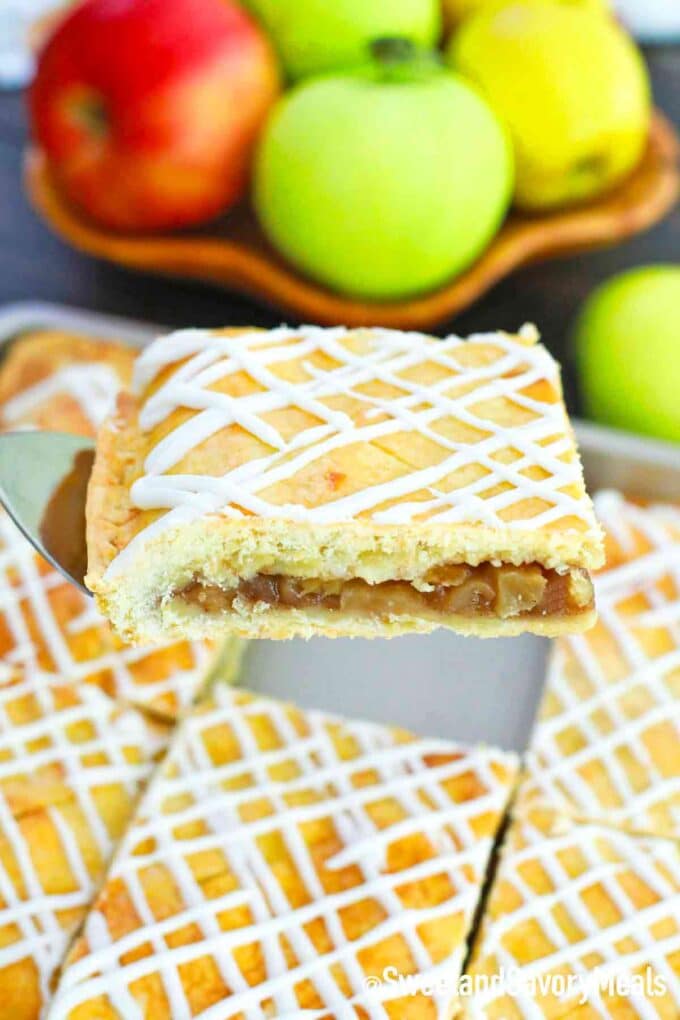 Apple pie is an American tradition, but it is a favorite for people all over the world. And there are not many people who can resist a nice warm slice of pie with gooey sweet and tart filling topped with a scoop of ice cream.
Even non-bakers or beginners will be able to make this easy recipe. The best part is that you do NOT have to worry to create the perfect bottom and top crust. Hence, even kids can help with the process!
This easy and flavorful recipe will quickly become a family favorite and it's perfect for Thanksgiving or Christmas dessert table.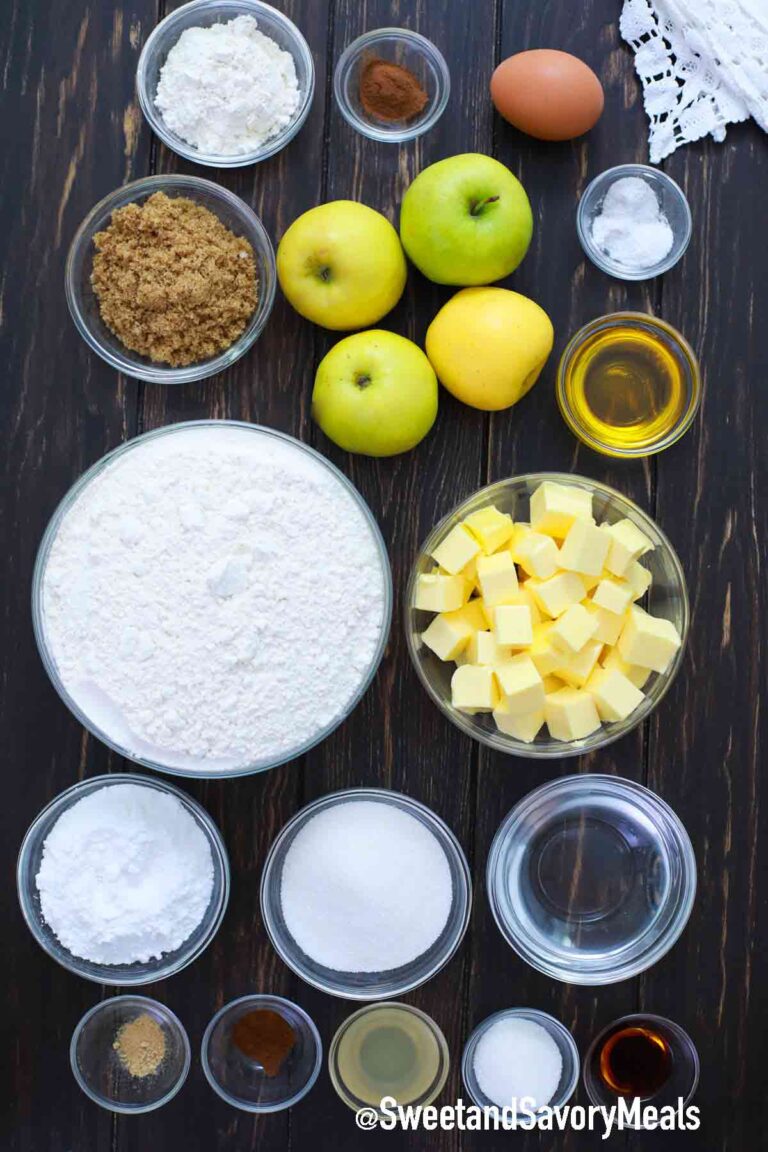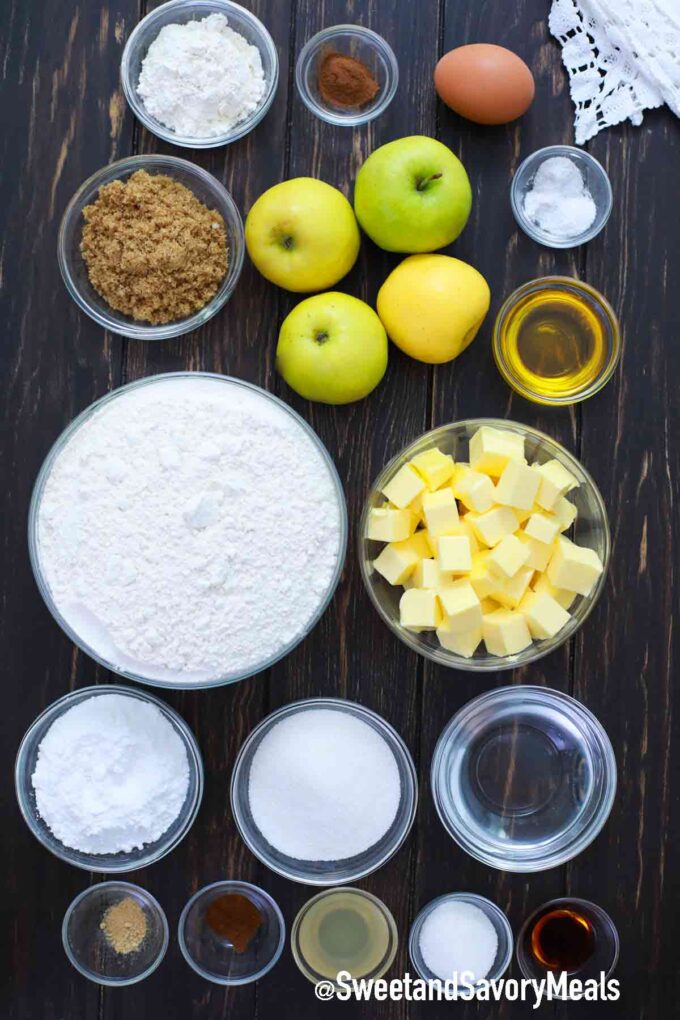 Ingredients needed:
This recipe includes making the pie crust from scratch but if you want to make things easier, go ahead and use premade pie crusts or puff pastry. We won't tell anyone! Then all you will need to get started are some apples. Here are some more of the ingredients you will need:
Crust:
Flour: All-purpose flour, spooned, and leveled.
Salt: Any kind will do.
Sugar: White granulated sugar is best.
Unsalted Butter: Cold, and cut into cubes.
Water: Ice water with ice.
Egg: One large egg beaten with one TB of milk.
Coarse sugar: Optional, for sprinkling on top.
Apple Filling:
Peeled and chopped apples: We used Gala and Granny Smith.
Sugar: White granulated.

Brown sugar: Light or dark are both fine.

Flour: All-purpose flour.

Lemon juice: Fresh is best.

Vanilla: Pure vanilla extract.

Spices: We used ground cinnamon, cloves, nutmeg, and ginger.
Glaze:
Confectioner's sugar: Or powdered sugar, sifted.
Maple syrup: Pure is best.

Milk: Whole milk or heavy cream works best to thin the glaze.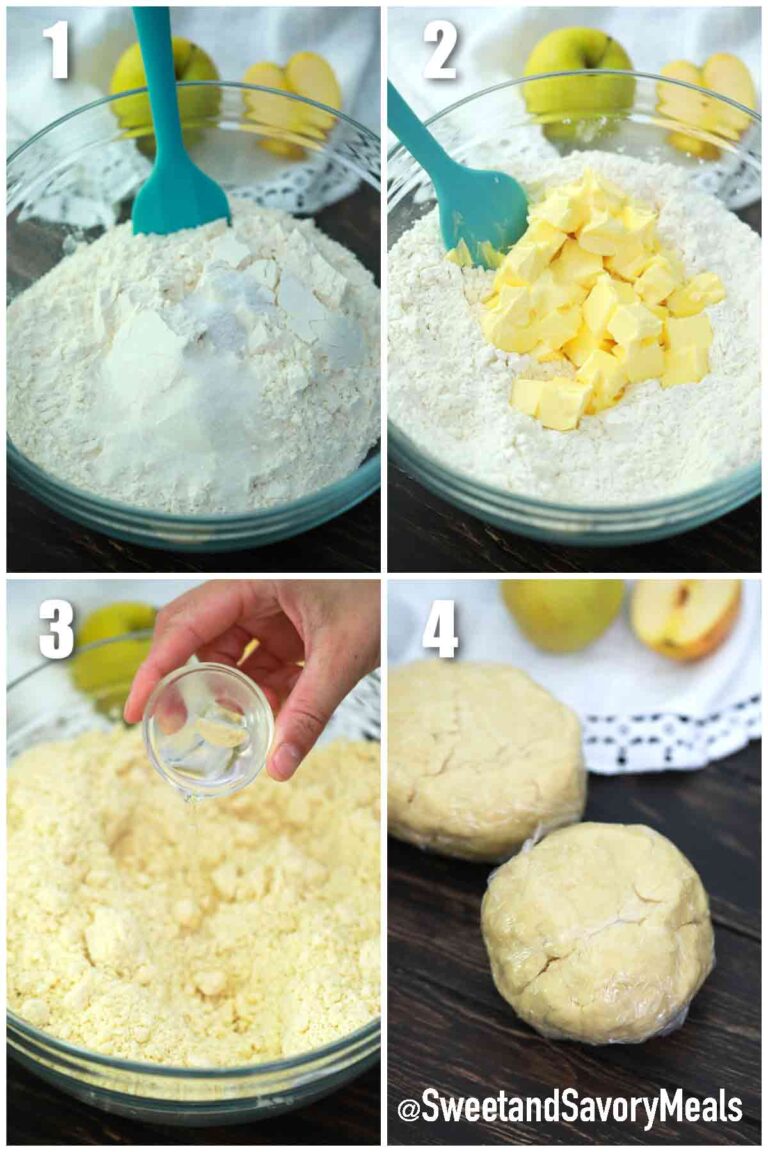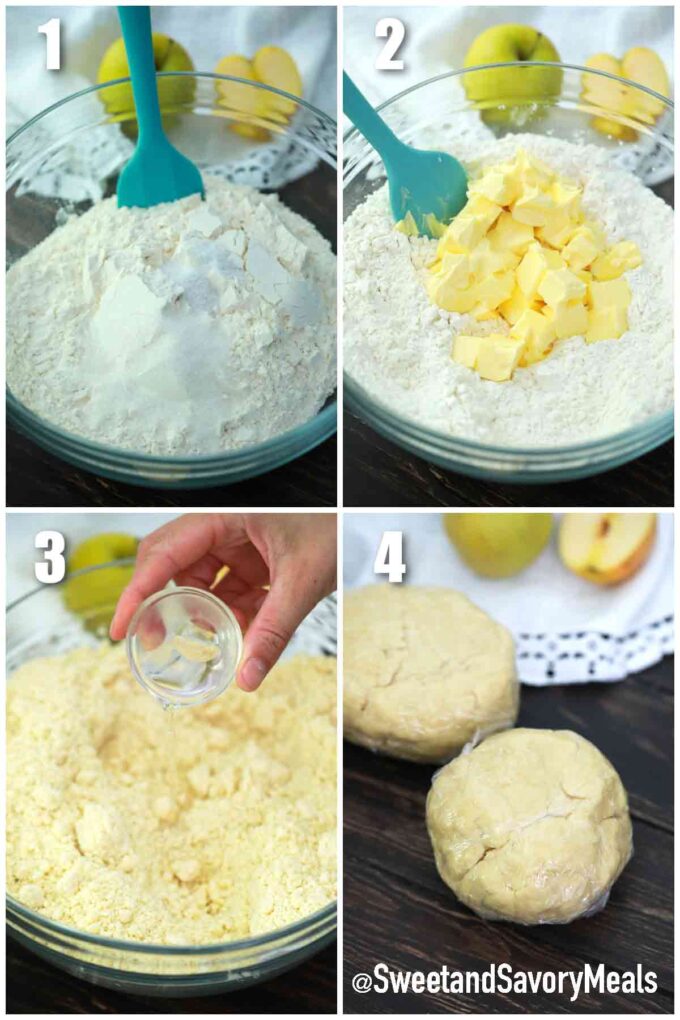 How to make an apple slab pie recipe from scratch?
Mix: To start, mix the flour, salt, and sugar in a medium bowl. Add the cold butter and use a pastry cutter or pastry blender to cut the butter into small pea-sized bits.
Add: Then, add the ice-cold water one tablespoon at a time to the flour mixture, stirring with a wooden spoon after each tablespoon so you do not add more than you need. Stop adding water when the dough forms large clumps. It typically takes about ¾ cup.

Fold: Next, using floured hands and a floured surface, fold the dough over and over until the butter is completely worked in. It should be easy to come together but not sticky.

Form: Following, roll the dough into a large ball, divide dough in half, and use your hands to flatten each half into discs about one inch thick. Wrap the first disk in plastic wrap and after that wrap the second disk of dough and refrigerate for at least two hours or up to five days.

Filling: While the pie dough chills, mix all the filling ingredients in a large bowl and set it aside. Preheat the oven to 375 degrees F.

Roll: After it has chilled, take out one disc and roll it out on a floured work surface until it is about 18 inches by 13 inches. Be sure to turn it a quarter turn every few rolls.

Fill: Then, lay the dough on a 10- by 15-inch size rectangular baking sheet, letting the excess hang over the sides of the pan and trimming it to about one inch. Spread the filling over the top of the bottom crust.

Roll: Immediately, take the other dough disc out of the fridge and roll it out in the same way as the first. Place the top crust over the filling, letting the excess hang over the edges.

Seal: Next, squeeze the edges together with your fingers and then use a fork to crimp them. Cut a few slits in the top of the crust and then brush it with your egg wash. Sprinkle with coarse sugar if desired.

Bake: Finally, cook the pie for about 40 to 45 minutes until the crust is golden brown and the filling is bubbling.

Cool: Last, take it out of the oven and let it cool on a wire rack for several hours.

Serve: To serve, add a drizzle of glaze on the pie before cutting.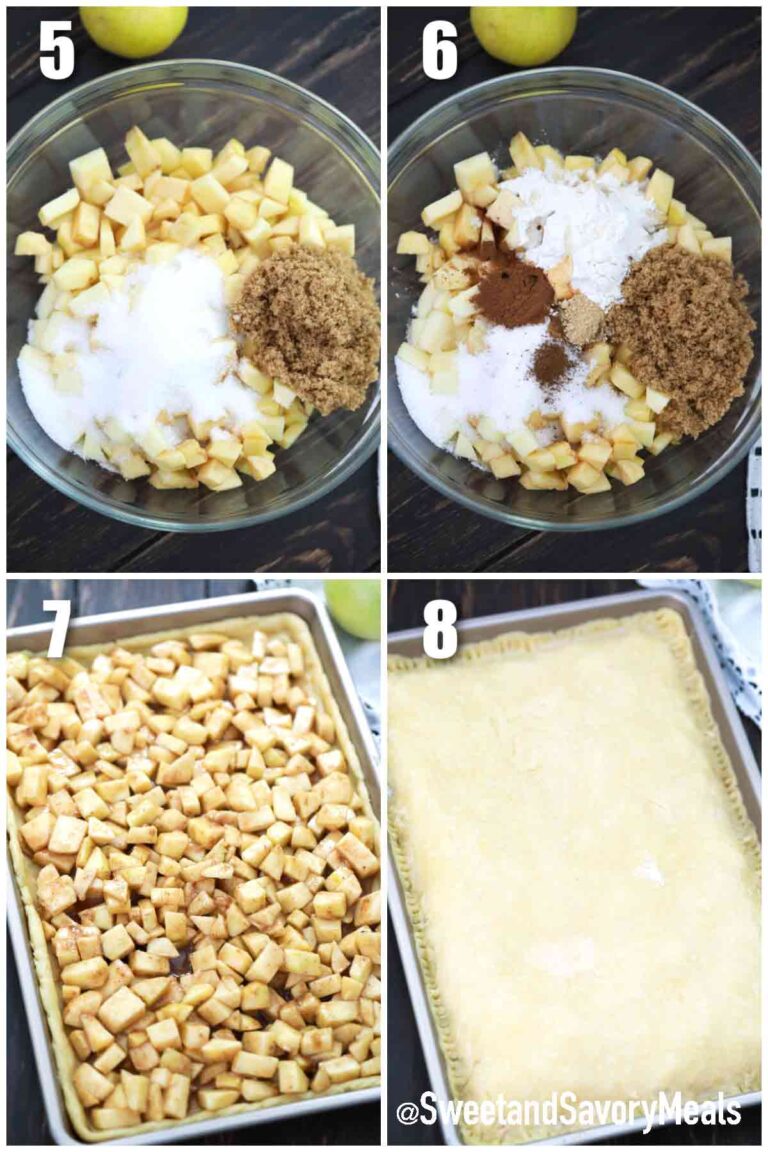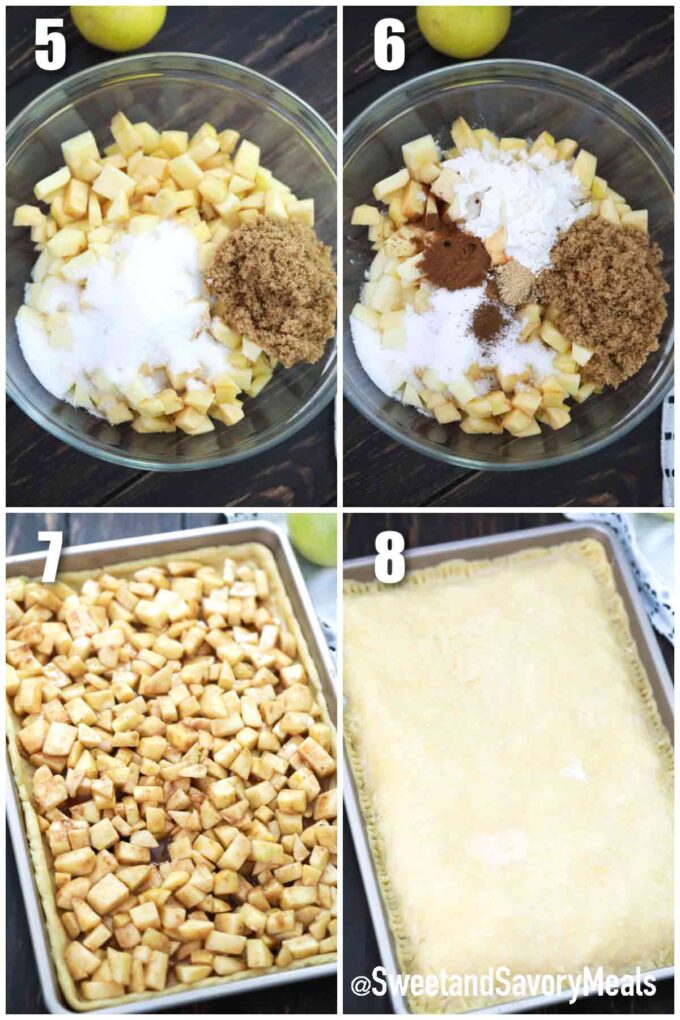 Recipe variations:
Use other fruit: Try using other fruits like pears, cherries, or peaches for a different taste.

More fruit: Similarly, add other fruit to the apple mixture like blueberries or strawberries.

More sugar: Sprinkle brown sugar with the coarse sugar on top of the crust.

Melt: Alternatively, sweeten it up with melted caramel or chocolate syrup on top.

Apple Pie filling: As an option to make the apple mixture use our recipe for homemade apple pie filling.
How to serve:
This apple slab pie is perfect served warm with a scoop of vanilla ice cream on top. Or try one of these serving ideas:
Rather than ice cream, use this homemade whipped cream topping.

Add crumbles to the top for a cobbler-like texture.

Frost the top with this easy and yummy cream cheese frosting.

Add some shaved apples on top for a fruitier taste.

Sprinkle cinnamon and sugar on top to make it even sweeter.

As an alternative, add caramel sauce and vanilla ice cream on top of the pie.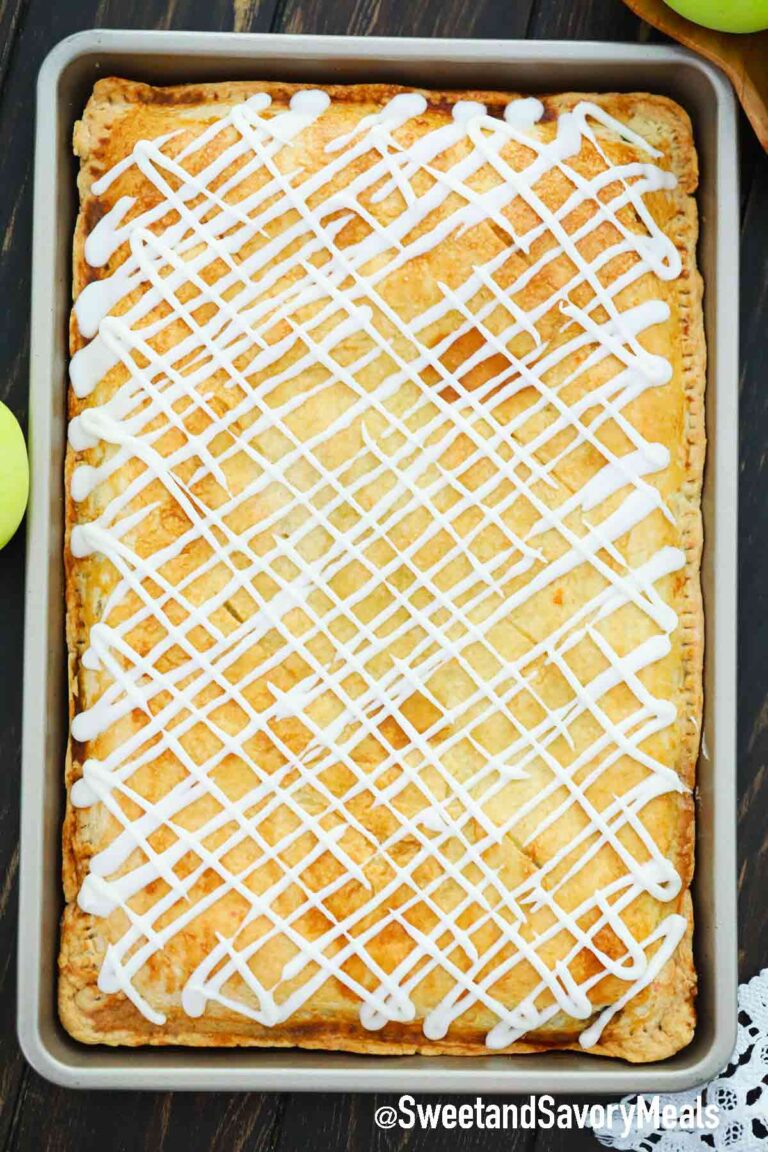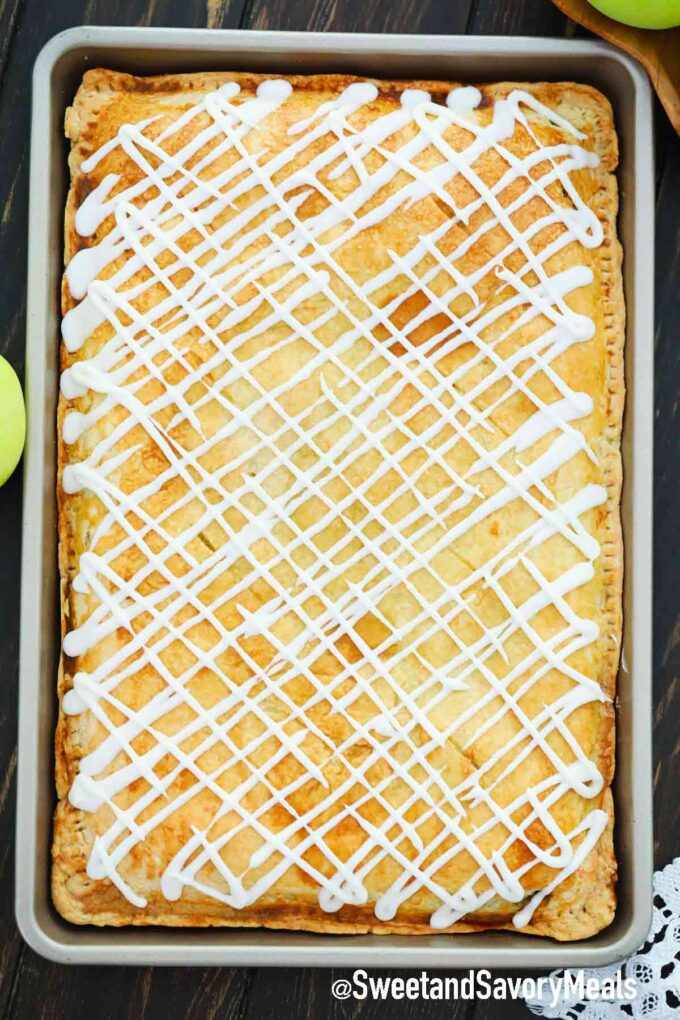 Frequently asked questions
What are the best apples for apple pie?
Although you can use any type of apple in this recipe, we recommend you use your favorite apples. Also, there are some that are better than others. You want apples that are not going to turn into applesauce when you bake them. Also, you want them to be sweet and tart but not too sweet and tart.
Honey Crisp apples are one of the favorites because they are firm, sweet, and not too tart. Granny Smith apples are also a favorite choice. These are tarter than the others but great for combining with other apples or fruits like pears.
Another good choice is Gala apples because they are sweet but mellow and they stand up to baking. Pink Lady apples are crisp and tart with a sweetness that is refreshing and firm enough for baking. Golden Delicious has an amazing taste but they do get soft when you bake them.
What is a galette pie?
Galette is not actually a pie per se although some call it a freeform pie. Rather, it is a pastry that is wrapped around fresh fruit. You do not need a pie pan for this one, just a flat surface like a baking sheet pan. The dough is a lot like pie pastry but with a bit of cornmeal.
You can use just about any fruit or even vegetables for this pastry, but it is most often done with peaches, nectarines, plums, or apples tossed with sugar and flour. You can also add lemon zest, cinnamon, nutmeg, and other spices.
To keep the bottom from being soggy, brush it with egg white or layer it with crushed cookies or cake. Then you just put it on a piece of parchment paper on a baking pan, pile the fruit into it, and fold the edges over with a large opening in the top to release the steam.
Does a pie need a bottom?
A pie without a bottom may not actually be considered a pie in some people's minds but it is really up to the person who is making it and eating it. The dictionary says a pie is a baked dish of fruit, meat, or vegetables with a top and base of pastry.
So, according to the definition, a pie needs a bottom. But it is really up to you.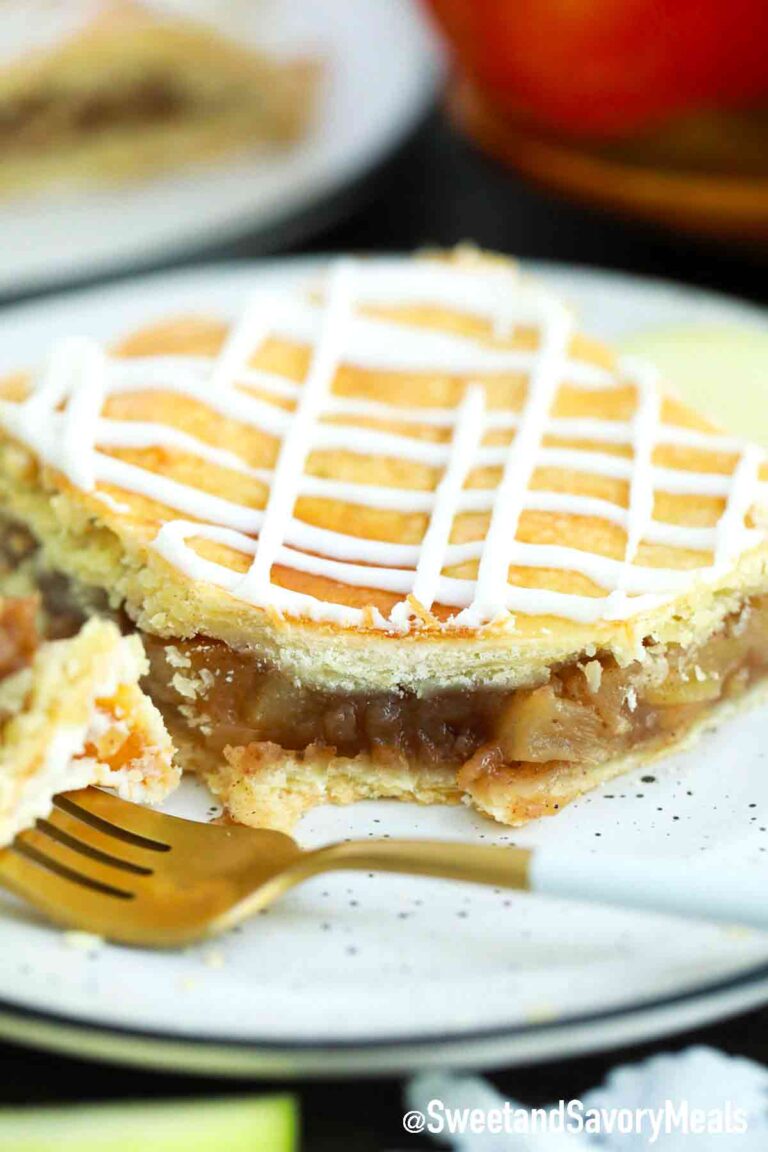 How to store leftovers:
Store: First, let it cool, and after that cover, the leftover apple slab pie tightly and store them in the fridge for up to four days.

Freeze: To freeze, wait until the pie is totally cool and wrap it in plastic wrap before placing it in a freezer bag.

After that, freeze for up to 3 months.

Thaw: FInally, when you are ready to serve it, thaw in the fridge overnight.
Reheat: This pie is great cold, or you can heat it up in the microwave or oven.
More Apple Recipes:
Cooking tips:
Feel free to use whatever type of apples you want in this homemade apple slab pie recipe.

Also, if you cannot find fresh apples, canned apple pie filling will do in a pinch.

Use leftovers to make an apple crumble or apple coffee cake.
Alternatively, leave the peel on the apples for a crispier texture.
Optionally, you can make the dough in a food processor if you have a large enough one.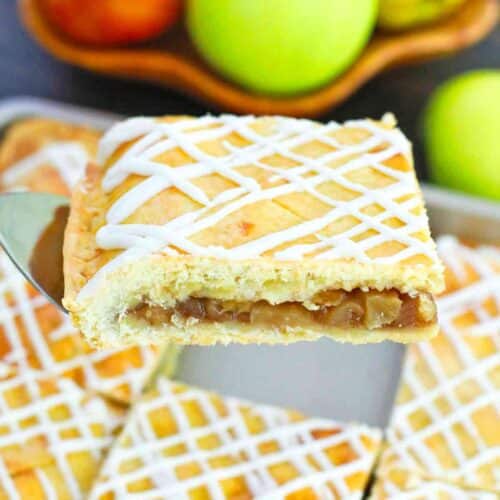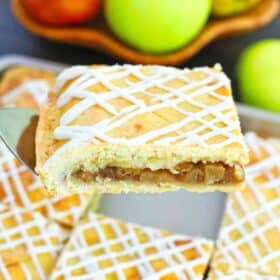 Apple Slab Pie Recipe
Apple Slab Pie is like a giant apple pie made on a jelly roll pan. It is cut into bars instead of the traditional triangles.
Save
Share
Print
Pin
Rate
Ingredients
Crust:
4 1.2

cups

all-purpose flour

(spoon and leveled)

1 1/2

teaspoons

salt

1

tablespoon

white granulated sugar

2

cups

unsalted butter

(cold and cubed)

3/4

cup

ice water
Egg wash:
1

large egg

(lightly beaten)

1

tablespoon

milk
Apple Filling:
10

cups

peeled and chopped apples

(about 4.5 – 5 lbs - we used Granny smith and Gala)

1/2

cup

white granulated sugar

1/2

cup

dark brown sugar

(packed)

1/4

cup

all-purpose flour

2

tablespoons

fresh lemon juice

1

teaspoon

pure vanilla extract

2

teaspoons

ground cinnamon

1/4

teaspoon

ground cloves

1/4

teaspoon

ground nutmeg

1/4

teaspoon

ground ginger
Glaze:
1

cup

confectioners' sugar

(sifted)

2

tablespoons

pure maple syrup

1

teaspoon

milk

(or more)
Instructions
Pie crusts:
In a large bowl mix the flour, salt, and sugar. Next, add the butter, and using a pastry cutter cut it into the mixture until it resembles a coarse meal.

Add 1 tablespoon of cold water at a time, and stir well after each addition until the dough begins to form large clumps and stick together. At that point, do not add more water.

Transfer the dough to a floured work surface. Using floured hands, fold it until it does not feel too sticky.

Form the dough into a ball and divide it in half.

Flatten each half into 1-inch thick discs using your hands. Next, wrap each disc tightly in plastic wrap and refrigerate for at least 2 hours or up to 5 days. Also, you can freeze it for up to 3 months.
Apple filling:
Mix all of the filling ingredients in a large bowl. Set aside.
Make the pie:
Preheat oven to 375 degrees F.

Remove 1 disc of pie dough from the refrigerator. Keeping the other in the refrigerator.

On a lightly floured work surface, roll the disc into an 18×13-inch rectangle. Place the dough on the bottom of a 10×15 inch jelly roll pan, trim the overhang on the sides to be about 1 inch.

Spread the apple filling evenly on top of the crust.

Roll out the 2nd pie dough disc the same way and place it on top of the filling.

Seal the edges with your fingers and crimp down the sides with a fork.

Cut a few slits into the top of the crust.

Mix the egg with the milk and then brush the pie crust. Sprinkle with coarse sugar on top.
Bake the slab pie:
Bake the apple slab pie for about 40-45 minutes in the preheated oven, or until the crust is golden brown and the filling is bubbling.

Remove from the oven, place on a wire rack, and allow to cool for a few hours or serve it warm.
Glaze:
In a small bowl whisk all of the glaze ingredients together and drizzle over COOLED pie.

Cut into slices and serve.

Cover leftovers in an airtight container and store them in the refrigerator for up to 3-4 days.
Nutrition
Calories:
482
kcal
|
Carbohydrates:
64
g
|
Protein:
4
g
|
Fat:
25
g
|
Saturated Fat:
15
g
|
Polyunsaturated Fat:
2
g
|
Monounsaturated Fat:
6
g
|
Trans Fat:
1
g
|
Cholesterol:
71
mg
|
Sodium:
431
mg
|
Potassium:
217
mg
|
Fiber:
5
g
|
Sugar:
31
g
|
Vitamin A:
852
IU
|
Vitamin C:
4
mg
|
Calcium:
79
mg
|
Iron:
3
mg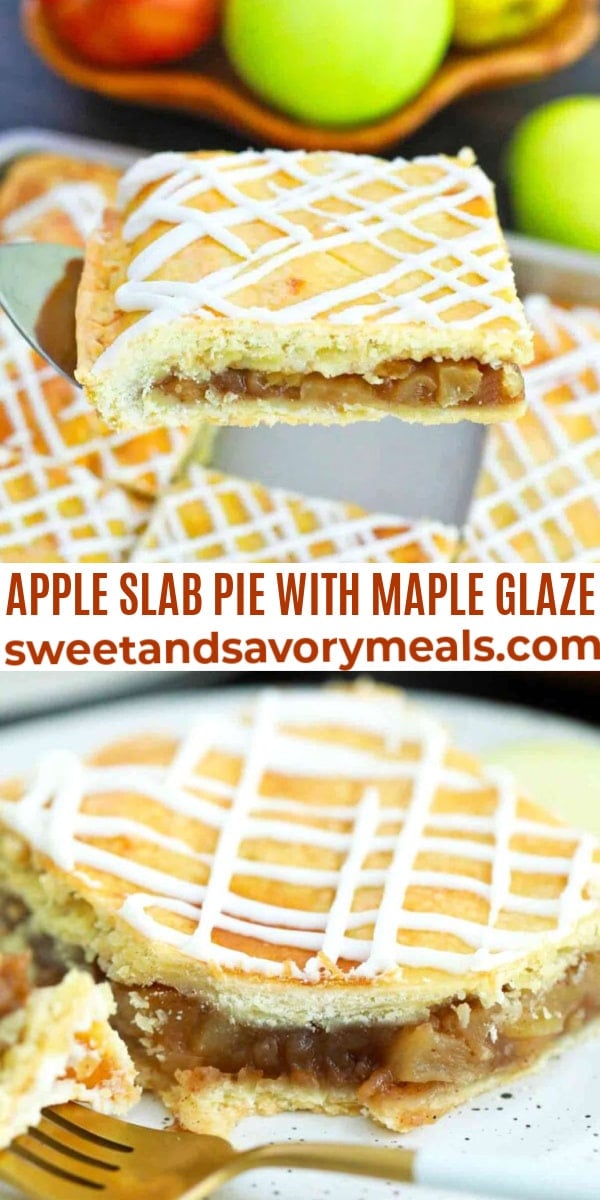 More recipes you might love