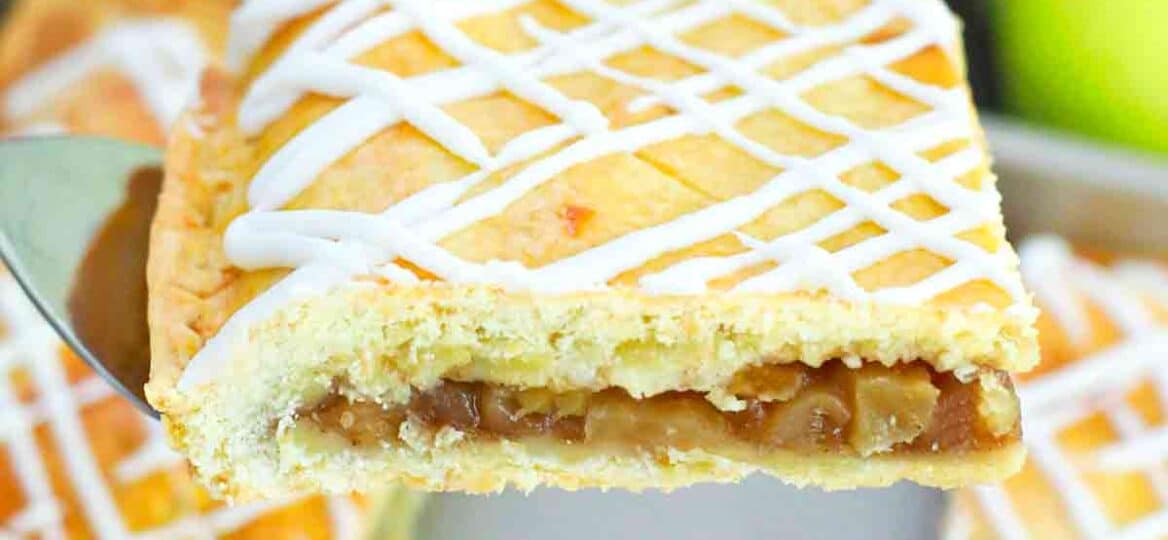 BEST Apple Slab Pie with Maple Glaze [Video]
Apple Slab Pie is exactly what it sounds like; a giant slab of absolutely delicious apple pie with a buttery crust and maple glaze. The cinnamon-spiced apple filling is perfectly sweet and a little tart. A pie can only feed six or eight, but this huge baked pie can serve up to 16! So, if you are planning a party, a big family dinner, or just really love apple pie, you want to try this recipe.
Today's apple slab pie recipe is nothing like the ones they made in the early days. Slab pies have been around for years. They are like giant Pop-Tart pastries with a thick fruit filling. Although it was the ancient Greeks who invented the first pie and was first seen in a cookbook in the 5th century. So why do we say, "as American as apple pie?" Nobody really knows.
Instead of the traditional pie recipe, why not make this apple slab pie? It has a buttery crust, ooey gooey sweet, and tangy apple filling, and a rich and creamy maple glaze. Besides apples, all you need are basic baking ingredients like sugar, flour, butter, salt, milk, and an egg as well as a bunch of warm spices. And the glaze only needs three ingredients.
This easy and flavorful recipe will quickly become a family favorite and it's perfect for Thanksgiving or Christmas dessert table.
Ingredients needed:
This recipe includes making the pie crust from scratch but if you want to make things easier, go ahead and use premade pie crusts or puff pastry. We won't tell anyone! Then all you will need to get started are some apples. Here are some more of the ingredients you will need:
Crust:
Flour: All-purpose flour, spooned and leveled.
Salt: Any kind will do.
Sugar: White granulated sugar is best.
Unsalted Butter: Cold, and cut into cubes.
Water: Ice water with ice.
Egg: One large egg beaten with one TB of milk.
Coarse sugar: Optional, for sprinkling on top.
Apple Filling:
Peeled and chopped apples: We used Gala and Granny Smith.
Sugar: White granulated.

Brown sugar: Light or dark are both okay.

Flour: All-purpose flour.

Lemon juice: Fresh is best.

Vanilla: Pure vanilla extract.

Spices: We used ground cinnamon, cloves, nutmeg, and ginger.
Or use our famous recipe for Apple Pie Filling!
Glaze:
Confectioner's sugar: Or powdered sugar, sifted.
Maple syrup: Pure is best.

Milk: Whole milk or heavy cream works best to thin the glaze.
How to make an apple slab pie recipe from scratch?
Mix: To start, mix the flour, salt, and sugar in a medium bowl. Add the cold butter and use a pastry cutter or pastry blender to cut the butter into small pea-sized bits.
Add: Then, add the ice-cold water one tablespoon at a time to the flour mixture, stirring with a wooden spoon after each tablespoon so you do not add more than you need. Stop adding water when the dough forms large clumps. It typically takes about ¾ cup.

Fold: Next, using floured hands and a floured surface, fold the dough over and over until the butter is completely worked in. It should be easy to come together but not sticky.

Form: Following, roll the dough into a large ball, divide the dough in half, and use your hands to flatten each half into discs about one inch thick. Wrap the first disk in plastic wrap and after that wrap the second disk of dough and refrigerate for at least two hours or up to five days.

Filling: While the pie dough chills, mix all the filling ingredients in a large bowl and set it aside. Preheat the oven to 375 degrees F.

Roll: After it has chilled, take out one disc and roll it out on a floured work surface until it is about 18 inches by 13 inches. Be sure to turn it a quarter turn every few rolls.

Fill: Then, lay the dough on a 10- by 15-inch size rectangular baking sheet, letting the excess hang over the sides of the pan and trimming it to about one inch. Spread the filling over the top of the bottom crust.

Roll: Immediately, take the other dough disc out of the fridge and roll it out in the same way as the first. Place the top crust over the filling, letting the excess hang over the edges.

Seal: Next, squeeze the edges together with your fingers and then use a fork to crimp them. Cut a few slits in the top of the crust and then brush it with your egg wash. Sprinkle with coarse sugar if desired.

Bake: Finally, cook the pie for about 40 to 45 minutes until the crust is golden brown and the filling is bubbling.

Cool: Last, take it out of the oven and let it cool on a wire rack for several hours.

Serve: To serve, add a drizzle of glaze on the pie before cutting.
Recipe variations:
Other fruits: In addition to or instead of apples, try using your favorite fruits like blueberries, strawberries, or peaches.

Brown sugar: Add brown sugar to the sugar topping for a richer flavor.

Different apples: We used Gala and Granny Smith apples, but you can use your favorites.
Spicy apples: Spicy food lovers would enjoy a bit of red pepper flakes mixed into the glaze.

Add nuts: For a crunchy apple slab pie, sprinkle in some chopped walnuts, pecans, or peanuts.
Topless apple slab pie: You can also make this without a top crust. Just do not cook as long.

No maple syrup: Instead of maple syrup, you can use honey or agave syrup for the glaze.
How to serve:
Your guests and family will love seeing this huge apple slab pie on the dessert table this holiday season. Or you can make it for a birthday or other celebration. We have a few good serving suggestions here for you to try.
Why not add some caramel sauce for a caramel apple slab pie?

Top with whipped cream instead of using the traditional vanilla ice cream.

Add crumb topping to make this more like Dutch apple pie.

Warm pie with ice cream is fantastic though. If you want to use ice cream, try our delicious recipe for no-churn cherry pie.
Apple shavings and cinnamon sugar on top would also taste amazing.

For an even sweeter treat, slather some cream cheese frosting on top instead of the glaze.

Use leftovers to make an apple crumble topping or apple coffee cake.
Frequently asked questions
What are the best apples for apple pie?
Although you can use any type of apple in this recipe, we recommend you use your favorite apples. Also, there are some that are better than others. You want apples that are not going to turn into applesauce when you bake them. Also, you want them to be sweet and tart but not too sweet and tart.
Honey Crisp apples are one of the favorites because they are firm, sweet, and not too tart. Granny Smith apples are also a favorite choice. These are tarter than the others but great for combining with other apples or fruits like pears.
Another good choice is Gala apples because they are sweet but mellow and they stand up to baking. Pink Lady apples are crisp and tart with a sweetness that is refreshing and firm enough for baking. Golden Delicious has an amazing taste but they do get soft when you bake them.
What is a galette pie?
Galette is not actually a pie per se although some call it a freeform pie. Rather, it is a pastry that is wrapped around fresh fruit. You do not need a pie pan for this one, just a flat surface like a baking sheet pan. The dough is a lot like pie pastry but with a bit of cornmeal.
You can use just about any fruit or even vegetables for this pastry, but it is most often done with peaches, nectarines, plums, or apples tossed with sugar and flour. You can also add lemon zest, cinnamon, nutmeg, and other spices.
To keep the bottom from being soggy, brush it with egg white or layer it with crushed cookies or cake. Then you just put it on a piece of parchment paper on a baking pan, pile the fruit into it, and fold the edges over with a large opening in the top to release the steam.
Does a pie need a bottom?
Many people say that a pie has to have a double crust to be a pie. But what about all those other yummy pies like pecan, chocolate, and pumpkin? They are pies and do not have a top crust.
However, the main thing is that a pie should have a bottom crust. Although there are recipes for crustless pies, this seems like more of a pudding or cake.
Why is my crust chewy?
To make the perfect flaky crust, you have to use cool ingredients, especially butter. Warm butter gets absorbed by the flour instead of coating it, making a chewier and tougher, less flaky crust. Do not remove the butter from the fridge until you are ready to make the pie crust.
What is raw sugar?
Raw sugar is slightly amber in color, is larger and coarser than regular sugar, and has a caramel flavor. Also called turbinado sugar, it is made of 99% sucrose and a little bit of molasses. Many bakers use it on top of pastries to give them a crunchy texture and sweet caramel flavor.
How to store leftovers:
Store: First, let your pie cool, and then cover it tightly in an airtight container in the fridge for up to five days.

Freeze: To freeze, wait until it is completely cool and wrap it in plastic wrap before putting it into a freezer bag. It can be frozen for up to three months.

Thaw: Then, the night before serving, thaw your pie in the fridge overnight.

Reheat: Although this apple slab pie is delicious cold, you can reheat it. If you want the crust to be crispy, use an air fryer or toaster oven. If not, you can use the microwave.
More Apple Recipes:
Cooking tips:
First, put your phone or tablet on cook mode so it will not go dark while you are preparing your pie.

To shorten prep time, use canned apple pie filling. Or check out our recipe for homemade apple pie filling on our website.

You can also use a store-bought pie crust or puff pastry dough if you do not have time to make your own dough or homemade pie crust.

Also, you can use your own pie crust recipe instead of ours.

Feel free to use whatever type of apples you want in this homemade apple slab pie recipe.

For a crispier texture, leave the peel on your apples.

You could also make the dough in a food processor if you have one that is big enough.
Sliced apples or chopped apples will both work well in this fantastic recipe.

Jelly roll pans work best for this, but you could use a large baking sheet if that is all you have. Depending on how large of a slab pie you want, you may need to use two baking sheets.

Looking for more apple desserts? We have dozens of them on our food blog.
Apple Slab Pie Recipe
Ingredients
Crust:
4 1.2

cups

all-purpose flour

spoon and leveled

1 1/2

teaspoons

salt

1

tablespoon

white granulated sugar

2

cups

unsalted butter

cold and cubed

3/4

cup

ice water
Egg wash:
1

large egg

lightly beaten

1

tablespoon

milk
Apple Filling:
10

cups

peeled and chopped apples

about 4.5 – 5 lbs - we used Granny Smith and Gala

1/2

cup

white granulated sugar

1/2

cup

dark brown sugar

packed

1/4

cup

all-purpose flour

2

tablespoons

fresh lemon juice

1

teaspoon

pure vanilla extract

2

teaspoons

ground cinnamon

1/4

teaspoon

ground cloves

1/4

teaspoon

ground nutmeg

1/4

teaspoon

ground ginger
Glaze:
1

cup

confectioners' sugar

sifted

2

tablespoons

pure maple syrup

1

teaspoon

milk

or more
Instructions
Pie crusts:
In a large bowl mix the flour, salt, and sugar. Next, add the butter, and using a pastry cutter cut it into the mixture until it resembles a coarse meal.

Add 1 tablespoon of cold water at a time, and stir well after each addition until the dough begins to form large clumps and stick together. At that point, do not add more water.

Transfer the dough to a floured work surface. Using floured hands, fold it until it does not feel too sticky.

Form the dough into a ball and divide it in half.

Flatten each half into 1-inch thick discs using your hands. Next, wrap each disc tightly in plastic wrap and refrigerate for at least 2 hours or up to 5 days. Also, you can freeze it for up to 3 months.
Apple filling:
Mix all of the filling ingredients in a large bowl. Set aside.
Make the pie:
Preheat oven to 375 degrees F.

Remove 1 disc of pie dough from the refrigerator. Keeping the other in the refrigerator.

On a lightly floured work surface, roll the disc into an 18×13-inch rectangle. Place the dough on the bottom of a 10×15 inch jelly roll pan, trim the overhang on the sides to be about 1 inch.

Spread the apple filling evenly on top of the crust.

Roll out the 2nd pie dough disc the same way and place it on top of the filling.

Seal the edges with your fingers and crimp down the sides with a fork.

Cut a few slits into the top of the crust.

Mix the egg with the milk and then brush the pie crust. Sprinkle with coarse sugar on top.
Bake the slab pie:
Bake the apple slab pie for about 40-45 minutes in the preheated oven, or until the crust is golden brown and the filling is bubbling.

Remove from the oven, place on a wire rack, and allow to cool for a few hours or serve it warm.
Glaze:
In a small bowl whisk all of the glaze ingredients together and drizzle over COOLED pie.

Cut into slices and serve.

Cover leftovers in an airtight container and store them in the refrigerator for up to 3-4 days.
Deliciousness to your inbox
Enjoy weekly hand picked recipes and recommendations