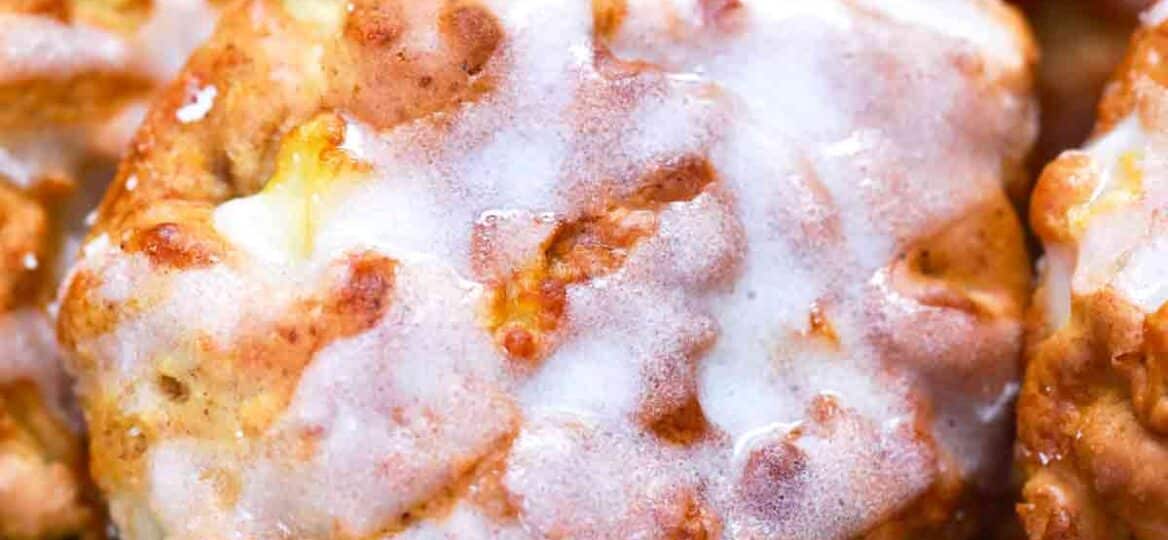 Air Fryer Apple Fritters [Video]
Air Fryer Apple Fritters are crispy-golden, infused with cinnamon, and loaded with fresh, tender apples topped with a sweet glaze. A simple and light dessert that's a certified crowd favorite!
Homemade fruit desserts are always a winner. Treat yourself to this amazing Blackberry Ice Cream, Strawberry Tiramisu, and Instant Pot Blueberry Banana Bread!
Apple Fritters in the Air Fryer
Air Fryer Apple Fritters are covered with a crunchy, cinnamon-infused batter and filled with cubed apples. Because we're air-frying instead of deep-frying them, they are much lighter and less greasy than the conventional versions.
To get that "fried" texture, we're spraying the parchment and both sides of the fritters so they become evenly golden and crispy. We're also making an easy glaze to top these fritters with. Don't worry, it's not going to be too sweet!
The glaze adds a sticky contrast to the crunchy batter, and it's exceptionally delicious when warm. However, you can certainly skip it if you wish.
What is an air-fried apple fritter?
This classic dessert features diced sweet apples dunked in batter, then deep-fried. While hot, it's drizzled with a sweet glaze.
While tasty, the traditional fried preparation tends to be greasy. That's why we've come up with this air-fried version which is lighter but equally delicious!
What goes into homemade air-fried apple fritters
For the fritters:
Apples: De-seeded and peeled, the core is taken out, and diced small.
Batter: Get plain flour ready, together with cinnamon, fresh eggs, vanilla, and milk, plus sugar, salt, spices, and baking powder.
For the glaze:
Combine vanilla and powdered sugar, plus a little milk to bring it together.
How to make homemade crispy Air Fryer Apple Fritters
Prep your air fryer. First, line it with parchment. Brush it very lightly with oil so the batter does not stick.
Prepare your batter. Begin by mixing the dry, then carve a well in the middle. After that, stir in the wet until you have a well-combined batter. Fold in the diced fruits.
Air fry. Drop about a quarter cup of fritter batter. Make sure they have a gap in the middle. Spray or dab with a light coat of oil. Fry at 400F for 3-5 mins. Flip, then cook for a few mins. more until crispy and golden.
Glaze. Whisk together your glaze, then drizzle on each warm fritter.
Serve. Enjoy immediately!
Recipe variations and substitutions:
Baked: Pop these in a 400F oven for 10 to 15 mins.
Fried: You can either deep-fry in oil (this will give you the crunchiest crust), or shallow fry in a skillet.
Other spices: If you want a more intense spice flavor, add allspice to the mix. You can also leave all the spices out if you like.

Healthier: You can add zucchini to the mix! It won't change the flavor, but add more fiber and nutrients into the fritters.
Pears: You can use sweet pears instead of apples.
Batter alternative: For a yummy shortcut, try using pancake mix for the batter and just add spices!
Frequently Asked Questions
Is it healthy to eat homemade air fryer apple fritters?
These are much healthier than the fried kind! Apples are also nutritious fruits filled with fiber, vitamins, and minerals. Do note that this recipe does have sugar and carbs, so if you're watching both, we suggest enjoying this as an occasional treat.
What are the best types of apples to use for this air fryer recipe?
We prefer green ones or Honey Crisp. They offer the perfect balance of sweetness, crispiness, and a little sourness to even things out. But feel free to use whatever you have on hand! Simply adjust the sugar or omit it altogether if you have really sweet varieties.
What's different between a donut and a homemade fritter?
A donut is fried dough flavored with whatever you prefer, while a fritter consists of ingredients (like fruit, veggies, or meat) dipped in batter and fried.
More delicious desserts to try:
Storing instructions:
Cool completely first, then store in a tightly sealed container. You may eat it cold, but we highly recommend reheating it in the air-fryer or oven at 350F. It's best when hot!
Recipe tips:
We recommend cooling the fritters on a wire rack while you make the others, so they don't get soggy.
Depending on the size of your air fryer, only air-fry two or three at a time. It's important to leave gaps between them, or they will stick together and won't get crispy.

When glazing, place parchment under the wire rack to catch any drippings.
Deliciousness to your inbox
Enjoy weekly hand picked recipes and recommendations