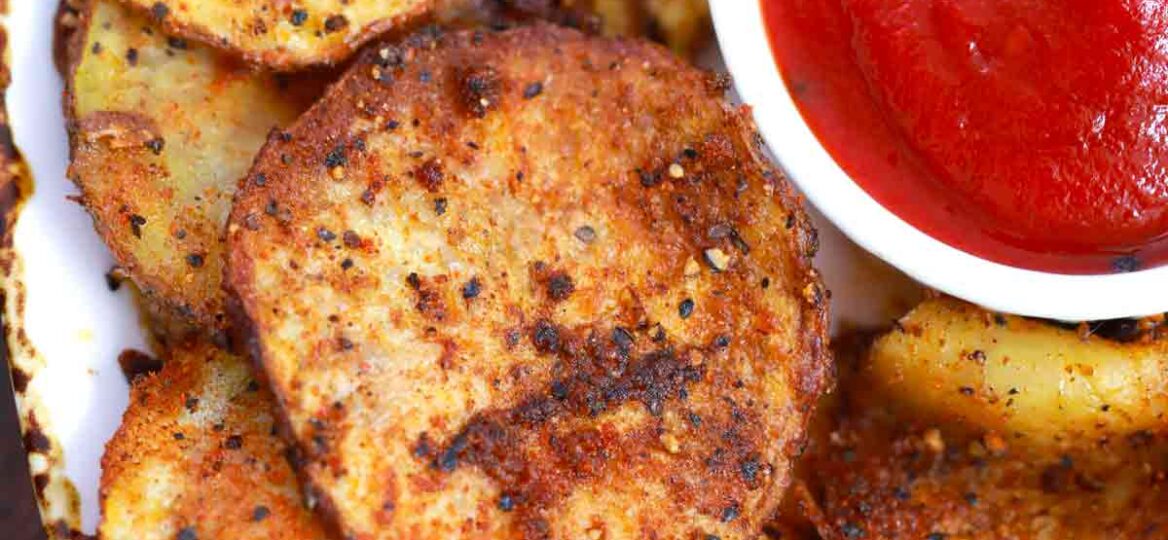 Air Fryer Potato Chips [Video]
Air Fryer Potato Chips are sliced thin then tossed in olive oil, salt, and paprika before getting air-fried until they are perfectly crispy. Completely made from scratch and ready in less than 30 minutes!
These hearty, rustic potatoes are the ultimate comfort food ingredient. For instance, turn them into Latkes, Hash Browns, and the Crispiest Wedges!
Crispy Air Fryer Potato Chips
These Crispy Potato Chips are impossible to stop eating! They taste like old-fashioned chips, except these ones are lighter and grease-free. The super-thin potato slices are coated in spices and a little oil, then air-fried until they get super crispy. You won't be able to stop snacking on these!
Apart from being a delicious snack, you can pair them with just about any entrée. For example, you can easily pair them with burgers and sandwiches, BBQs, fried chicken, or stuff them into breakfast burritos in place of hash browns.
Of course, don't forget the dips— we're listing down our favorites later on!
Why make potato chips in the air fryer?
Imagine hot, perfectly salted, and crispy potato chips— except there's no boiling oil to deal with! Air-frying these means almost no grease, no painful splatters, and very minimal clean-up.
Since these have minimal fat and oil, they're healthier than fried potato chips on that part, too!
Ingredients for the best air fryer potato chips:
Potatoes: Use baking spuds like Idaho and Yukon, scrubbed and cut into thin chip slices. Use a mandolin for perfectly even pieces.
Oil: We use olive, but feel free to use any neutral-flavored ones you have on hand.
Seasoning: For this recipe, we're keeping it basic with salt, pepper, and paprika so the chips shine.
How to make Air Fryer Potato Chips?
Soak: In a bowl, add some cold water then submerge your raw sliced spuds for about 15 mins to half an hour. After that, dry them as much as possible (this is important, or they may not crisp up very well if there's lots of excess moisture).
Preheat: Next, turn on your air-fryer and let it preheat to 370F.
Season: Take your dried chips and toss with all the seasonings plus the oil.
Cook: Air-fry for 10 mins., then shake/toss and continue air-frying for about 12-17 minutes more. Stir every couple of minutes, and air-fry until they're as crispy and golden as you like them.
Serve: Enjoy immediately with your favorite dips!
Recipe variations and substitutions:
Use sweet potatoes: Follow the exact same recipe, but use sweet potatoes. The sweet and savory combo is crazy delicious!
Deep-fry: After drying and seasoning them, fry in 350F oil until crispy, turning occasionally.
Bake: Make them in the oven at 370F for about 20 to 30 mins.
Spicy: Add heat with cayenne, chili powder, or pepper flakes.
Ranch: Sprinkle with dry ranch before air-frying for zesty chips!
Garlic Parmesan: Cover with grated parmesan plus garlic powder before and after air-frying.
Herb: Toss lightly with Italian herbs before cooking.
Do I need to Soak My Potatoes?
Don't skip soaking your spuds! It prevents them from browning and allows them to get extra crispy.
What goes with potato chips?
They're really good sides to many dishes! Enjoy them with burgers, steaks, and BBQs.
Also, they are fantastic as well with sandwiches, sloppy joes, burritos, and tacos.
Similarly, try serving them with crispy chicken tenders or fish sticks for the ultimate kid's meal!
Dipping suggestions:
These are amazing with almost any dip— creamy, spicy, tangy, Tex-Mex, plain old ketchup— you name it! To give you some tasty ideas, try these:
Vinegar
Hot sauce
Mayo
Ketchup
Sriracha
Storing instructions:
Once the leftovers are completely cool, place them in a Ziploc or air-tight container. Chill them in the fridge for up to three days. When you're ready to enjoy them again, air-fry at 400F until nice and hot.
More air fryer recipes to try:
Deliciousness to your inbox
Enjoy weekly hand picked recipes and recommendations