Homemade Lamb Burgers are mixed with lots of spices and herbs, then grilled to juicy perfection. It's garnished with a refreshing yogurt sauce, homemade tabbouleh, and served on toasted buns. This is one unforgettable burger!
This is one of the healthiest burgers you can have! To make your meal even more guilt-free, have them with a side of Creamy Cucumber Salad, Chickpea Salad, or the easiest Greek Salad.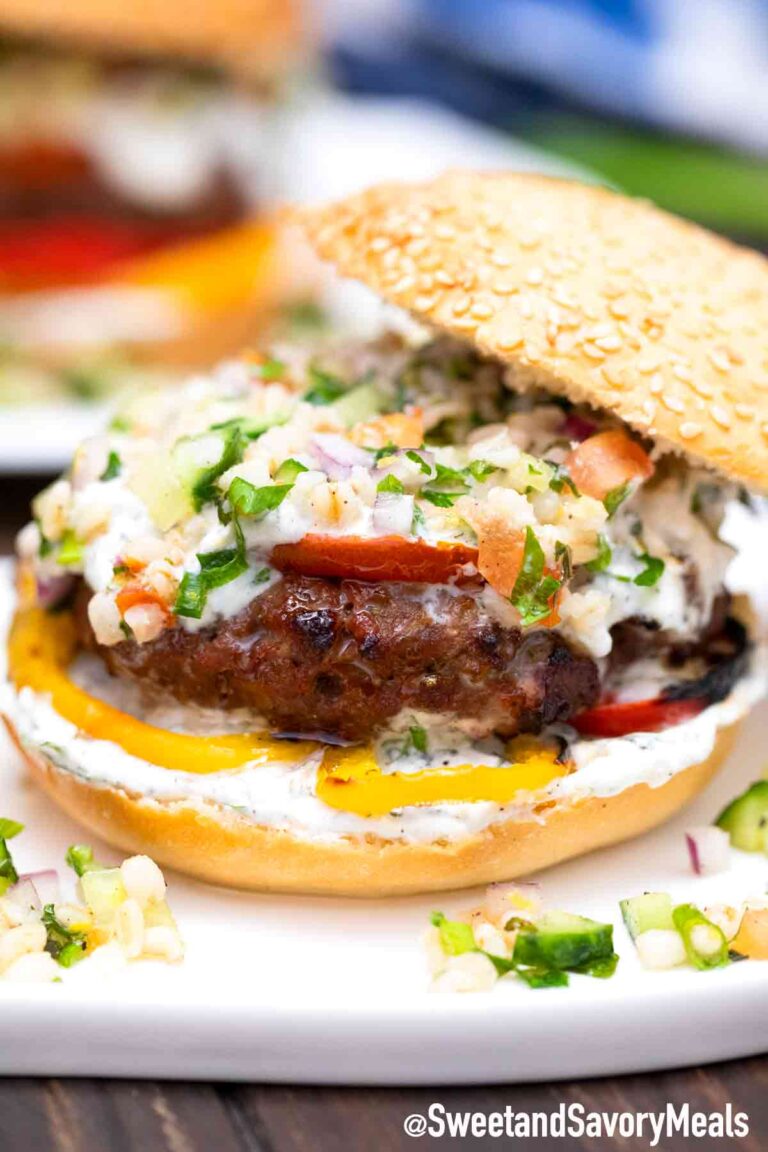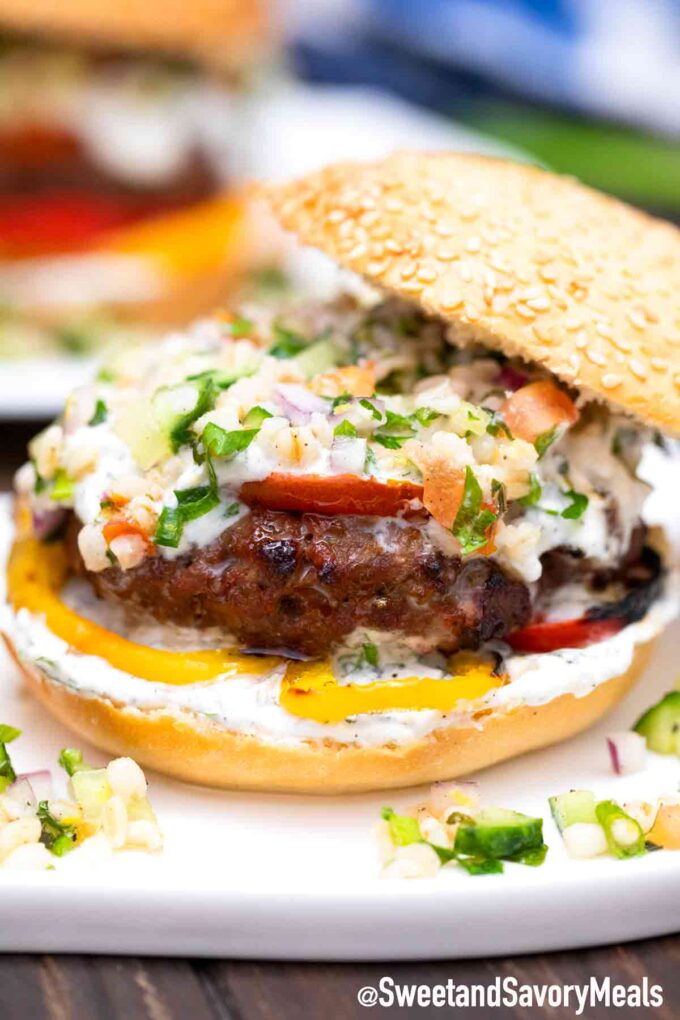 Lamb Burgers Recipe
Homemade Lamb Burgers take more steps to make than your usual cheeseburger, but I promise you they're WORTH IT. Every bite is literally an explosion in your mouth of bright flavors and textures.
It begins with the most amazing lamb patty flavored with lots of herbs, spices, and Dijon. We're topping that with tabbouleh made of bulgur and chopped veggies with a splash of lemon. The toasted buns are spread with a mint yogurt sauce that makes everything taste so light and fresh.
They taste absolutely gourmet, but while the ingredients list looks long, the process is actually really easy. You won't regret trying this recipe!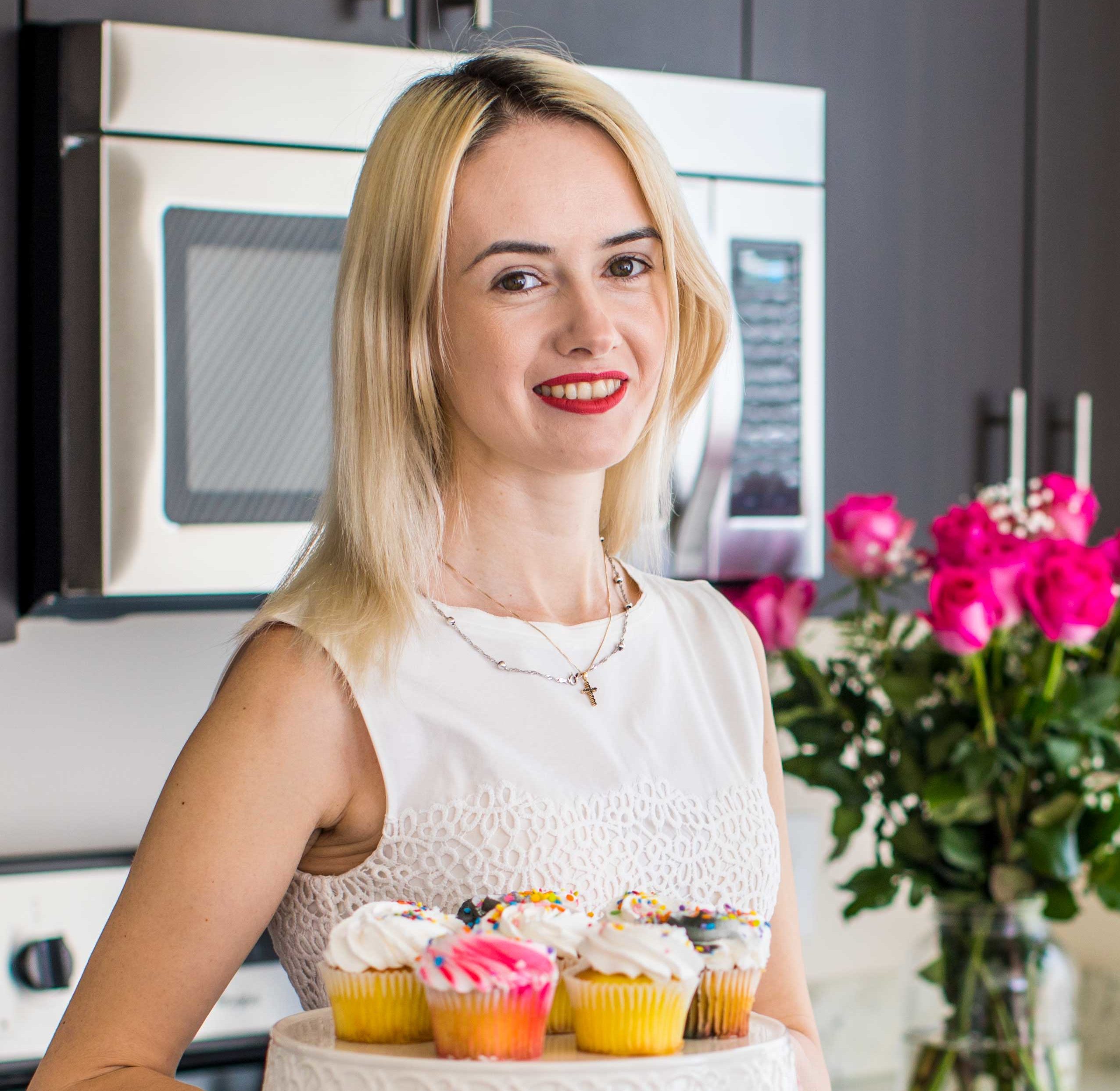 Follow us on Pinterest for more delicious recipes!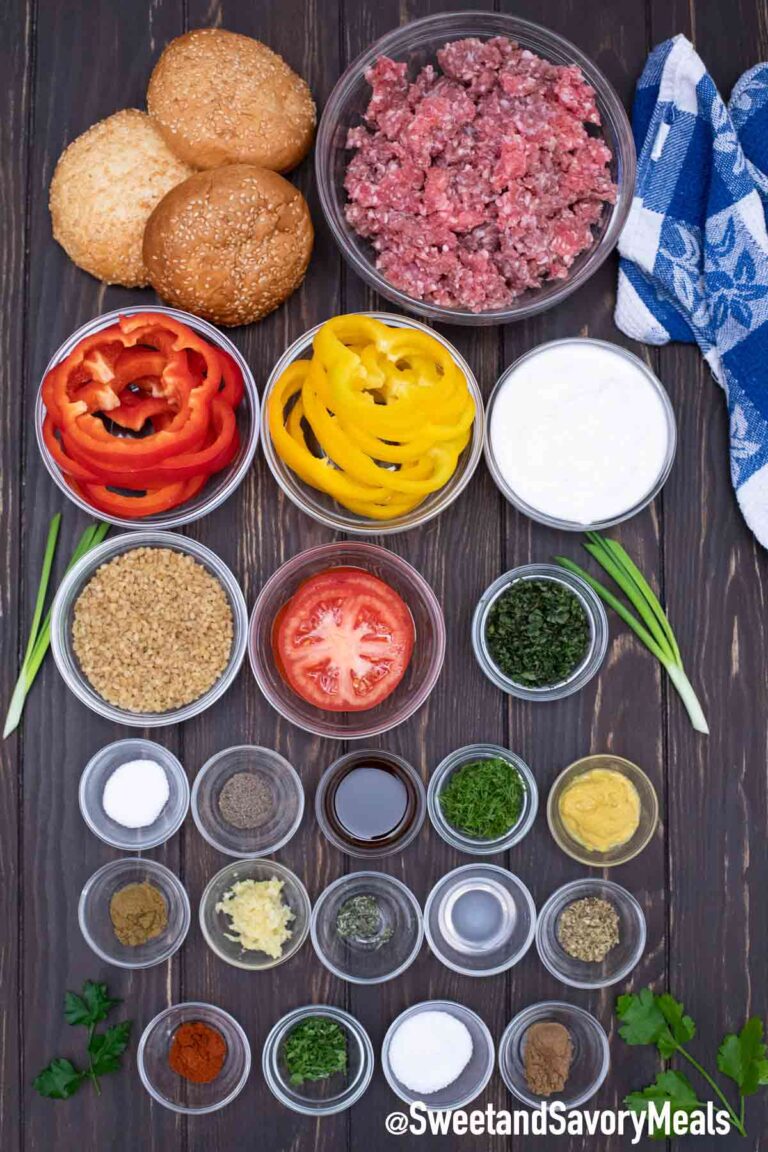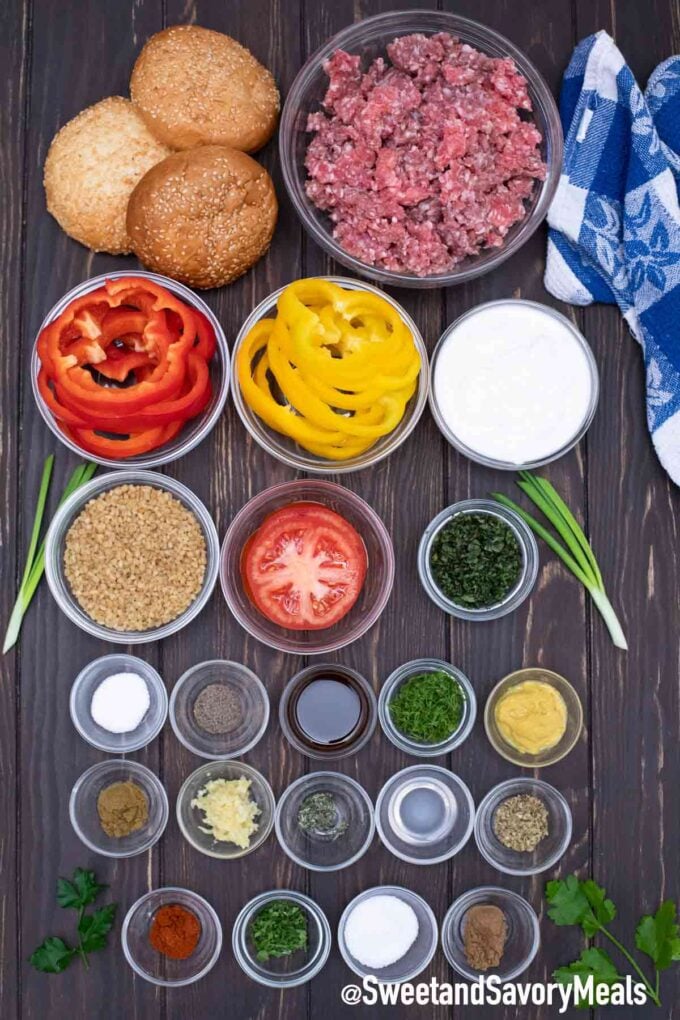 Are lamb burgers healthy?
The patties themselves are incredibly healthy! They're packed with protein, but are lighter and less fatty than beef and pork. They also contain all 9 essential amino acids. These are essential for recovery and growth, which is why so many athletes and body builders love this meat.
Aside from protein, it's also a fantastic source of vitamins and minerals like B12, Zinc, Niacin, Iron, and more.
Now, for the dish itself, it's a very healthy one! Aside from the meat patties, we're piling on the vegetables from both the tabbouleh and the toppings. There's also yogurt in there, which is very good for digestion.
So, in all, yes, lamb burgers are very good for you!
Lamb burger ingredients:
We're using ground, fresh lamb seasoned with Dijon, Worcestershire, fresh parsley plus dried herbs, and spices like cumin and cayenne.
Prepare some bulgur wheat, finely chopped veggies like red onion and cucumber, plus olive oil and fresh lemon juice and zest.
This bright and fresh sauce is made of Greek yogurt (full fat), mint and dill, fresh garlic, and lemon juice.
Prepare some sesame seed buns, plus slices of tomatoes and bell peppers for grilling.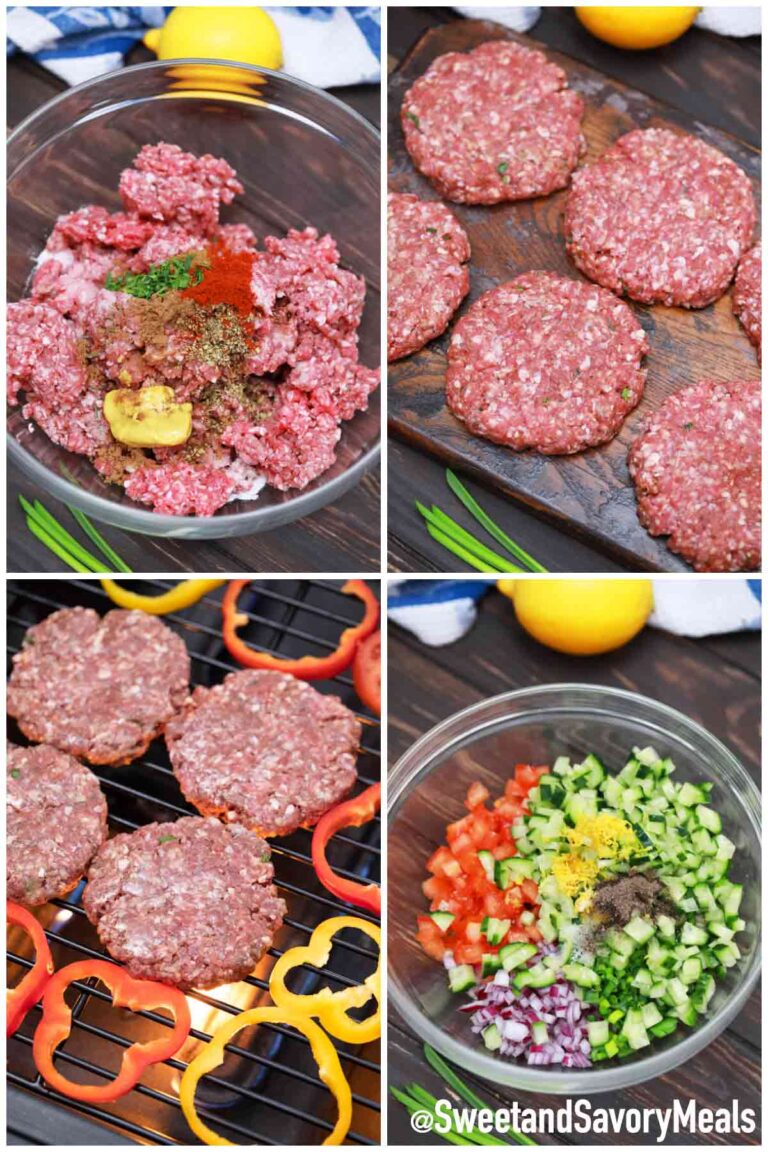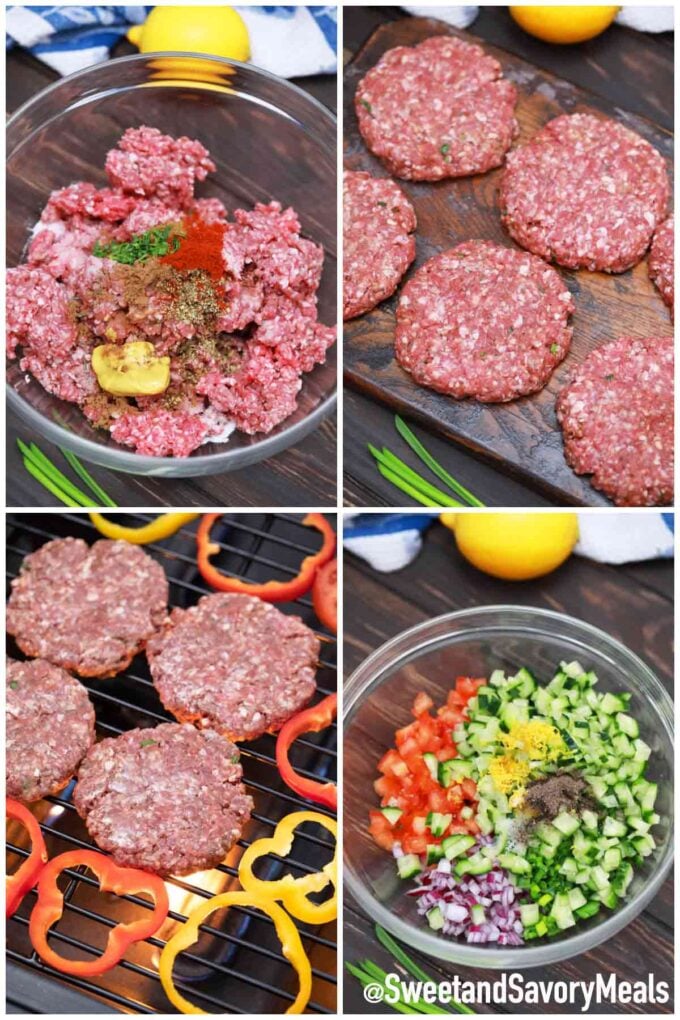 How to make Lamb Burgers?
Begin with the tabbouleh. Prep the bulgur by softening it with boiling water. Meanwhile, chop the vegetables for the tabbouleh. Mix these with the softened bulgur, then season and toss with olive and lemon.

Mix the sauce. Stir the yogurt with the rest of the components for the sauce. Chill.
Make the patties. Mix the ground meat with the dried herbs and spices, cayenne, Worcestershire, and Dijon. Shape into patties.

Grill. Cook the patties on your hot grill, about 3-4 mins per side. Grill the tomato rounds and bell peppers as well. You may also toast the buns, if you wish.
Assemble. Spread sauce on the bottom bun, then top with bell peppers. Add the patty, followed by grilled tomato, then more mint yogurt sauce. Carefully spoon tabbouleh to finish and top with bun. Enjoy hot!
Topping suggestions:
Some of our favorite toppings for these are:
Crumbled feta
Very thinly sliced onions
Chopped olives
Greens like baby spinach, arugula, rocket, and lettuce
Cucumber slices
Sauces like mint yogurt, Tzatziki and Horseradish sauce
Of course, you can also add anything you like to your burgers! Try other cheeses like cheddar and mozzarella, your favorite vegetables, and other burger toppings you love.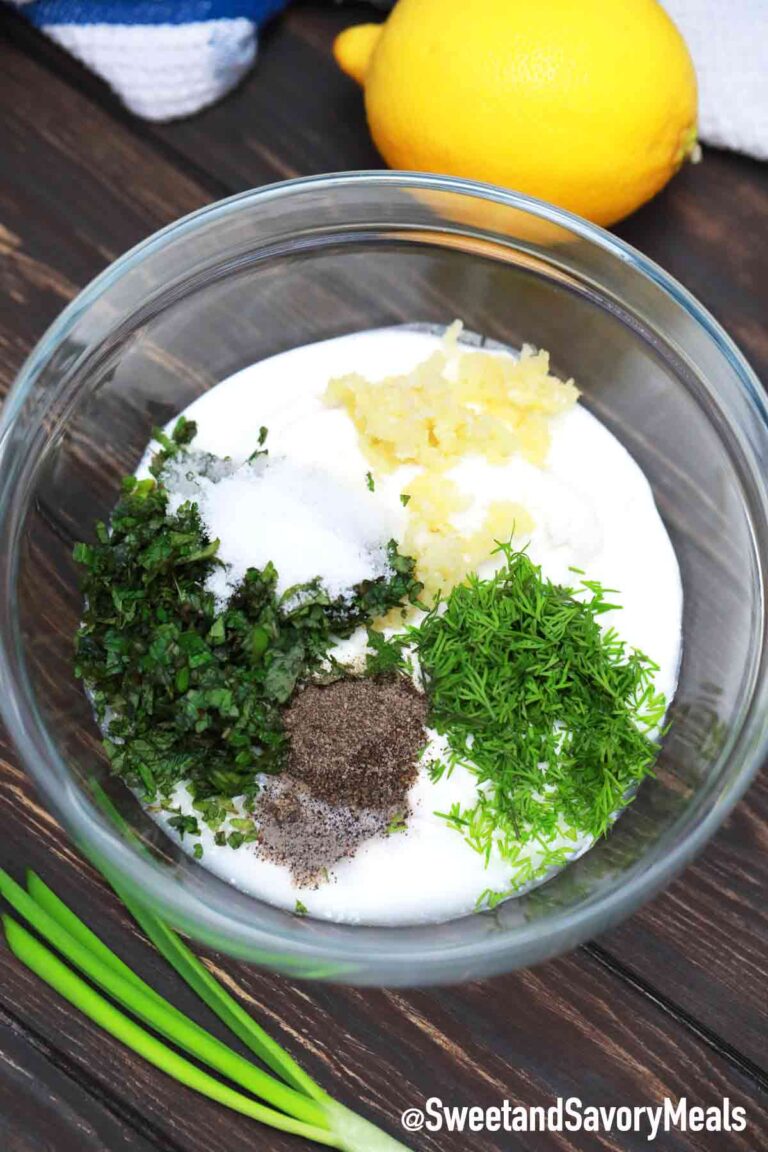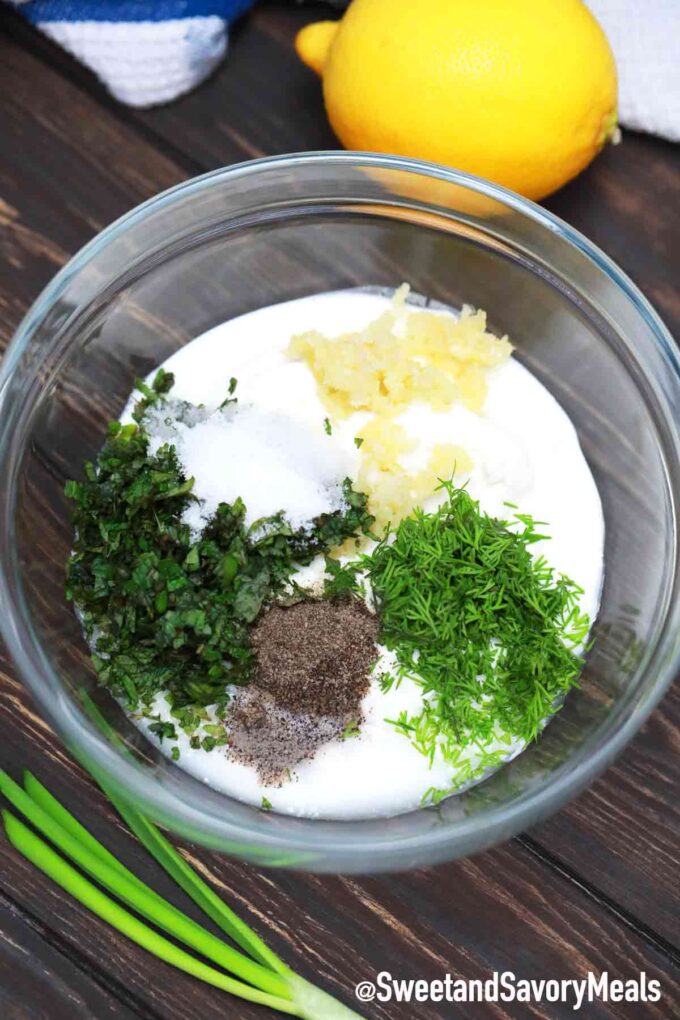 Can lamb burgers be pink?
You can have it medium rare or medium, but for safety, don't go by color to tell when the patties are done. Go by internal temperature. Once it hits 145F, it will still be a little pink, but it can be safely consumed.
What to serve with Lamb burgers?
My family loves making these DIY! We make a mini buffet of toppings like grilled tomatoes and onions, a small bowl of feta, cucumbers, greens like arugula and shredded lettuce, olives, and sauces like Tzatziki and mint yogurt. This way, everyone can make their own!
If you want something more classic, you can assemble the burgers according to the recipe. Then, enjoy it with healthy sides like Hummus and toasted pita chips, Roasted Sweet Potato Fries, or Baked Parmesan Zucchini Fries.
More lamb recipes to try: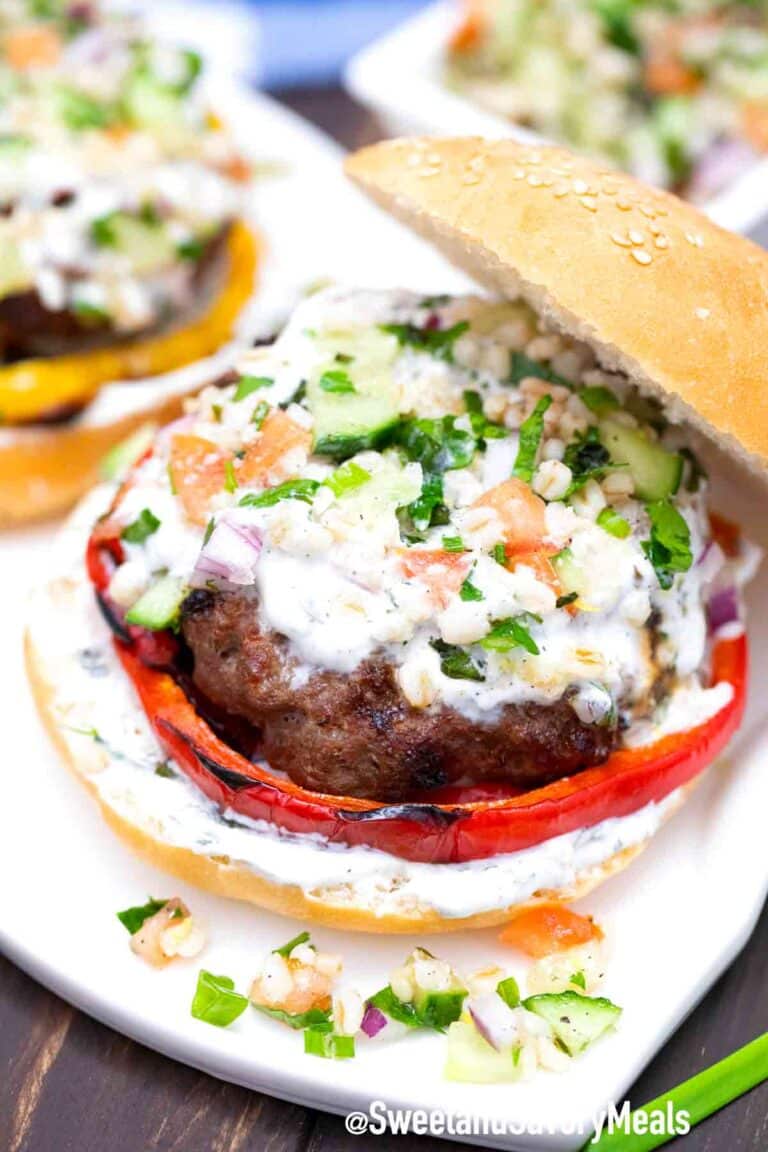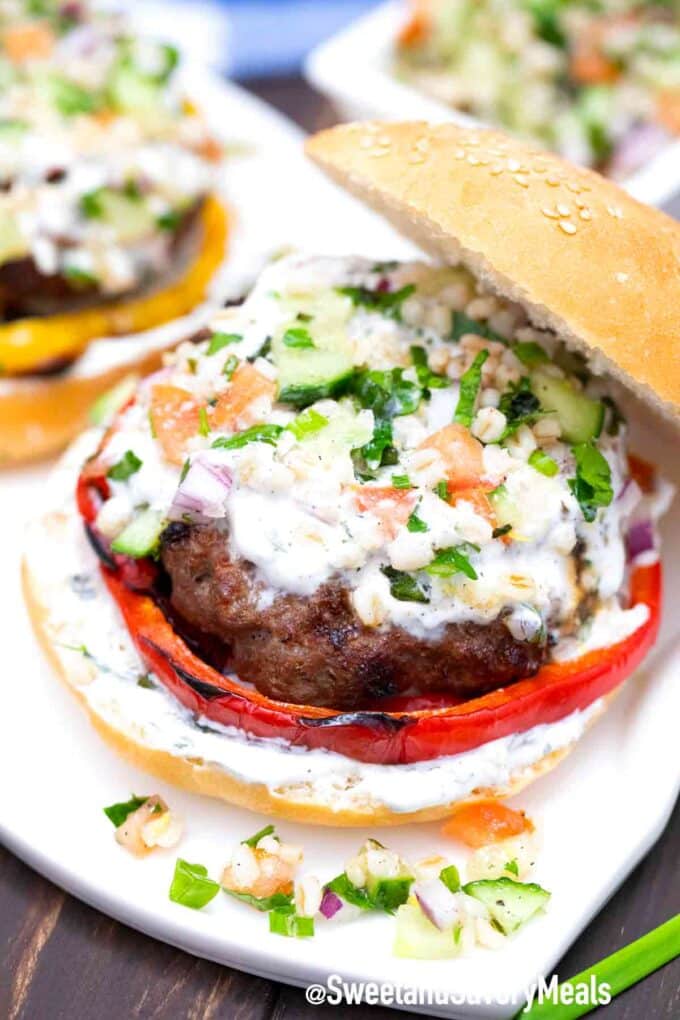 How to store leftovers?
For any leftovers, store them separately. Cool the meat patties first, then place them in a container with parchment in between to prevent them from sticking to each other. As for the tabbouleh and mint yogurt sauce, store them in separate air-tight containers.
Keep all of them in the fridge for up to 3 days, but try to consume them as early as you can.
Recipe Tips:
Make the patties a bit bigger than your buns, and indent the middle gently with your thumb. This will prevent the meat from contracting too much during grilling.
Chill your patties while you're heating up the grill! This helps them stay intact.

Avoid overhandling the meat. Once they're on the grill, don't touch them too much. Flip once, and that's it. First, this prevents them from falling apart. It also ensures they get a nice, brown crust and cook evenly.
Save Recipe
Homemade Lamb Burgers
Homemade Lamb Burgers are mixed with lots of spices and herbs, then grilled to juicy perfection.
Author: Catalina Castravet
Serves: 6 burgers
Prep time:

1

hour

10

minutes
Cook time:

10

minutes
Total time:

1

hr

20

mins
Ingredients
For the Lamb Burgers:
For the Tabbouleh:
For the Mint Yogurt Sauce:
Instructions
Tabbouleh:
Yogurt Sauce:
Lamb Burgers:
Assemble:
Nutrition information
Calories: 512 Carbohydrates: 50 Protein: 43 Fat: 16 Saturated Fat: 4 Trans Fat: 1 Cholesterol: 100 Sodium: 1225 Potassium: 987 Fiber: 8 Sugar: 8 Vitamin A: 2379 Vitamin C: 72 Calcium: 188 Iron: 7
Save Recipe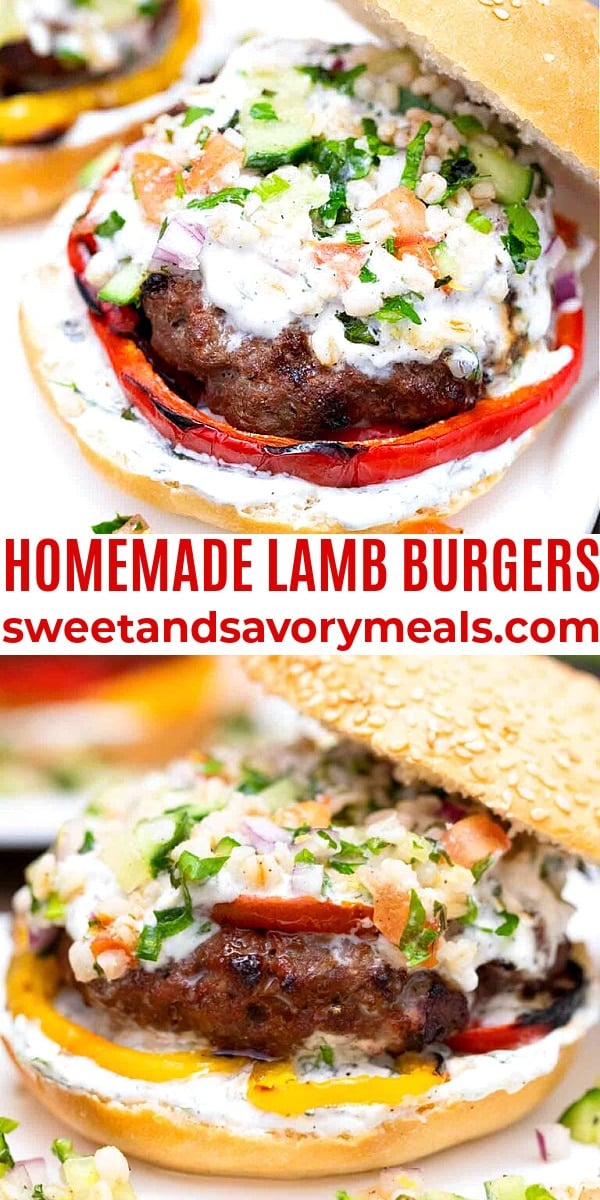 More recipes you might love
Categories: