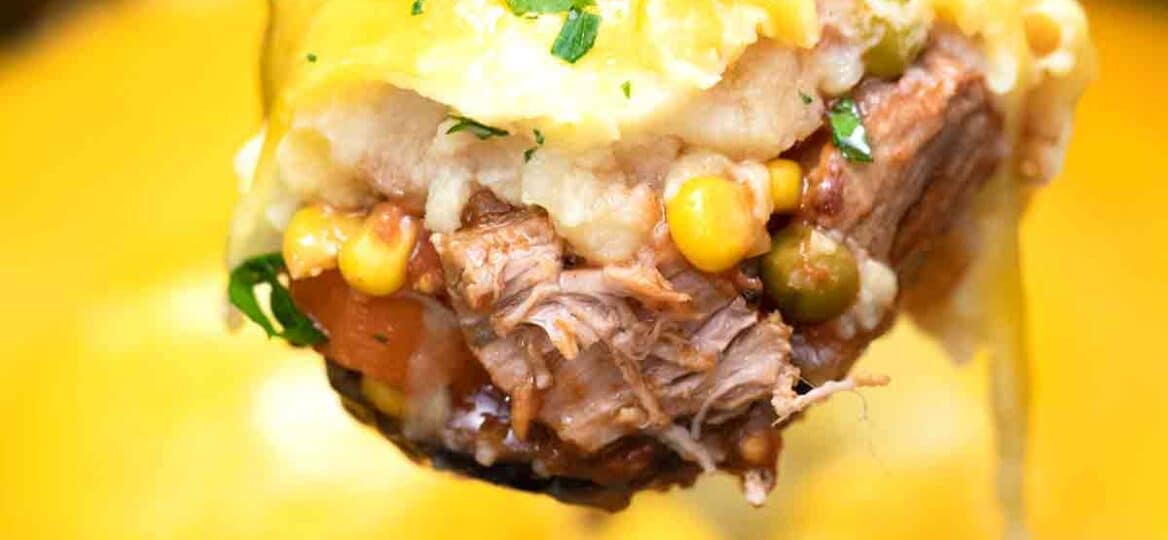 Slow Cooker Shepherd's Pie [Video]
Slow Cooker Shepherd's Pie is made with lamb roast meat filled with soft and crispy mashed potatoes. A classic St. Patrick's Day recipe that is super easy to make in the crockpot.
For me, Saint Patrick's Day is one of my favorite holidays. It is historic, colorful, and signifies the end of winter. During this special day, I also love serving Corned Beef with Cabbage, Guinness Beef Stew, and Fried Cabbage and Noodles.
The Easiest Slow Cooker Shepherd's Pie Recipe
Slow Cooker Sheperd's Pie is the ultimate Irish classic dish made with succulent lamb meat, veggies, cheese, and mashed potatoes. Generally, I stick with the original oven-baked version, but making it in the crockpot is so much easier and much more flavorful.
Also, it is quite convenient, especially if you are on a busy schedule. To make it, all you have to do is simply dump all the ingredients in the pot, set the cooking time, and let the crockpot do its magic. As a result, you are rewarded with a delicious one-pot meal that the whole family will love.
Depending on my time on hand, I might even use leftover lamb. Alternatively, feel free to make it with beef or pork. But no matter which meat you use, this will result in a savory and flavorful dish that will impress your family, friends, and guest.
What is Shepherd's Pie?
This is is a classic Irish dish (AKA Cottage Pie) that is usually served for St. Patrick's Day. It is kind of similar to the American meatloaf recipe but usually made with lamb meat instead of beef. Hence the name because a shepherd looks after sheep.
This dish is full of veggies, and topped with mashed potatoes, making it a full meal on its own. Also, it can be served year-round for lunch or dinner.
How to make Slow Cooker Shepherd's Pie?
Cook the mashed potatoes: Cook large potatoes in a pot, and then mash them. Follow this recipe on how to perfectly cook mashed potatoes.
Brown the meat: Firstly, cut the lamb into smaller-size pieces. Then, oil a skillet and brown the meat for a few minutes on both sides. Once browned, set aside.
Add chopped onions: Next, in the same skillet, brown the onions, and garlic.
Slow cook: Transfer lamb, onions, and the remaining ingredients into the pot, and season with salt and pepper. Mix well, and then spread the mashed potatoes evenly over the top of the mixture. Set the cooking time on LOW for 8-9 hours, or HIGH for 4-5 hours.
Sprinkle the cheese: During the last 10-15 minutes of cooking, sprinkle the cheese over the top, and close the lid.
Garnish and serve: Garnish it with freshly chopped parsley, and serve warm.
Recipe Variations and Substitutions:
Oven-Baked Shepherd Pie: As listed above, you can easily make this dish in the oven. Simply, brown the meat, and transfer it to a greased baking dish with the rest of the ingredients. Next, add the mashed potatoes, and sprinkle with some shredded cheese on top. Bake uncovered for about 40 minutes at 350 degrees F.
Low Carb: To make it low carb, you can replace the potato with mashed cauliflower.
Make it vegetarian. To make a vegetarian shepherd's pie, just skip the meat altogether, and use more veggies instead. Also, go with veggie stock instead of beef stock, and vegan Worcestershire sauce.
Make it with beef: Substitute the lamb with beef meat. You can use the shoulder, chuck, or roast here.
Use other veggies: Feel free to add your favorite veggies here as well. Carrot, celery, broccoli, spinach, finely-diced mushrooms, might be added to the mix as well.
Use sweet potatoes: Alternatively, you can use sweet potatoes instead of the regular type. This will give the dish an amazing sweet+savory taste.
What's the difference between Shepherd's Pie and Cottage Pie?
The main difference between the two is the type of meat used. Cottage Pie is made with beef meat, while Shepherd's Pie is made with lamb. Other than that, they are quite similar and use the same type of ingredients.
What goes with Slow Cooker Shepherd's Pie?
This is a full meal on its own, and quite delicious as well! However, I like pairing it with some of the following:
How to store leftovers?
Refrigerate: Simply let it cool, then transfer to an airtight container and refrigerate for up to 3-4 days.
Freezer: Use a freezer-proof dish, and freeze it for up to 3 months.
More St. Patrick's Day recipes to try:
Recipe Tips:
As stated above, feel free to swap the lamb with beef, pork, or even turkey.
Also, you can use any cheese type for toppings. Just go with what you have on hand, or like the most.
To save time, use store-bought mashed potatoes.
Deliciousness to your inbox
Enjoy weekly hand picked recipes and recommendations