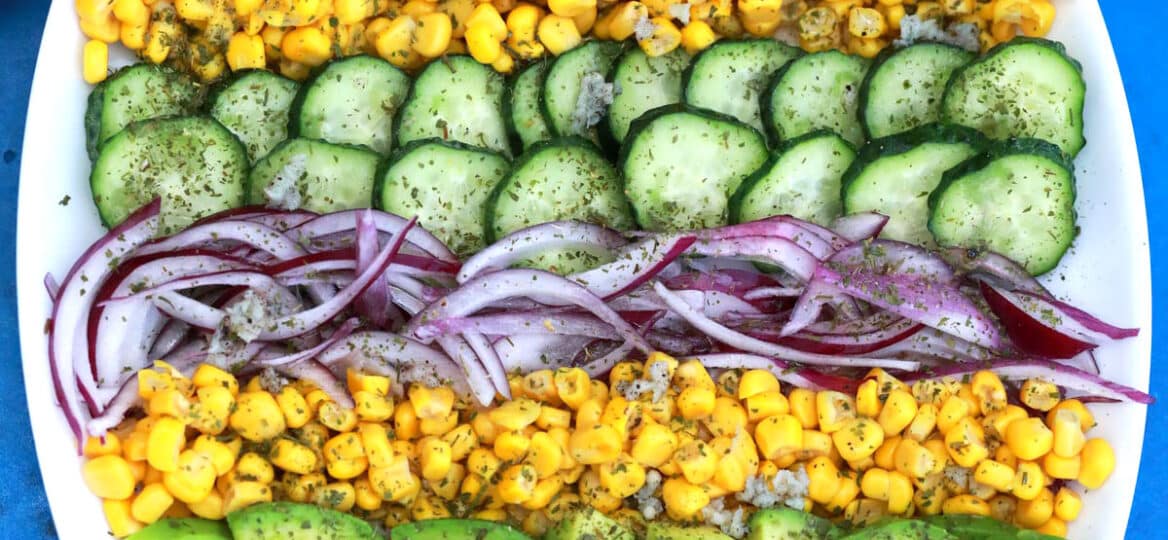 Avocado Corn Salad [Video]
Avocado Corn Salad is a great choice for a healthy and sophisticated, yet easy meal! This combo has a refreshing flavor that anyone will surely love!
Fruits with healthy fats such as avocados are useful in maintaining a balanced lifestyle. Take a look at my recipes for Avocado Egg Rolls, Avocado Chicken Caesar Salad, and Avocado Egg Salad for other variations.
Corn Salad with Avocado
Avocado Corn Salad is a great side dish, appetizer, or a light and healthy lunch option. So, I am excited to be sharing this recipe for you to make this unique meal at home.
I personally like to make this at home every time I feel like my meals are becoming too repetitive. Not to mention, avocadoes and corn are great for those who are on a diet and want to maintain eating whole food.
You should definitely try to make this recipe to add in your go-to dishes. This has minimal ingredients, but the taste is extremely to die for.
How to cook corn on the cob?
Knowing how to cook corn is essential in making this dish. This summer staple is quite easy to make, and I am going to be showing you how it is done.
Fill a large pot with water enough for the cob to submerge. Dash it with a generous amount of salt. You do not have to worry if the water is too salty since it would not absorb everything.

Let the water boil. While waiting, clean your corn by pulling off the husk and removing all the strings.

When the water is boiling, drop the cleaned cob for 20 to 30 minutes. Time accordingly since you do not want it to overcook.
If you want another way to cook this treat, try to check out how to make Instant Pot Corn on the Cob.
How to make the best Avocado Corn Salad
Combine ingredients. Toss the cherry tomatoes, sliced corn, cucumbers, sliced avocadoes, red onion, and cilantro inside a large bowl.
Make the dressing. In a separate container, put in olive oil, lime juice, minced garlic, and seasoning. Mix until well-combined.
Serve. Drizzle the dressing on top of the bowl. You can toss it and let it chill or serve immediately.
More summer salad recipes:
Summertime is the perfect way to explore new refreshing recipes. You can search for a sweet dessert, fruity cocktails, and mouth-watering grilled meat such as:
However, summer is also heavily associated with a lot of salads. If you want to assemble some similar recipes such as this one, you definitely have to check out my recipes for:
How to store it?
After making Avocado Corn Salad, you can refrigerate it immediately before serving. However, if you intend to preserve it for a longer period, there may be some extra steps that you should follow.
What I do is put the dish inside a container and drape it with a paper towel. I find that this helps prevent excess moisture that may cause the food to spoil faster. I then wrap the top of the container with plastic or saran wrap to seal it off.
Using this technique, I can make the dish last up to three days while keeping it fresh and delicious.
Recipe tips:
For added flavor, you can top the dish with feta cheese and basil. This provides creaminess and fragrance to the already scrumptious meal.

Make sure that the water is boiling hot before putting the cob in. You want it to come out as juicy as possible and putting it in boiling water avoids a saggy outcome.

Adding greens such as lettuce, particularly iceberg or the romaine type, also brings a unique crunch to this dish.