Creamy Avocado Egg Salad [Video]
Last updated on June 18th, 2021 at 09:27 pm
Avocado Egg Salad is light and creamy, with buttery avocado, eggs, and seasonings for a flavor boost. It's loaded with protein that's perfect for keto or low-carb diest, or if you just want a fresh, delicious meal that's incredibly easy to whip up!
Got some extra avocados at home? Make my super-healthy and yummy Zucchini Noodles with Avocado Sauce, and use it as the star of my Cheesecake Factory Avocado Egg Rolls Copycat. For dessert, blend it with chocolate chips for this unbelievable Avocado Ice Cream!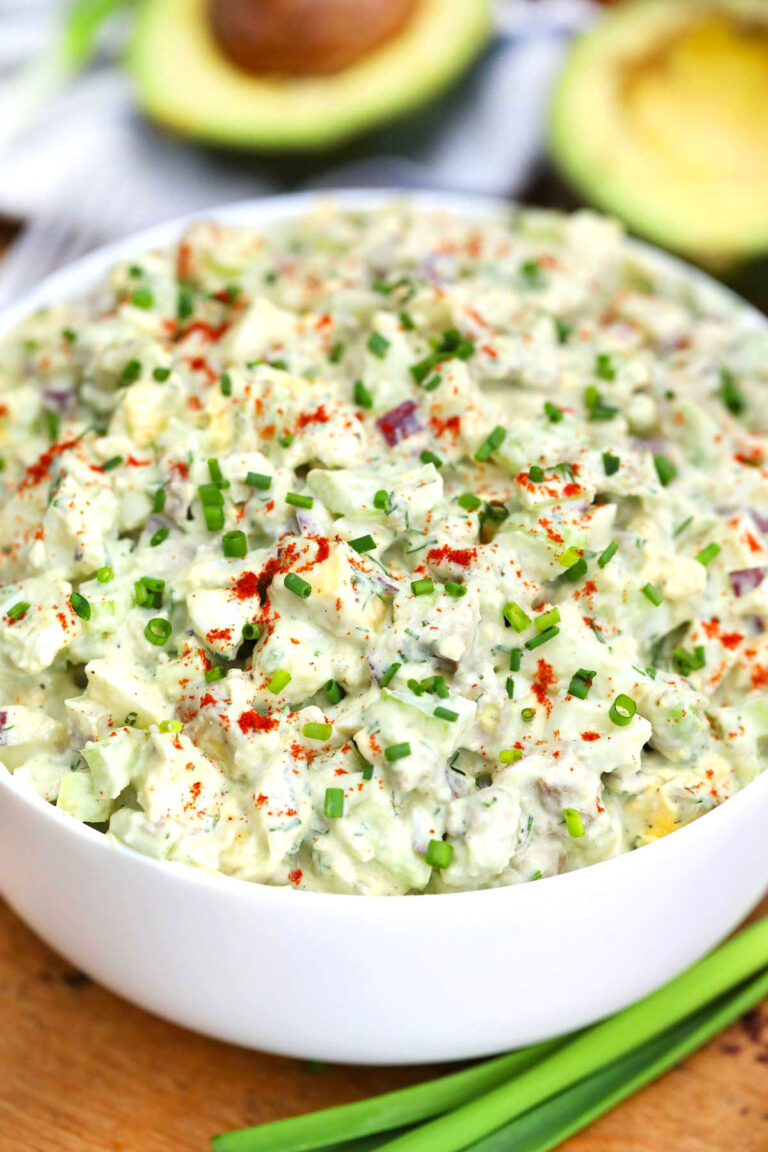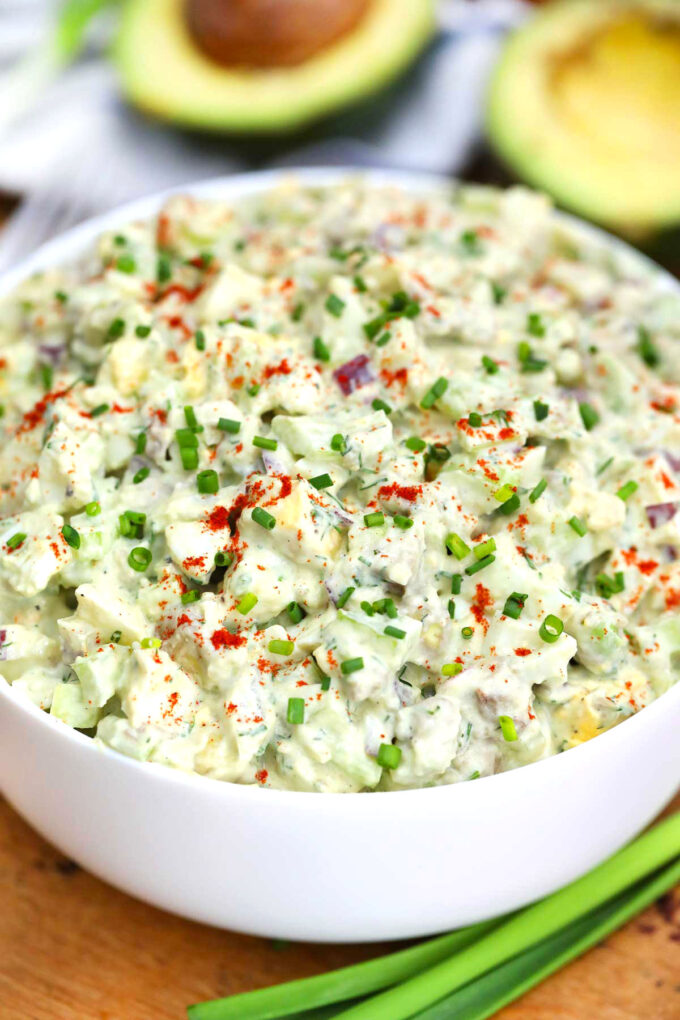 Avocado Egg Salad Keto
Avocado Egg Salad puts a delicious twist to the basic egg salad recipe. I have to admit it— egg salad is tasty, but it's not the most exciting dish out there. So, I decided to perk it up with avocados, red onions, paprika, dill, and a few more ingredients for a totally fresh twist on the classic. The results are sensational!
Another thing I love about this recipe is how customizable it is. Don't have mayo? Use yogurt. Experiment with the seasonings, herbs, and spices.
Add some cheese if you feel like it! Eat it on its own, between bagels, or with some lettuce— the possibilities are endless. As long as you have eggs and avocado, you're good to go. Best of all, this recipe comes together in a few minutes!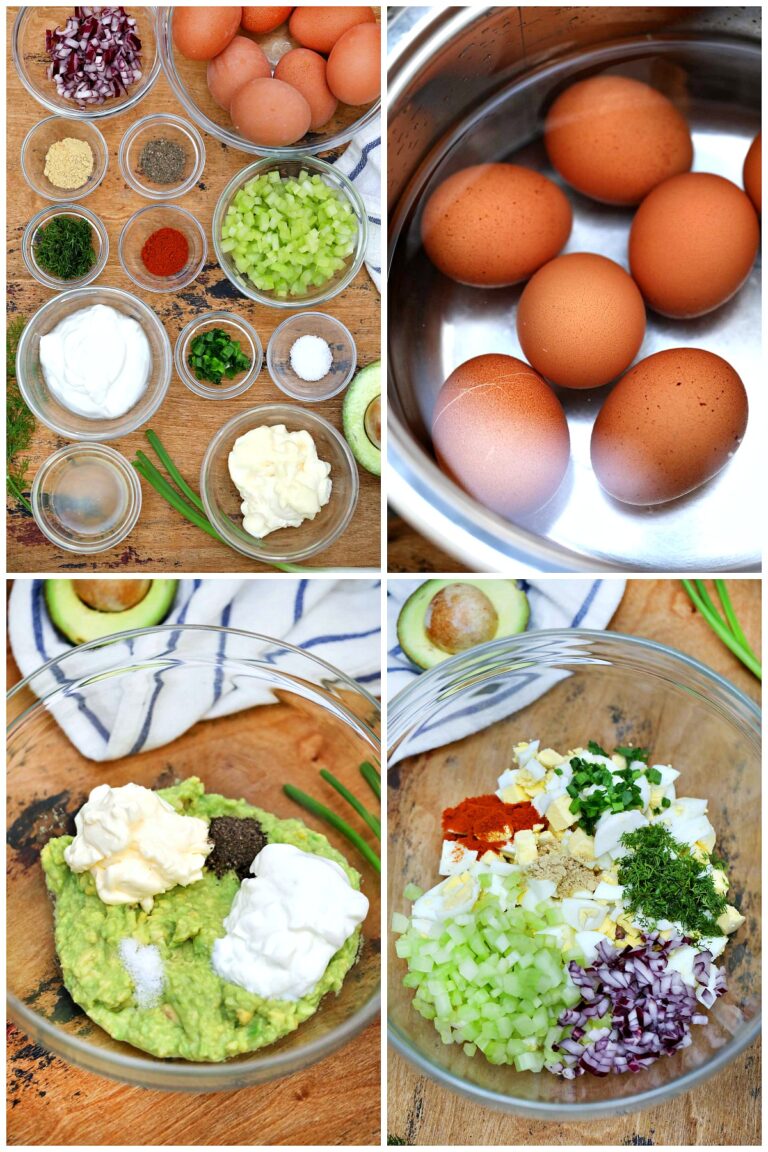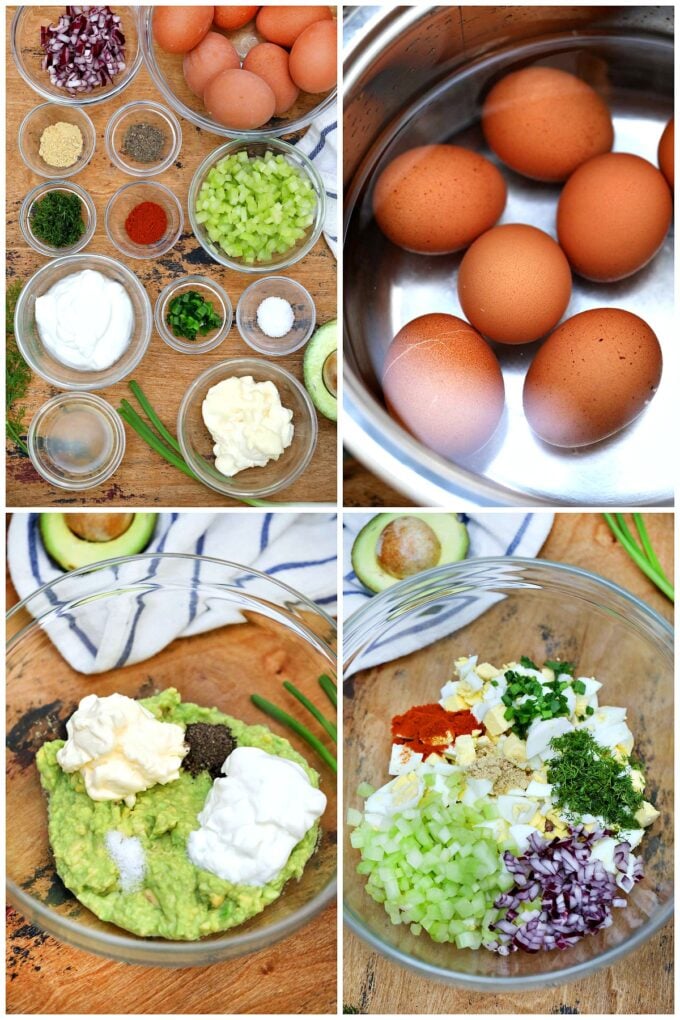 Is egg & avocado salad good for losing weight?
It's actually one of the healthiest recipes I have here! You get a ton of fiber from the avocado, and the egg serves up plenty of protein. The herbs and onions are tasty without adding calories. This dish is perfect for keto, whole30, low-carb, and low-calorie diets!
How to make Avocado Egg Salad?
Mash the avocado
Leave some medium chunks, and combine with the mayo, lemon juice, and Greek yogurt. Season to taste.
Prepare the eggs
Dice into chunks.
Combine
Stir everything together in a big bowl, including the onions, herbs, and seasonings. Refrigerate for 30 minutes.
Serve
Garnish with paprika, chives, and green onion.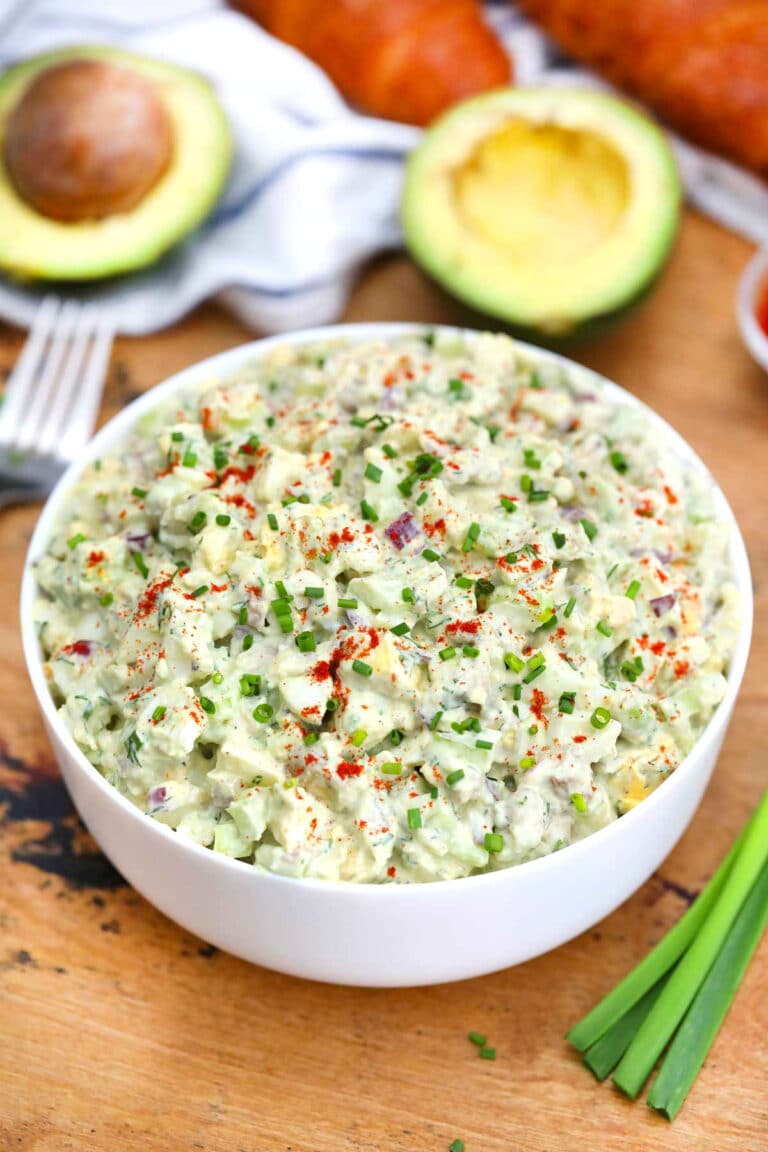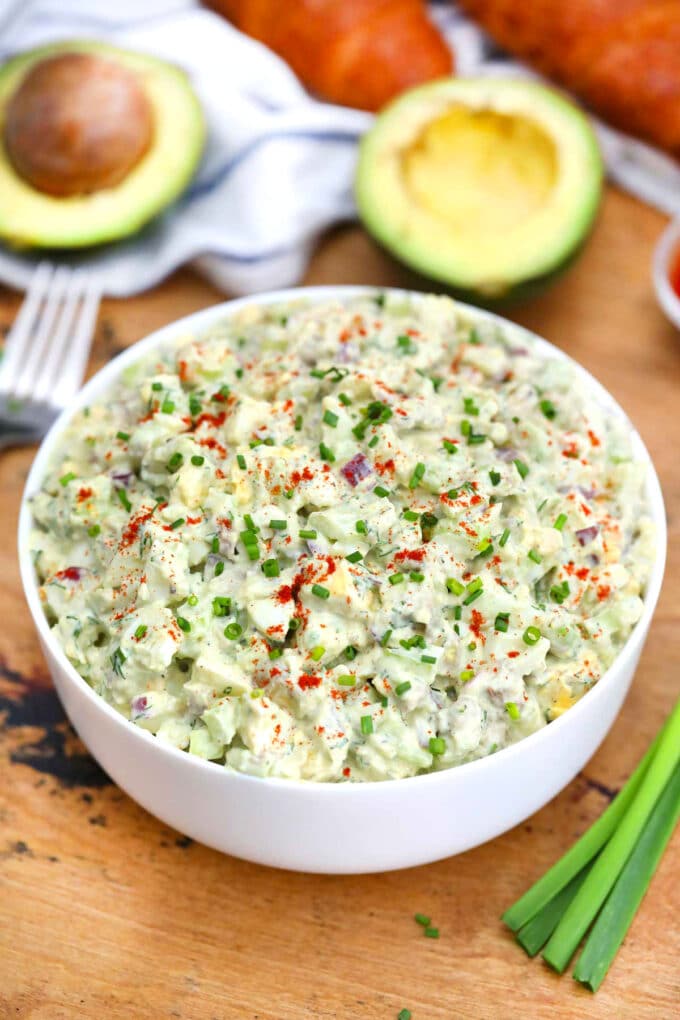 How do you cut eggs for egg salad?
For avocado egg salad recipe, slice each egg in the middle, then lay on the cutting board, flat side down. We want some texture for this salad, so dice into bite-sized chunks.
What can I use instead of mayonnaise?
The avocado is already creamy, so we don't need a lot of mayo for this salad. If you don't want to use it at all, you may sub with more Greek yogurt. Other delicious substitutes are ricotta cheese, hummus, and vinaigrette. Some people even use pesto and nut butters!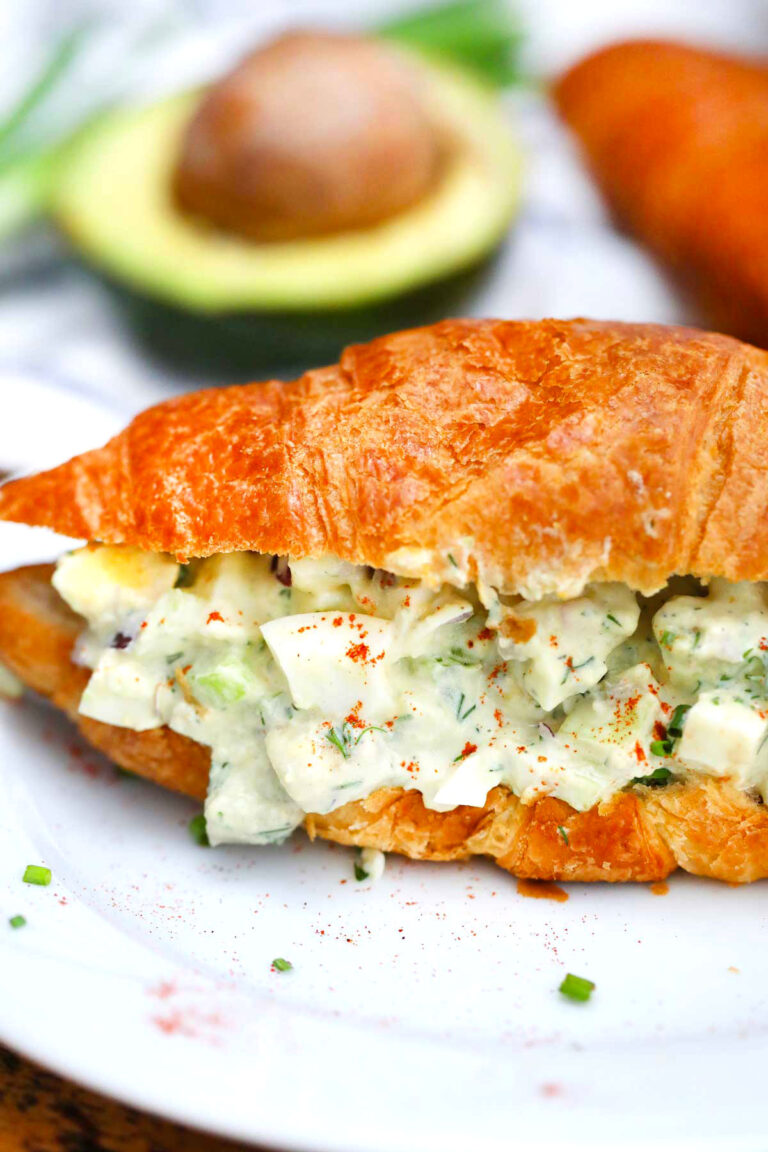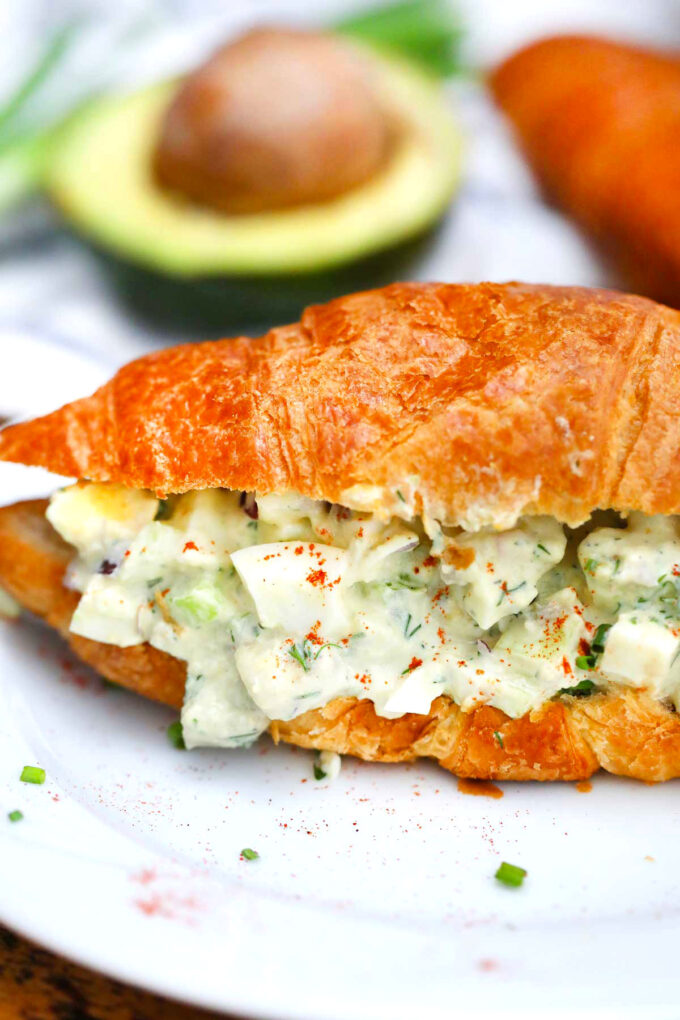 Why did my egg salad get watery?
It does have that tendency you leave the salad to sit for a while. Prevent this by not overcooking the eggs, and chilling them before slicing. You may even add a few toasted egg crumbs — adds such a subtle, lovely crunch while keeping the dish together.
Can you make it ahead?
Yes, this recipe can last for a few days if well-refrigerated. Due to how easy it is to prepare, however, I prefer to make it on the day itself. That way, everything is absolutely fresh!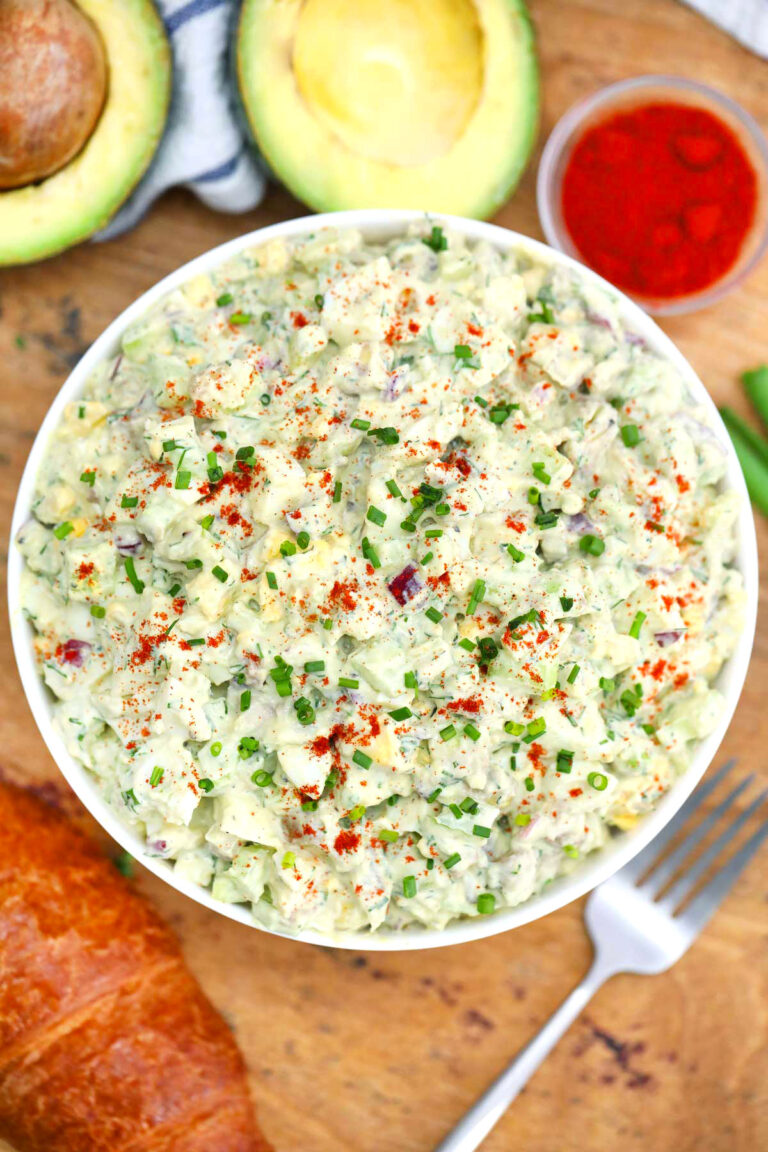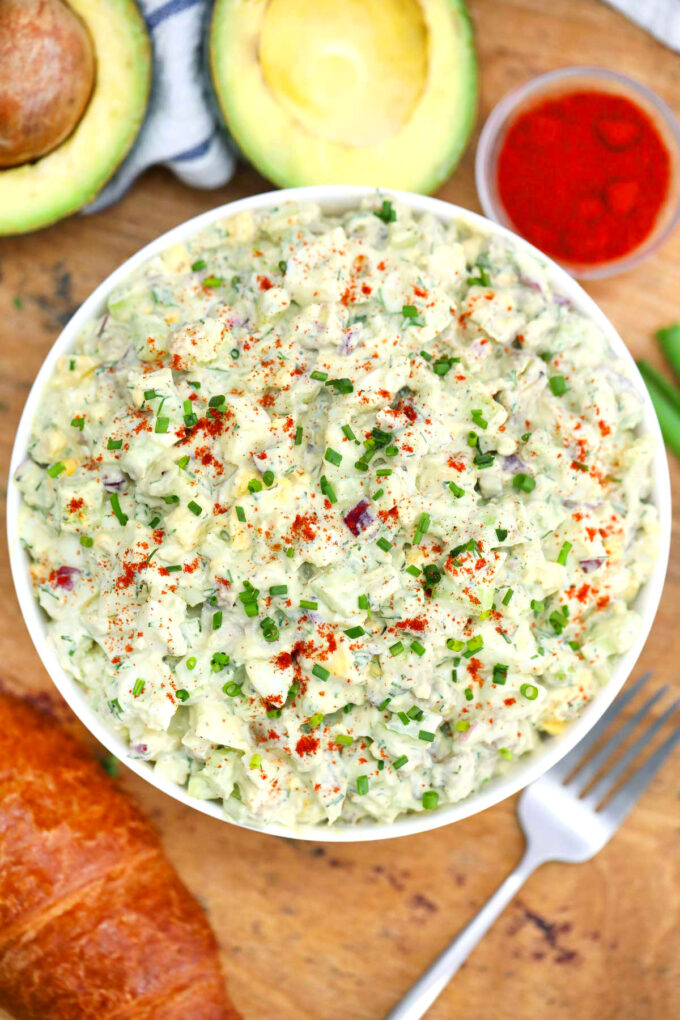 How to serve it?
Any way you want! You can eat it as is, but it also works so well inside a pita, as a wrap, or as a sandwich. I also like serving it in tomato cups and using a generous scoop over my favorite greens in place of dressing.
More Easy Salads: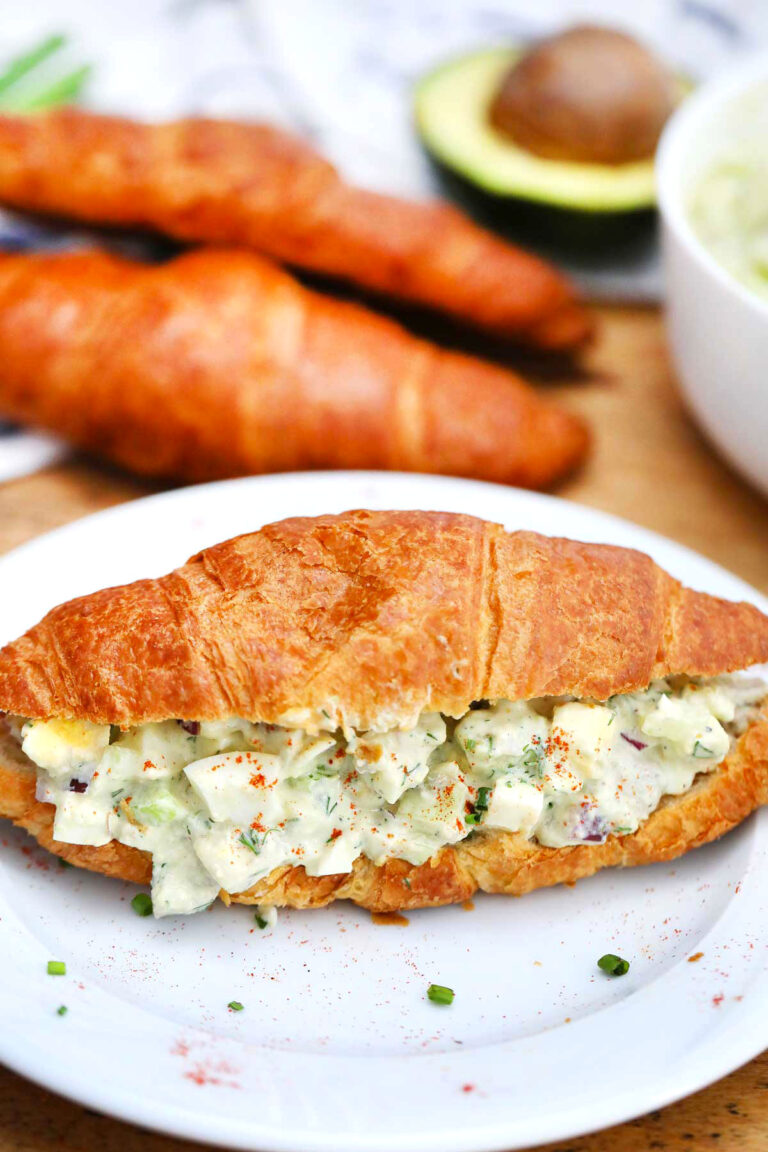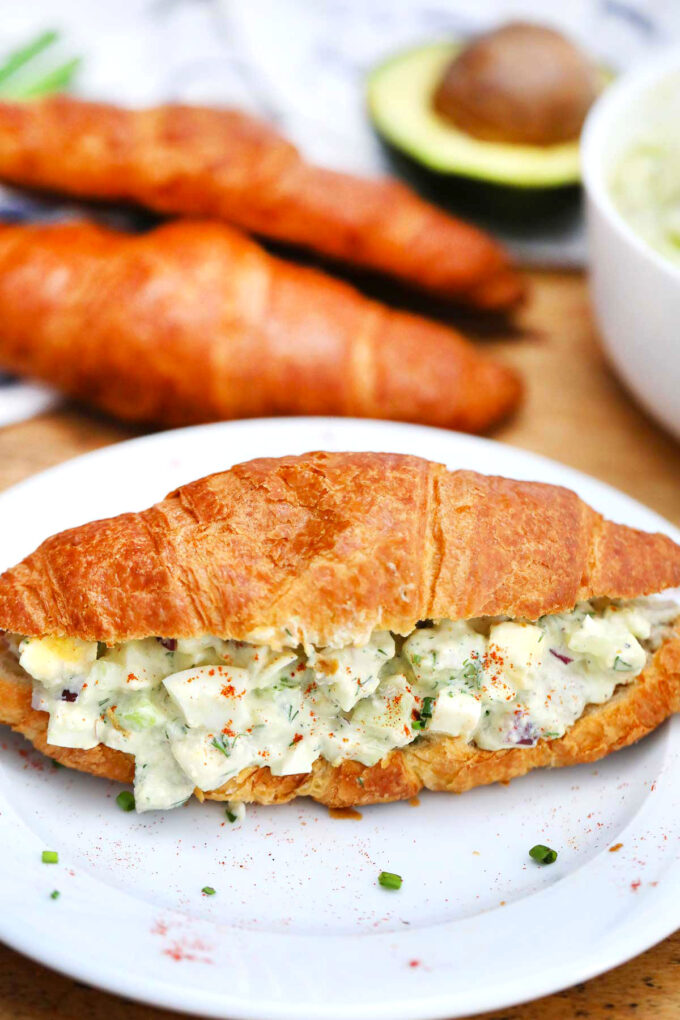 Avocado & egg salad recipe tips
Don't overcook your eggs. Use my instant Pot Hard Boiled Eggs recipe; they turn up perfectly every time!
Don't overly mash the avocado. It will naturally break down once you mix it with the rest of the ingredients, so we want some chunks in there.
If you have them, use fresh herbs for brighter flavors.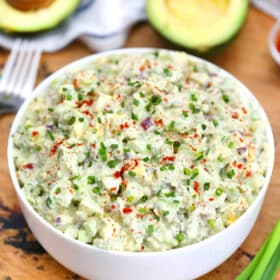 Creamy Avocado Egg Salad
Avocado Egg Salad is light and creamy, with buttery avocado, eggs, and seasonings for a flavor boost. It's loaded with protein that's perfect for keto or low-carb diest.
Save
Share
Print
Pin
Rate
Servings:
6
servings of about 1/2 cup
Ingredients
2

avocados

(peeled, deseeded and chopped)

1/4

cup

mayonnaise

(use yogurt for a healthier version)

1/4

cup

greek yogurt

1

tablespoon

fresh lemon juice

8

hard-boiled eggs

(peeled and chopped)

1/2

cup

celery

(finely chopped)

1/2

small red onion

(chopped)

1

teaspoon

stone-ground mustard

1

tablespoon

dill

(chopped)

1

tablespoon

green onion

(chopped)

1/4

teaspoon

kosher salt

(or to taste)

Ground black pepper

(to taste)

1/2

teaspoon

paprika

(sweet or smoked)
Garnish:
chopped chives

chopped green onion

paprika
Instructions
In a medium bowl, mash the avocado, with lemon juice together leaving some medium/small chunks.

Add mayo and greek yogurt, stir to combine, add salt and pepper to taste. Set aside.

Boil and peel the eggs and chop them into 1/4 inch pieces. Add them to a large bowl.

Add the rest of the ingredients to the eggs, including the avocado mixture and stir to combine.

Taste and adjust for salt and pepper.

Refrigerate for 30 minutes before serving.

Garnish with chopped chives, green onion and paprika before serving.
Nutrition
Calories:
286
kcal
|
Carbohydrates:
8
g
|
Protein:
11
g
|
Fat:
24
g
|
Saturated Fat:
5
g
|
Cholesterol:
253
mg
|
Sodium:
263
mg
|
Potassium:
456
mg
|
Fiber:
5
g
|
Sugar:
2
g
|
Vitamin A:
574
IU
|
Vitamin C:
9
mg
|
Calcium:
56
mg
|
Iron:
1
mg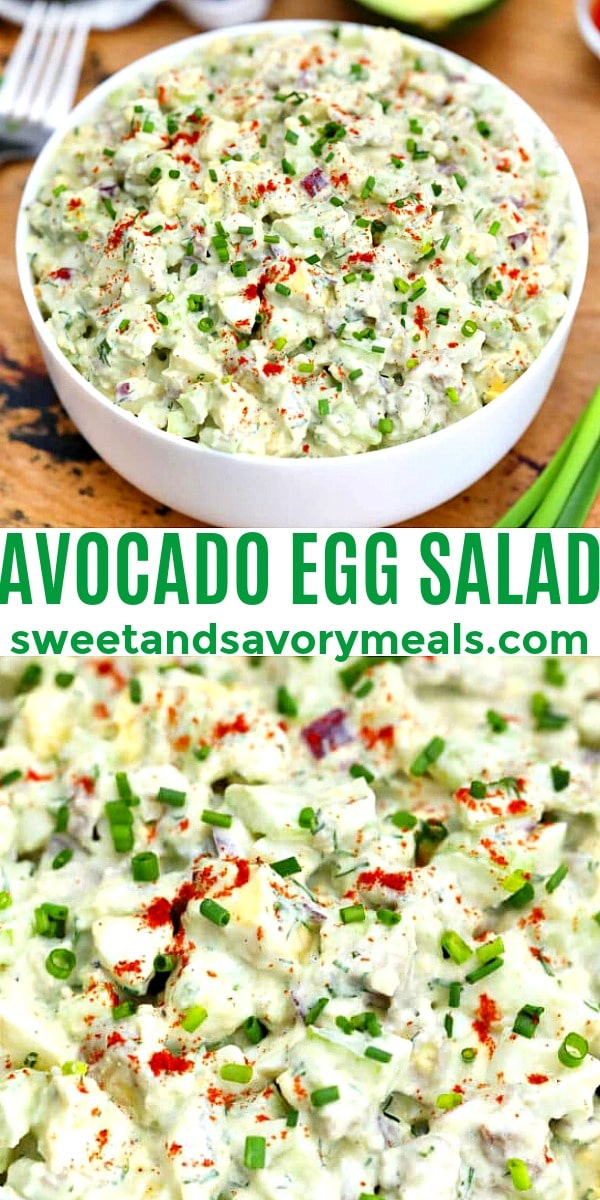 More recipes you might love