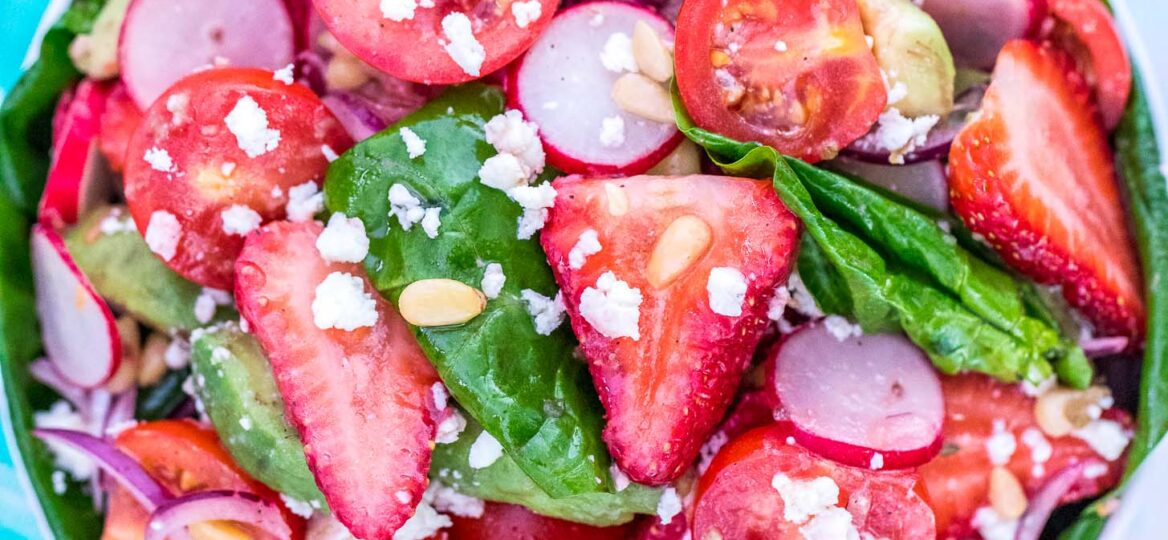 Strawberry Spinach Salad Recipe [video]
Strawberry Spinach Salad is a healthy and delicious side dish that is perfect to bring to a potluck or larger gathering. It is made with a few ingredients, and ready in less than 10 minutes!
With summer around the corner, this is the perfect dish to enjoy on a warm day. This recipe really goes well with fish or meats, such as Grilled Chicken, Salmon Patties, or Barbecue Ribs.
The Best Strawberry Spinach Salad
This Strawberry Spinach Salad is so amazing and tasty, that is guaranteed to win you over! This is not just a simple boring salad. It is flavorful, colorful, healthy, with a nice contrast between soft and crunchy, sweet, and sour.
With strawberries in season, this is a must-try recipe! You can enjoy it as is, but we strongly recommend it as a side dish. It is perfect for a barbecue party, and it goes well pretty much with any dish. Another great thing is that kids can get some spinach and a nice dose of vitamins out of it!
The secret to this dish is to pick the fresh and just-ripe strawberries, and the rest is simple. Just toss the ingredients together, and you have one healthy, and delicious side dish. Also, we keep the dressing light and refreshing, and it gives just the right tone and flavor to it.
Is Strawberry Spinach Salad Good for You?
Yes! Not only is this dish tasty, light, and refreshing, it is also healthy. It has a nice dose of spinach and strawberries in it, which account for some good vitamins. For example, it has vitamins A, C, and K, plenty of protein, carotenoids, and healthy fats.
In addition, it helps with weight loss and is a great dish for people with diabetes. Therefore, it has plenty of health benefits and is an extremely nutrient-rich meal. Feel free to enjoy it without any guilt, and is also very great for kids!
WHAT GOES IN A STRAWBERRY SPINACH SALAD?
This recipe is pretty versatile, and you can add, swap, or combine additional ingredients. For this version, we used the following ingredients:
Spinach – try using organic baby spinach.
Strawberries – similar, go with organic when possible, and make sure they are ripe (but not overly ripe). You want to have a sweet, and refreshing taste, but not a mushy salad.
Feta Cheese – we like adding some crumbled Feta Cheese, as it gives this dish a nice contrast of flavors. However, if you are not a fan, or would rather omit it, just skip this ingredient.
Sliced Red Onions – It complements really well here.
Sliced Toasted Almonds – it adds crunchiness to it.
What's in the Dressing?
We try to keep it healthy, light, and refreshing. So, the dressing is just a combination of the following:
Freshly squeezed lemon juice
Olive oil
Balsamic vinegar
How to make Strawberry Spinach Salad Recipe?
Once you have all the ingredients washed and cleaned, you are pretty much done. The rest is simple. Just toss together the ingredients in a large bowl, and then drizzle with some dressing. Then, sprinkle with salt and pepper to taste. It cannot get any easier than this!
VARIATIONS OF THIS SPINACH STRAWBERRY SALAD
Though we like this version of it because it is light and refreshing, you can definitely play with the flavors and swap with other ingredients. Some variations ideas are:
Add some poppy seed or sesame seed to it.
If not a feta fan, skip it altogether or replace it with goat cheese. Just remember, that goat cheese has a softer texture and a stronger taste to it. However, it balances well with the strawberries, and is super delicious!
Sliced toasted almonds can be replaced with pecans.
Replace red onion with sweet onion.
Also, you could add some dried cranberries.
For extra crunchiness, add some croutons on top.
For bacon lovers, add some crunchy bacon on top. It is yummy!
Can I Make This Salad ahead?
Yes! Although, we would not recommend it. First of all, this salad is super quick and easy to make. Therefore, we always prefer to spend 5 minutes and make it fresh right away.
Also, it just tastes better when the fruits and spinach are mixed together and enjoyed right away.
With that said, you can easily make it in advance and store it. Simply, properly cover that dish or bowl, and refrigerated for up to 1-2 days. Also, remember not to mix in the dressing, as it will make the salad soggy. Just, store it separately, and mix right before serving.
More easy salad recipes:
Recipe Tips
This is the perfect recipe to make for Mother's Day because it is super easy to make, and there is nothing sophisticating about it. So give it a try, and impress your mothers with it for brunch, lunch, or dinner.
If you do not have fresh strawberries, an alternative would be using frozen ones. Just give them some time to properly thaw out.
Although it is not critical, we recommend chilling out the dressing for a bit prior to mixing the ingredients together. This way, they blend well.
Another trick when using raw red onions raw like in this recipe is to soak them in water first. This method helps preserve the onion's flavor but it also removes the harsh aftertaste.