Easy Cucumber Salad Recipe [video]
This Cucumber Salad Recipe is so light and easy to make that it will surely hit the spot on a nice spring or summer days. In just a few minutes, you will have a mouth-watering dish to enjoy!
With spring around the corner, this refreshing recipe is always one of our favorites to make. Some other easy and healthy dishes you can enjoy are Pico de Gallo, Homemade Guacamole, and Zucchini Lasagna Roll-Ups.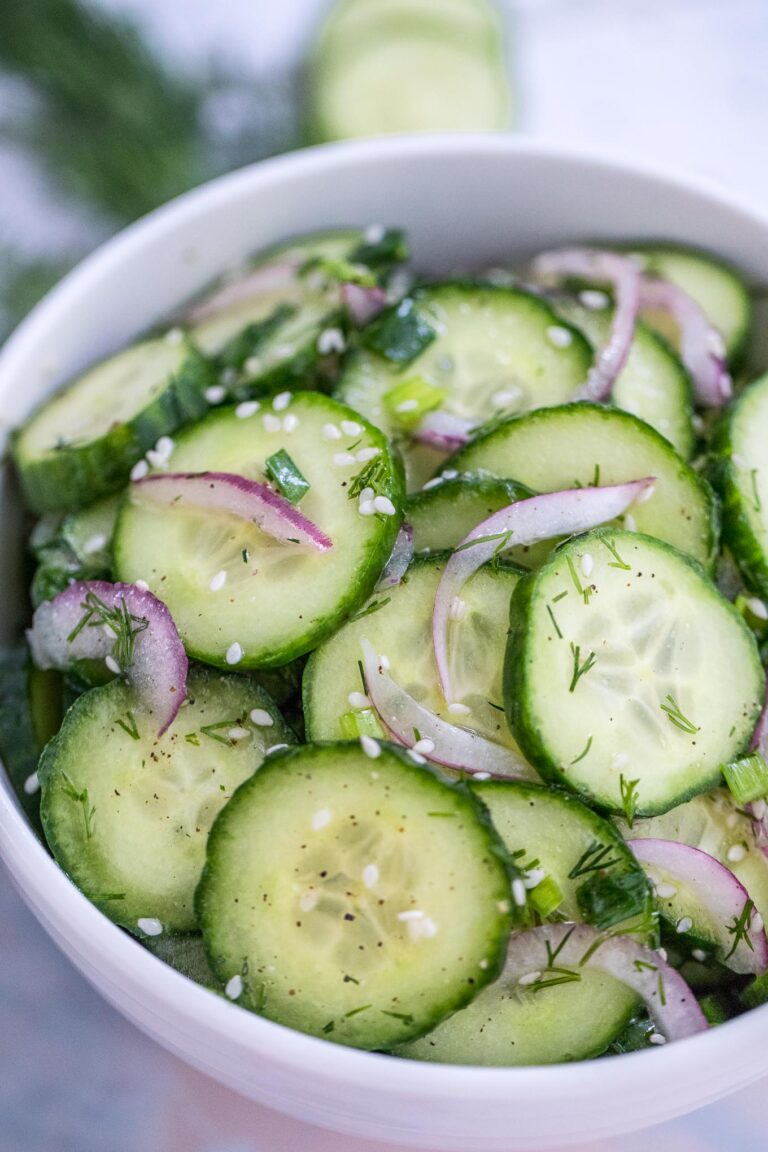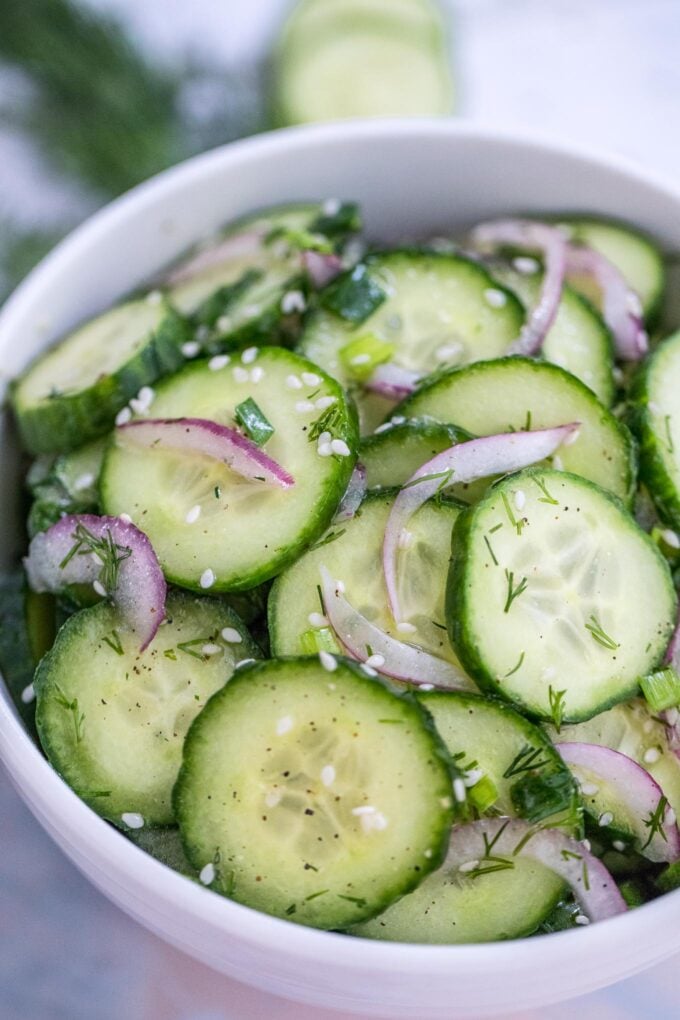 The Best Cucumber Salad Recipe
This Cucumber Salad is super simple to make and very healthy. There is no cooking involved just a few preparations here and there. All you need is to cut up a few ingredients, and you have your instant salad.
You can enjoy it as is, or if you are grilling something, it goes really well with all kinds of meats. This is our favorite salad especially when the grilling season comes around. Simply toss it with a sweet and tangy vinaigrette, or some olive or sesame oil.
Alternatively, this recipe can be made with a creamy dressing, which consists of sour cream and dill. For this version, we try to keep it on a healthier side and just used vinegar and then topped it with some sesame oil for enhanced flavor.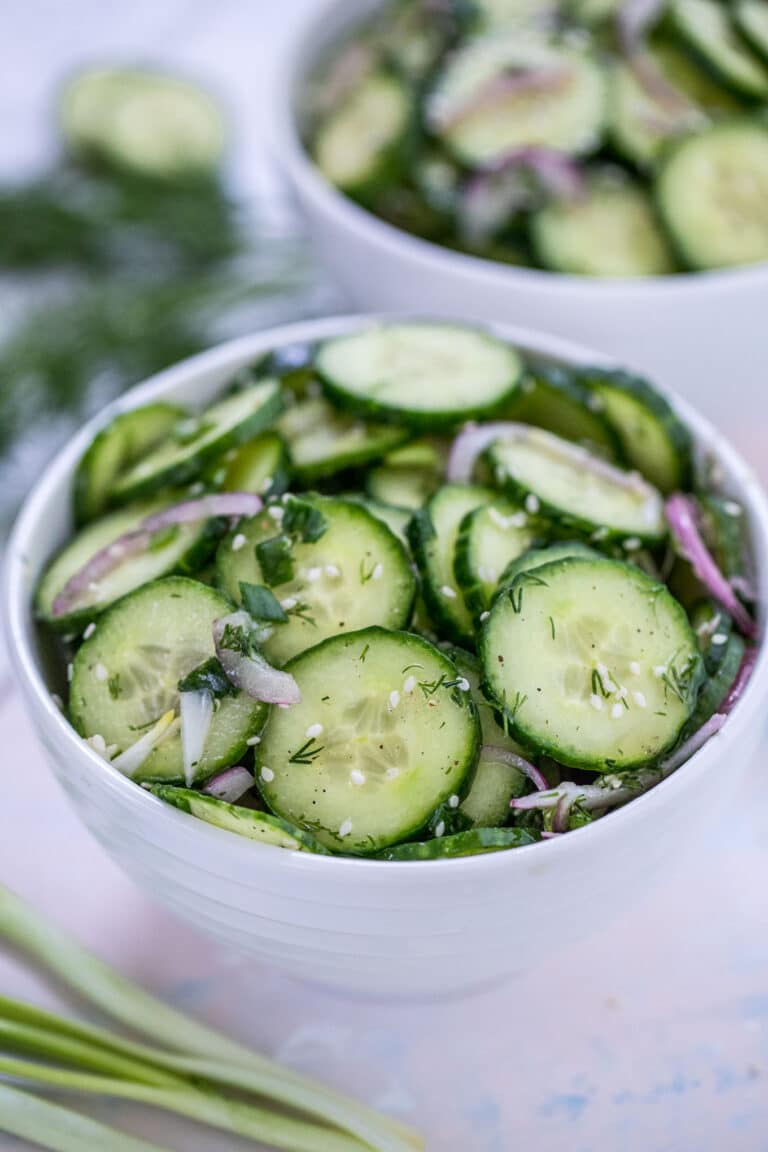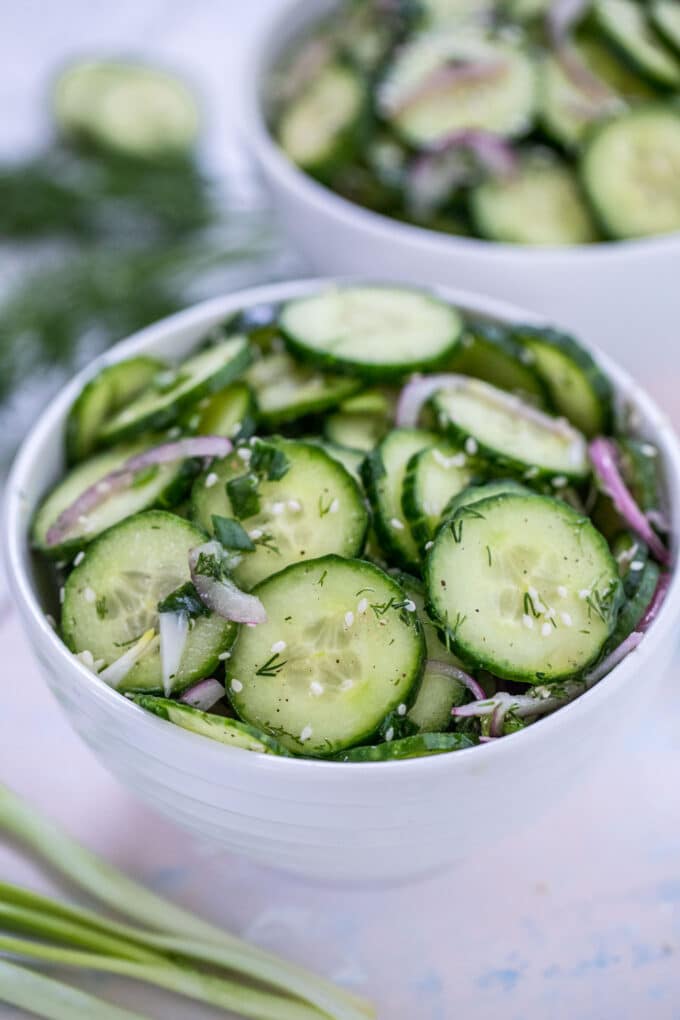 How to Make Cucumber Salad?
Buy the freshest cucumber that you can find. We prefer using an English cucumber because it's crunchy enough even when unpeeled. However, any type will perfectly work here. Just remember to go with seedless cucumbers.
Once you have the cucumbers washed and ready, cut them thinly along with the onion. Also, if you prefer to add some healthy greens to it, feel free to add some freshly chopped herbs.
Lastly, top it with some vinegar and some olive or sesame oil and you are ready to go. As you can see, it is super simple and ready in about 5 minutes.
How to Make Creamy Cucumber Salad?
As noted above, this dish can be made with a creamy salad dressing. For that, you can use sour cream, or Greek yogurt and mix it with the ingredients. Also, add some lemon juice for a more citrusy flavor.
How many calories in Cucumber Salad?
One cup of salad with vinegar only has about 52 calories. This is considered a healthy dish with healthy nutrients, and this is why we love it so much. Due to its low calory count, feel free to eat as much as you can without the guilt!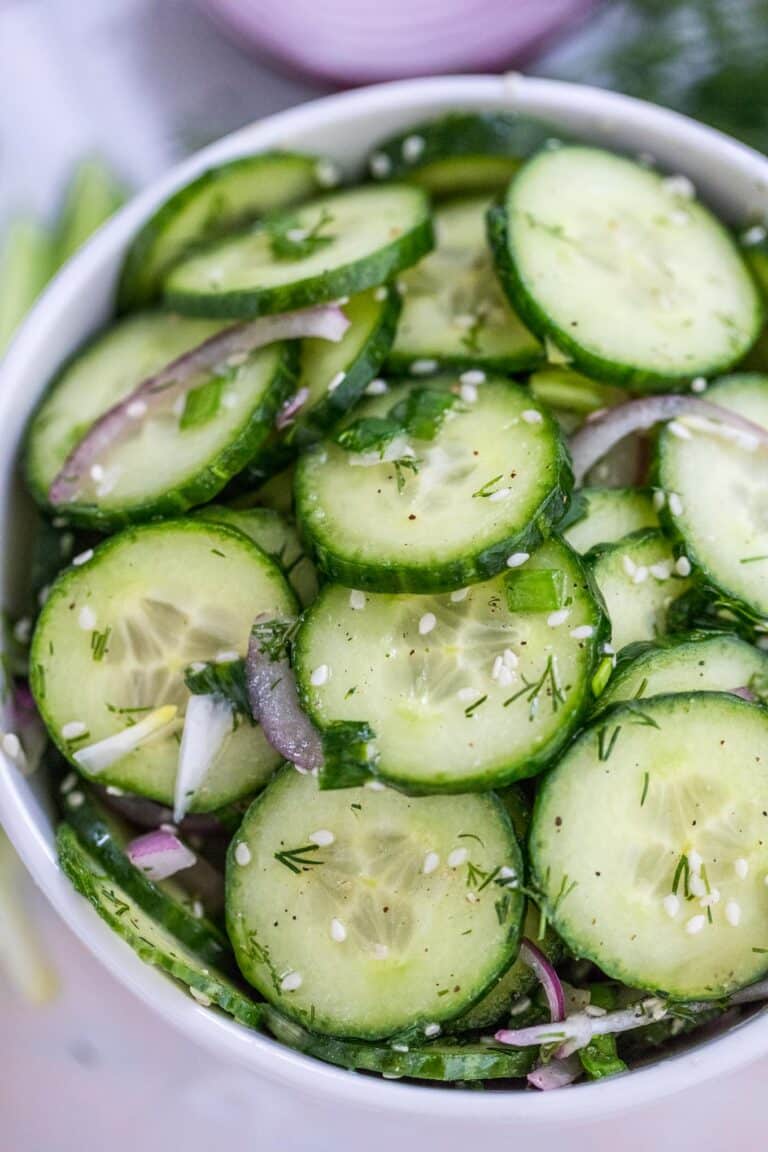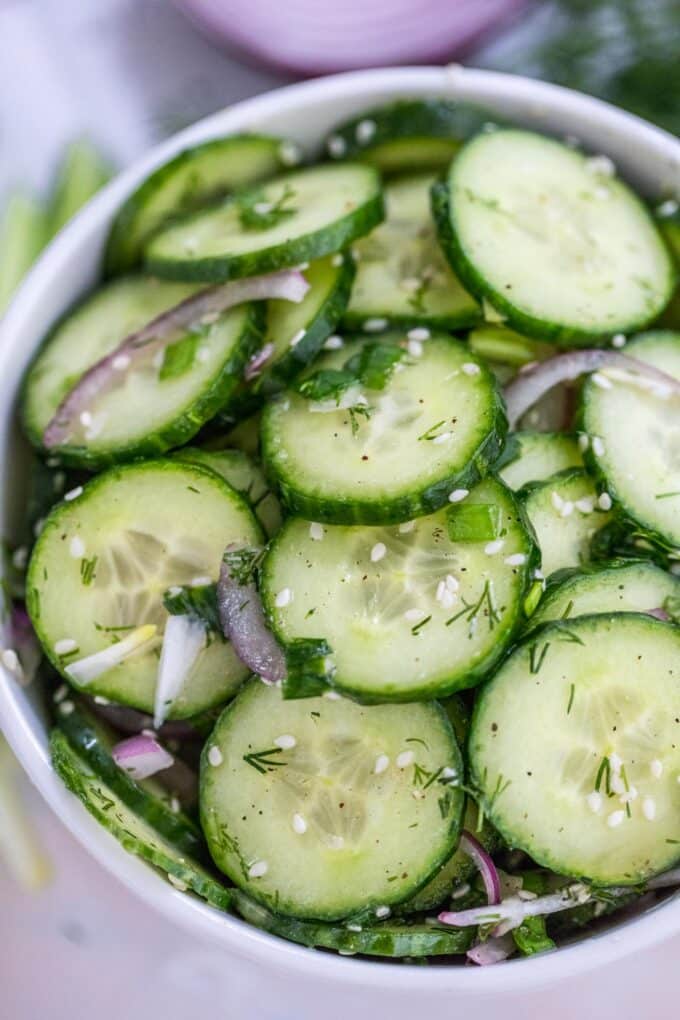 How to make Cucumber Salad with Vinegar?
Now, if you're getting into a healthy groove, you can use vinegar instead of a creamy dressing. A simple vinaigrette will work nicely here. We usually use a ratio of 1 tablespoon of vinegar to 2 tablespoons of olive or sesame oil. However, feel free to add whatever ingredients you desire, such as garlic, chives, shallots, or other herbs to it.
How to Make Japanese Cucumber Salad?
Adding a Japanese flair to this dish is easy. Use half of the dressing needed and add equal parts of Japanese mayo. To give a little hotness, add a dollop of prepared wasabi. Adding wasabi should depend on your taste or your guest's preference. We wouldn't want to have your guests crying over their salad, would we?!
How to Make Cucumber Salad With Sour Cream?
If you do not have time to do dressing for your Cucumber Salad, try using sour cream.
Sour cream has enough zing to it that you do not need to add anything else. Toss some sour cream to the salad, then season it with salt and pepper.
How Long Does Cucumber Salad Last?
There are a few schools of thought about this, some say that it will last a week if stored in an airtight container and some just a couple of days. We usually eat it right away, and if we have leftover we store in an airtight container in the refrigerator for no more than 2 days.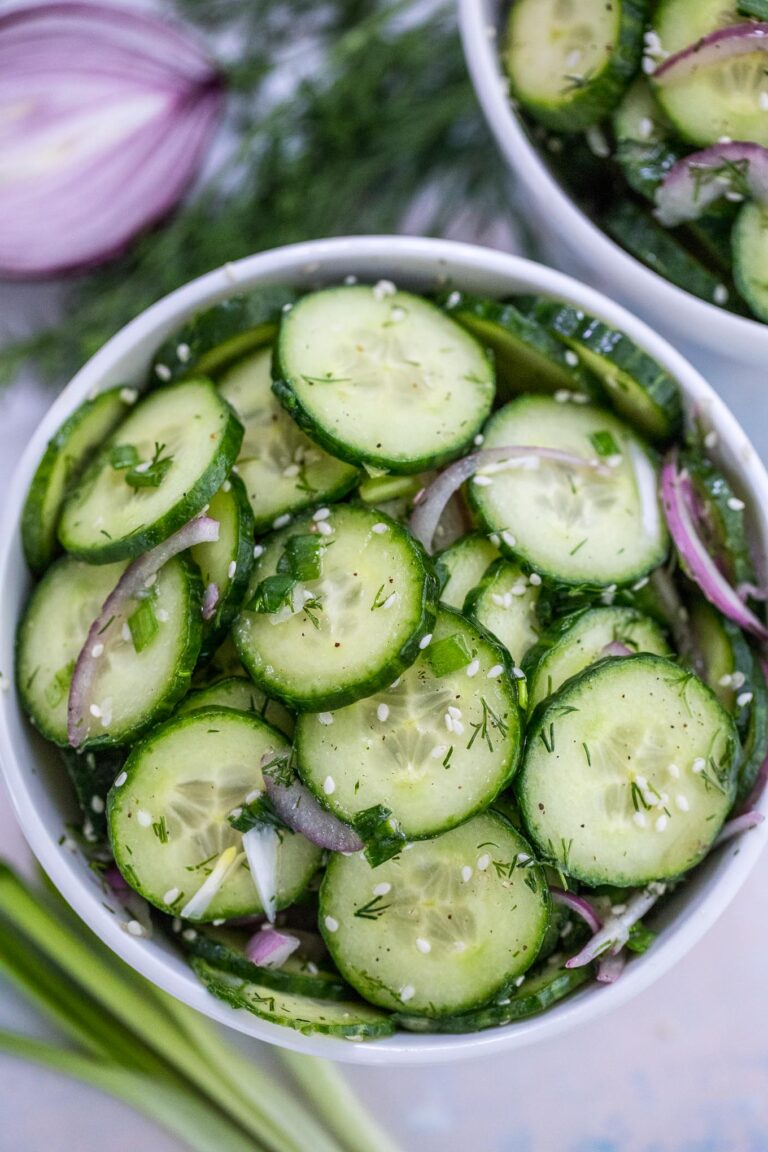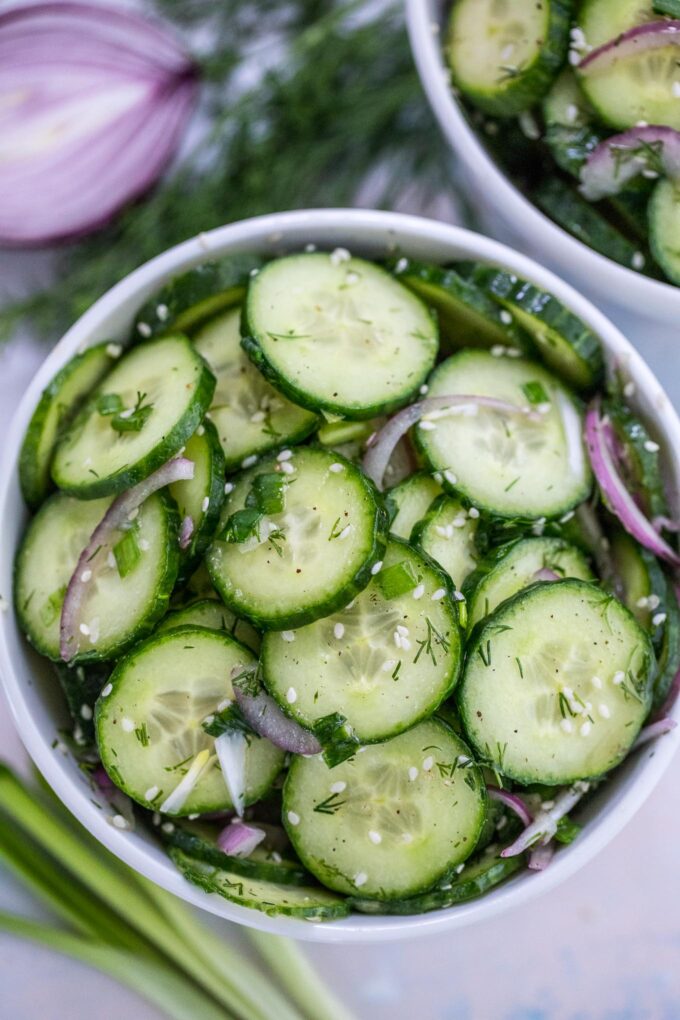 More healthy salad recipes:
Recipe Tips and Notes
Use a mandoline slicer to cut the cucumbers and onions. This way you will have evenly and thin cut ingredients.
For added flavor, add some fresh cilantro, parsley, or dill to it.
Also, you can use any onion type available, such as red, yellow, or white.
Just make enough salad for the people that you are feeding. If you are unsure of the amount to prepare, cut up a whole bunch of cucumber but toss only half of it first with the dressing.
If you have leftover dressing, transfer it to a jar or an airtight container and store it in the fridge for about 1 week.
Also, toss the cucumber with the dressing at the last minute to keep it fresh. Cucumber tends to water when mixed with other ingredients and sits for a longer time. Remember, cucumber is 96% water.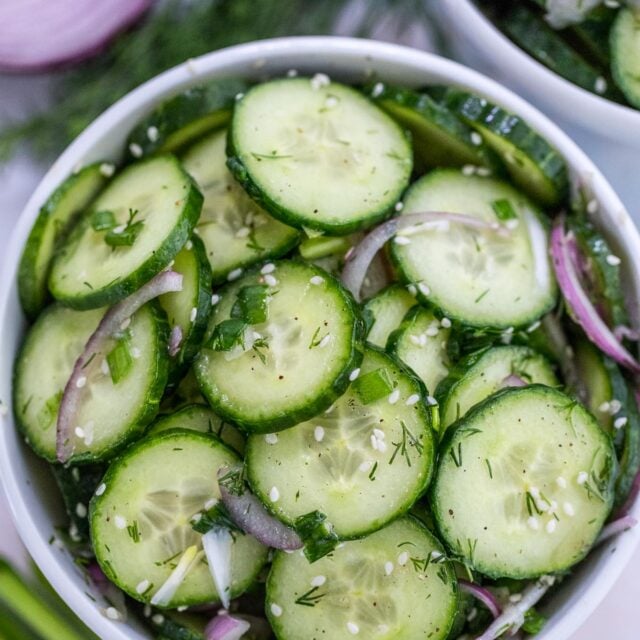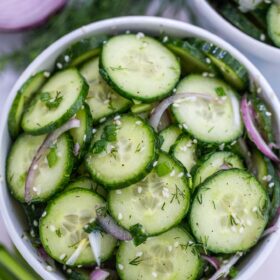 Best Cucumber Salad Recipe
This easy Cucumber Salad Recipe is so light and easy to make that it will surely hit the spot on a nice spring or summer days.
Save
Share
Print
Pin
Rate
Ingredients
2

long English cucumbers

1

medium red onion

1/4

cup

white wine vinegar

1/4

cup

water

1

tablespoon

sugar

1/4

cup

fresh dill

(chopped)

1/4

cup

fresh green onion

(chopped)

1/4

teaspoon

salt

1/4

teaspoon

ground black pepper

2

tablespoons

sesame oil

1

teaspoon

sesame seeds
Instructions
Slice the cucumber in half and then in slices or you can cut it into even rondelles.

Slice the onion in thin stripes.

In a medium bowl, mix cucumber, onion, fresh dill, and green onion. Season with salt and pepper.

Mix white wine vinegar, water, sugar in a small bowl. Pour over the cucumbers and onions, and stir well. Taste and adjust for salt and pepper.

Drizzle with sesame oil.

Sprinkle some fresh chopped dill and sesame seeds.
Nutrition
Calories:
116
kcal
|
Carbohydrates:
11
g
|
Protein:
1
g
|
Fat:
7
g
|
Saturated Fat:
1
g
|
Cholesterol:
0
mg
|
Sodium:
54
mg
|
Potassium:
299
mg
|
Fiber:
1
g
|
Sugar:
6
g
|
Vitamin A:
445
IU
|
Vitamin C:
9.9
mg
|
Calcium:
46
mg
|
Iron:
0.9
mg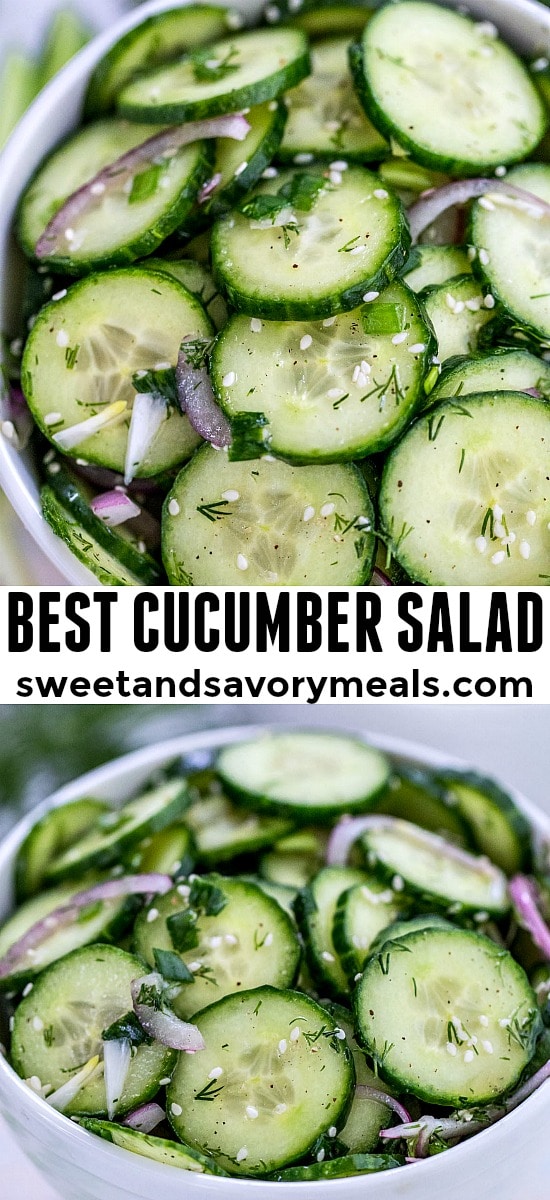 More recipes you might love