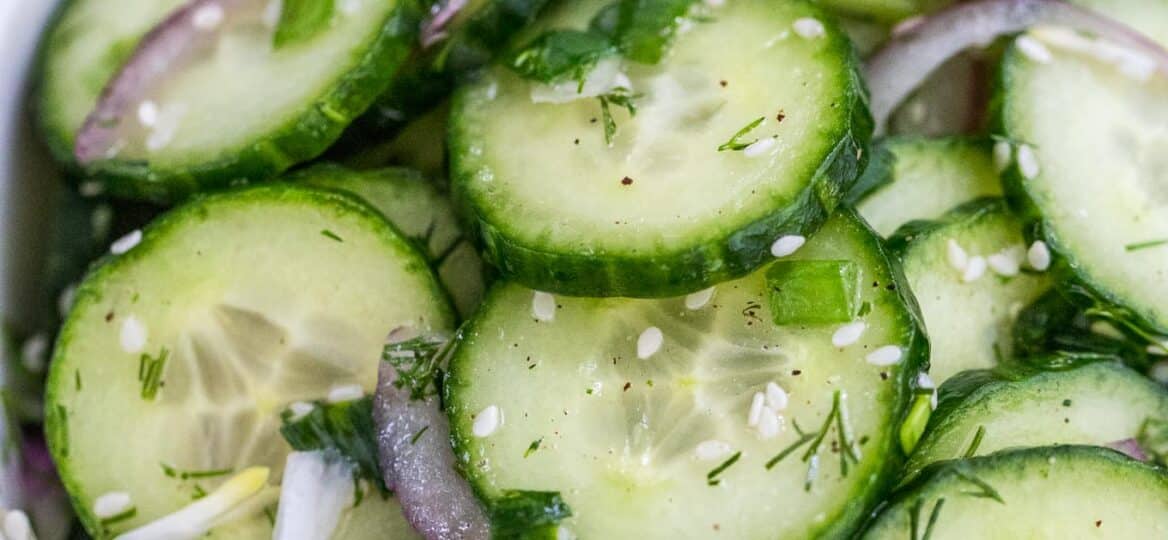 Easy Cucumber Salad Recipe [video]
Cucumber Salad is light and refreshing, made with thinly sliced cucumber, red onion, green onion, dill, and tangy white wine vinegar, and sesame oil dressing. Crunchy, and easy to make, this recipe is ready in just 10 minutes. Finish it with toasted sesame seeds for extra flavor.
Homemade Salads are our family's favorite recipes because they are healthy and super easy to make. We always use fresh ingredients to prepare them, and you can pair them with pretty much any meal. We love serving them with Grilled Pork Chops, Oven Baked Chicken Breasts, or Honey Garlic Salmon.
Cucumber Salad is a total classic side dish that is light, creamy, and incredibly simple to prepare. There are two different versions of this recipe, one calling for white vinegar, and the second one made with sour cream called the creamy cucumber salad.
Both versions use fresh and finely sliced cucumbers as the central ingredient. And no matter which one you try, I guarantee that you are going to love this recipe.
This vegetarian staple is perfect to enjoy on its own with some crusty bread on the side or with one of our main dishes. This is a delicious way to add more veggies and healthy vitamints to your meals.
The great thing about this dish is that is tasty and very easy is to make. There is no cooking or marinating involved just a few preparations here and there. All you need is to slice and chop a few ingredients, and you have your side dish ready.
You can enjoy it as is, or if you are grilling something, it goes really well with all kinds of meats. This is our favorite side dish especially when the grilling and bbq season comes around. If you love cucumbers, then this is definitely a recipe you should try.
Ingredients Needed:
Cucumbers: English cucumbers and Persian cucumbers work well in this recipe. Keep in mind to choose the ones that are fresh and crisp. If they are soft and mushy to the touch, it means they are not fresh.
Onions: Red onions go hand in hand here. It adds quite a lot of textures and flavors.
Herbs: We use fresh dill, it goes very well with the other ingredients.
Seasonings: Actually we add the regular salt and pepper, and also a bit of sugar. The sugar is added to balance the tanginess from the vinegar. Also, you can replace the sugar with maple syrup, honey, or agave.
White wine vinegar: Basically, this is the secret ingredient here. The tanginess is absorbed by the fresh cucumbers and perfectly balanced by the sugar. It goes very well with the crunchy salad and makes it more refreshing.
Sesame Oil and Seeds: These add an Asian twist to the recipe, and if you ever had Cucumber Salad Japanese you know how great the sesame oil is in this quick and easy recipe.
How to Make a Cucumber Salad?
Choose the veggies: First, get the freshest cucumbers that you can find. We prefer using an English cucumber because it's crunchy enough even when unpeeled. However, any type will perfectly work here. Just remember to go with seedless cucumbers.
Prep the veggies: Next, peel the red onion, wash and pat dry the dill and the green onions. Next, wash the cucumbers and pat them dry with paper towels. After that, slice the cucumbers along with the red onions and add the thinly sliced veggies to a large bowl. Also, if you prefer to add some healthy greens to it, feel free to add some freshly chopped herbs. In this case, add the chopped green onions and dill.
Salad dressing: Lastly, in a small bowl mix the white wine vinegar, sugar, water, and olive or sesame oil and pour on top of the salad. After that, toss to coat and garnish with toasted sesame seeds. As you can see, it is super simple and ready in about 5-10 minutes.
Chill: Preferably, chill it before serving. This way the veggies will soak some of the salad dressing. The cold cucumber salad is delicious, but keep in mind, chill it only for 15-20 minutes. If you will chill it longer the veggies will become softer and also release some water, discard the extra liquid before serving.
Recipe Variations:
Add other veggies: Feel free to add thin slices of radish into the mix. They are crunchy and go well with the rest of the ingredients and the dressing.
Make Greek Cucumber Salad: Skip the sesame oil, and add some kalamata olives and feta cheese on top.
Herbs and condiments: Feel free to add whatever ingredients you desire, such as fresh minced garlic, chives, shallots, or other herbs to it.
Cucumber Salad Thai: Actually, adding a Thai twist to this recipe is pretty simple. Basically, you keep all the ingredients the same, just skip the dill and add cilantro instead. Also, chop some peanuts and chili and add them to the recipe.
Creamy: As noted above, this dish can be made with a creamy salad dressing. For that, you can use sour cream, or Greek yogurt and mix it with the ingredients. Also, add some lemon juice for a more citrusy flavor and season with salt and pepper per taste.
Sour Cream: Actually, the sour cream has enough zing to it that you do not need to add anything else. Hence, toss some sour cream into the salad, then season it with salt and pepper to taste.
Add tomatoes: Check this Cucumber Tomato Salad Recipe with a creamy dressing.
Add more protein: Top it with some grilled chicken, salmon, or pork.
Gluten-Free: The recipe is naturally gluten-free, just make sure that the ingredients used for the dressing are produced in a gluten-free facility.
How to serve:
Frequently Asked Questions:
What are the best cucumbers to use for this salad?
You can use pretty much any type. When in season, I try to go to the local farm or grocery store and pick the freshest ones possible. Other times, I would go with English cucumbers because they tend to be sweeter and have fewer seeds than the regular ones.
Persian cucumbers are also great because they are sweet and crunchy.
Can you add Yogurt or sour cream to it?
Yes. To make it creamy simply add 1/2 cup of sour cream or Greek yogurt. Then, gently mix the ingredients together.
You can also add some ranch dressing to it for extra flavors.
How Long Do Cucumbers in vinegar last in the fridge?
There are a few schools of thought about this, some say that it will last a week if stored in an airtight container and some just a couple of days. We usually eat it right away, and if we have leftover we store in an airtight container in the refrigerator for no more than 1 day.
Keep in mind, that the veggies won't be as crisp, and also they tend to water. Therefore, discard the extra liquid when serving.
How many calories are in it?
One cup of salad with vinegar only has about 52 calories. This is considered a healthy dish with healthy nutrients, and this is why we love it so much. Due to its low calory count, feel free to eat as much as you can without the guilt!
How to make Japanese cucumber salad?
Adding a Japanese flair to this dish is easy. First, use half of the dressing needed and add equal parts of Japanese mayo. To give a little hotness, add a dollop of prepared wasabi. Adding wasabi should depend on your taste or your guest's preference.
We wouldn't want to have your guests crying over their salad, would we?!
More healthy salad recipes:
Recipe Tips and Notes
Use a mandoline slicer to cut the veggies, this way you will have evenly and thin cut ingredients.
For added flavor, add some fresh cilantro, parsley, or chives to it.
Also, you can use any onion type available, such as red, yellow, or white.
Just make enough salad for the people that you are feeding. If you are unsure of the amount to prepare, cut up a whole bunch of cucumber but toss only half with the dressing.
If you have leftover dressing, transfer it to a jar or an airtight container and store it in the fridge for about 1 week.
Also, toss the cucumber with the dressing at the last minute to keep it fresh. Cucumbers tend to water when mixed with other ingredients and sits for a longer time. Remember, cucumber is 96% water.
Deliciousness to your inbox
Enjoy weekly hand picked recipes and recommendations