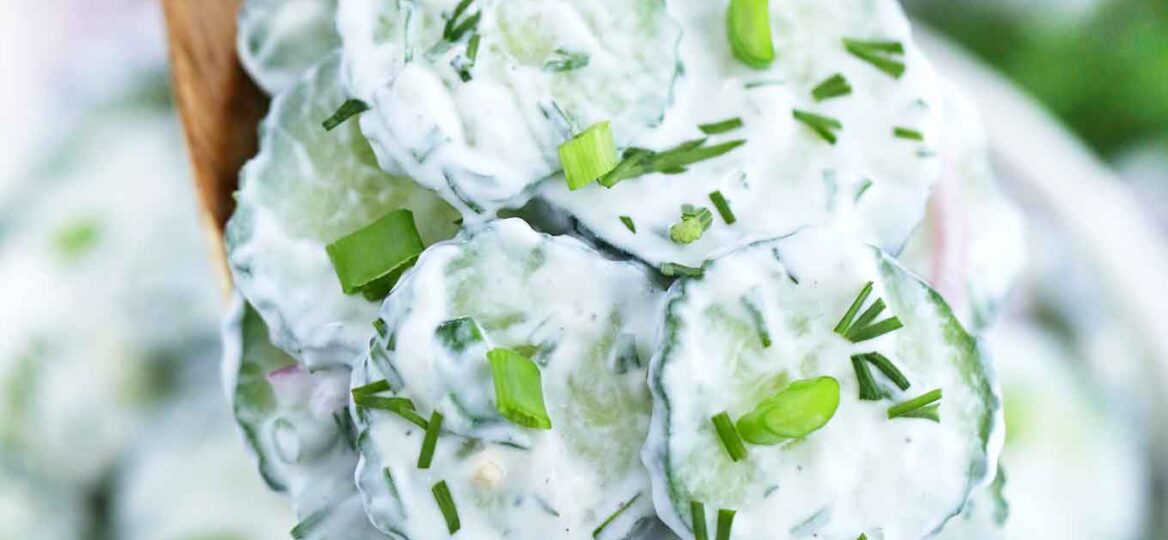 Creamy Cucumber Salad [video]
Creamy Cucumber Salad sports a nice balance between the crunchiness of the cucumber and the creaminess of the dressing that makes this dish so refreshing!
This makes a delicious side dish for your other grilled and roasted dishes like Grilled Chicken, Garlic Lime Pork Tenderloin, and Honey Garlic Pork Chops.
Easy Creamy Cucumber Salad Recipe
Creamy cucumber salad is the perfect summer recipe. Cucumber is a common salad ingredient because it is versatile as it can go well with many types of dressings. In this easy recipe, we are pairing this summer fruit with a creamy dressing made with a mixture of sour cream and Greek yogurt.
We have already shared with you our recipe, the easy cucumber salad. If you have tried it, you will surely like this upgraded version, too. It is a classic and perfectly refreshing side dish for all your summer barbecue parties.
We used English cucumbers in this salad. They are sweeter than other types and have thinner skin, which you don't need to remove. Also, they have small seeds that do not contribute bitterness to the fruit. You can slice them directly and use them in the recipe, without removing the skin or the seeds.
Are cucumbers healthy? What are the health benefits?
They are packed with fiber, vitamins, and minerals and are really low in calories. This makes them a perfect ingredient to pair with any type of fruit, veggies, or to munch on as a snack.
They are mostly water (at least 95%) which makes them hydrating; have high levels of free-radical-fighting antioxidants, and can regulate sugar levels.
Much of the fiber is stored in the skin, and the nutrients are found just beneath it. And so, it is healthier if you do not peel them as the skin contains lots of good for you vitamins.
How many calories are there in Creamy Cucumber Salad?
One cup of this delicious dish has only about 95 calories. So, if you are on a strict diet, go ahead and prepare this dish for a guilt-free snack.
How do you make cucumber salad?
This is a super simple recipe that requires just a few ingredients. Follow the below steps and you will end up with one delicious salad. Also, watch the recipe video tutorial attached.
The first thing to do is to prepare the dressing. Once done, set it aside.
Next, in another bowl, add thinly sliced cucumbers and onions.
After that, mix in the dressing then, refrigerate for at least two hours before serving.
Lastly, garnish with green onion and dill before serving.
How do you make creamy cucumber salad dressing?
In a bowl, combine all these ingredients: sour cream, Greek yogurt, lemon juice, minced garlic, dill, salt, and pepper.
Why cucumbers are bitter sometimes?
The plant has cucurbitacins in its stems and leaves which sometimes migrate to the fruits. This makes the fruit bitter, usually in parts near the stem. This sometimes happens when the fruit was not harvested in time and was left too long in the vine.
How to choose ripe cucumbers?
They are highly perishable, and they do not ripen after harvesting. Hence, it is crucial to choose which ones were harvested at the right time.
Select the ones that are dry, firm, and dark green in color with no yellow spots at all. These yellow spots indicate that they were harvested too late. Also, look for ones that do not have bruises or soft spots.
How long cucumber salad can sit out?
It can be left exposed for about two hours and exceeding that will force you to discard it.
How do you store it?
The cucumbers will release too much water and will not hold well for a long time.
Instead, it is better to store the dressing in an airtight container, and it will last even up to a week. Hence, you may want to make this in advance, say the night before. Then, slice up some cucumbers right before the meal the next day and mix with the dressing when ready to serve.
More healthy salad recipes:
Recipe Tips:
Store fresh cucumbers in the refrigerator wrapped in the plastic wrap they are sold in.
Equally important is to not wash them before storing them. This will prolong their shelf life.
You can add some sugar to the dressing if you want it sweeter.
If you want fewer calories, use sour cream that has reduced fat.