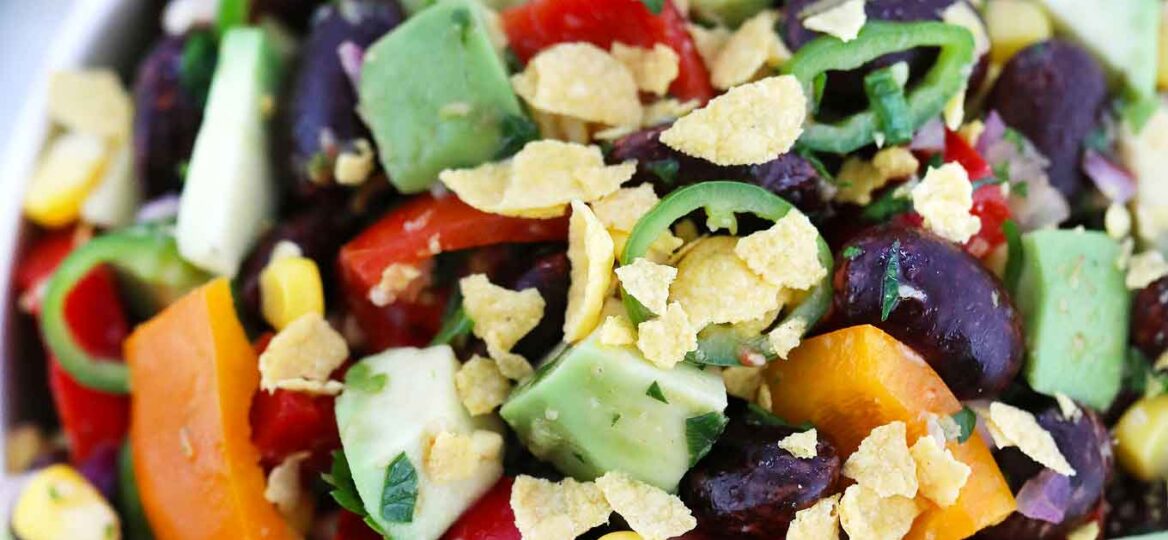 Mexican Black Bean Salad [video]
Black Bean Salad is as festive-looking as it tastes, made with avocado, corn, bell peppers, lime, and juicy tomatoes. It bursts of Mexican flavors packed into one delightful, easy recipe that you can assemble in just ten minutes!
If you love black beans, you will also enjoy our other easy recipes: Slow Cooker Rice and Beans, Instant Pot Three Bean Chili, and Instant Pot Baked Beans.
Mexican Black Bean Salad Recipe
This salad is a great addition to your go-to recipes list because it is versatile, easy to make and also very healthy. Enjoy it as a meal, a dip or as a side dish.
The black bean tastes earthy and makes this dish ultimately Mexican when combined with avocados and jalapenos. With all the other vegetables and fruits included in this recipe, this dish is so healthy and can be enjoyed by everyone. Did I say that it is easy to make? I just cannot stress that enough! Also, watch the recipe video tutorial attached and see how quick and easy this recipe is!
What is black bean salad?
It is a dish full of vegetables, fruits, spices, and seasonings that make it taste so much better. Being a salad, you can tweak what goes into this recipe. This just makes this easy recipe all the more enticing to prepare.
What do you need to make this recipe?
All you need to have on hand are black beans, sweet corn, cherry tomatoes, avocado, bell peppers, jalapeño, corn chips, lime, olive oil, and a bunch of seasonings for flavor.
You can adjust the amount of garlic, red and green onions, cilantro, red wine vinegar, chili powder, cumin, and salt.
How to make black bean salad?
Drain and rinse the canned black beans. The liquid that is mixed with the black beans could be salty, so, you don't want that. Rinse them thoroughly before tossing in with the rest of the ingredients. Do this to the sweet corn, too.
Simply combine all the ingredients in a large salad bowl then, top with lime, avocado, and crushed corn chips.
Before serving, you can chill this in the refrigerator for a couple of hours or overnight if you have time.
Are black beans healthy?
They certainly are! They are a good source of fiber and protein, as well as a handful of other minerals and nutrients.
What are the health benefits?
They are good for the bones and the heart and in managing blood pressure and sugar levels. It can help prevent cancer as it has selenium that is not so common but the black beans have it. The fiber not only helps with digestion but can help you feel fuller for longer.
Do you need to heat canned black beans before using?
The canned version has already been pre-cooked before canning and the canning process itself cooks them some more. So, the answer is no in case you are thinking that they are still raw and inedible.
Also, this recipe is best served cold – so heating them is no longer necessary.
What do you serve along with black bean salad?
You can serve this with grilled meat which makes this a perfect barbecue party staple, this Grilled Chicken would be perfect on the side. Or, pair it with Grilled Chicken Wings, Pork Chops, and Salmon. You can also enjoy this with some tortilla chips ala salsa style.
Can you make this recipe in advance?
Yes! And since it can be refrigerated, you can double it up then, store the leftovers in the fridge.
How long can black bean salad sit out?
Allow the salad to sit out for no more than two hours. Refrigerate it if needed.
How to store it?
If there are leftovers, store them in airtight containers in the fridge. It can stay refrigerated for about 3 to 5 days.
More salad recipes:
Recipe Tips
It is best to look for canned black beans that are low in sodium. The salt acts as a preservative, so be extra cautious when you add more salt, always taste and adjust.
You can add in more protein by incorporating crabmeat, shrimp or chicken and to make the dish richer, to be served as a main course.
If you wish to make it spicier, add more jalapeños.