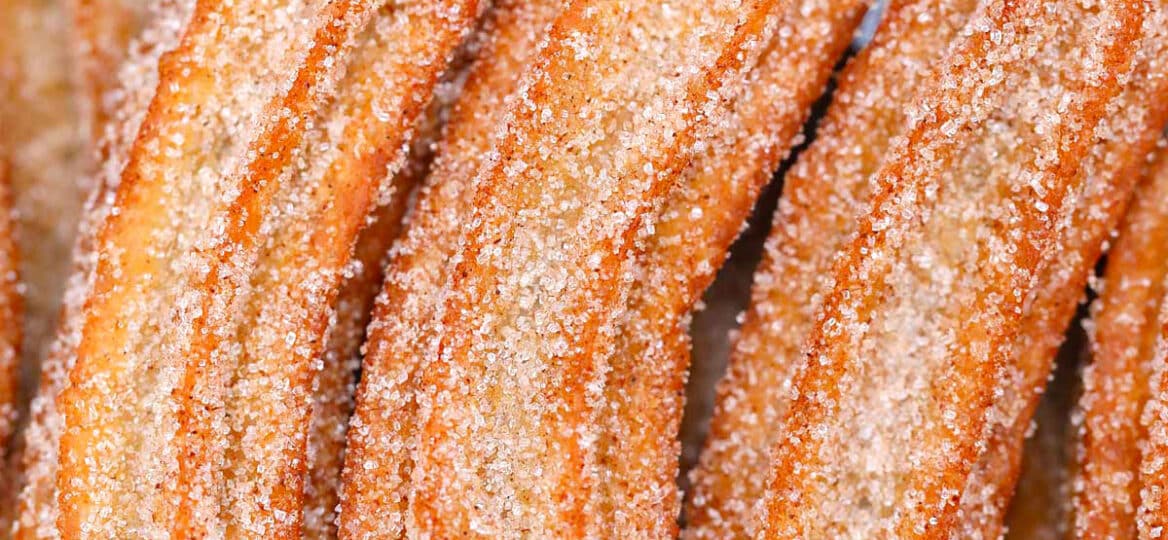 How to Make Churros [Video]
Churros are best made at home to ensure their delicious crispness and freshness! Spongy on the inside, with crisp edges, and covered in cinnamon sugar, these are irresistible.
Easy desserts are a staple in our household, especially this one that can be made ahead of time! Homemade churros are the perfect treats to serve at a party, especially if you include different dipping sauces to go with them. This recipe is incredibly easy and also foo-proof!
Authentic Churros Recipe
Churros are crispy on the outside but tender on the inside. Coated with sugar and cinnamon and dipped in your favorite sauce, they make for a great snack or dessert with the right level of sweetness and chewiness.
Some are straight, some are looped, you will also find very long churros, while some are served as a spiral. They are served with many kinds of dipping sauces, and in some cases, they are filled with them for extra deliciousness.
Their texture is not soft and fluffy, nor are they chewy. They are right in the middle, a little denser than the typical donut, they remind me of a French cruller. Also, dipping them in a hot sauce is heavenly especially when it is cold outside!
With these qualities, this has been a popular snack sold on the streets. These are so perfect for kids and the kids-at-heart!
What are churros?
Essentially, they are a tasty snack or dessert made with a simple choux pastry that is fried and then coated in a mixture of sugar and cinnamon. This coating adds to the crispness as the sugar hits the hot churros, it crystallizes giving the exterior a bit of a crunch.
They first originated in Spain and in Portugal and became also very popular in Mexico. In Europe and in the US, they are a very popular street-food, served near popular tourist attractions, at fairs and carnivals, offered by many street vendors.
You will even find a warm churro right next to the Eifel tower! This delicious treat is served with chocolate dipping sauce or dulce de leche.
This Mexican dessert is so popular that even Costco makes some! But, let me tell you firsthand, that Costco churros are very good, but still, nothing beats homemade classic churros.
Once you try this authentic churro recipe, it will quickly become your favorite! You will end up making these crunchy sweet treats all the time!
Ingredients needed:
This easy recipe is made with simple ingredients that you probably already have in your pantry.
Water
Unsalted butter
White sugar
Spices: cinnamon, nutmeg.
All-purpose flour
Egg: While for other dessert recipes you may have to use room temperature eggs, for this one is best to use a cold egg.
Salt
Vanilla extract
Vegetable oil
Special equipment needed to make homemade churros:
Small sauce pan
Deep frying pan, large Dutch oven, or a deep fryer
Pastry bag
Large star tip
Slotted spoon
Deep-fry thermometer
Pair of kitchen scissors
How to make Churros:
Prepare the coating: In a shallow dish, mix sugar and cinnamon. Then, set it aside for later.
Make the choux dough: In a large saucepan, add the water along with butter, sugar, and other spices. Bring it to a rolling boil and reduce the flame to medium heat. Also, use a wooden spoon to stir the mixture.
Churro dough forms: Then, add in the flour and keep stirring until fully incorporated and a smooth mixture forms. It is okay if it is not as smooth as you would expect since you will be mixing it again later.
Add the egg: Transfer dough into another large bowl or the bowl of a stand mixer, and let it cool for about 5 minutes. After that, add an egg and vanilla extract. To make it easier, use an electric mixer to incorporate it.
Transfer to a piping bag: Use the 16-inch one for this. To form the ridges as you pipe out the unsweetened dough, use the large star tip, Wilton 1M works great. Also, let the dough rest for just a few minutes.
Heat the oil: Prepare for frying by placing a large pot over medium-high heat. Alternatively, heat oil in a deep pan or cast-iron pot. You will need to cover the bottom of the pan with about 2 inches of vegetable oil.
Check the temperature: Since the oil needs to reach the correct temperature, use a thermometer to check when it reaches 360 degrees F.
Fry: Pipe out dough strips that are about 6 inches long, into the heated oil. In 5-piece batches, fry each side for about 2 minutes until golden perfection.
Coat: Once cooked, drain the excess oil by transferring the pieces onto a plate lined with paper towels. Alternatively, arrange them onto a baking sheet covered with paper towels.
Roll: Then, immediately roll each one into the cinnamon-sugar mixture earlier prepared.
Serve: Serve warm with your favorite sauce!
Recipe variations:
Once you can make perfect churros by following our easy churro recipe, you can start playing with different flavor variations.
Oreos: For example, we like to add 1/2 cup of crushed ores to the batter, for an Oreo take on it.
Other cookies: Similarly, you can add other crushed cookies, like animal circus cookies, which would be another great option.
Chocolaty: Alternatively make them more chocolaty, by adding 1 tablespoon of dark cocoa powder into the dough mixture.
Lemony: Make them lemony, by. stirring in some lemon extract into the batter and serving them with lemon curd on the side.
How to make churros in the oven:
Oven-baked churros are easy to make and as delicious as fried churros, for that, just follow the recipe below to make the dough.
After that, preheat the oven to 400 degrees F. Next, pipe the dough onto a baking sheet covered with parchment paper.
Finally, bake them for 18-22 minutes or until golden brown. Next, turn off the oven, and leave them in there for another 10 minutes. This will help hold their shape better.
After you remove them from the oven, immediately toss them in the cinnamon-sugar mixture and serve.
How to make churros in the oven:
My best churro recipe can be easily done in the air fryer, you can just follow our air fried churros recipe.
For that, just follow the instructions to make the choux dough.
After that, pipe it into strips onto a parchment paper lined baking sheet.
Next, preheat the air fryer to 375 degrees F, line the basket with parchment paper, and add the dough strips in one layer.
Finally, air fry them for 10-12 minutes, or until golden brown.
Immediately toss them in the cinnamon-sugar mixture and serve!
How to serve:
Homemade churros are delicious and served as is, warm and coated in the cinnamon-sugar mixture. However, we highly recommend you try one these dipping options:
Frequently Asked Questions
How do you keep Churros crispy?
To ensure their crispness, do not overcrowd the pan while frying. Overcrowding will lower the temperature of the oil which makes the pieces a little soggy and not as crunchy as you would like them to be.
So, if you must fry several batches and the oil has diminished, replenish it but heat it again to the right temperature before cooking the next batch.
If you are going to serve them later, you can arrange them on a parchment paper covered baking sheet, put them in the oven, and reheat them to about 170 degrees Fahrenheit. They will keep warm and crisp for the next hour.
Real churros should have a nice crunch when you bite into one, so making sure that they are fried to perfection is key!
What is the difference between Mexican and Spanish Churros?
Instead of making Mexican Churros, you can make the Spanish version. Essentially the main difference is that the Spanish ones are vegan churros, usually made without the egg. They are sprinkled with sugar and served with chocolate for dipping.
However, the Mexican version is like the ones you will be making using our step-by-step instructions. In addition, they are usually served with caramel sauce or without a dipping sauce altogether.
Can you keep churros dough overnight?
Yes, this. easy recipe is great to be made in advance, it will definitely save you some time!
Simply cover the uncooked dough and place it in the fridge, it will stay good for up to 3 days.
So, if you want to make it ahead of time, you can prepare the dough in advance and fry it right before you want to serve them.
They taste so much better freshly cooked this way.
How to store churros:
Store: First, let any leftovers fully cool. After that add them to an airtight container and store them for up to 4-5 days in a cool and dry place.
Freeze raw: Here you can pipe dough strips onto a baking sheet covered with waxed paper and freeze the raw churros. Wrap them individually in plastic wrap. After that, you can store them in the freezer and deep fry them when ready to enjoy.
Freeze cooked churros: Just add the cooled treats to a freezer-safe bag and freeze for up to 3 months. Also, I would suggest wrapping each one individually (so they don't stick to each other) before adding them to a container or plastic bag.
Thaw: When ready to enjoy them, let them thaw overnight in the fridge, and after that reheat in the oven and toss in cinnamon sugar.
Reheat: Just pop them in a hot oven for a few minutes. Just avoid the microwave, it will make them soggy.
More Mexican recipes:
Cooking tips:
Frying at the optimum temperature range of 325 to 375 degrees Fahrenheit will make them crispy. So, it is critical to maintain this temperature, and to do that, use an accurate candy thermometer.
If you want to make them often, you may want to invest in a churrera which is specifically made for making churros.
Keep in mind that for this recipe is best for the egg to be cold out of the fridge, not at room temperature.
Equally important is to toss the churros in the sugar mixture immediately after cooking. This way the sugar will stick better and make them crunchier.