Churros are best made at home to ensure their delicious crispness and freshness! Covered in cinnamon sugar, fried to perfection these are crispy on the outside and tender on the inside.
I wanted something easy to eat and comforting and this perfectly fits for movie night! I am serving some Tater Tots, Oven-Roasted Sweet Potato Fries, and Caramel Popcorn, along with too!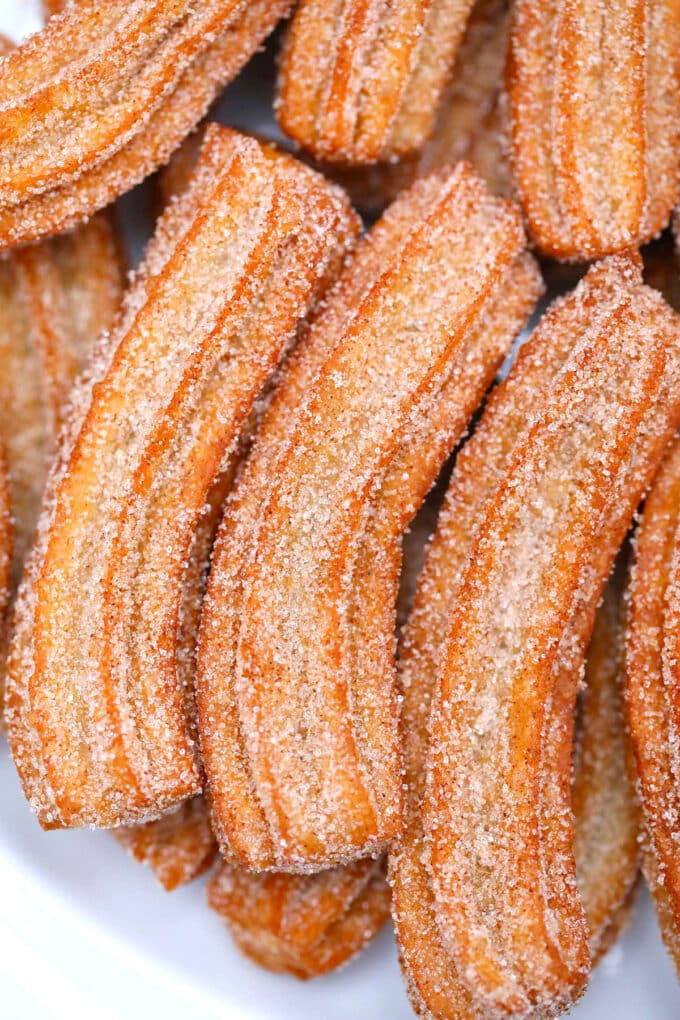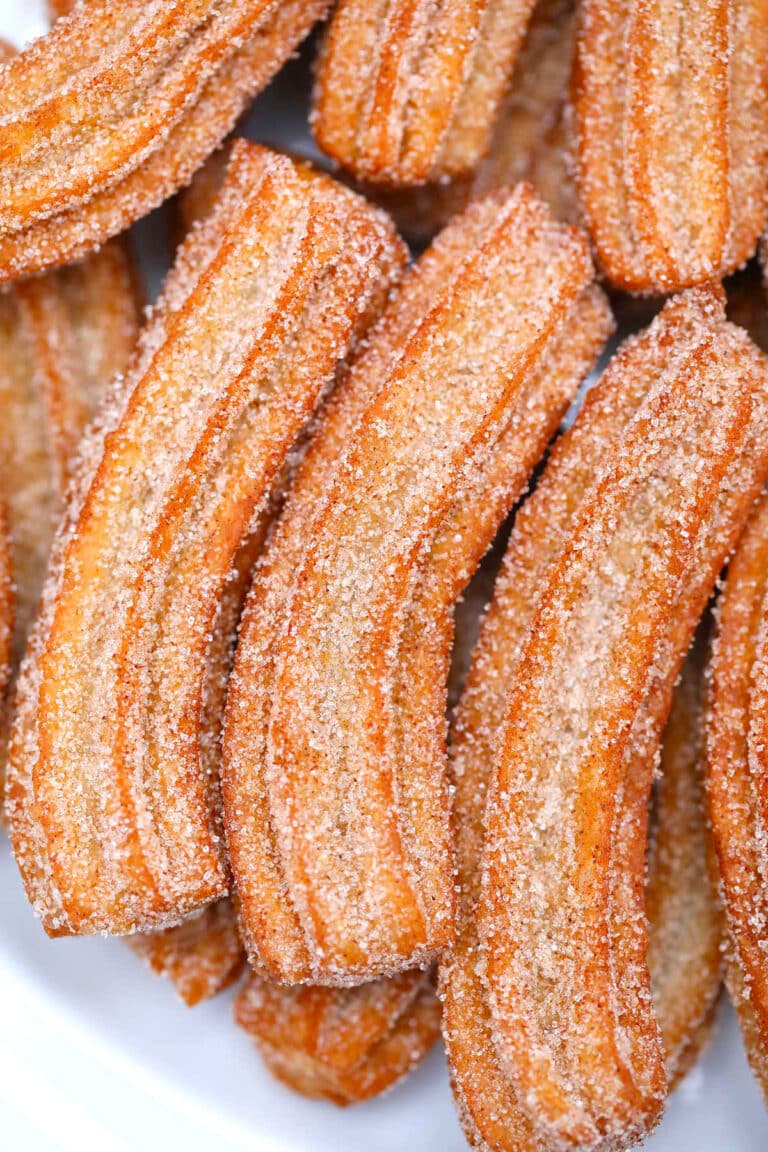 Authentic Churros Recipe
Churros are crispy on the outside but tender on the inside. Coated with sugar and cinnamon and dipped in your favorite sauce, they make for a great snack with its right level of sweetness and chewiness.
Some are straight, some are looped, while some are served as a spiral. They are served with many kinds of sauces, too, either filled in or for dipping.
The texture is not soft and fluffy, nor are they chewy. They are right in the middle, a little denser than the typical donut. And dipping them in a hot sauce is heavenly especially when it is cold outside!
With these qualities, this has been a popular snack sold on the streets. These are so perfect for kids and the kids-at-heart!
What are churros?
Essentially, they are a tasty snack or dessert made with dough that is fried and then coated with a mixture of sugar and cinnamon. This coating adds to the crispness as the sugar hits the hot churros, it crystallizes giving the exterior a bit of a crunch.
They first originated in Spain in Portugal and are also very popular in Mexico. In Europe, they are a very popular street-food, served near popular tourist attractions.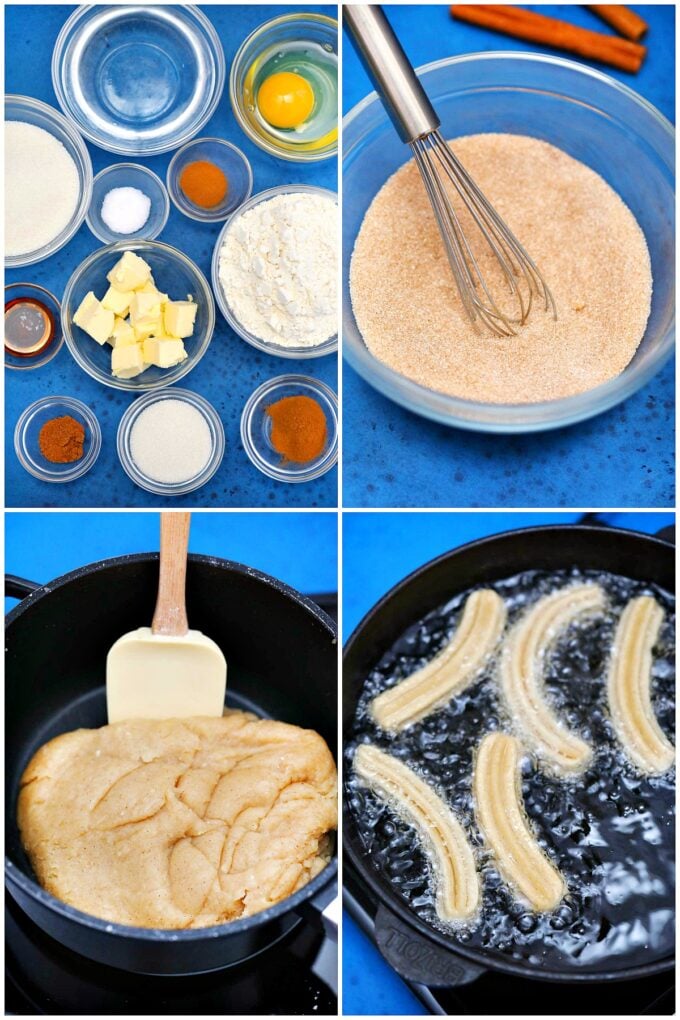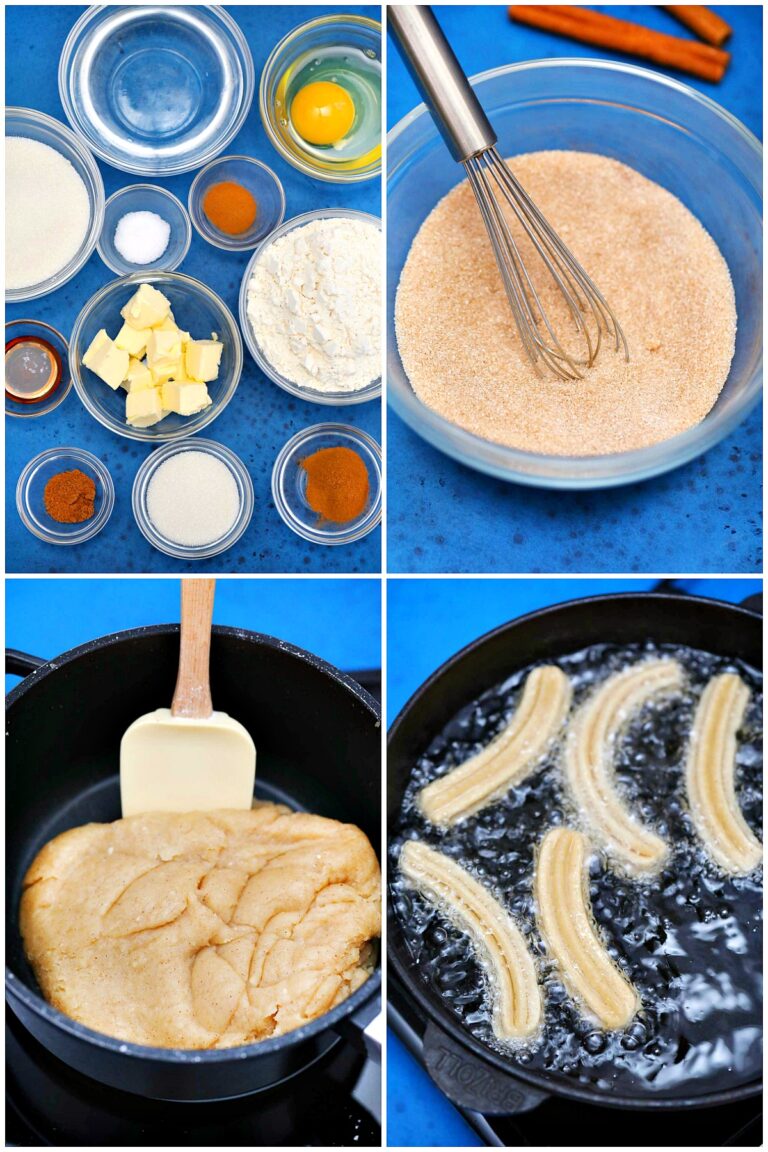 How to Make Churros
Prepare the coating: In a shallow dish, mix sugar and cinnamon. Then, set aside for later.
Heat the oil: Prepare for frying by heating vegetable oil in a deep pan or cast-iron pot.
Make the dough: In a saucepan, boil water along with butter, sugar, and the other spices. Then, add in flour and keep stirring until fully incorporated and the dough forms. It is okay if it is not as smooth as you would want it since you will be mixing it again later.
Add the egg: Transfer the dough into another bowl to cool for about 5 minutes, then add in an egg.
Transfer to a piping bag: Use the 16-inch one for this. To form the ridges as you pipe out the dough, use the star tip.
Fry: Pipe out the dough into the heated oil. In 5-piece batches, fry each side for about 2 minutes until golden brown.
Coat: Once cooked, drain the excess oil by transferring the pieces onto a plate lined with paper towels. Then, roll each one onto the sugar mixture earlier prepared.
Serve: Serve warm with your favorite sauce!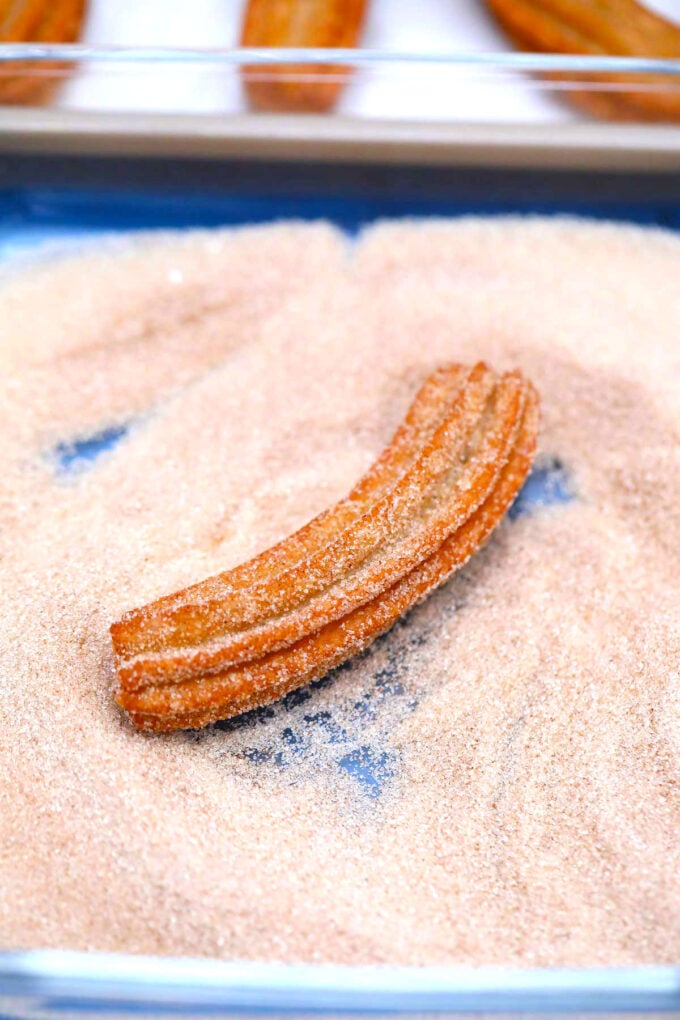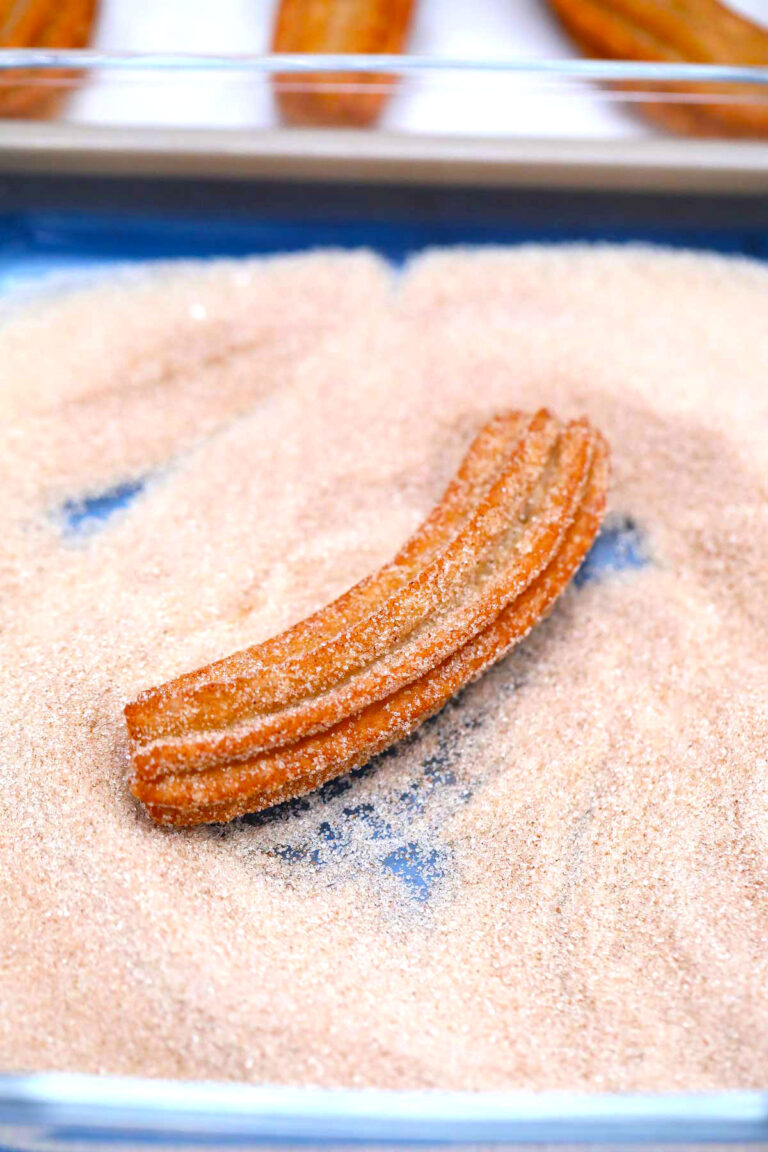 How do you keep Churros crispy?
To ensure their crispness, do not overcrowd the pan while frying. Overcrowding will lower the temperature of the oil which makes the pieces a little soggy and not as crunchy as you would like them to be.
So, if you must fry several batches and the oil has diminished, replenish it but heat it again to the right temperature before cooking the next batch.
If you are going to serve them later, you can put them in the oven and heat to about 170 degrees Fahrenheit. They will keep warm and crisp for the next hour.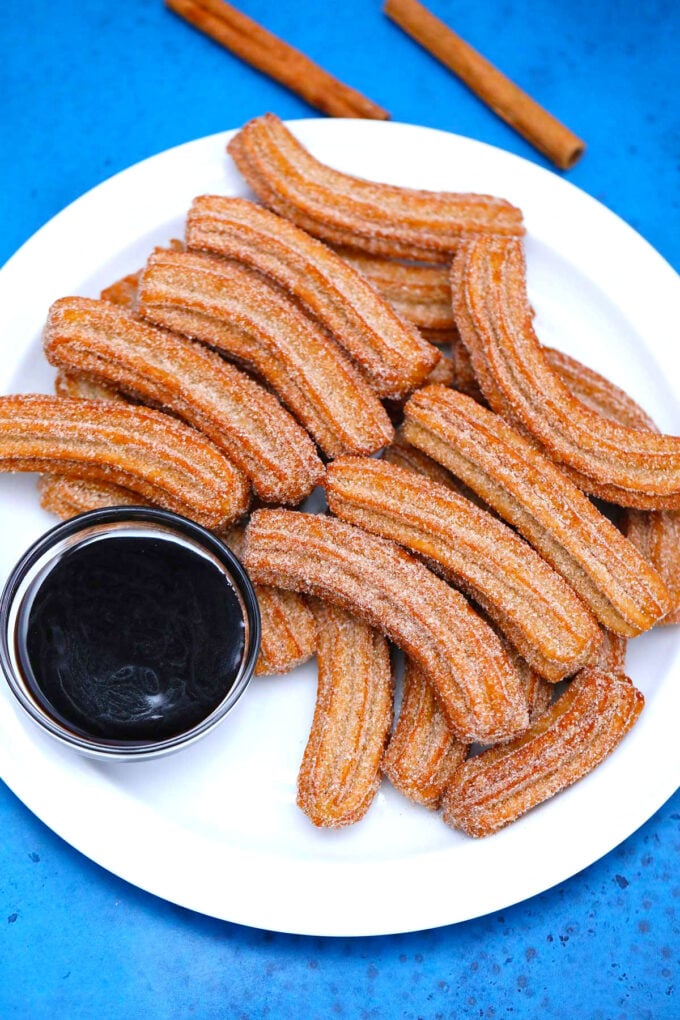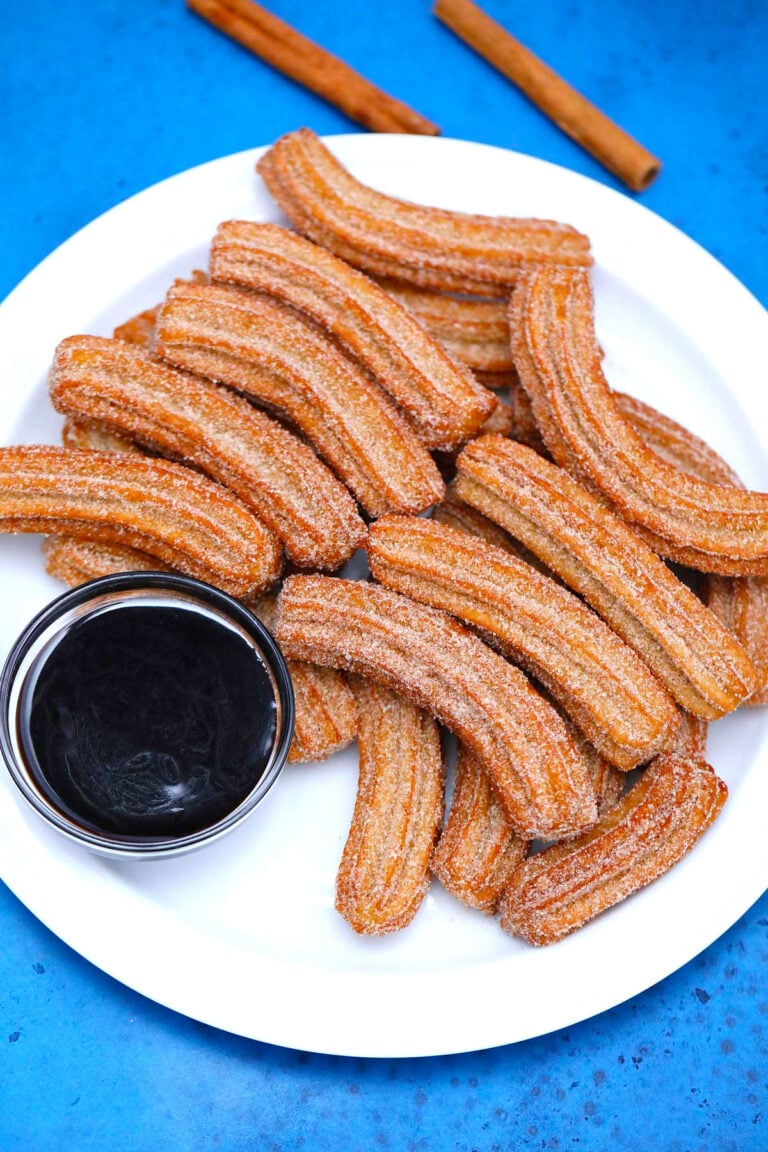 Can you keep churros dough overnight?
Yes! Simply cover the uncooked dough and place it in the fridge. It will even stay good for up to 3 days.
So, if you want to make it ahead, you can prepare the dough in advance and fry right before you want to serve them. They taste so much better freshly cooked this way.
How do you reheat churros?
You can fry them again to reheat them, typically at 350 degrees Fahrenheit. Just avoid the microwave, it will make them soggy.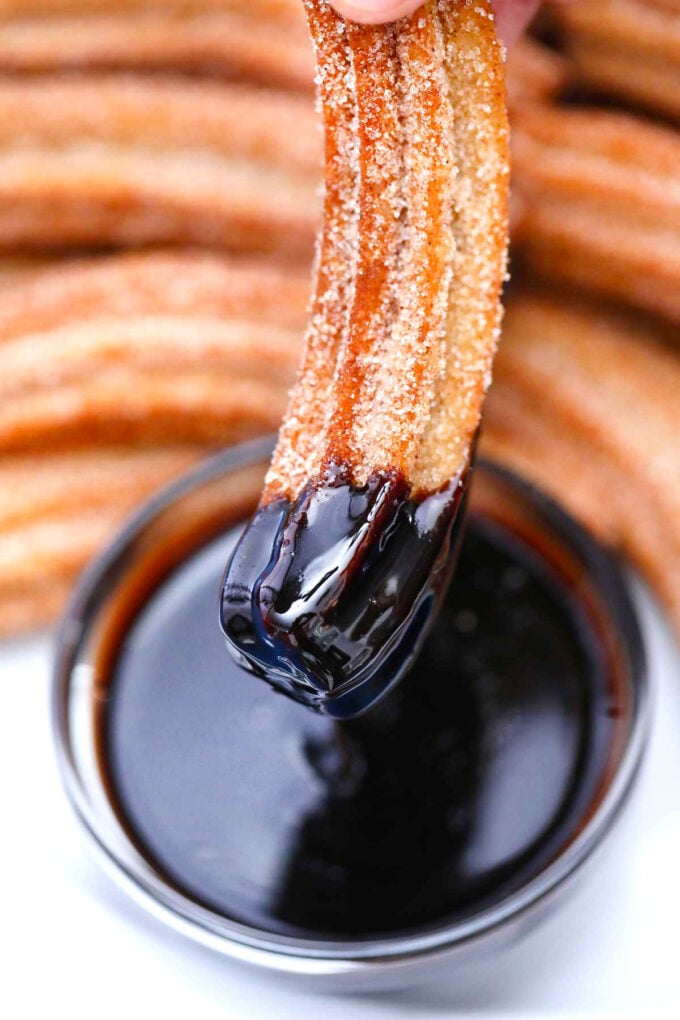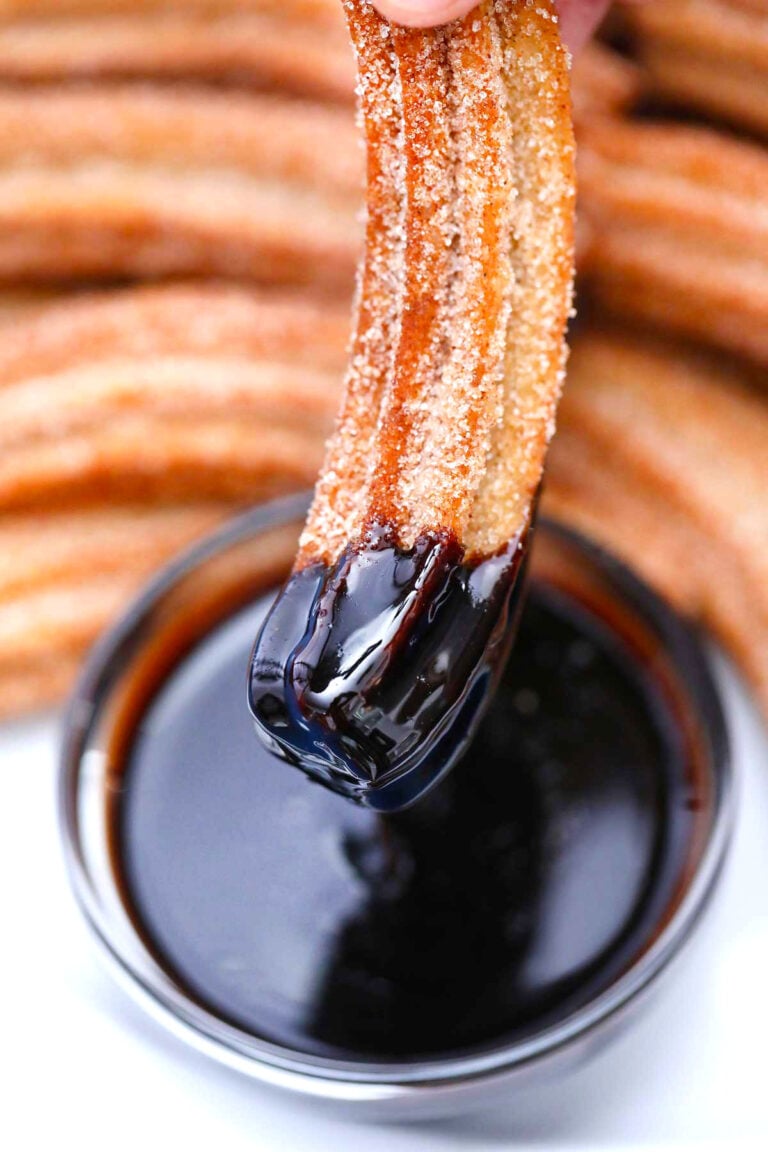 Recipe Tips
Frying at the optimum temperature range of 325 to 375 degrees Fahrenheit will make them crispy. So, it is critical to maintain this temperature and to do that, use a candy thermometer.
If you want to make them often, you may want to invest in a churrera which is specifically made for making churros.
You can also check out this recipe for a homemade caramel sauce that you can serve with the churros.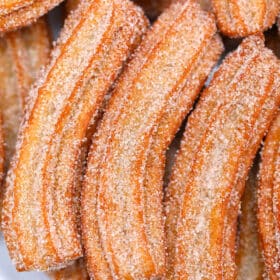 How to Make Churros
Churros are best made at home to ensure their delicious crispness and freshness! Covered in cinnamon sugar, fried to perfection these are crispy on the outside and tender on the inside.
Save
Share
Print
Pin
Rate
Ingredients
1

cup

water

1/4

cup

unsalted butter

(diced into small pieces)

2

tablespoons

white granulated sugar

1/4

teaspoon

cinnamon

1/4

teaspoon

nutmeg

1/4

teaspoon

salt

1

cup

all-purpose flour

1

large egg

(room temperature)

1

teaspoon

vanilla extract

Vegetable oil

(for frying)
Cinnamon Sugar:
1/2

cup

white granulated sugar

1 1/2

teaspoons

ground cinnamon
Instructions
Cinnamon Sugar:
in a shallow dish, whisk together sugar and cinnamon, set aside.
Make the Batter:
Place water, unsalted butter, sugar, cinnamon, nutmeg, and salt into a large saucepan and bring to a boil over medium-high heat.

Reduce heat to medium-low and stir in the flour with a rubber spatula, stir constantly until the mixture comes together and is shiny and smooth, with no lumps (a few tiny lumps are ok).

Transfer the mixture to a large mixing bowl, and let it cool for 5 minutes.

Using a hand electric mixer, whisk in vanilla and the egg into the flour mixture until fully combined and smooth. The mixture may start to separate, keep mixing until its combined.

Transfer the mixture to a piping bag fitted with 1/2 inch star tip.
Fry the Churros:
Heat about 1 1/2 inches of vegetable oil in a large pot or deep cast-iron skillet over medium-high. The oil should reach 360 degrees Fahrenheit, use a candy thermometer to check the temperature.

Carefully pipe the mixture into the preheated oil, pressing about 6-inch lengths churros and cutting the end with clean scissors. Do not overcrowd the pan.

Fry until golden brown, about 2 minutes per side.

Transfer fried churros to paper towels for about 2-3 minutes, after that toss into the cinnamon-sugar mixture.

Repeat with the remaining dough.

Serve warm with chocolate or caramel sauce for dipping.
Nutrition
Calories:
77
kcal
|
Carbohydrates:
12
g
|
Protein:
1
g
|
Fat:
3
g
|
Saturated Fat:
2
g
|
Cholesterol:
16
mg
|
Sodium:
59
mg
|
Potassium:
20
mg
|
Fiber:
1
g
|
Sugar:
7
g
|
Vitamin A:
106
IU
|
Calcium:
12
mg
|
Iron:
1
mg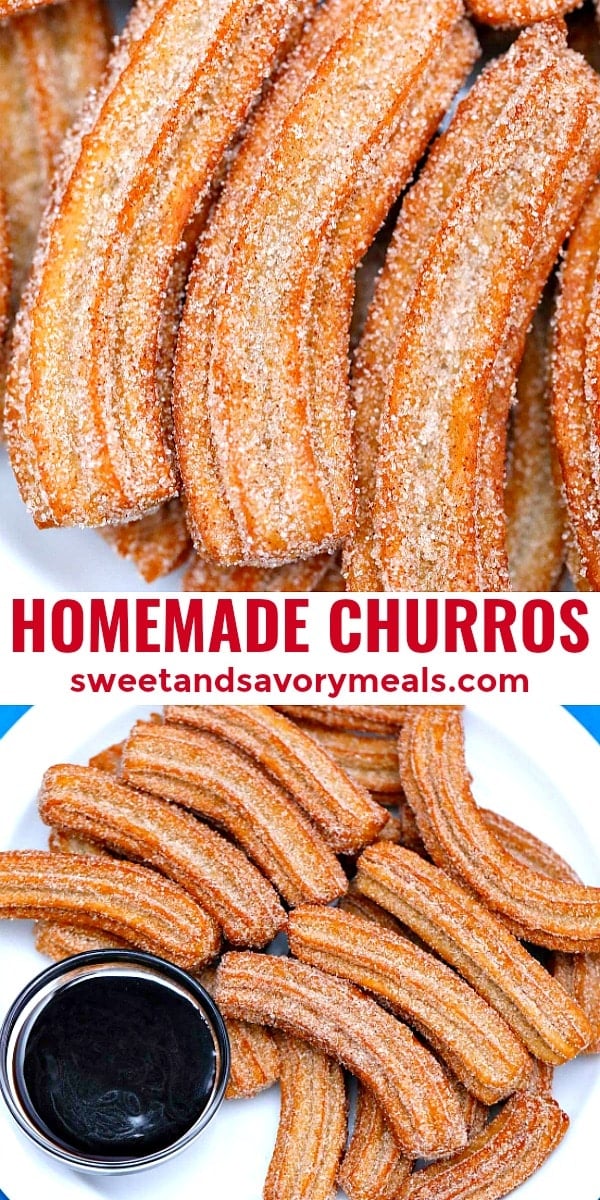 More recipes you might love