Alfajores are soft and airy cookies popular around Christmas. Inside is a dulce de leche filling that tastes like the richest caramel. One of the greatest cookies you'll ever make!
Making desserts together is one of my family's favorite holiday traditions. They're such a fun bonding activity, and you get delicious treats at the end. Try it by baking these Buckeye Brownie Cookies, Christmas Sugar Cookies, and Pudding Mint Chocolate Chip Cookies!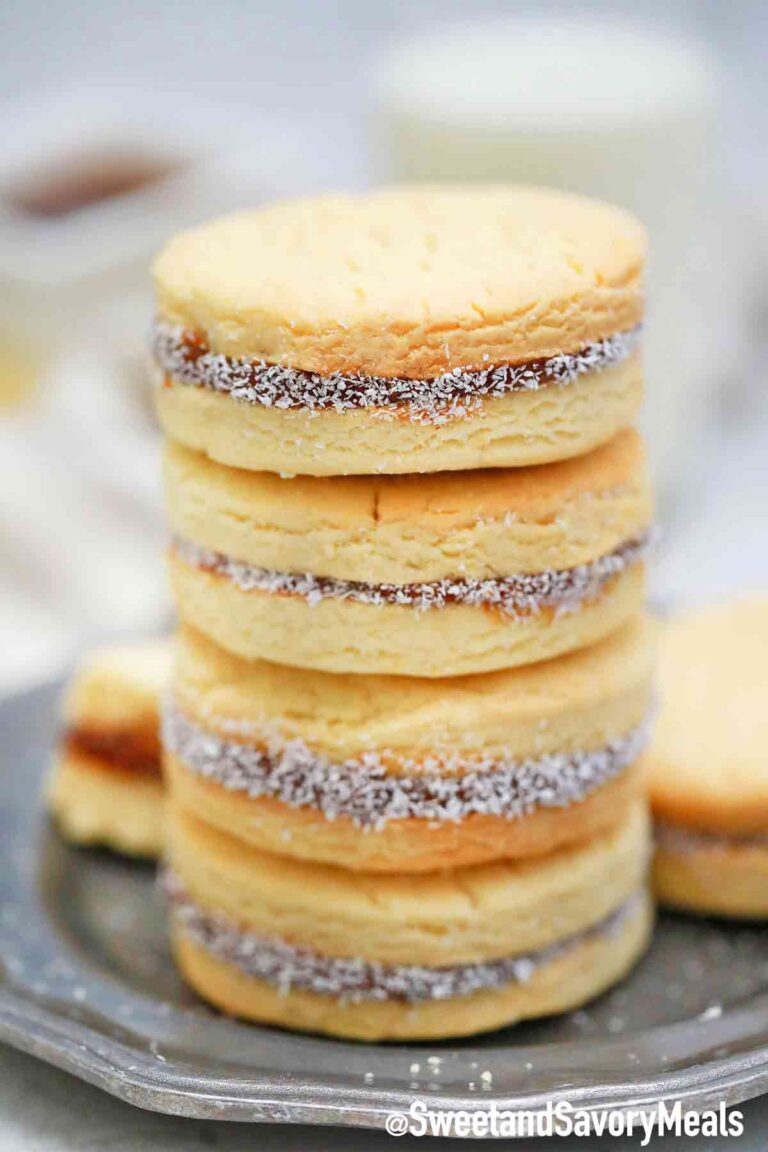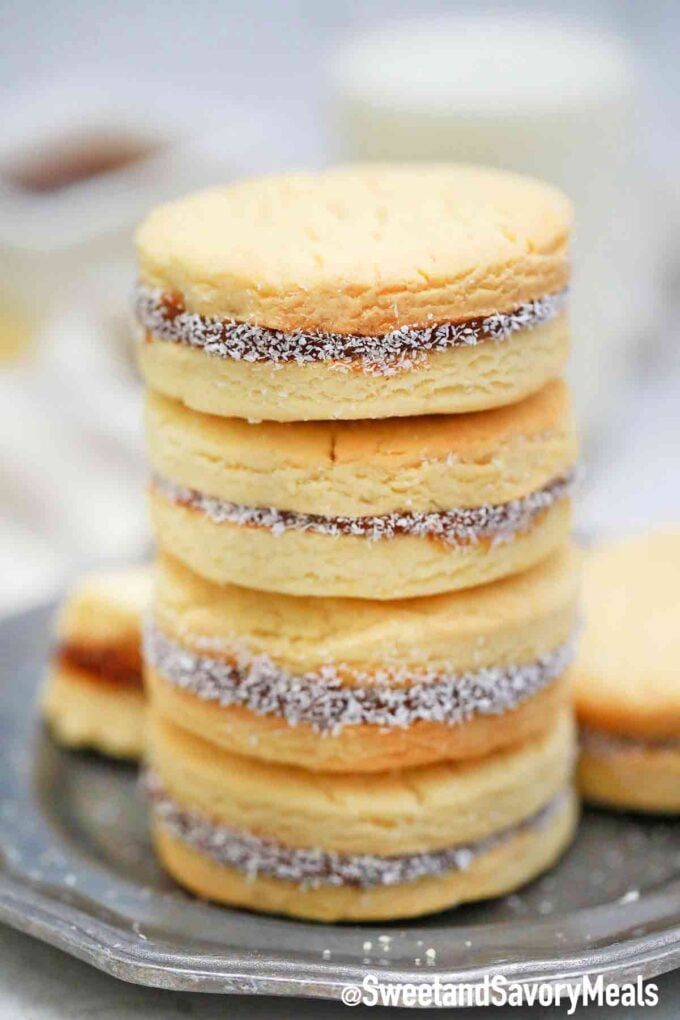 Alfajores Cookies Recipe
Alfajores are a staple Christmas dessert in my home. If you've never made or had them before, prepare to be amazed. They're unlike any cookie out there. The filling is made of authentic dulce de leche, dolloped between two buttery and delicate cookies.
My recipe calls for these to be rolled in unsweetened, shredded coconut for an extra layer of texture and flavor.
They're absolutely beautiful arranged on a plate, with the coconut resembling fresh Christmas snow. I also love wrapping them up as edible gifts, and some of my friends and loved ones specifically request them during the holidays!
They're perfect for Christmas, but they're so good I bet you'll be making them all year long! Also, every bite is tender and filled with flavor, the crumbs melt in your mouth!
What are Alfajores?
The most unique element of this recipe is that it has more cornstarch than flour. Those proportions produce a dough that's very similar to shortbread.
These cookies are crunchy but almost melt away after you bite into them. They enclose a dulce de leche filling, and some bakers roll them in coconut to balance the sweetness.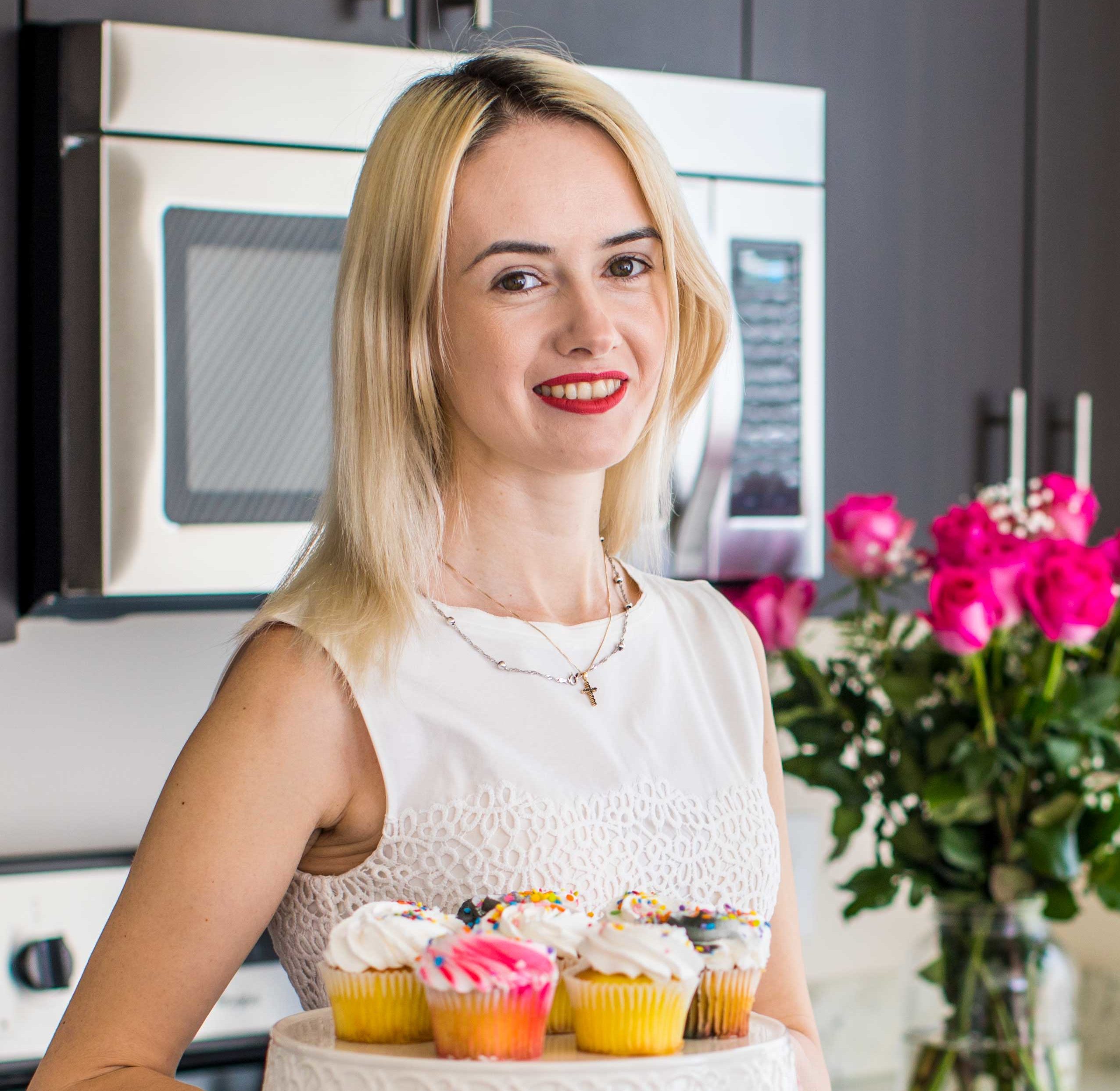 Follow us on Pinterest for more delicious recipes!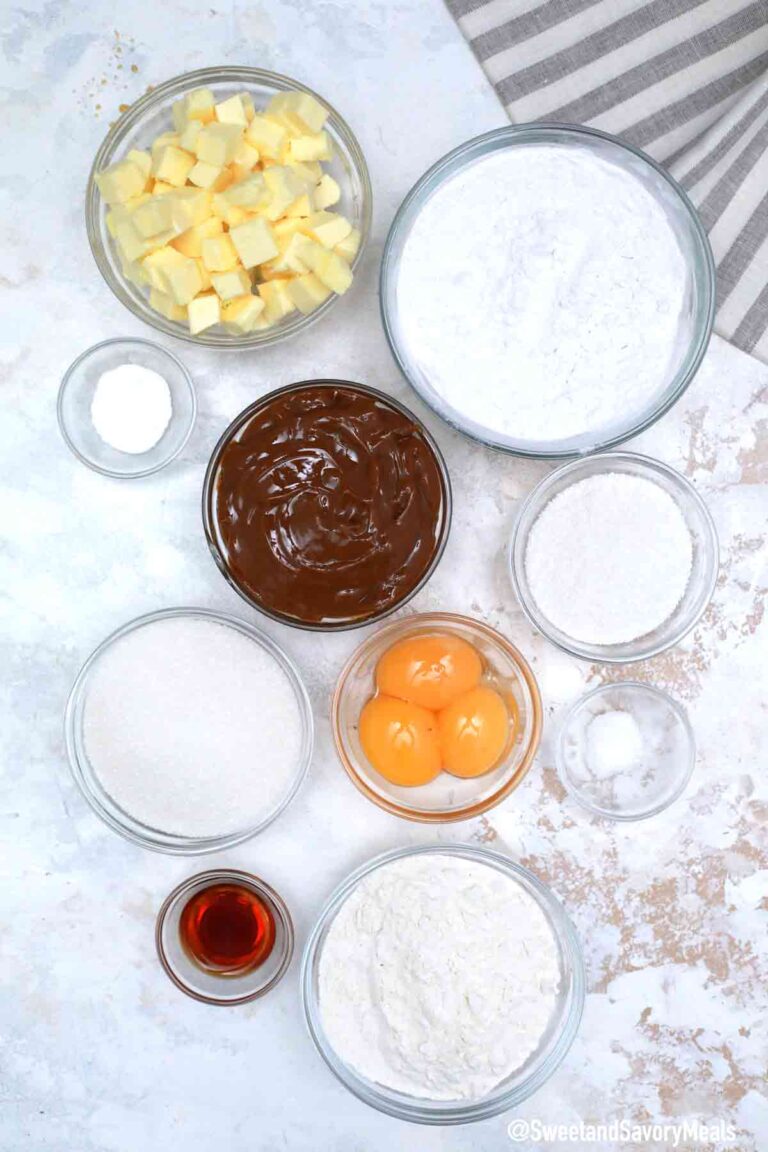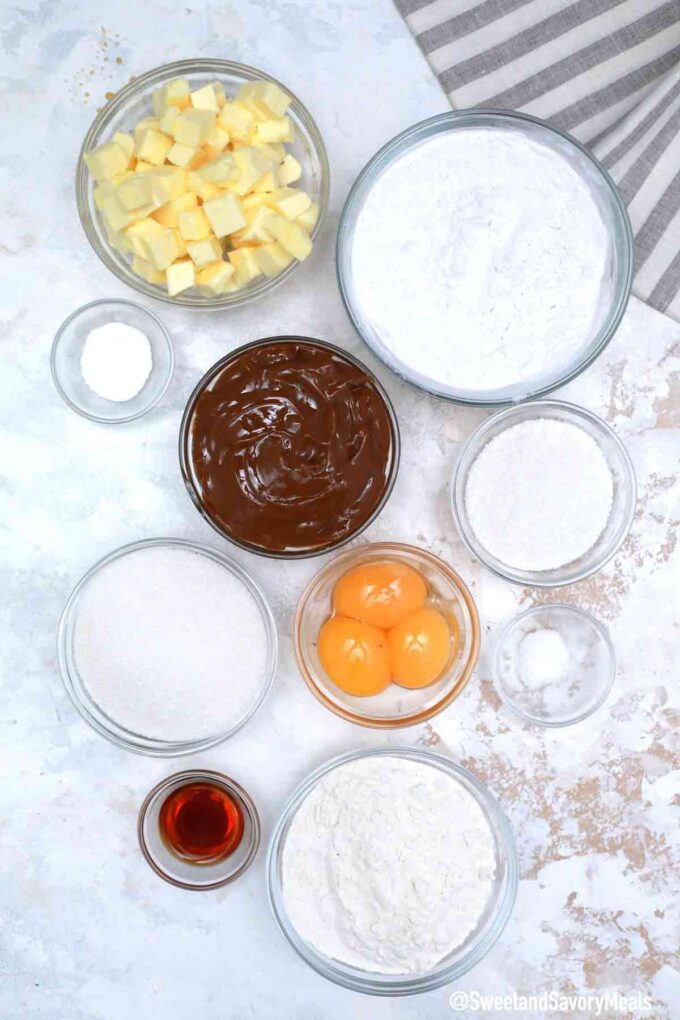 Alfajores ingredients:
If you enjoy baking, you probably have most of these already. As for the filling, no need to make your own though you can certainly do so. Store-bought is totally fine to use. You will need:
Cornstarch: The main ingredient of these treats, they are responsible for the distinctive light crumb.
Flour: Important for structure.
Baking powder: This is our leavening agent.
Salt: Just a little pinch will prevent these treats from tasting flat.
Unsalted butter: Let soften to room temp before using.

Sugar: Regular granulated is all you need.
Vanilla: Brings out the flavors!
Dulce de leche: Store-bought, but you can make from scratch if you wish.
Coconut: Shredded, unsweetened is perfect for this recipe.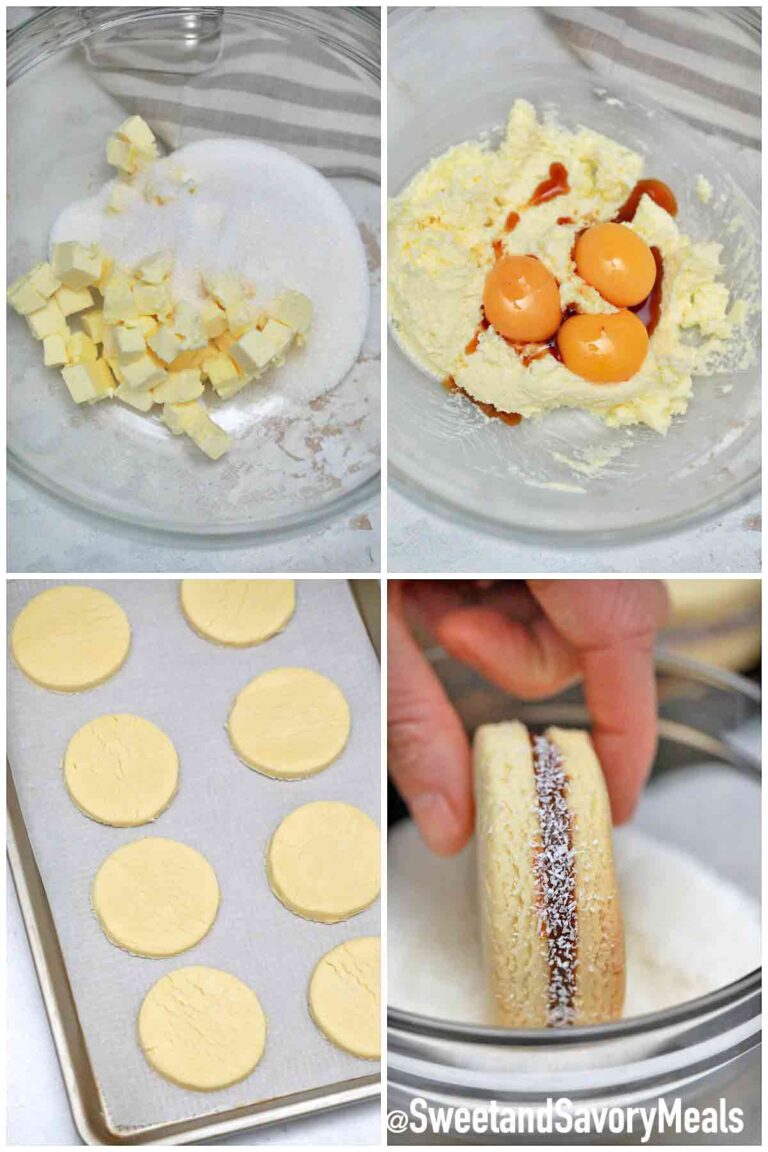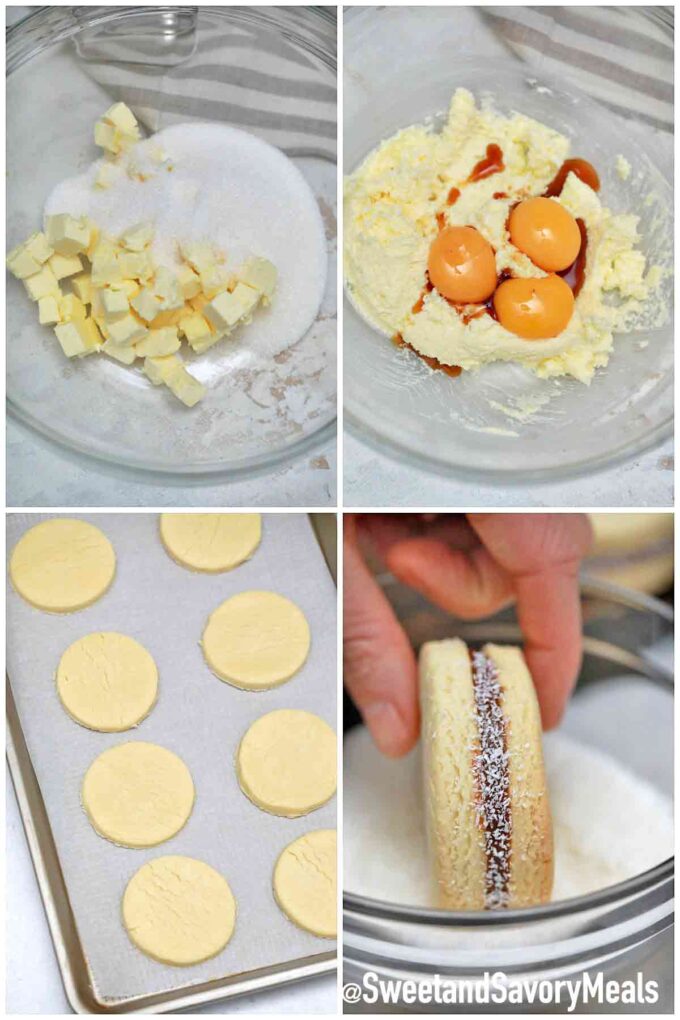 How to make the homemade dulce de leche Alfajores?
Whisk. Blend the cornstarch, baking powder, and salt first.
Beat. Make sure your butter is room temp before beating to a light and fluffy consistency. Beat in the pure vanilla and yolks.
Make the dough. Add the cornstarch mix to the butter blend. Combine on low. Flatten into a disk and chill.
Bake. Once they've been chilled for around an hour, roll into a thin layer about an eighth or quarter inch. Cut out into circles. Bake at 350F for 8 minutes, rotating at the 4-minute mark. Cool.
Assemble. Smear or dollop dulce de leche onto a cookie, and sandwich with another. Roll alfajores gently over the coconut. Repeat until done.
Alfajores variations:
Try other fillings: Other great options are vanilla cream, chocolate mousse, marmalade, sweet potato caramel, fruit jam, and honey.
Triple-stack them: Some bakers add a third cookie in the middle for thicker alfajores.

Dip them in chocolate: You can dip the entire thing in chocolate, or do one half with dark chocolate another one with white.
Glaze them: These are delicious with a simple sugar glaze!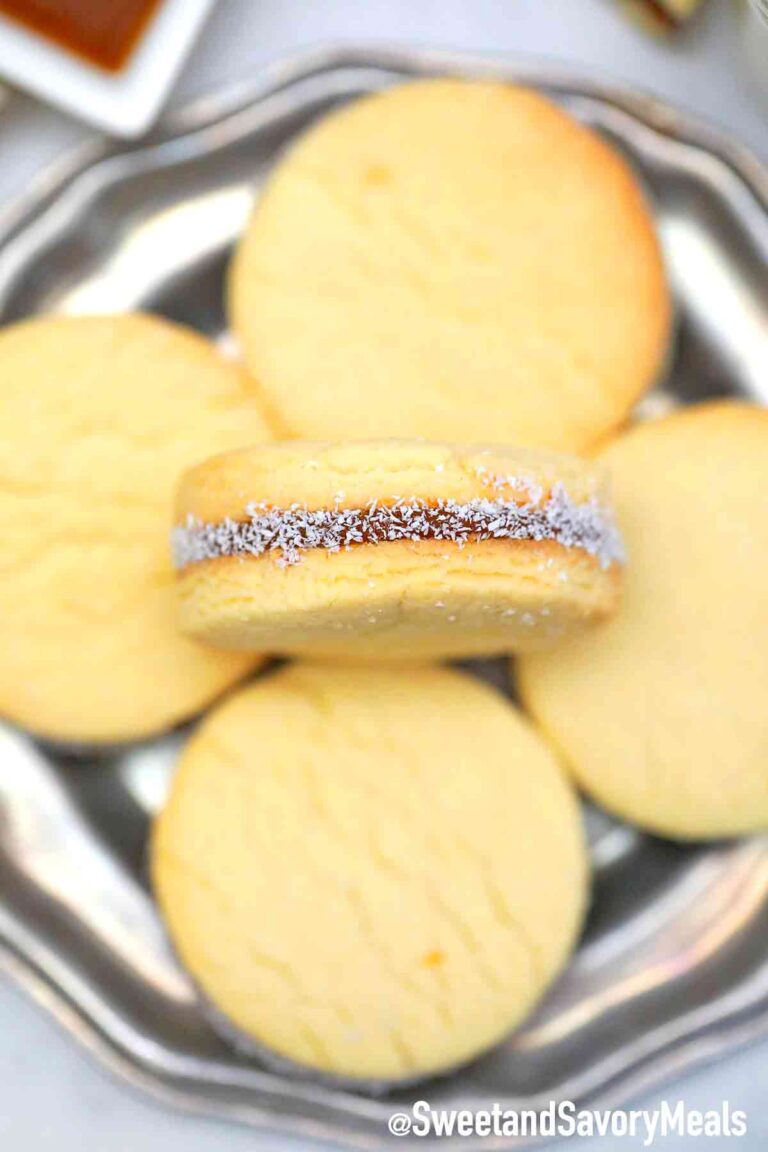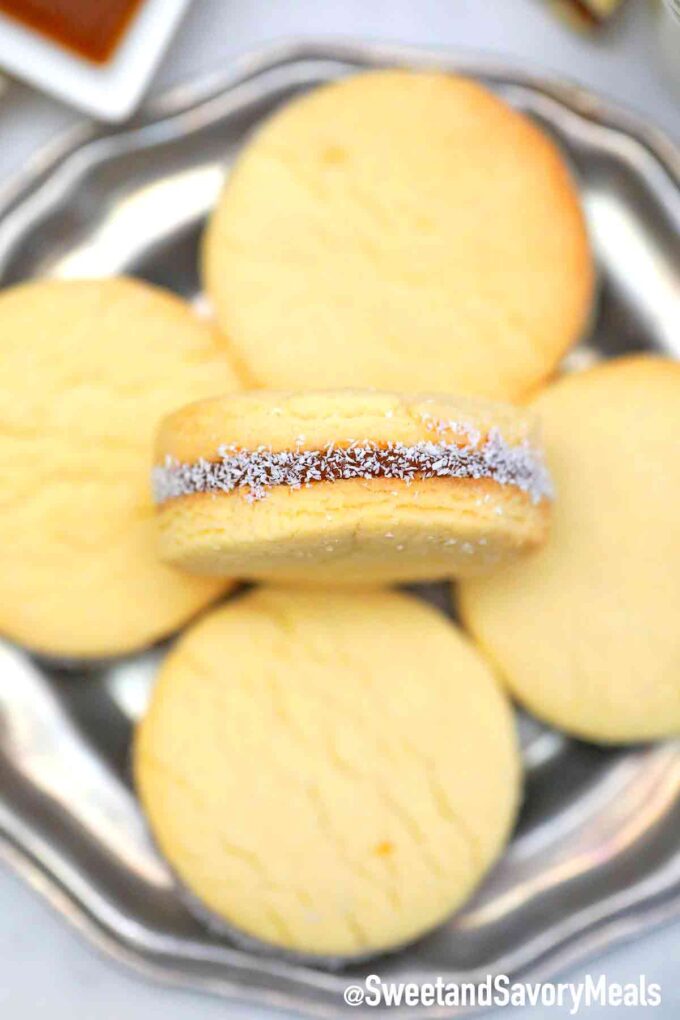 What is dulce de leche?
It has a similar flavor profile to caramel and is made with condensed milk and other types of sweetened milk. Some add vanilla. The consistency is different from caramel, dulce de leche is much thicker and spreadable.
One way to make them is to combine milk and sugar in a pan, bring to a boil, and simmer for around 2 hrs until done. Another way is to follow the same process, but using an unopened can of condensed milk, simmered for a couple of hours in water.
It's really easy to make dulce de leche, but for convenience, you can also find equally delicious versions in stores.
What kind of coconut should you use?
I use the unsweetened variety so that it has the most subtle coconut flavor while highlighting the alfajores.
How to store Alfajores?
Make sure that the container you put them in is completely airtight. These treats are sensitive to air and moisture. Too much exposure and they tend to lose that light softness. They will stay perfect for a week at room temp, and a couple of months frozen.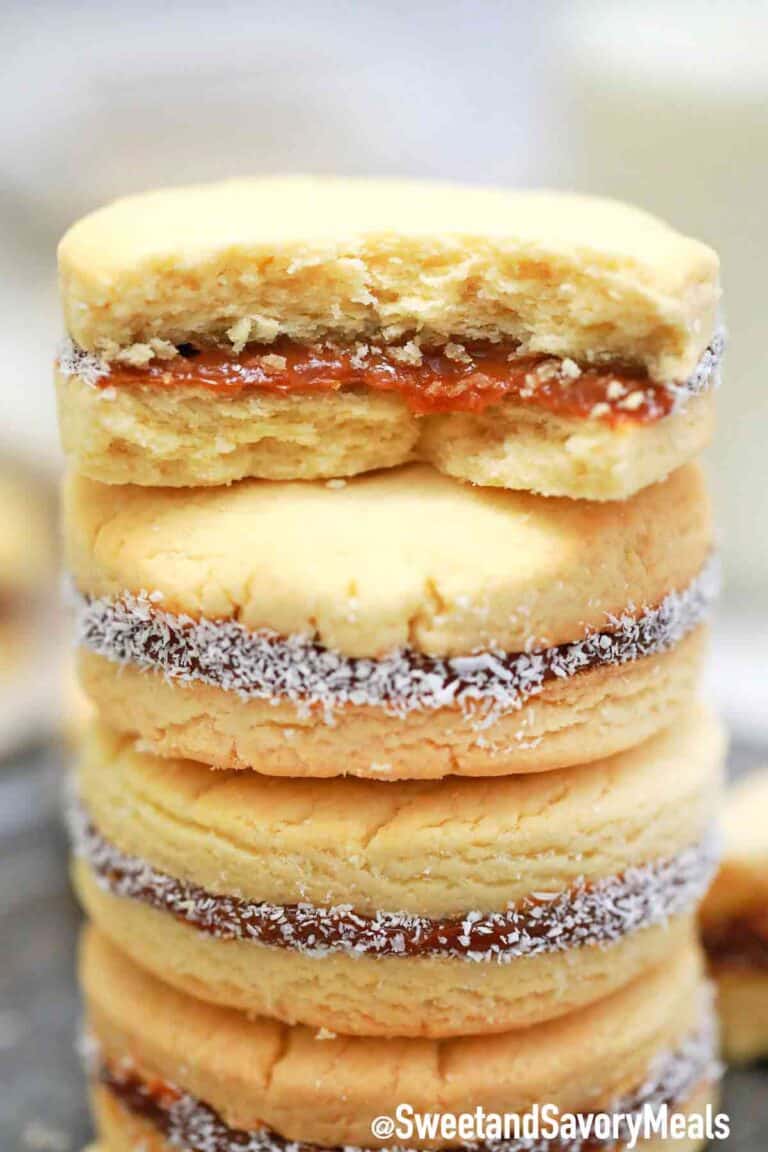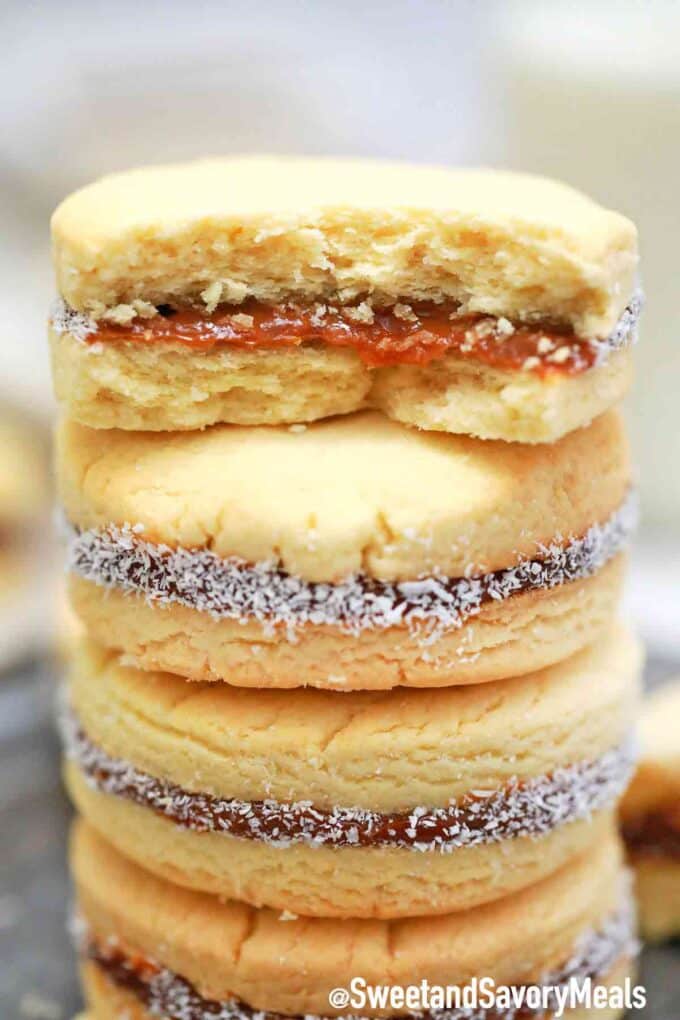 More delicious Christmas desserts:
Recipe Tips:
Stir the dough just until mixed to prevent them from getting tough.

Don't skip the chilling time because it helps the dough hold its shape.
Save Recipe
Alfajores Recipe
Alfajores are soft and airy cookies popular around Christmas. Inside is a dulce de leche filling that tastes like the richest caramel.
Author: Catalina Castravet
Serves: 12 sandwich cookies
Prep time:

30

minutes
Cook time:

10

minutes
Total time:

1

hr

40

mins
Nutrition information
Carbohydrates: 32 Protein: 2 Fat: 15 Saturated Fat: 9 Cholesterol: 79 Sodium: 155 Potassium: 81 Fiber: 1 Sugar: 11 Vitamin A: 440 Calcium: 37 Iron: 1 Calories: 363
Save Recipe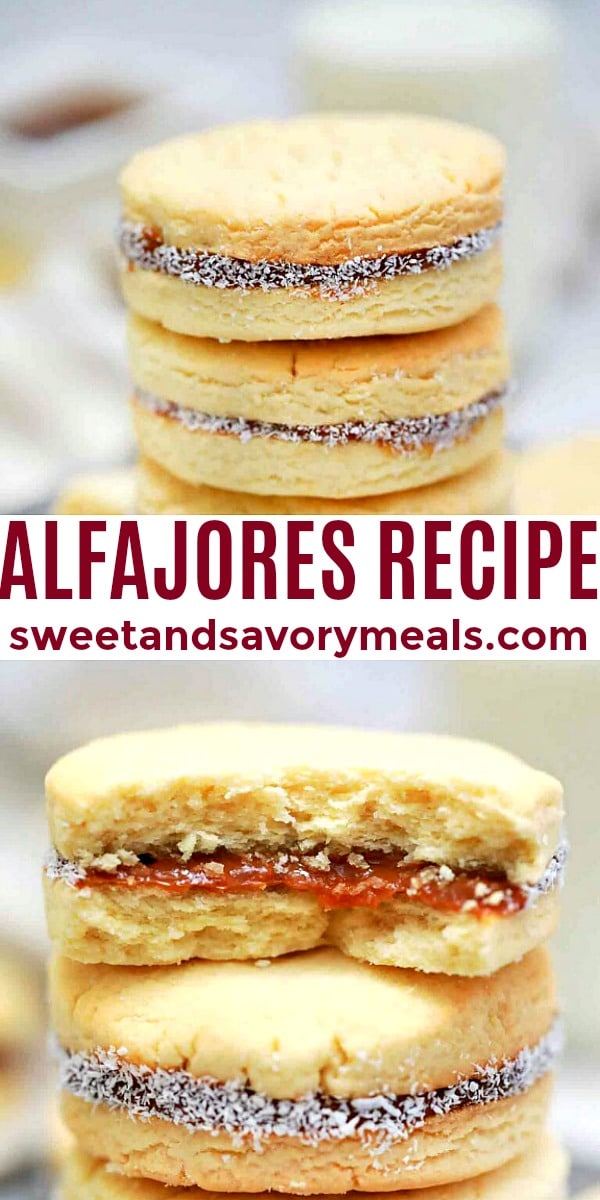 More recipes you might love
Categories: