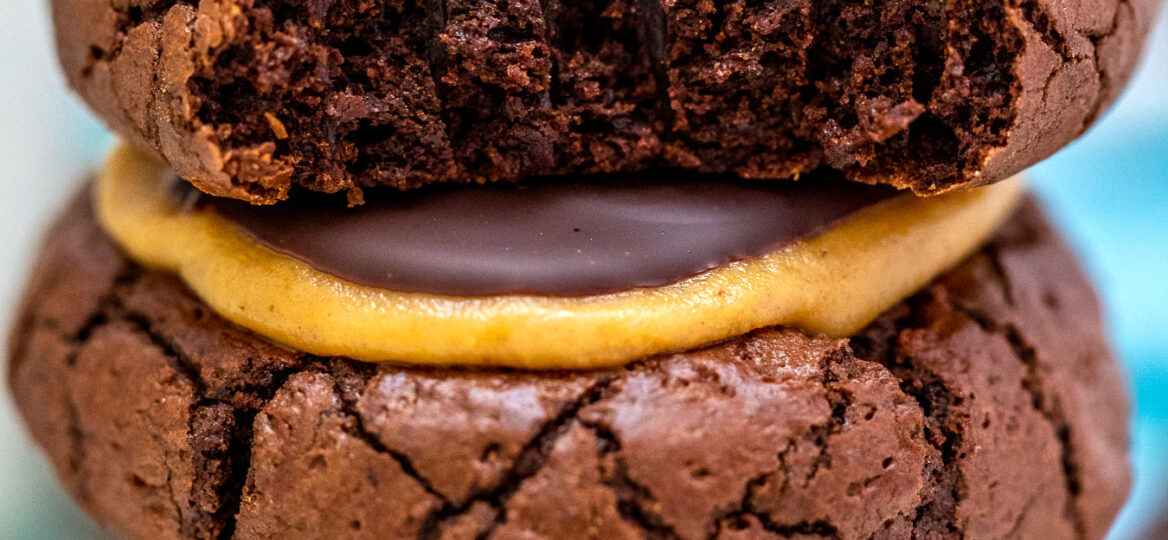 Buckeye Brownie Cookies [Video]
Buckeye Brownie Cookies are decadent pieces of brownie-like cookies, topped with peanut butter and chocolate! Satisfy your sweet tooth with this chocolaty dessert!
Add this dessert to your Christmas menu and be ready to be asked about the recipe. Your guests will surely love these! Try it alongside Millionaire Cranberry Salad, Red Velvet Cheesecake Bites, and Blueberry French Toast Casserole.
Buckeye Brownie Cookies Recipe
Buckeye Brownie Cookies have two of my favorite things – peanut butter and chocolate. I cannot believe that it is just now that I am sharing this recipe with you.
But it has become an obsession for quite some time now, especially that I was able to stock up on chocolate for the holidays!
It is undeniable that I have a sweet tooth and recipes like this excite me! This one is a keeper so if you have not tried it, then, this is the time to do so.
Christmas is just around the corner and desserts make your parties more festive. They taste great and they look great, too! Cookies, in general, are a great dessert option because of the ease of serving them.
What are Buckeye Brownie Cookies?
This dessert resembles and is named after the buckeye. They are made with a brownie as the base and peanut butter pressed at the center. Then, melted chocolate is put on top. Simple as it may seem, this dessert's flavor combination is phenomenal, and the gooey texture adds up to its appeal.
How to Make Buckeye Brownie Cookies?
For a quick step-by-step tutorial, watch the recipe video attached above. But the general steps are as follows:
Prep for baking: Preheat the oven as prescribed and prepare two baking sheets.
Melt: Melt together the butter and bittersweet chocolate while stirring occasionally. Set aside to cool.
Prepare the dough: In a bowl, mix the wet ingredients with sugar. In another bowl, mix the dry ingredients. Combine the cooled chocolate mixture into the wet mixture. Then, add in the dry mixture and stir to incorporate everything.
Make peanut butter balls: In another bowl, combine the peanut butter and powdered sugar. Roll into balls then, set aside.
Bake: Use a scooper to make uniform mounds of the dough and arrange them on the baking sheets. Bake just until they are set.
Decorate: Once done, get the peanut butter balls and push them in the middle of each cookie. Allow a few more minutes to let them cool on the pan, then, put the cookies on the rack to cool further. Then, drizzle melted chocolate on top.
How Long to Bake Buckeye Brownie Cookies?
Baking time depends on the oven that you are using. Make sure that you get the temperature right by verifying with a thermometer. For this recipe, bake them for 10 minutes just until they are set on the surface, and avoid overbaking.
Should I chill the dough?
It is optional. You may skip this part if the dough is tacky but not too wet. If it is too thin, then, you can chill the dough for a few minutes in the fridge.
How long will they stay fresh?
Put these in an airtight container, and they will stay good for 3 to 4 days.
Can I freeze them?
Yes! Thaw them in the fridge before serving.
Buckeye Cookies Recipe Tips:
When storing, put a piece of bread along with the cookies. It will absorb the moisture.
If you love the flavor combinations in these, then, you will also love the Twix Cookies and these No-bake Cookies! Go ahead and give them a try.
You may use your favorite brownie mix in this recipe if you are in a hurry.
Add more of the powdered sugar if you find the batter too wet.
You may use gluten-free flour in this recipe. I used the all-purpose kind but anything that works for you is fine.
Deliciousness to your inbox
Enjoy weekly hand picked recipes and recommendations