Blueberry French Toast Casserole [Video]
French Toast Casserole is sweet, flavorful, and hassle-free! Make it overnight for a great breakfast the next morning! It is perfect for a crowd!
If you are looking for breakfast ideas, then, you have come to the right place! We've got this awesome recipe for you along with Pumpkin Pound Cake, Shakshuka, and Asparagus Frittata!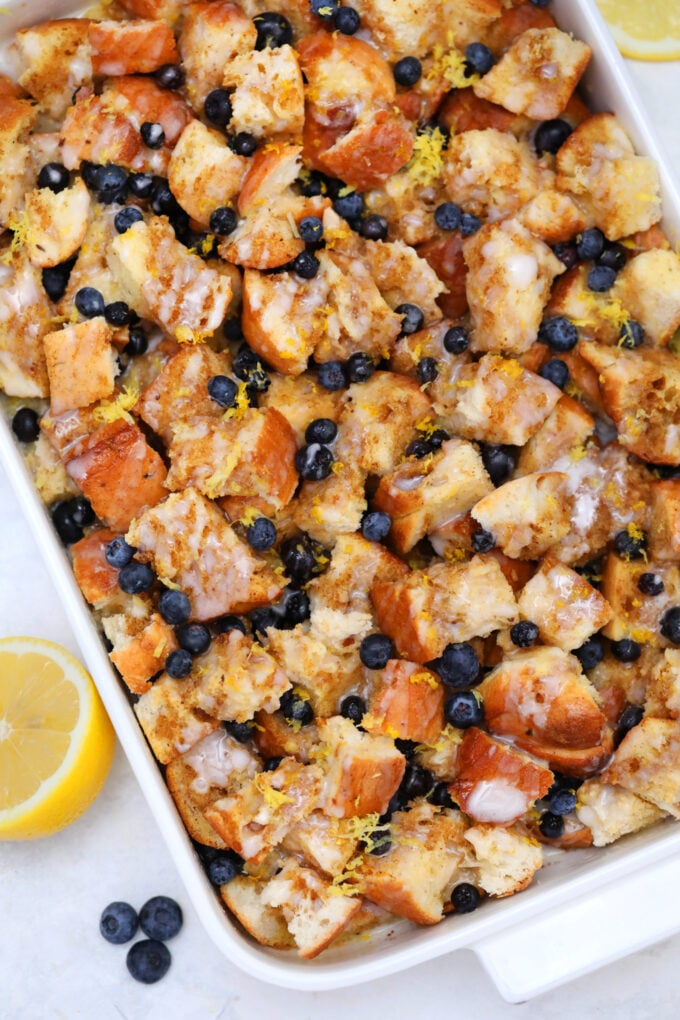 Blueberry French Toast Casserole Recipe
French Toast Casserole is ideal if you are hosting brunch for a big group or if you just want to relax in the morning. This is because this recipe is so easy! In under an hour, you will be able to taste this comforting dish. This is a great Christmas breakfast that will surely be a hit among the family. If you are to make individual toasts, it would take you forever! But with this dish, just assemble, bake, and then, cut it up to individual portions.
You do not need to make it in one go. You can make it in advance. All of these reasons make this a no-fuss breakfast overall. It is decadent, perfectly crisp, and hearty! What a way to start your day!
What is French Toast Casserole?
It is the baked version of the otherwise pan-fried bread. In the usual recipe for the French toast, you soak the slices first in milk and egg and then, fry it. This dish is almost the same except that it is baked and that the pieces are either lined up in the baking dish, not individually cooked, or the bread is cut into cubes and tossed in the casserole dish.
This takes away the hassle of frying individual slices and saved you lots of time.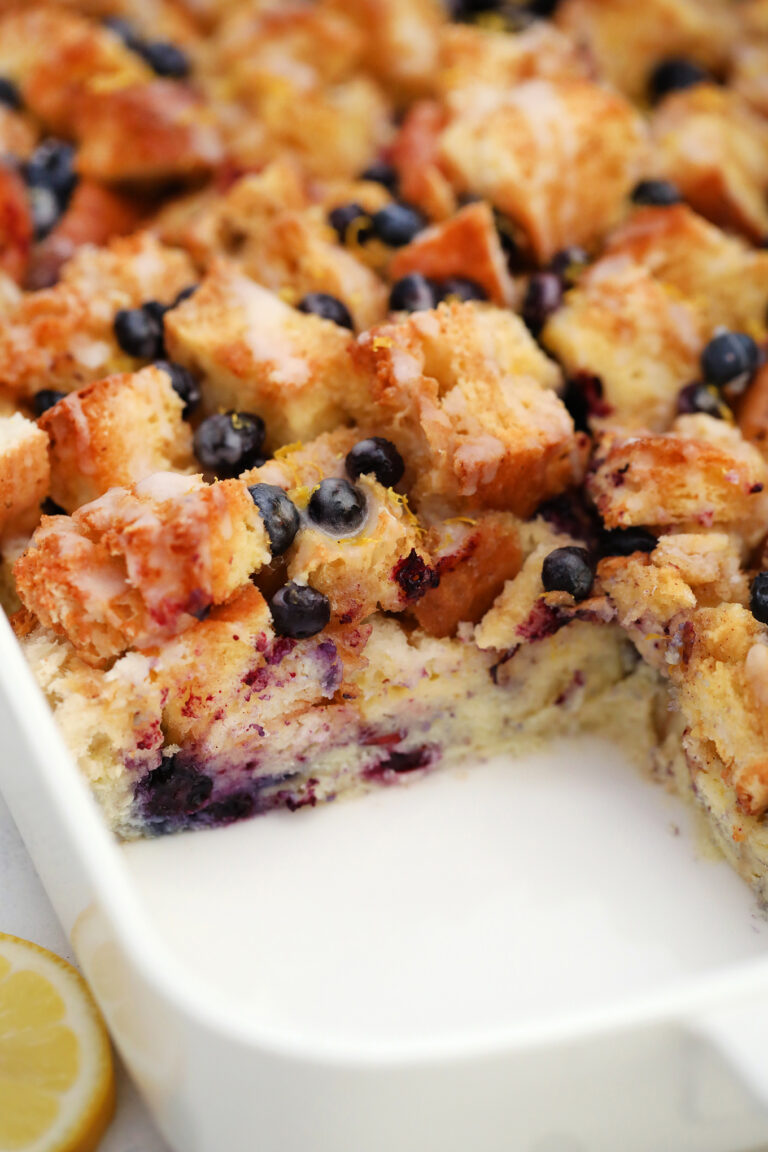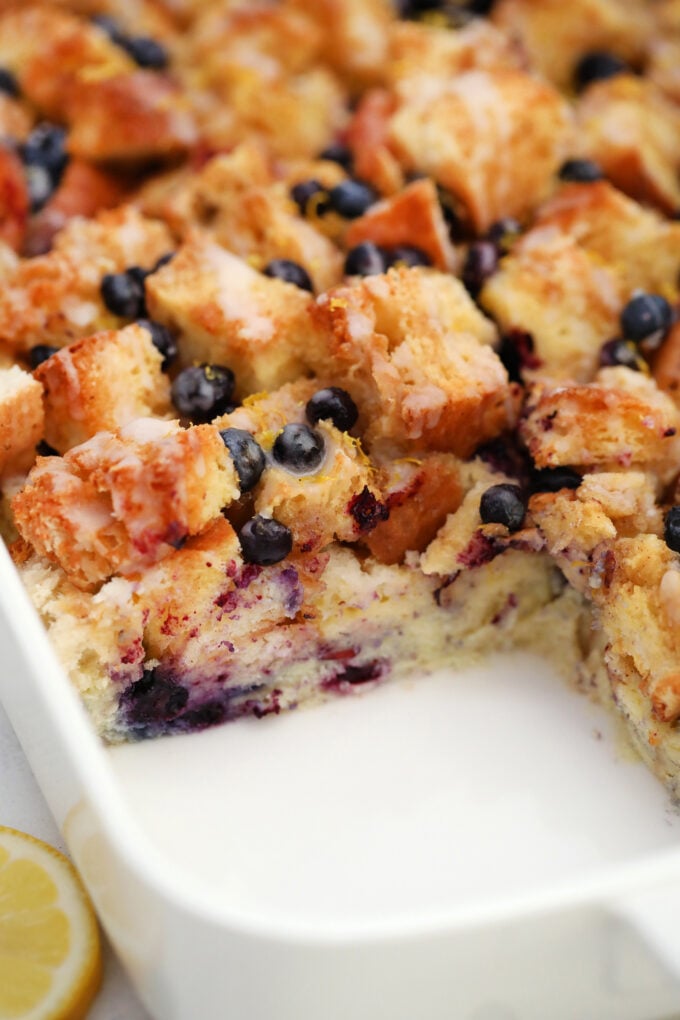 What bread is best for French Toast Casserole?
The ideal bread is something that has been baked for about 3 to 4 days ago. Stale bread is the best for this kind which is good if you want to deal with leftovers. This is because stale bread is dry and will not be as soft as fresh ones which tend to be too soggy when you add the milk and egg.
We love challah in this recipe because it is thick and dense making it absorb the dairy without getting soggy. Brioche and French bread are also good candidates. A baguette, Pullman loaf, or Artesano bread will do, too.
How to make Overnight French Toast Casserole in 6 steps?
Prepare the egg mixture
First, combine the ingredients all together in one bowl and mix thoroughly.
Soak
Then, add the bread pieces into the bowl and make sure to coat each piece well with the mixture.
Assemble
Next, put everything in a prepared baking dish, put some toppings, and distribute the remaining egg mixture on top. In a saucepan, melt butter and sugar together while whisking continuously until smooth. Pour this over the whole thing.
Refrigerate
Wrap tightly with plastic and put the dish in the fridge overnight.
Bake
Preheat the oven and take out the baking dish from the fridge. Allow it to come to room temperature for a few minutes. Then, bake it until golden brown. Check for doneness at the 25-minute mark.
Serve
Once done, serve it warm.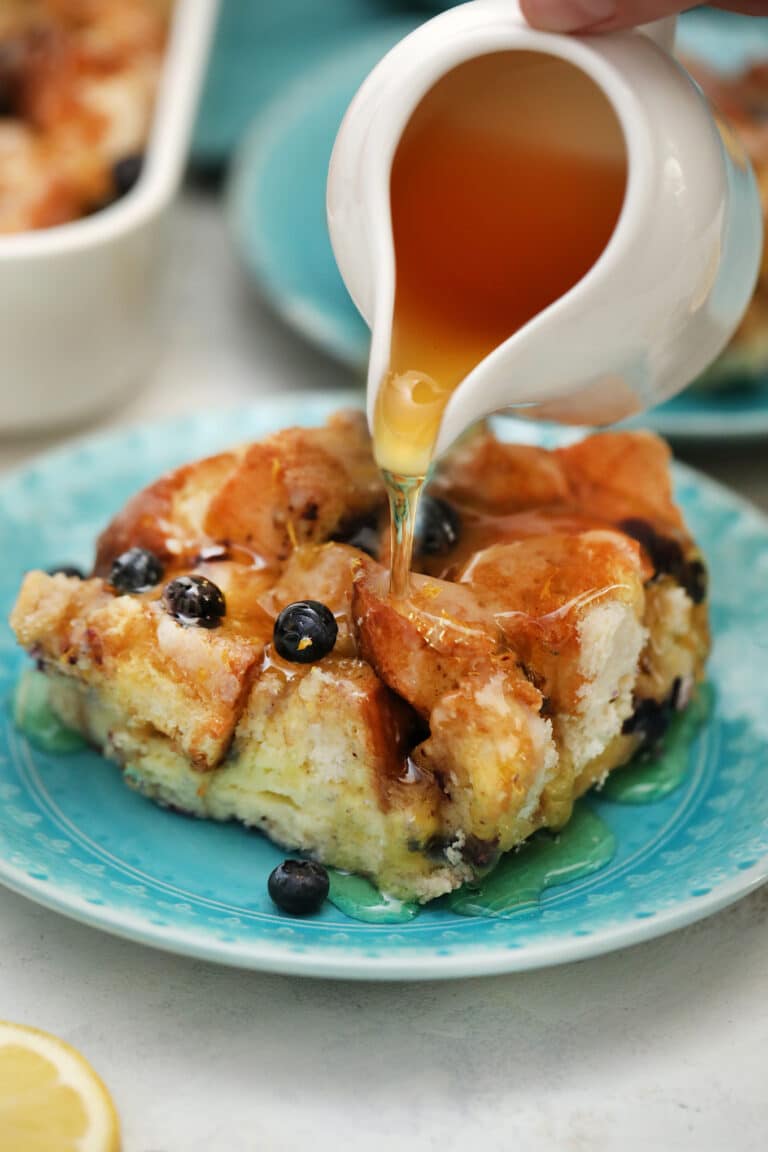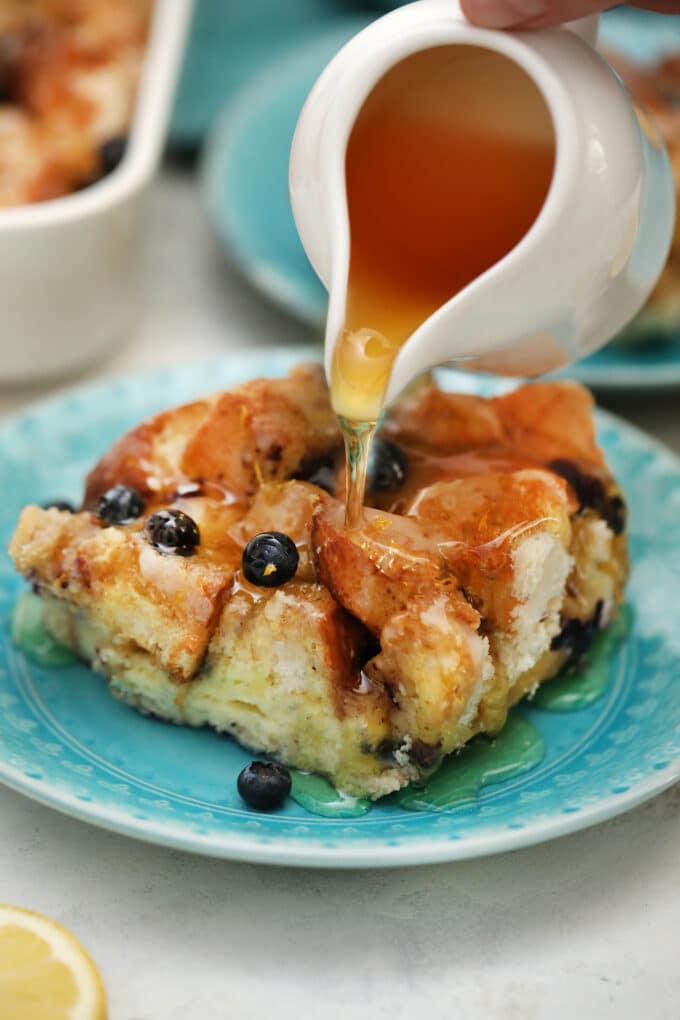 Why is my baked French toast soggy?
There are two possibilities: your bread is fresh and tends to suck up all the custard or your amount of custard is too much. It could even be a combination of these two reasons. It could also be that the custard is too much for the thickness of your slices. Find the right balance.
How to store leftovers?
Refrigerate
You can refrigerate it to last the rest of the day by tightly covering the dish to prevent it from drying out.
Freeze
To freeze, you may want to cut up single portions of the casserole, then, put each in freezer bags. Reheat and consume within 1 to 2 months.
To reheat
Simply bake again until hot at 350 degrees for about 15 minutes or so. Or, use the toaster oven.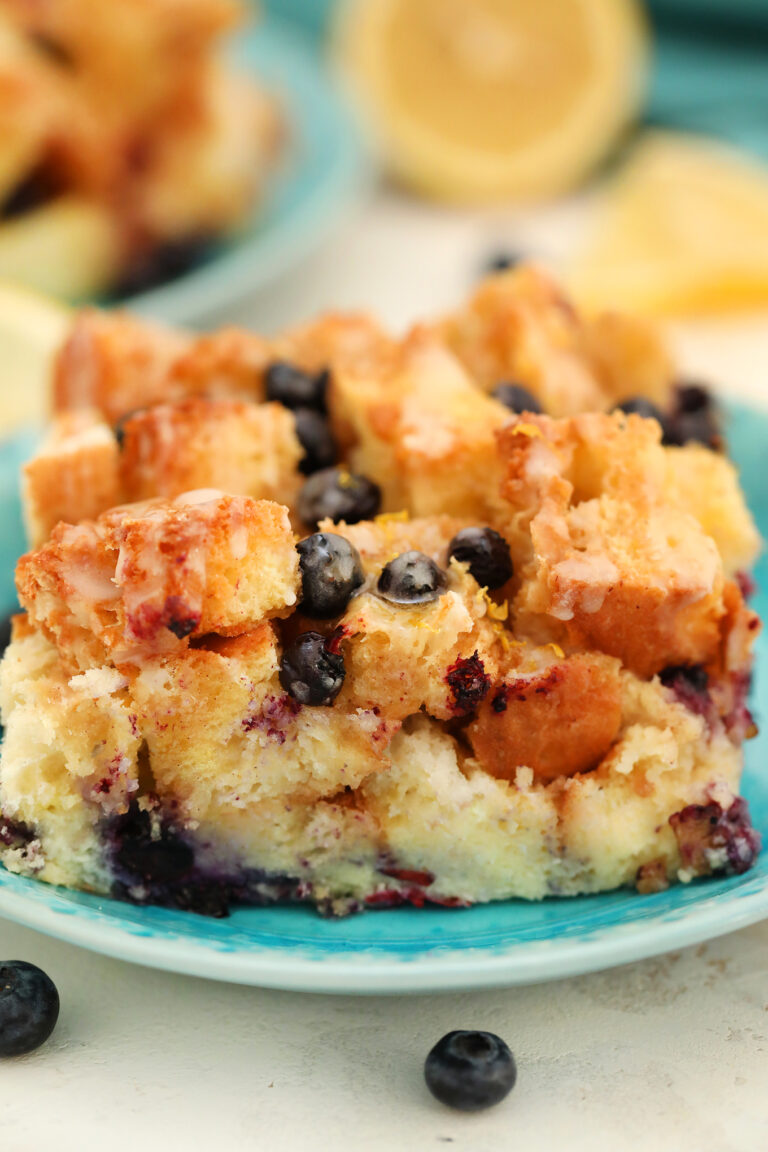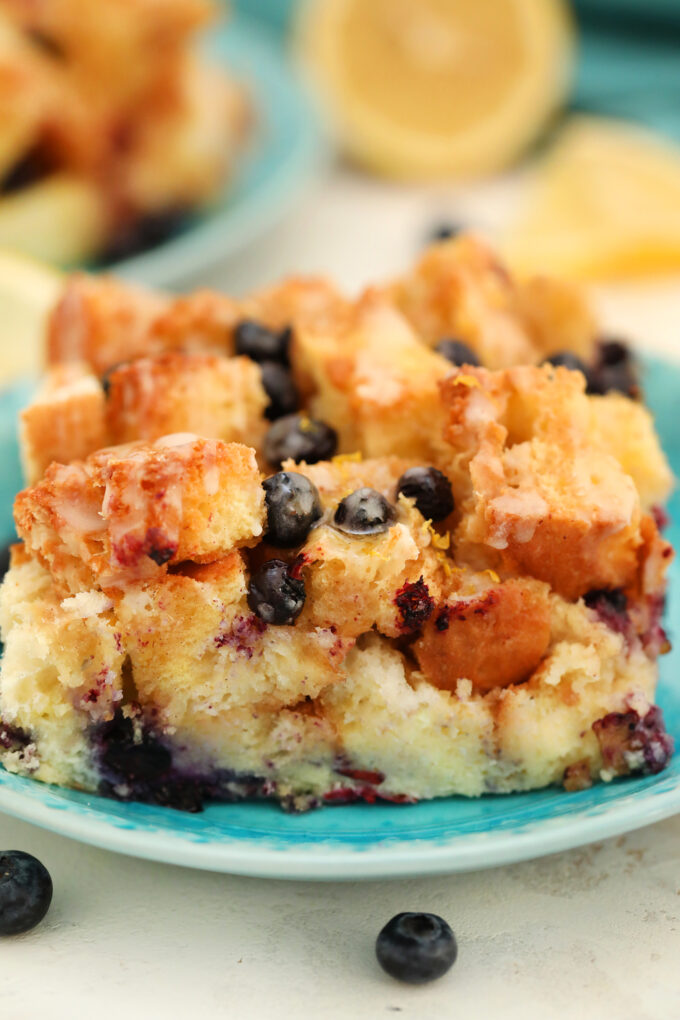 Blueberry French Toast Casserole Recipe Tips
For topping suggestions, you may add fresh fruits like berries, kiwi, and bananas, nuts, or chocolate.
Check out our chocolate French toast recipe too.
If you only have fresh bread, what you can do is to dry it out in the oven. Heat the thick slices at around 200 degrees Fahrenheit for about 10 minutes.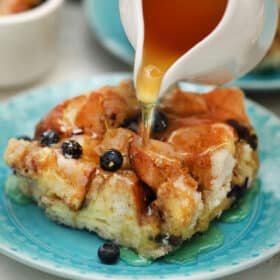 Blueberry French Toast Casserole
French Toast Casserole is sweet, flavorful, and hassle-free! Make it overnight for a great breakfast the next morning! It is perfect for a crowd!
Save
Share
Print
Pin
Rate
Ingredients
For the casserole:
10

cups

French loaf

(sourdough, or challah, the bread should be stale)

1 1/2

cup

blueberries

5

large eggs

1 1/2

cups

whole milk

1/3

cup

granulated sugar

Zest from one lemon

1/2

teaspoons

ground cinnamon

1/4

teaspoon

salt
For the topping:
8

tablespoons

unsalted butter

(melted)

4

tablespoons

brown sugar

1

teaspoon

ground cinnamon

Pinch

of salt
For serving:
Blueberries

Powdered sugar

Maple syrup
Instructions
For the casserole:
Cut the bread into 1-inch cubes.

Add the half of bread chunks and half of the blueberries into the baking dish and distribute evenly. Add the remaining bread chunks and the remaining blueberries.

In a medium bowl, whisk together the eggs. Add the milk, sugar, lemon zest, and cinnamon and mix to combine. Pour the milk mixture evenly over all the bread chunks.

Covered and refrigerate for 2-3 hours or overnight.
For the topping:
Preheat oven to 375 degrees F and arrange the oven rack in the center position.

Lightly grease a 9x13 baking dish with baking spray and set aside.

In a small bowl, mix the melted butter with the brown sugar, cinnamon, and a pinch of salt. Using a spoon, drizzle the mixture evenly over all the casserole.

Bake the casserole for 35 to 45 minutes or until the top is golden brown and crunchier.

Remove the casserole from the oven and let it cool for about 10-15 minutes before serving.

Serve with a dust of powdered sugar on top, maple syrup, and more blueberries.
Nutrition
Calories:
346
kcal
|
Carbohydrates:
44
g
|
Protein:
10
g
|
Fat:
15
g
|
Saturated Fat:
9
g
|
Cholesterol:
135
mg
|
Sodium:
438
mg
|
Potassium:
185
mg
|
Fiber:
2
g
|
Sugar:
20
g
|
Vitamin A:
600
IU
|
Vitamin C:
3
mg
|
Calcium:
101
mg
|
Iron:
2
mg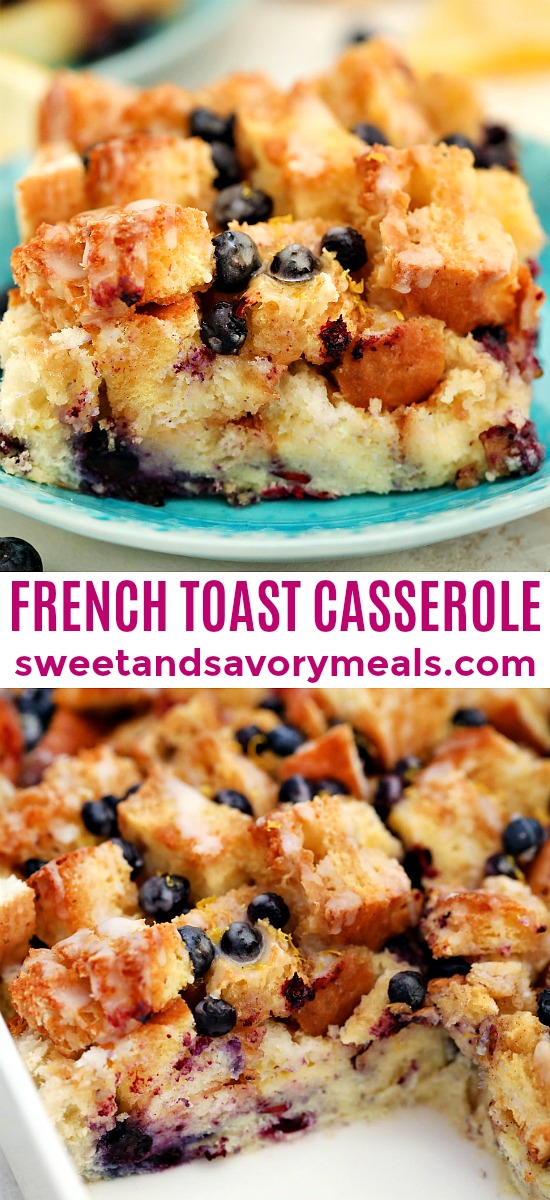 More recipes you might love