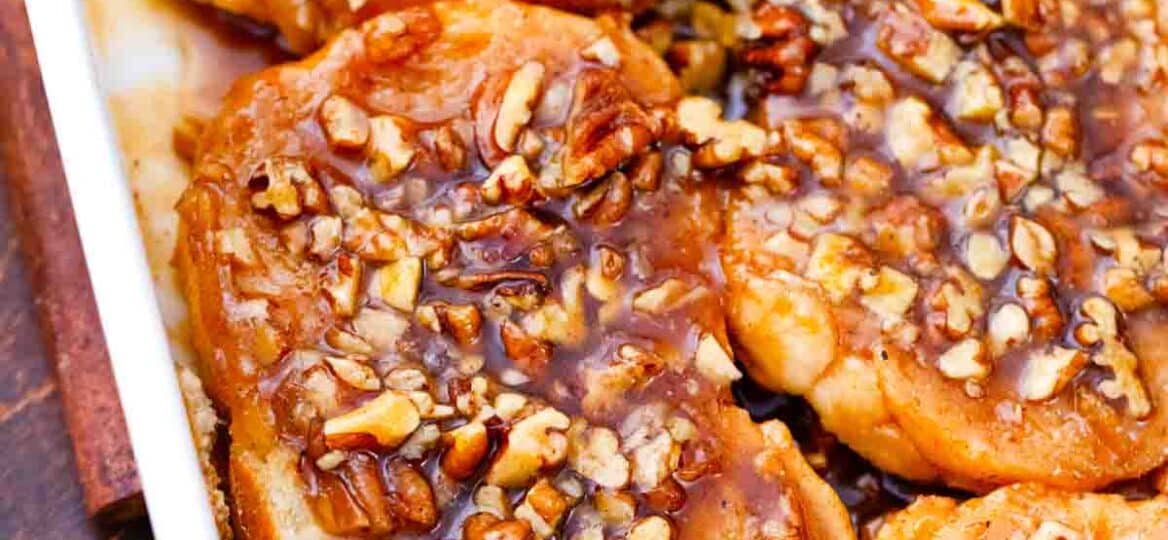 Pecan Pie French Toast Casserole Recipe
Pecan Pie French Toast Casserole is one of those French toast recipes that you can make the night before for a beautiful and decadent breakfast with very little prep time. All you need is a loaf of French bread, some basic baking ingredients, and chopped pecans. You soak the bread in a vanilla egg mixture overnight before adding the pecan pie filling mixture over the bread.
The first pecan pie was made way back when the Native Americans introduced them to the French people of New Orleans. However, the first recipe printed was in the 1870s with the one that is most like a traditional pie being one published in a St. Louis church charity cookbook in 1889. The oldest French toast dates back to 300 AD when those in ancient Rome were looking for something to do with their stale bread.
Ingredients needed:
Chopped pecans: Although this is the main ingredient, you can substitute these for different nuts.
French bread: Slice bread into eight pieces about the same thickness for even cooking.
Heavy cream: The cream adds luscious richness to your French toast like nothing else can.
Whole milk: You could use skim or almond milk if you like.
Vanilla extract: Make sure you use 100% pure vanilla extract for the best taste.
Large eggs: Your eggs should be warmed to room temperature before use.
Light brown sugar: Dark or light brown sugar would both be fine as long as it is packed firmly.
Maple syrup: Mixed in with the other ingredients, you will not have to add syrup to these after they are cooked because it is baked in.
Molasses: For an extra layer of richness that gives your French toast a caramelized taste.
Unsalted butter: Melt butter and combine with other pecan ingredients for a delicious flavor.
Cinnamon: This sweet and spiced taste is just what this casserole dish needs.
Nutmeg: Perfect with cinnamon for that warm fall spice flavor.
How to make pecan pie french toast casserole from scratch?
Stir the milk mixture: First, in a large mixing bowl, mix vanilla, eggs, cream, and milk. Then, place the sliced bread in a large shallow bowl. Pour the liquid on top and cover. Chill for six hours or overnight.
Preheat oven: When you are ready to bake, preheat oven to 350 degrees F.
Make the pecan mixture: While you wait, melt the butter in a small saucepan on medium heat. Then, remove it from the heat and whisk in the cinnamon, nutmeg, molasses, maple syrup, brown sugar, and chopped pecans.
Coat and place in a baking dish: After, place the bread in a prepared casserole dish and pour pecan topping on top. You can also add the remaining egg mixture on top as well.
Bake until golden brown: Now, bake your pecan pie french toast casserole for 35 minutes or until it is golden brown on top.
Serve warm: Finally, let it sit for five minutes before adding some more chopped pecans on top to serve.
Recipe variations:
Corn syrup: You can use light corn syrup instead of maple syrup if you like. It has a milder flavor, so the rest of the flavors are more intense.
Other nuts: Feel free to use chopped walnuts, slivered almonds, or chopped cashews instead of pecans.
Different bread: You can also use whatever kind of bread you like. This would be delicious with some day-old Texas toast.
No cream: Instead of heavy cream, you can use Greek yogurt for less fat and fewer calories.
Less fat: Similarly, you could use any kind of milk like skim, 2%, coconut, or almond.
No molasses: If you do not have (or do not like) molasses, try using honey or sorghum syrup.
Hearty dish: Turn this into a hearty breakfast meal with crumbled bacon and sausage.
How to serve:
This delicious pecan pie french toast casserole is the perfect dish for any occasion whether it is a special day or just any day of the week. Whether you have it alone or with a large bowl of scrambled eggs, it is a tasty meal.
French toast casserole does not have to be for breakfast only. You can have it for brunch, lunch, or even dinner.
A dollop of whipped cream would be a light and creamy topping for this delicious dish.
If you are making this casserole for breakfast, you can have it with eggs, bacon, and sausage.
Why not add some more decadence to this as a dessert? We have an awesome recipe for caramel sauce.
For a unique topping, try adding some ricotta cheese to your French toast before serving.
Another great way to eat this casserole dish is with some fruit on top. Try our strawberry curd recipe. It is easy and delicious.
Chocolate lovers will love chocolate syrup or chips on top.
Frequently asked questions
Why is my casserole soggy?
It is possible that you used too much liquid for the amount of bread you have. If you have too much egg mixture, the toast will never get toasty in the oven. Also, if it is not cooked at a high enough temperature or has not been cooked long enough, the middles will be soggy even if the tops are brown and crispy.
Can I fry this on the stove?
You certainly can make this French toast casserole dish on the stove if you want to. It will be more like pecan pie french toast without the casserole which just means you cook them individually instead of in one dish. To fry, just heat a pan with oil to medium-high and cook until golden brown on each side. If the pecans are falling off, you can add them afterward.
Can I use different bread?
Many different kinds of bread would be perfect for this pecan pie french toast casserole. French bread is what this recipe calls for, but you can also use regular white bread, Texas toast, or even wheat. Another unique taste would be to use homemade banana bread you made ahead of time. But the best kind is stale bread that soaks up the egg mixture.
Do I have to let the bread sit overnight?
Although it is best to let your bread soak in the creamy egg mixture for at least six hours, you can just wait three or four hours if you are in a hurry. You can just leave it for about an hour, but it will not be as flavorful because it did not soak up enough of the mixture.
How to store leftovers:
Store: You can store your leftover pecan pie french toast casserole for one or two days in the fridge. Just make sure it is in an airtight container or zipper baggie.
Freeze: Freezing is not recommended.
Reheat: To reheat your leftovers, put them in the microwave, one or two pieces at a time, and cook for about 60 to 90 seconds.
More breakfast casseroles to try:
Baking tips:
Make sure your ingredients are warmed to room temperature for the best results.
Also, be sure to lay the bread in a single layer so it bakes evenly.
If you are worried about fat and calories, try this recipe with low-fat milk, Greek yogurt instead of cream, light corn syrup, and no sugar.

When measuring sticky ingredients like syrup and molasses, spray the measuring cup with nonstick cooking spray.

Instead of using a casserole dish, you could use a baking sheet covered with parchment paper.

The nutrition information is just an estimate according to the ingredients listed here.
Overnight Pecan Pie French Toast Casserole
Ingredients
3/4

cup

whole milk

1

cup

heavy cream

8

large eggs

room temperature

2

tablespoons

vanilla extract

1

loaf French bread

cut into 8-10 slices

6

tablespoons

butter

unsalted

3/4

cup

light brown sugar

packed

1

teaspoon

ground cinnamon

1/4

teaspoon

ground nutmeg

3

tablespoons

molasses

1/2

cup

maple syrup

1 1/2

cups

pecans

chopped
Instructions
In a large bowl combine the milk, cream, eggs, and vanilla, beat until well combined, and set aside.

Arrange the bread slices in a large shallow bowl and pour the milk mixture over the bread. Cover tightly with plastic wrap and refrigerate for at least 6 hours, or better overnight.

When ready to bake, first preheat the oven to 350 degrees F.

In the meantime, place a small saucepan over medium heat, add the butter, and melt it.

Once melted, remove the mixture from the heat and whisk in the brown sugar, cinnamon, nutmeg, molasses, maple syrup, and pecans. Stir well until combined.

Spread the pecan mixture evenly on the bottom of a 9x13 casserole dish.

Gently handling the soaked bread slices arrange them on top of the pecan mixture.

Bake for 35 minutes. Cool for 5-10 minutes, then flip the slices and serve warm!