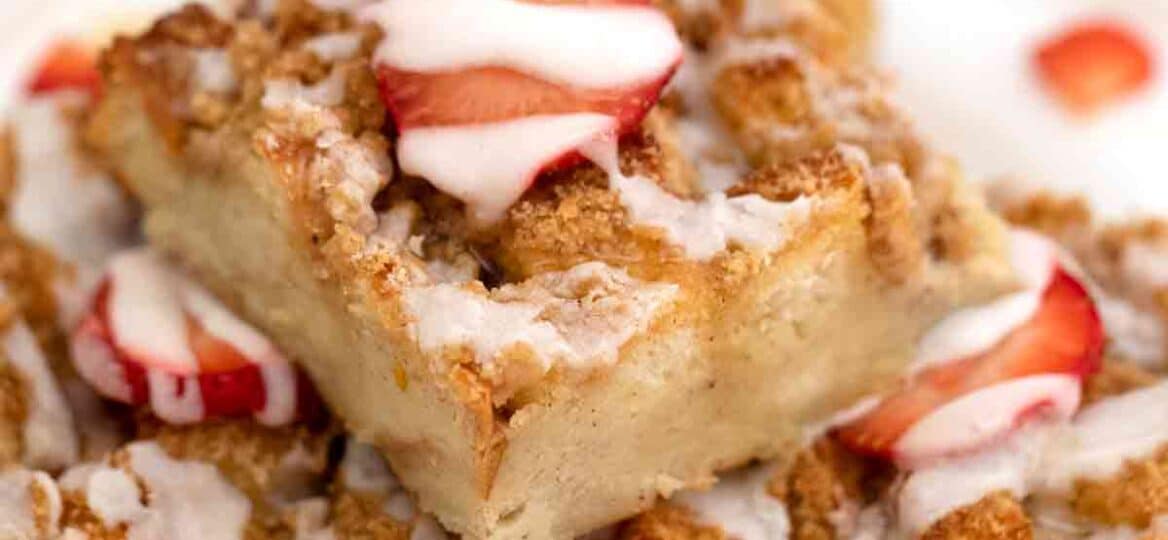 French Toast Bake Casserole [Video]
French Toast Bake Casserole can be prepared overnight and just popped in the oven in the morning. Sweet and tender it is a great way to use leftover bread.
Learning how to use leftover bread is very useful as you can easily make delicious meals and snacks for any occasion at any time of the day. Check out these recipes that can later be used in delicious breakfast casseroles: Banana Bread, Snickerdoodle Bread, and Olive Bread.
French Toast Bake Casserole Recipe
French Toast Bake is easily one of the most beloved breakfasts around the world. Originating in Europe, this toast has become an international sensation and in some parts of the world, a common breakfast staple.
Obviously, there are hardly any questions as to why this simple recipe is super sensational, it is sweet, simple to make, and versatile since there are a lot of ingredients that you can dash in as toppings. Not to mention, berries and other fruits, can also be served with this recipe.
While the classic French Toast takes less than ten minutes to make, my baked variety is a great way to twist things up. Surely, your family will be surprised, in a good way! It is great that it can be assembled ahead of time, and can be baked right before when ready to serve.
So, I hope you'll have fun learning about this new version of a classic breakfast meal. It tastes just as good but softer, moister, and sweeter than the original recipe.
What is the best bread for French toast?
Baguettes are the most common choice.
However, there are also a lot of other choices that will still give you that perfect crunch and these are sourdoughs, brioche, or challah.
How to make French Toast Bake casserole?
Prepare the bread. Cut your chosen bread into cubes then place in pan. In a separate bowl, mix egg, milk, heavy cream, sugar, vanilla extract, orange zest, cinnamon, and nutmeg. Pour the mixture on top of the bread and let the bread soak the mixture overnight.

Make crumbs. In a bowl, combine flour, sugar, cinnamon, nutmeg, and salt. Slice some butter and combine it with the mixture until crumbs start to form. Transfer it to a Ziploc bag then refrigerate overnight.
Bake. When ready, sprinkle the topping mixture over the bread. Bake at 350F for at least 45 minutes.
Serve. Remove from oven and add toppings as desired. Serve.
French Toast Bake Variations:
Dairy-free. Swap ordinary milk with almond or coconut milk.
Syrup. Swap the sugar with maple syrup for a sweet earthy flavor.

Keto friendly. Use low-carb bread loaves and substitute ordinary sugar with stevia.
What's the difference between eggy bread and French toast?
Most of the time these terms are always interchanged. However, the main difference is that French toast bake is generally much sweeter as it contains more sugar and usually it is baked.
On the other hand, eggy bread is simply moist, savory, and usually cooked over a non-stick pan.
Storing Instructions:
If you only need to store it for a day, you can just place it in an airtight container in the fridge. Otherwise, for a longer period, you may need to freeze it.
To do so, freeze it in a single layer then transfer to a resealable freezer bag. You can keep it there for more than two months.
More delicious breakfast dishes:
As they say, breakfast is the most important meal of the day. So you always have to make sure that you serve energizing and refreshing food to start off your day.
Running out of breakfast ideas? Why don't you try and check out my favorite breakfast dishes:
Recipe Tips:
Go crazy with fillings! Make a toasted sandwich by stuffing either Nutella, peanut butter, or cream cheese.
Serve with a side of hot coffee or fruit smoothie to make your mornings more filling!