Snickerdoodle Bread Recipe [Video]
Snickerdoodle Bread is like a giant, soft and tender Snickerdoodle Muffin that has been topped with a hefty amount of sweet cinnamon sugar.
With the holiday season right around the corner, we started going through our Christmas recipe collection. This delicious bread would make the perfect snack, coffee treat or brunch addition. If you are looking for more easy brunch recipes, check this Bread Pudding, Best Ever Coffee Cake and Chocolate French Toast Casserole.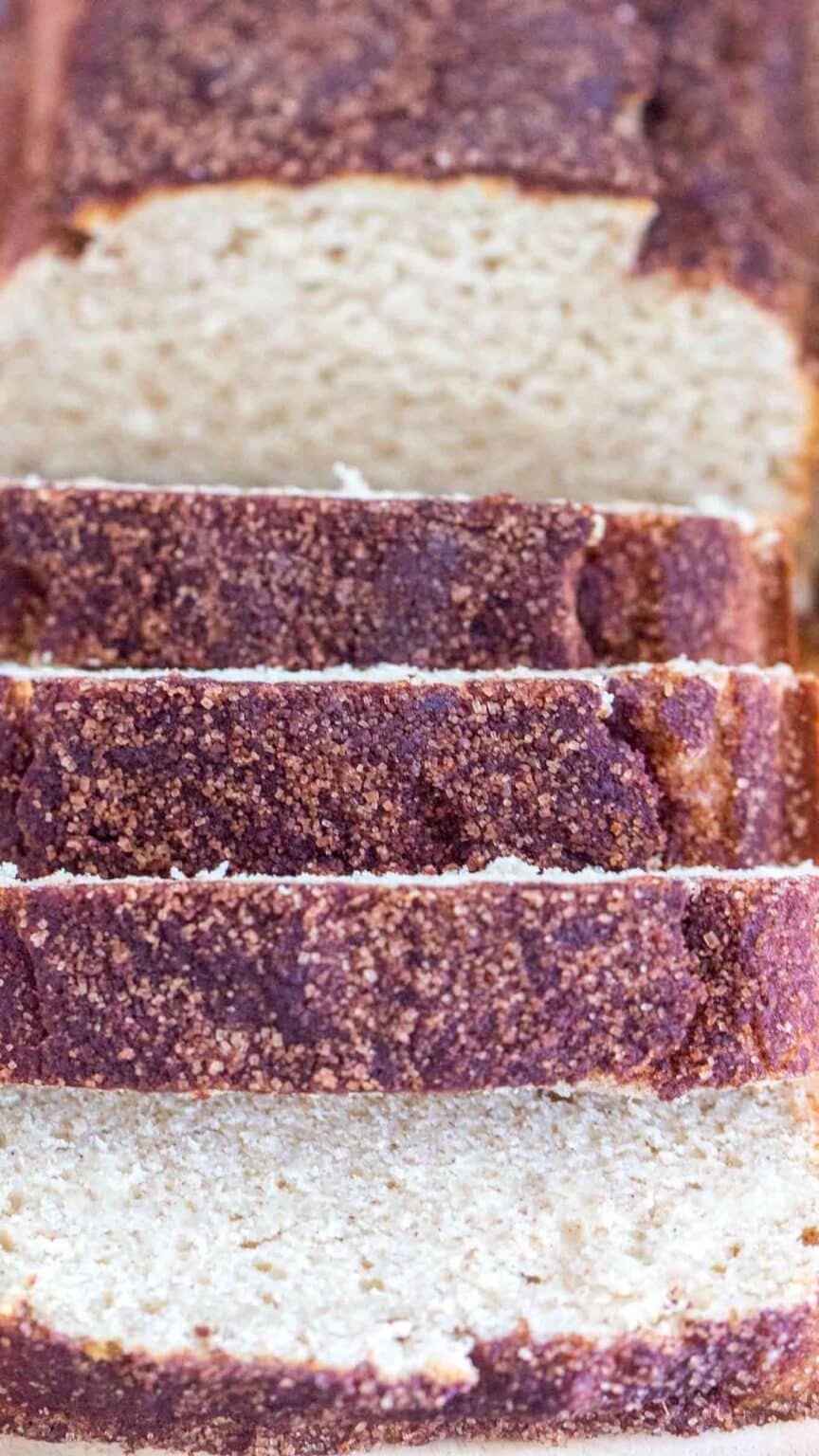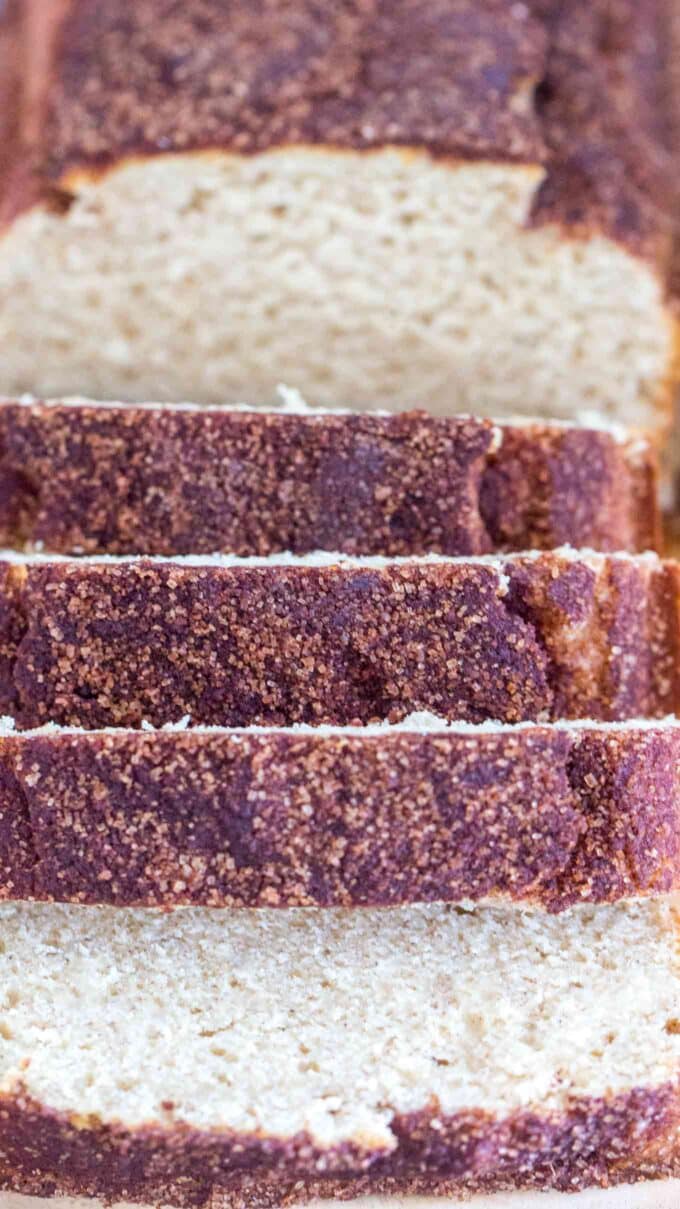 Easy Snickerdoodle Bread filled with cinnamon
Tender, soft and full of flavor, this Snickerdoodle Loaf is absolutely delightful. Fluffy and full of flavor, the bread is covered in a sweet and delicious Cinnamon Sugar layer. If you love Snickerdoodle cookies or muffins, you will love this bread.
The bread is easy to make and turns out amazing. Perfect to wrap and have a slice on the go, or to wrap some and give as hostess gifts. This bread is definitely going to hit everyone.
Where the "snickerdoodle" name comes from?
It is said, that the word snickerdoodle is a misinterpretation of the German word "Schneckennudel", meaning snail dumpling, referring to the snail-like shape of the original biscuits.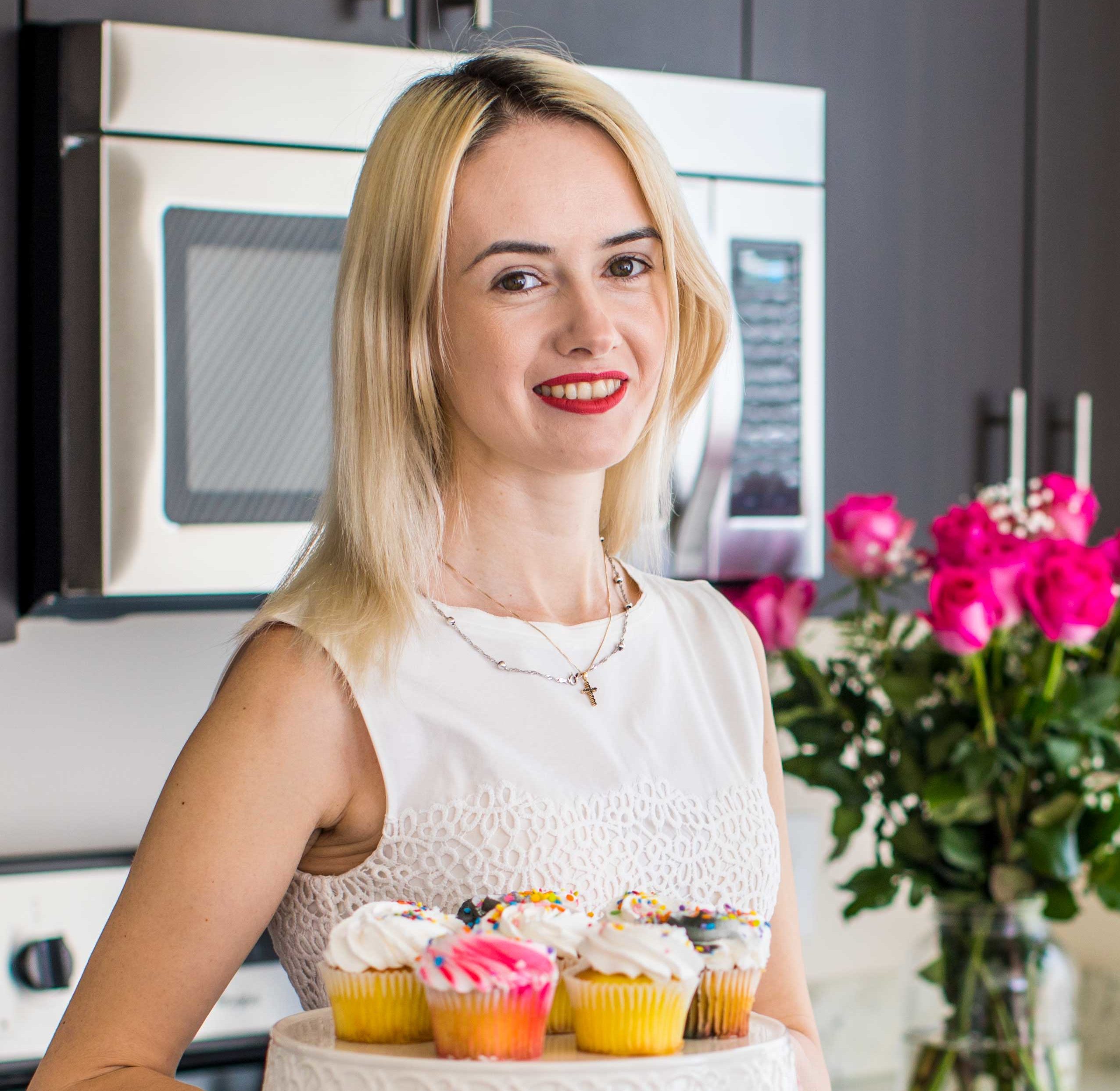 Follow us on Pinterest for more delicious recipes!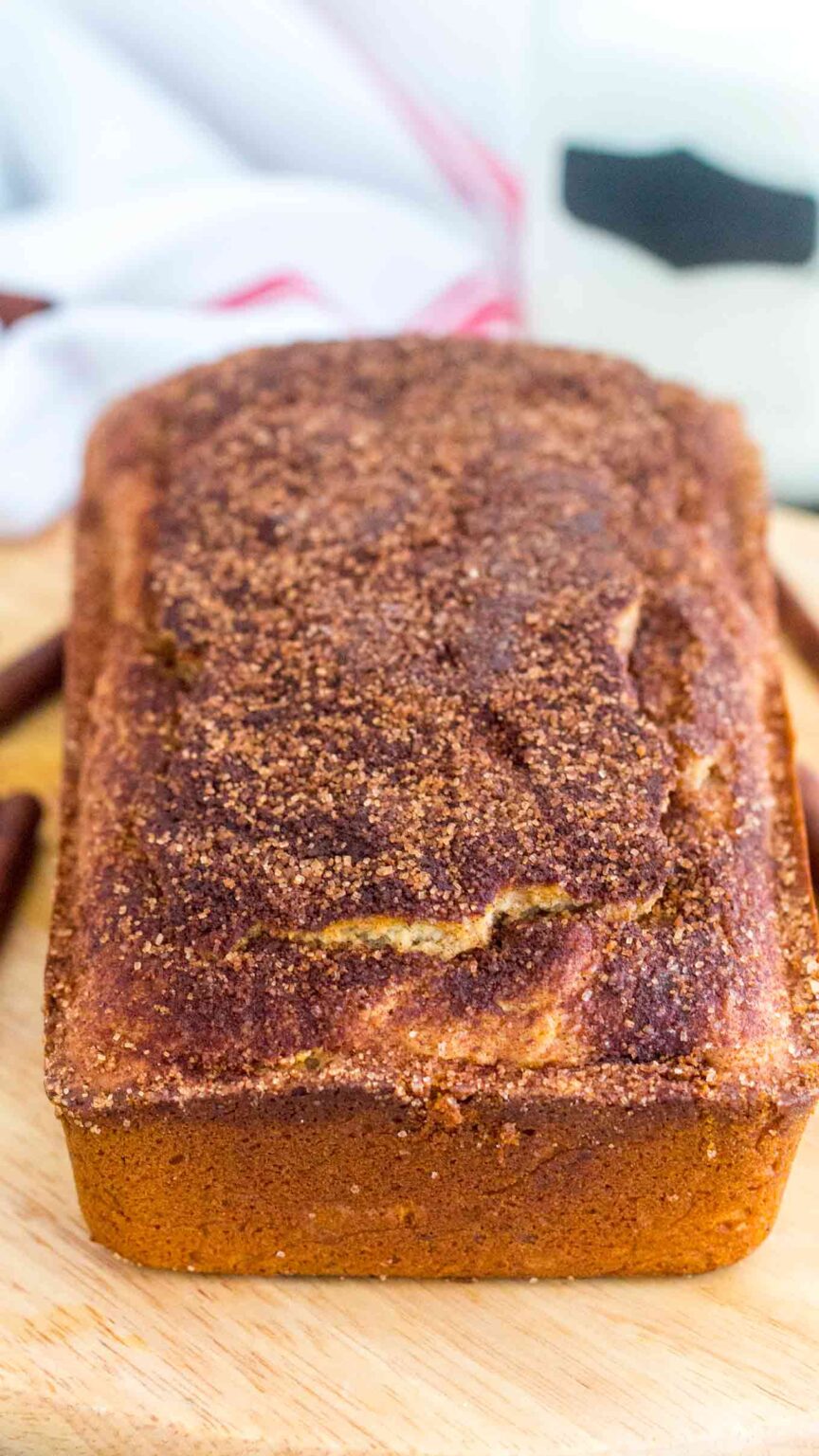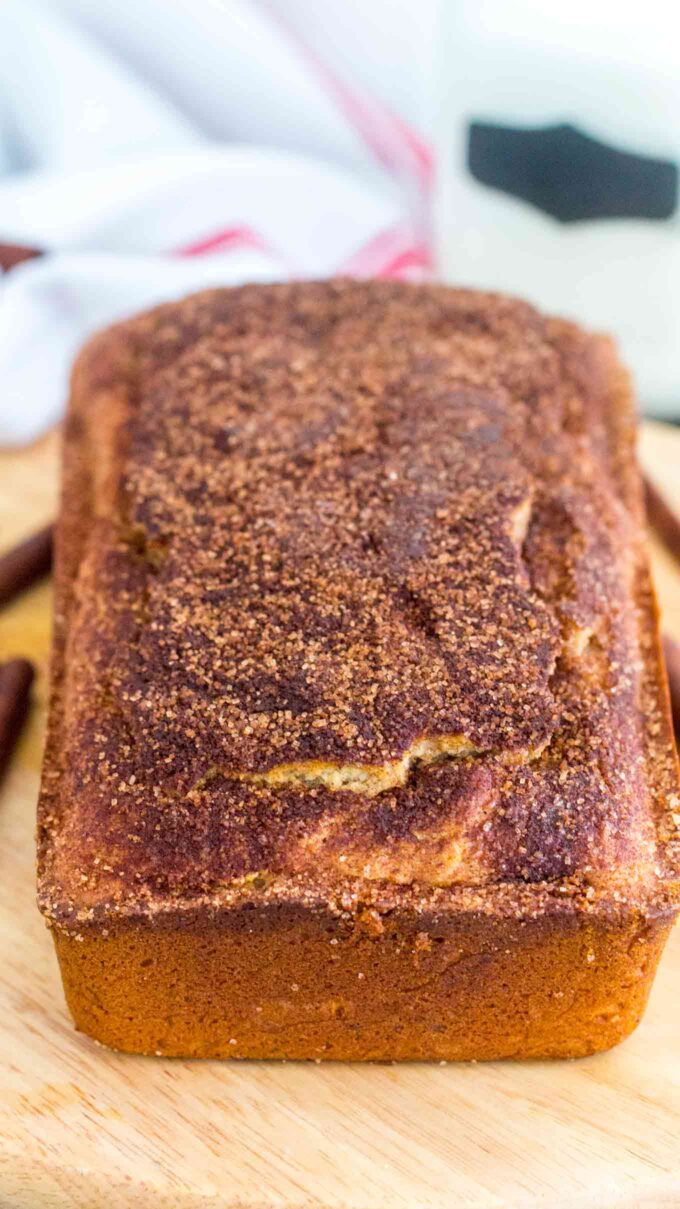 What do you need to make Snickerdoodle Bread:
2 cups all-purpose flour
1 teaspoon baking powder; baking soda; cream of tartar and ground cinnamon.
1/2 teaspoon salt
1 stick unsalted butter
1/2 cup white sugar and brown sugar
2 large eggs
1/2 cup milk
1/2 cup sour cream
1 teaspoon vanilla extract
Cinnamon Sugar Topping:
1/4 cup unsalted butter, melted
3 tablespoons cinnamon sugar
How to make snickerdoodle bread?
For exact steps and recipe measures, please see the recipe card below. Also, watch the short video tutorial attached for quick and easy guidelines. But the general steps are as follows:
Mix butter, sugar, salt, and cinnamon until fluffy. Then, add eggs and mix well. Add vanilla and sour cream and mix well.
Next, mix flour and baking powder in a separate bowl, and add it to the wet ingredients. Mix until all combined.
Pour the batter into the greased pan, and brush the bread with melted butter and sprinkle cinnamon sugar on top.
Bake at 350 degrees F for about 45 to 5o minutes.
Let it cool prior to removing from the pan.
Can I make Snickerdoodle Bread in advance?
Yes! You can prepare the batter 24 hours in advance, store in the refrigerator and make sure you stir before using it. Also, you will have to bake the bread a few minutes longer if you start by using the cold batter.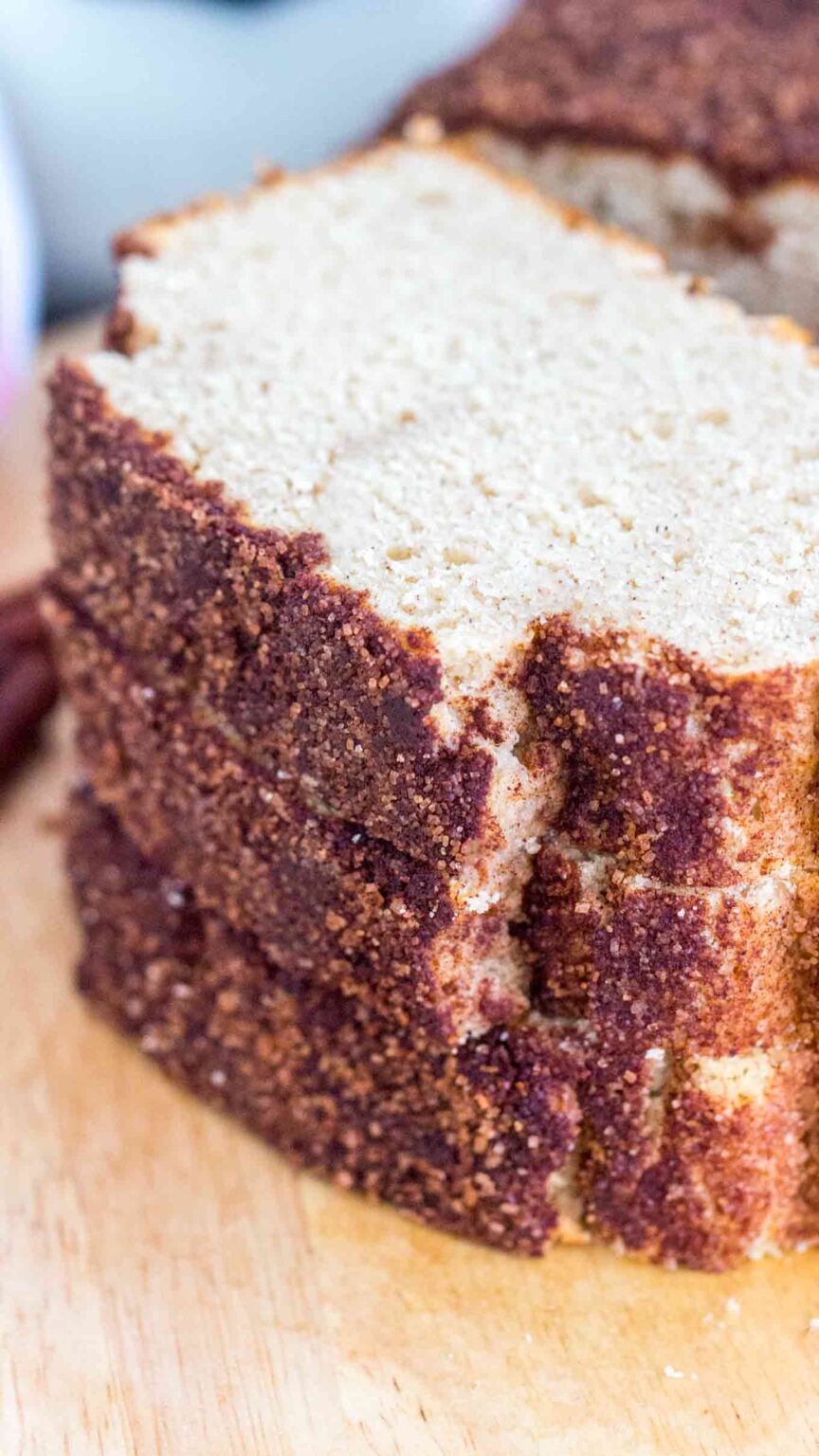 How to store Snickerdoodle Bread?
Snickerdoodle Loaf stores well at room temperature for up to three days in a sealed plastic bag.
To freeze it: Snickerdoodle Bread can be frozen in heavy foil or freezer bags for up to three months. For either method, allow the bread to cool completely before adding to bags or wrapping it into the foil.
To reheat it: Wrap slices in heavy foil and place it in the oven for 12-15 minutes at 300F. Additionally, do not thaw the slices before reheating.
Snickerdoodle Bread Recipe tips:
I like baking this bread into a loaf-pan. Also, I prefer the non-stick loaf version. If you are looking to make a larger loaf, then you can use a bigger dish to bake it.
I made this bread the traditional way topped with cinnamon and did not fill it with chocolate or cinnamon chips. You can easily make it with cinnamon chips, or chocolate chips by simply adding the chips to the batter.
For a healthier version, you can substitute the sour cream for greek vanilla yogurt.
Save Recipe
Snickerdoodle Bread
Snickerdoodle Bread is like a giant, soft and tender Snickerdoodle Muffin that has been topped with a hefty amount of sweet cinnamon sugar.
Author: Catalina Castravet
Serves: 10 slices
Prep time:

10

minutes
Cook time:

45

minutes
Total time:

55

mins
Ingredients
Cinnamon Sugar Topping:
Nutrition information
Calories: 338 Carbohydrates: 43 Protein: 4 Fat: 17 Saturated Fat: 10 Cholesterol: 74 Sodium: 378 Potassium: 217 Fiber: 1 Sugar: 24 Vitamin A: 580 Vitamin C: 0.1 Calcium: 98 Iron: 2
Save Recipe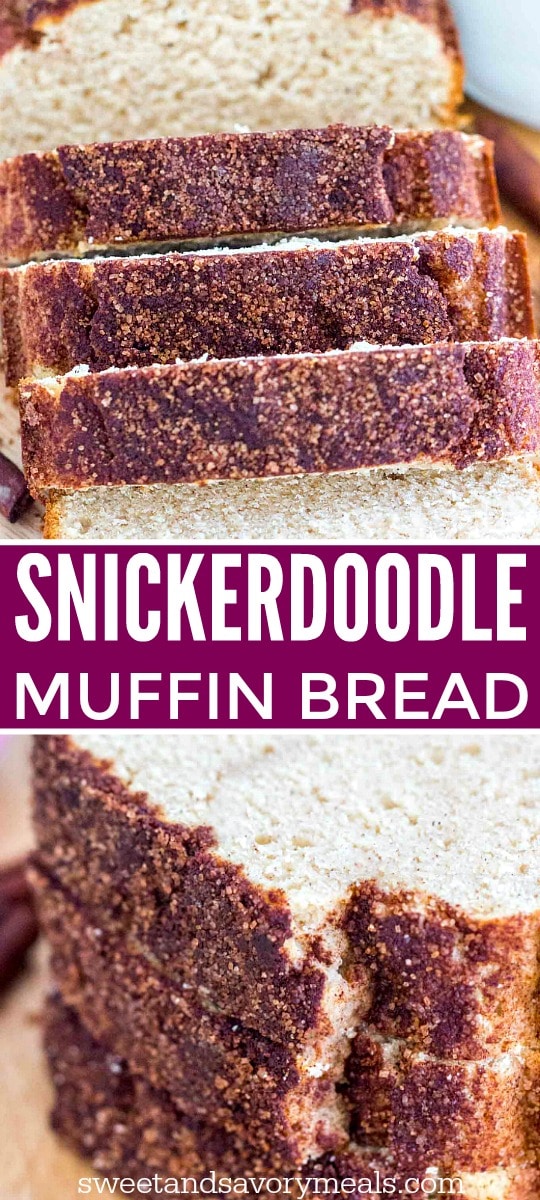 More recipes you might love
Categories: