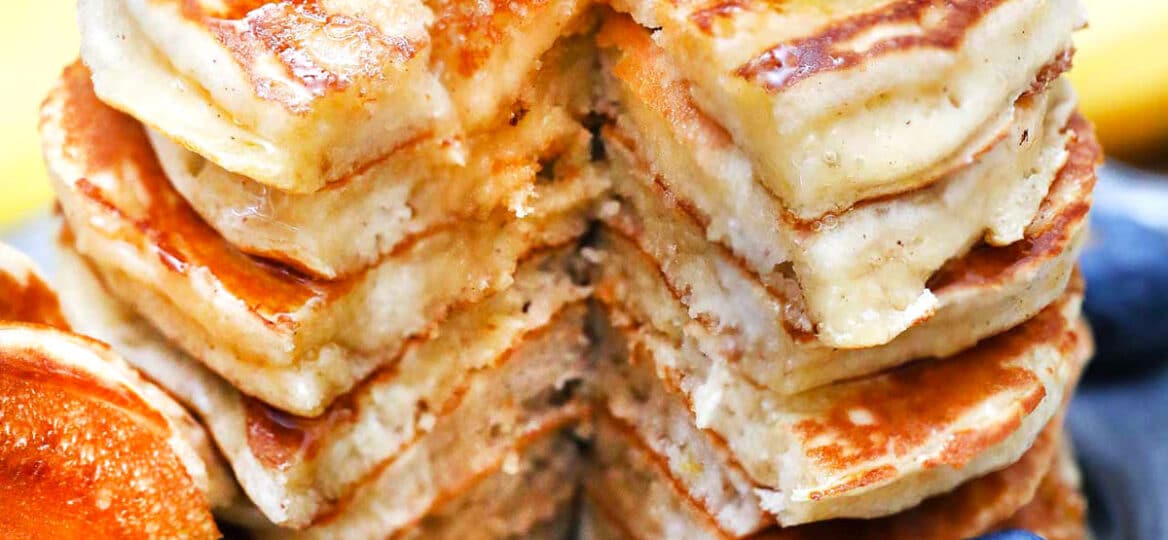 Fluffy Greek Yogurt Pancakes [Video]
Greek Yogurt Pancakes are fluffy and filling, they make you want to eat breakfast all day long! Serve them topped with fresh fruits and maple syrup!
This breakfast item will literally and figuratively sell like hotcakes if you ever try! This is such a classic at the breakfast table just like the Southern Cornbread, Hash Browns, and Scrambled Eggs.
Best Greek Yogurt Pancakes Recipe
Greek Yogurt Pancakes have a texture that is simply unique and sets them apart from other kinds. The addition of the healthy Greek yogurt makes them soft, yet the edges crisp up perfectly!
I love how these have other flavors with the addition of cinnamon and lemon in there. So, they are much tastier than the boxed mixes available commercially.
Starting the day with these will give you the energy to do the things that you love throughout the day. Kids and adults like them, they are so tender and fluffy and are great with some berries mixed in.
And since I will share with you how to best prepare them, you can even have these for lunch or dinner, or any meal in between!
How to make Greek Yogurt Pancakes:
Preheat: Turn on the electric griddle and set it to 350 degrees Fahrenheit.
Whisk: Prepare the pancake batter by whisking the Greek yogurt with the rest of the liquid ingredients plus the lemon zest.
Mix: In another bowl, combine all the dry ingredients, and start mixing in the liquid mixture you prepared earlier. At this point, the batter could be thicker than expected. Add more milk if needed, one tablespoon at a time, until you achieve the consistency that you want.
Cook: Lightly grease the griddle with butter and once hot enough, you can start pouring the batter on it. The bubbles will form after about 2 to 4 minutes. Once the bubbling has subsided, flip them to cook the other side.
Serve: Serve them warm!
Can I substitute Greek yogurt for milk in pancakes?
Yes! Generally, you can use yogurt in replacement for milk in most cake recipes at a 1:1 ratio. But comparing this Greek yogurt with the regular one, this is thicker and creamier because it has more protein. So, substituting it in pancakes will require you to thin it out.
How do you make thick and fluffy pancakes?
You need to take care of two things: the batter's consistency and the cooking method. Here are some tips:
Do not overdo the addition of milk as you will thin out the batter. If you lift the batter with a spoon, it must run smoothly and slowly.
Once you pour it onto the griddle, keep it steady at the center and slowly swirl the batter, stir close to the center until you make a perfectly thick and rounded pancake.
Do not flip it unless you are sure that the underside has been cooked well. Use a spatula to flip it using your wrist, not your whole arm, or it will not swift enough and that might ruin the shape and thickness.
Best Topping Suggestions:
The classic maple syrup is still my favorite. But if you are feeling adventurous, try these!
sugar and cinnamon
honey
chocolate sauce
Nutella
fresh fruits
jams and preserves
whipped cream
melted peanut butter
ice cream
cheeses
bacon
Can you freeze pancakes?
Yes! Simply wrap each piece in plastic wrap and put them in freezer bags before freezing.
Or, stack them together with wax paper in between each piece, then, wrap in aluminum foil before placing them in a freezer bag.
Thaw them before you serve them again within the next 2 months.
Recipe Tips
Make sure that you do not overmix your batter, too. The pancakes may turn tough and too dense because of the gluten if you overmix.
You may use gluten-free flour, too.
Set up a buffet of different toppings, then, let everyone in the family mix and match!
You can experiment using other flavors of Greek yogurt.
Deliciousness to your inbox
Enjoy weekly hand picked recipes and recommendations