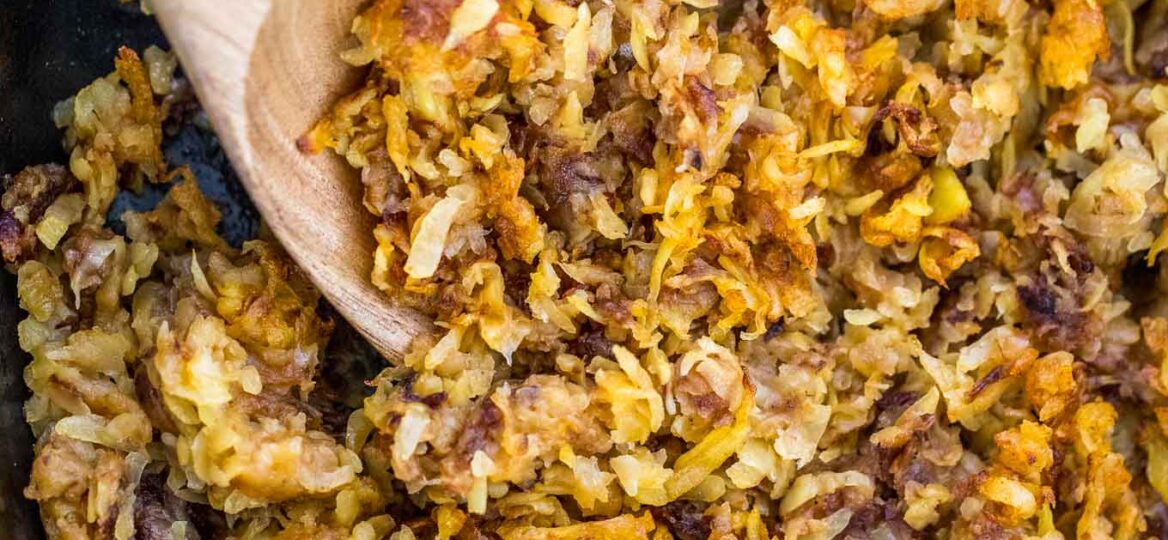 Hash Browns Recipe
Hash Browns are a classic American dish made from potatoes. We will teach you how to make them from scratch with only 6 ingredients.
They are perfect to be paired with just about anything! We like eating it alongside other savory favorites such as instant pot kalua pork, beef stew, and baked brown sugar garlic chicken.
Classic Hash Browns
Hash Browns are one of our favorite dishes to enjoy for breakfast. It is made from potatoes browned in oil. Historically, it was called hashed brown potatoes and early printed records of the recipe were made as early as 1835. Although, it is believed that "hashing" has been around since the 1500s to cook leftover potatoes.
Though we love McDonald's version, you can definitely make one from scratch. Also, making it at home will result in perfectly cooked hash browns, with a crispy texture, and enhanced flavor. Not to mention, it will be much healthier, and a lot cheaper!
We enjoy this dish for breakfast with some egg bites, or ham and cheese quiche. In addition, leftovers are delicious, and can easily be stored in the fridge for days to come.
How to make homemade hash browns from scratch?
To start, peel the Russet potatoes and wash them. Grate them using a large-holed cheese grater. Wash the grated potatoes placed in a fine-meshed sieve in running water.
Drain them and place them in paper towels. Roll the paper towels with the potatoes inside and squeeze out the remaining water. You can also use a kitchen towel or cheesecloth for this.
Once dried, put them in a bowl. Add in the salt, garlic powder, and onion powder.
In a large non-stick pan or cast-iron skillet, heat up the olive oil in a medium setting. Check if the oil is hot enough by testing a piece of grated potato – must sizzle when it touches the oil.
Spread the potatoes in the skillet evenly on one layer then press down using a spatula. Let it cook undisturbed for about 2 minutes.
Stir to flip, then, cook the other side for another 2 minutes. Repeat this until the potatoes are nicely browned and crispy. This would take another 4 to 8 minutes. This can be shortened for the next batches because the pan will be hotter by then.
Put them in a plate lined with paper towels to drain excess oil. After about a minute, transfer to a serving plate while hot, season with additional salt if you find it necessary.
How to shred potatoes for hash browns?
Simply use the large-holed cheese grater for this. Once grated, drop the potatoes in cold water to prevent oxidation and to remove starch. Stir the grated potatoes repeatedly to remove the starch (the water will turn hazy). Do a final rinse, then, dry using a towel to drain as much water as you can.
How to cook hash browns?
Use a large enough pan so that you can spread the grated potatoes very thinly. This will ensure that you will have crispy hash browns. Once spread out, press down the grated potatoes with a spatula. Do not be tempted to turn them over at once, wait until about 2 minutes.
If you covered almost the whole pan, you can flip one half first. Do not try to flip the whole thing at once or you might ruin it. Similarly, you can make smaller ones so that it will be easier to flip.
How to cook frozen hash browns?
Cooking frozen hash browns is just the same as cooking non-frozen ones, except you are skipping the preparation part. Some report that the frozen ones are better, but it all depends on how you prepare them before freezing. To cook frozen once, follow the same steps described in the recipe.
How to make crispy hash browns?
Make sure that you cook the grated potatoes in a thin layer. Also, ensure also that the potatoes contain as little water as possible. Using a cast iron pan is highly recommended. However, you can a good quality non-stick pan. This way you will end up with an evenly cooked, crispy, and golden brown dish.
Another factor to make them crispy is trying not to over-touch them. Once you start frying them, let them properly cook on one side for at least 2-3 minutes, to get the crispy layer. Therefore, it is best to let them undisturbed when cooking, and let the pan do its work.
How to make hash browns like McDonald's?
For every four potatoes, just add one-third cup of flour, one beaten egg, and two tablespoons of softened butter to the mix.
How to make waffle hash browns?
Add about 2 to 3 beaten eggs to the mixture. Then, instead of a pan, use a waffle iron.
How many calories are there in hash browns?
A serving of hash browns made from fresh potatoes can have about 300 calories.
How many carbs are there in hash browns?
A serving contains about 40 grams of carbohydrates which is approximately 13% of your daily caloric requirement.
Are hash browns healthy?
Anything in moderation is okay. So when eating hash browns, remember not to overindulge. They are good sources of carbohydrates and fiber, but since they are fried, they are also calorie-dense that can affect your diet.
One good option is to use sweet potatoes as they have fewer calories and higher vitamin A content.
How to make cubed hash browns?
Essentially, you will be needing the same ingredients. However, the preparation of the potatoes will slightly differ. Peeling is not required. Also, instead of shredding, dice the potatoes.
Since these will be thicker, it will be harder to remove the excess starch just by soaking them. Instead, boil the potatoes in salted water. After boiling, drain excess water and then, fry them. Season with salt and pepper to taste.
How to make sweet potato hash browns?
Simply follow the recipe provided but instead of Russet potatoes, use sweet potatoes.
How to store hash browns?
They are better served hot while still crispy. But if you must store them to make some stash, you can do so by refrigerating them. Use an airtight container and store in the fridge for up to 5 days.
How to freeze hash browns?
Just follow the recipe until step number 2 as described above. After drying the grated potatoes, place them in ziplock bags and store them in the freezer. They can stay frozen for about three months.
Recipe Tips
A fast way to shred the potato is by using a food processor.
Use peanut oil since it has a high smoke point that can withstand the high heat.
Also, you can use Idaho potatoes if you don't have Russet potatoes. Both contain a high amount of starch that makes them crispy on the outside but fluffy on the inside.