Loaded Cheeseburger Casserole [video]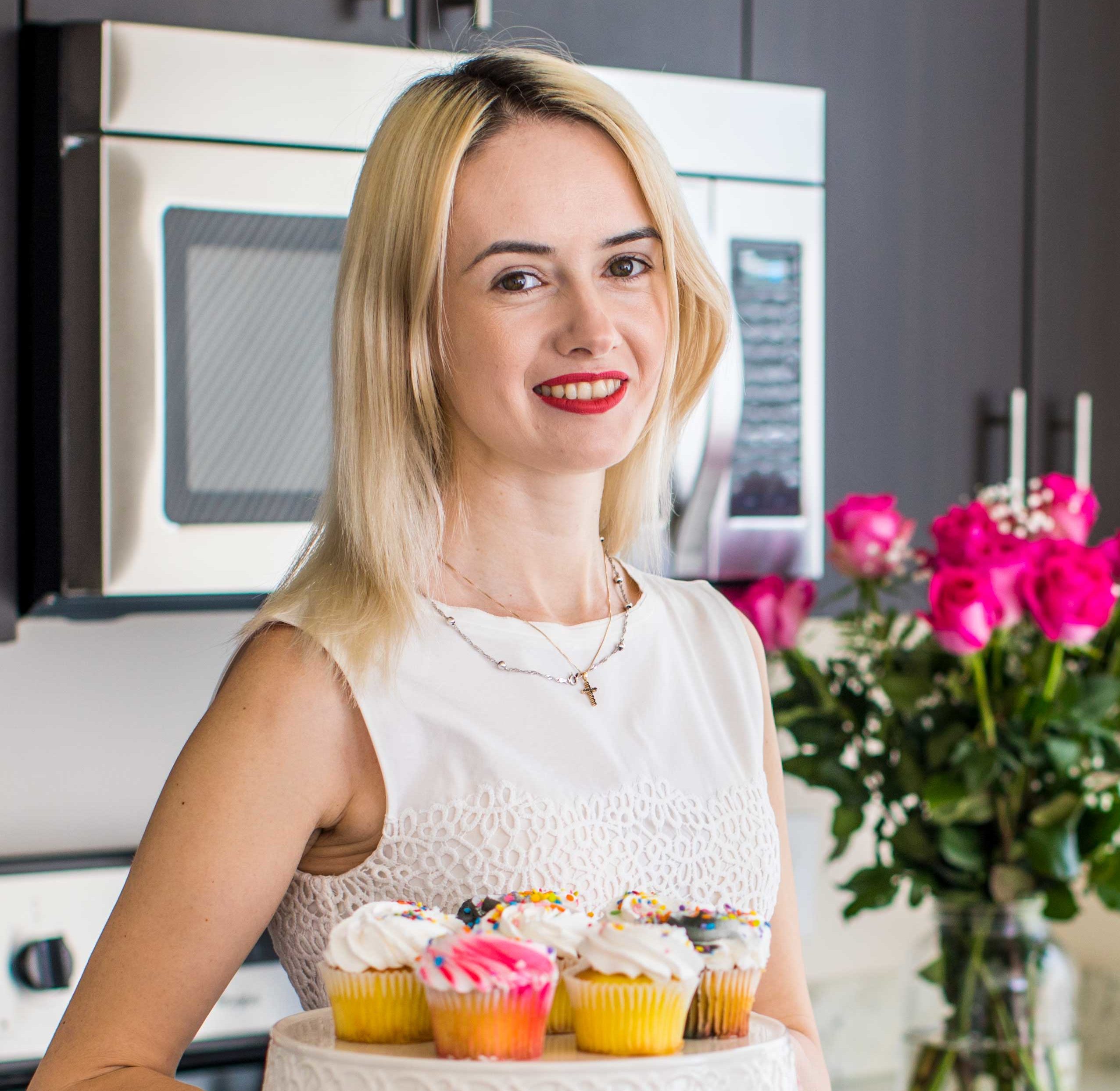 Cheeseburger Casserole is easy to make, filling and delicious, loaded with cheddar cheese, beef, juicy tomatoes, and pasta. This is the perfect weeknight meal that also makes delicious leftovers.
Casserole recipes are a staple around here, they are easy to prepare and usually make enough leftovers so you don't have to worry about cooking dinner the next day. My other favorites are Cheesy Crack Chicken Casserole, White Pizza Casserole, and Chicken Hash-brown Casserole.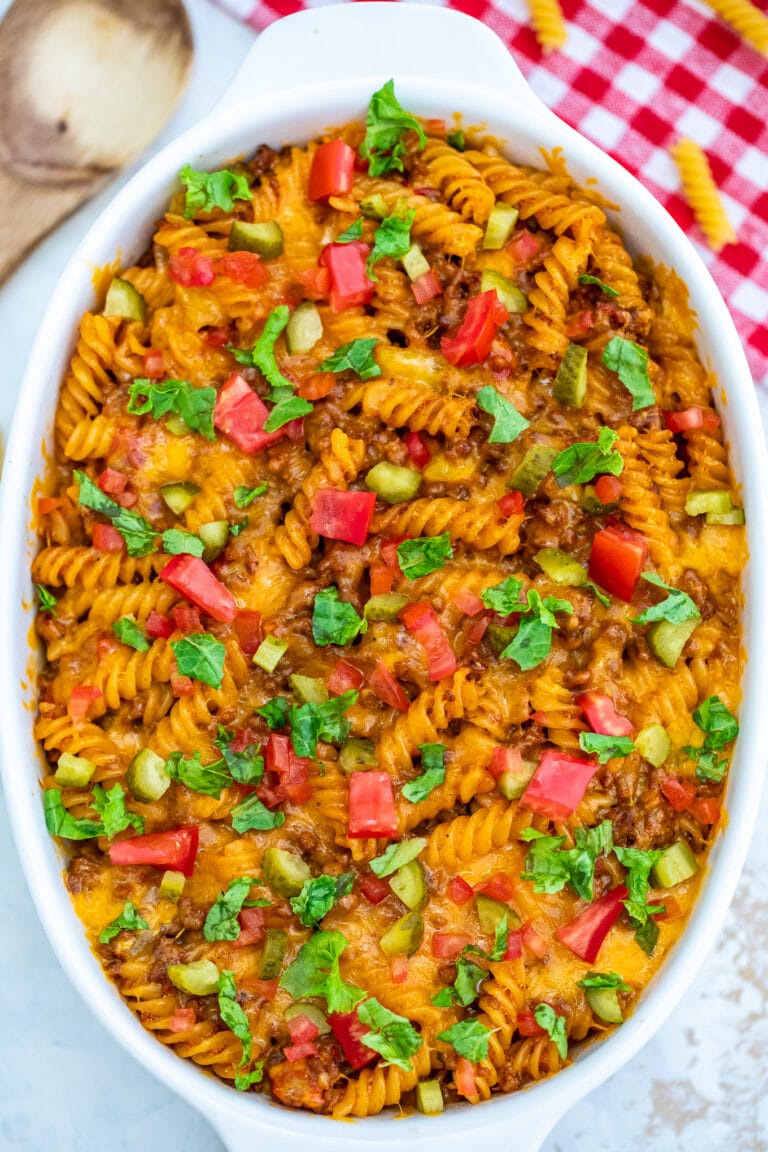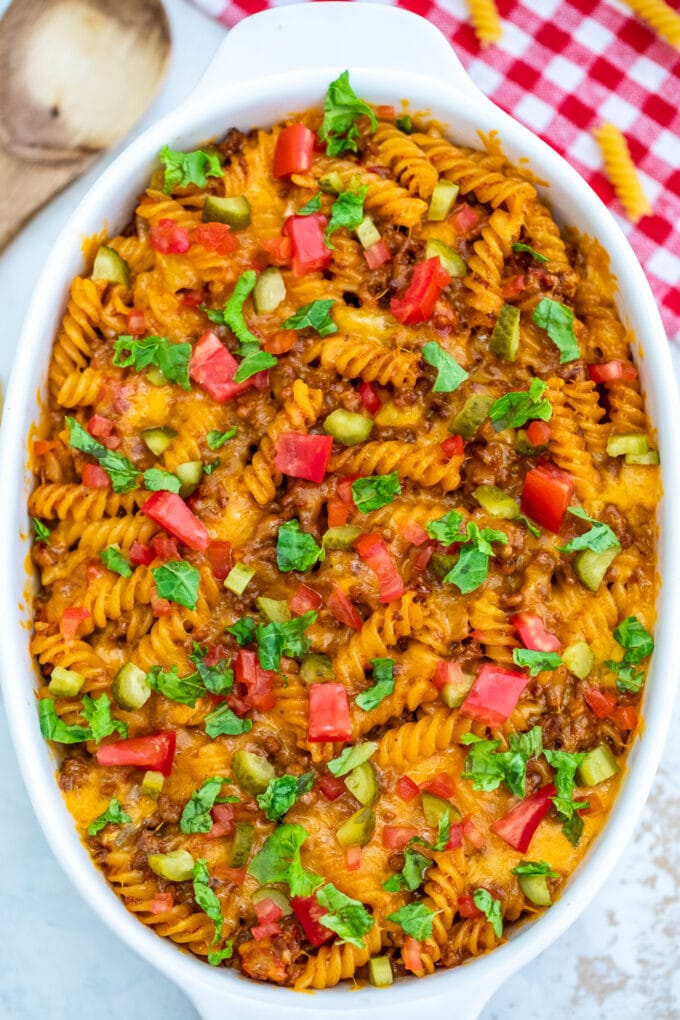 Best Cheeseburger Casserole
Loaded Cheeseburger Casserole s covered in delicious, melty cheese, and has the classic cheeseburger topping. It's like a huge burger, made with less effort and without even turning on the grill.
This is a quick weeknight dish that your whole family will love. All you need is a side of crispy fries and you are good to go!
This casserole consists of layers of perfectly cooked pasta, cheese, some veggies, and juicy ground beef. This is such a filling, delicious, affordable and easy dish to make, that will be a hit with your friends and family. It makes enough to serve to a crowd or have leftovers.
Casseroles also freeze well, which means you can make a few ahead of time and freeze for busy times. When you are ready to serve, just pop it in the oven, and a stress-free homemade dinner is ready.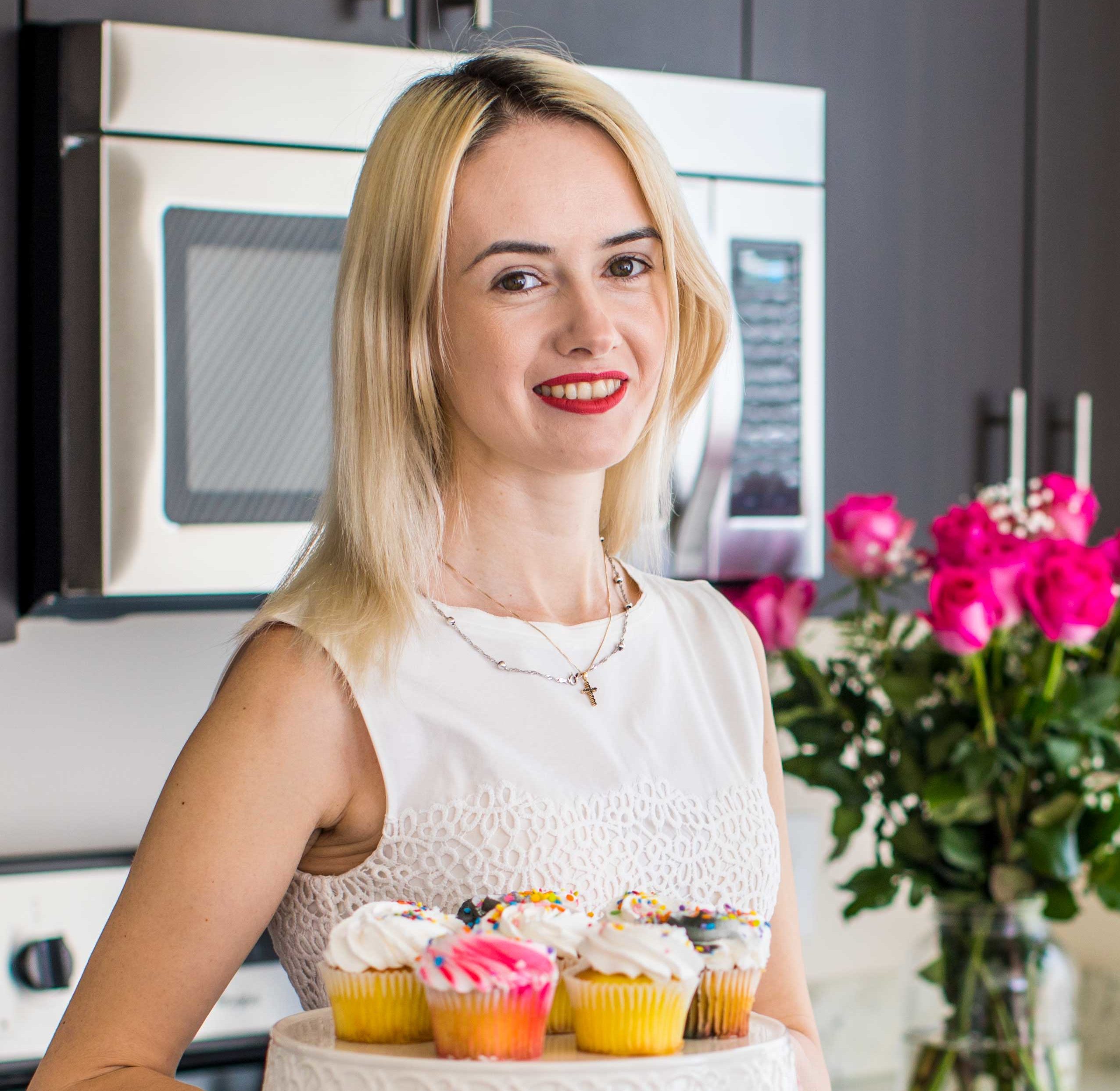 Follow us on Pinterest for more delicious recipes!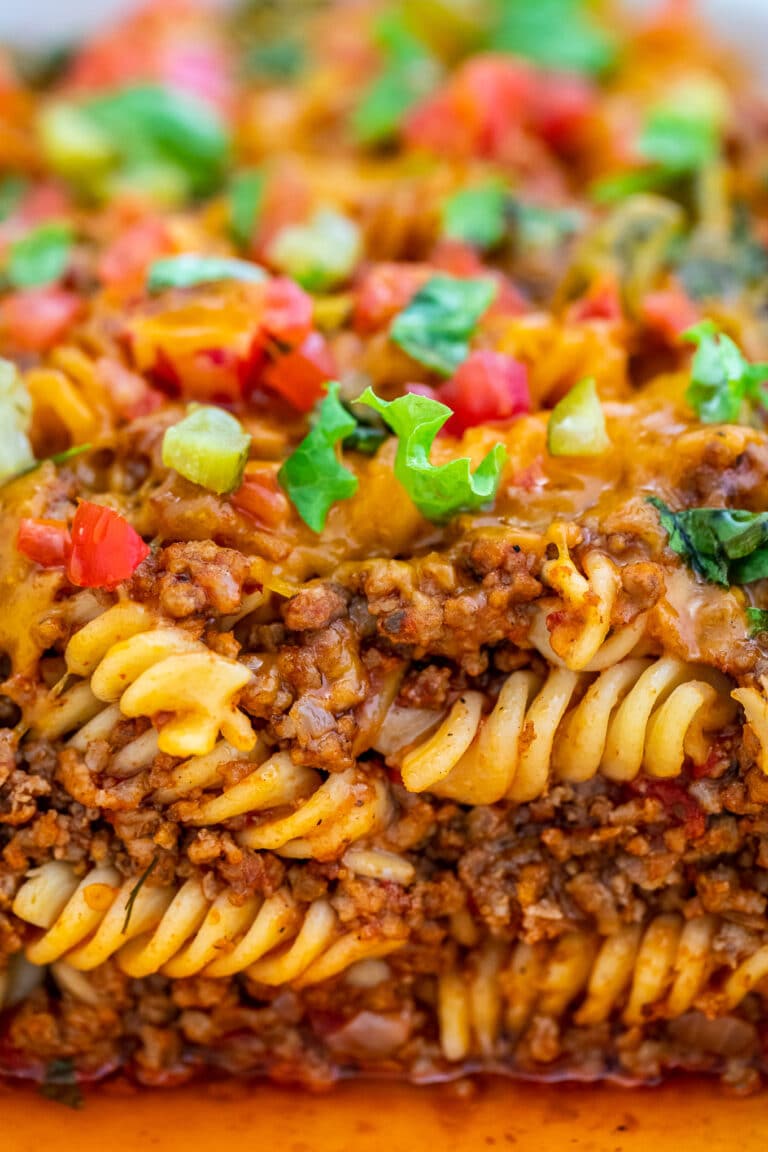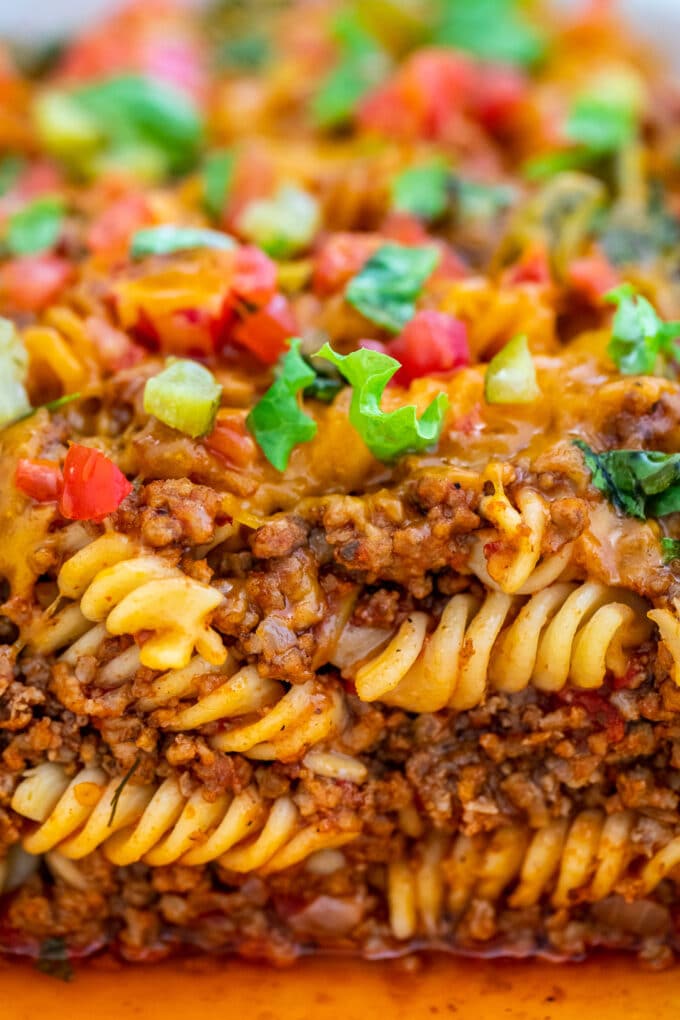 What do you need to make Cheeseburger Casserole:
Beef: I used ground beef, but you can also make this recipe with ground lamb, chicken, turkey or even pork.
Veggies: to add extra flavor and texture I added onion, garlic, bell pepper, tomatoes.
Seasoning: A combination of dried herbs, Worcestershire sauce, and tomato paste is used to make the sauce extra tasty.
Pasta: I used rotini, but large shell pasta and elbow macaroni are great choices as well.
Cheese: Cheddar cheese is great in this recipe. Other delicious choices are mozzarella and Pepper Jack cheese.
How do you make Cheeseburger Casserole:
Brown the Beef: Start by browning the beef in a large skillet.
Cook the Pasta: In the meantime, to save time, cook the pasta per package directions.
Add the Veggies: Add the veggies and also the seasonings to the beef and cook until bell pepper is tender. Bring mixture to a boil, and simmer for 15 minutes to reduce the liquid content.
Combine: Combine the beef mixture with the cooked pasta and transfer the mixture to the baking dish. Add cheese on top.
Bake: Bake the casserole. Once cooked, top with chopped tomatoes and lettuce. Serve immediately.
Can you use other meats to make this casserole?
Absolutely! You can substitute beef with chicken, turkey or pork. The cooking time might vary as well based on each meat type.
STORING RECOMMENDATIONS:
Make it in advance: Prepare everything and assemble the casserole, but instead of baking it, wrap it tightly in plastic wrap and foil and freeze it. Just bake it when needed. You can keep it frozen for 3 months.
Freeze Leftovers: Transfer leftovers into single-portion freezer bags and freeze for up to 3 to 4 months. You can bake them again at the same temperature you initially cooked them at.
Refrigerate: Aside from the freezing, you can simply refrigerate it for up to 4 days.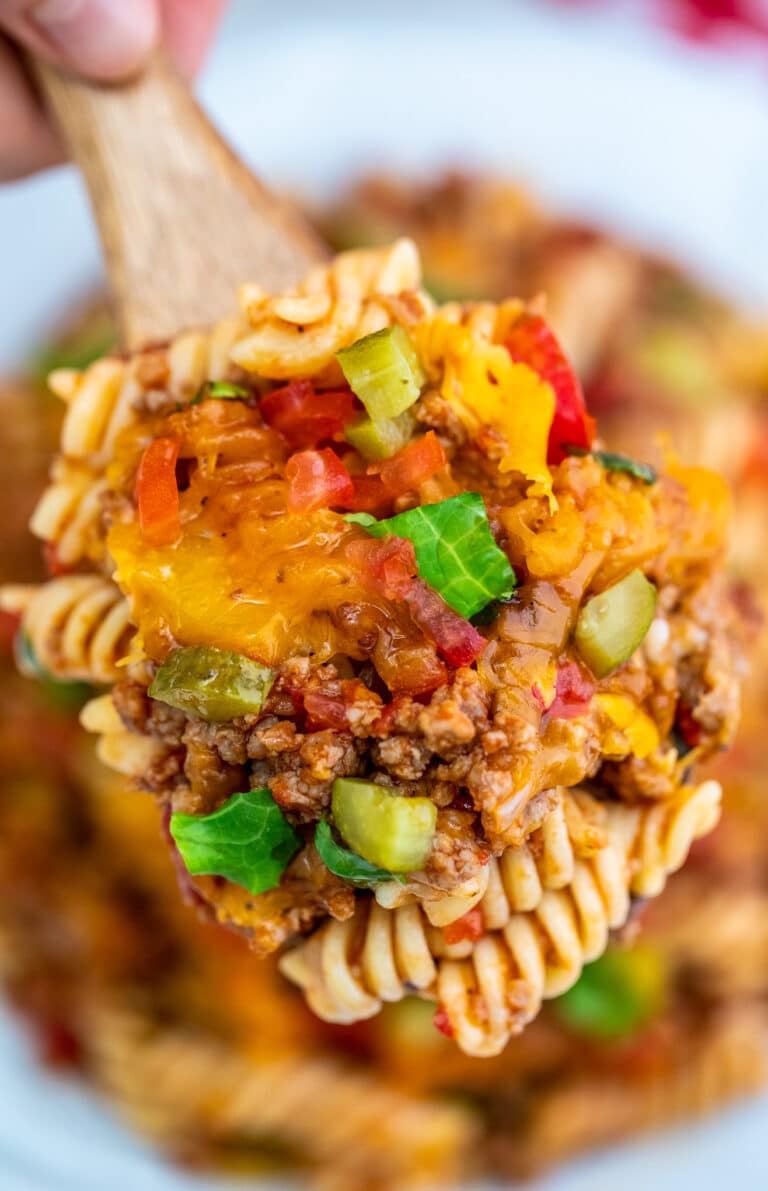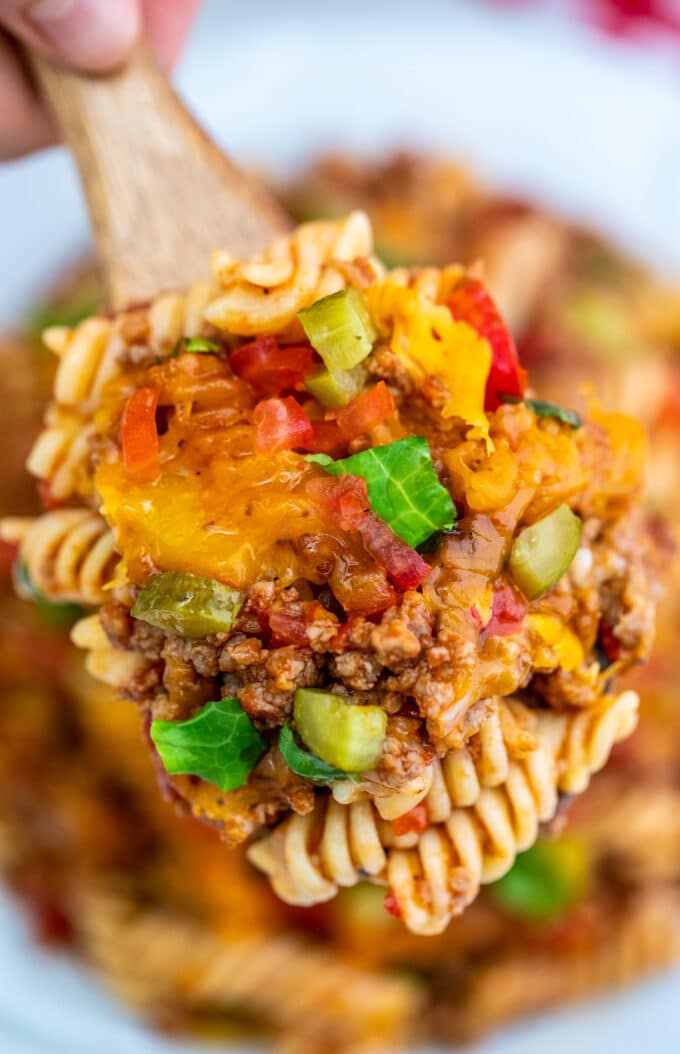 Recipe Tips:
Use quality beef. When cooking casserole I tend to use grass-fed organic beef, it provides the best flavor.
If you prefer the casserole spicy add jalapenos, or add some hot sauce into the mixture.
This meal is loaded with cheese, don't skip it, its what makes it so creamy and comforting.
You can use Mozzarella cheese, provolone cheese or sharp cheddar. Also, spicy Pepper Jack cheese would be a great substitute.
For a gluten-free version of this recipe, make sure you use gluten-free pasta.
POSSIBLE ADD-INS FOR CHEESEBURGER CASSEROLE:
You can add more ingredients according to your liking. Here are some suggestions:
add more veggies: mushrooms, green beans or even sweet peas.
add chopped bacon, for a bacon cheeseburger casserole.
chopped sausage is another great addition for the meat lover.
more cheese, even a combination of a few types of cheese.
Watch recipe video:
Save Recipe
Loaded Cheeseburger Casserole
Author: Catalina Castravet
Serves: 6 servings
Prep time:

15

minutes
Cook time:

45

minutes
Total time:

1

hr
Ingredients
8 oz rotini pasta
2 lb ground beef
1 large onion (chopped)
4 cloves garlic (minced)
1 green bell pepper (chopped)
1 can (28 oz) diced tomatoes
1 tablespoon Worcestershire sauce
2 tablespoons tomato paste
1 teaspoon dried parsley
1 teaspoon dried oregano
1 teaspoon dried mustard powder
1 teaspoon salt
1/2 teaspoon pepper
2 cups grated cheddar cheese
Toppings:
Chopped pickles
Chopped fresh tomatoes
Chopped iceberg lettuce
Instructions
Preheat the oven to 350 degrees F.
Add water to a medium pot and season it with salt. Bring the water to a boil. Stir in the pasta and boil for about 8 minutes, until just tender.
Drain and return to the pot.
In a large skillet, over medium heat, cook the ground beef, stirring with a wooden spoon to break up the lumps, until no longer pink. Drain off the fat.
Add the onion, garlic, and the bell pepper, cook until the vegetables are tender about 5 minutes.
Add the tomato paste, diced tomatoes with juice, and the Worcestershire sauce, parsley, oregano, dried mustard, salt, and pepper.
Bring to a boil, then lower the heat to low. Simmer the mixture for about 15 minutes.
Pour the tomato mixture over the noodles and stir until combined.
Spray a baking dish with cooking spray.
Transfer the mixture to the baking dish. Top with cheese.
Bake for about 20-25 minutes, until the cheese is melted.
Top with chopped pickles, tomatoes, and iceberg lettuce before serving.
Calories: 701 Carbohydrates: 33 Protein: 40 Fat: 44 Saturated Fat: 19 Cholesterol: 146 Sodium: 796 Potassium: 667 Fiber: 2 Sugar: 3 Vitamin A: 530 Vitamin C: 18.8 Calcium: 323 Iron: 4.2
Save Recipe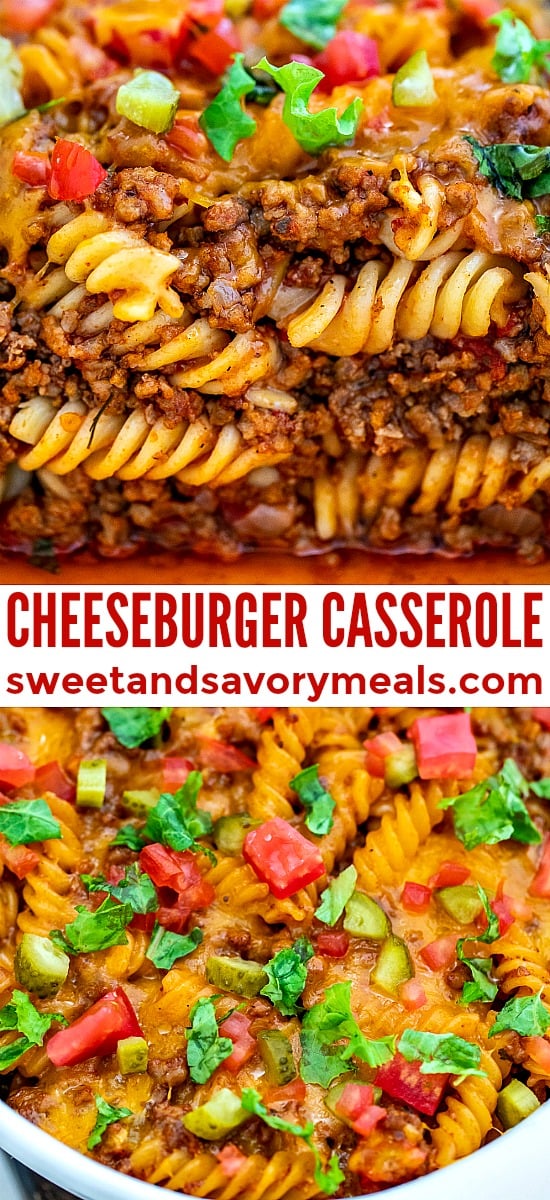 More recipes you might love