Gluten Free Mushroom Cheeseburger Casserole
This post may contain affiliate links. Please read my disclosure policy.
Gluten Free Mushroom Cheeseburger Casserole that is easy to make, filling and delicious, loaded with cheese and baked potato layers.
This post of Gluten Free Mushroom Cheeseburger Casserole is brought to you by Sargento® Cheese. The content and opinions expressed below are that of Peas and Peonies.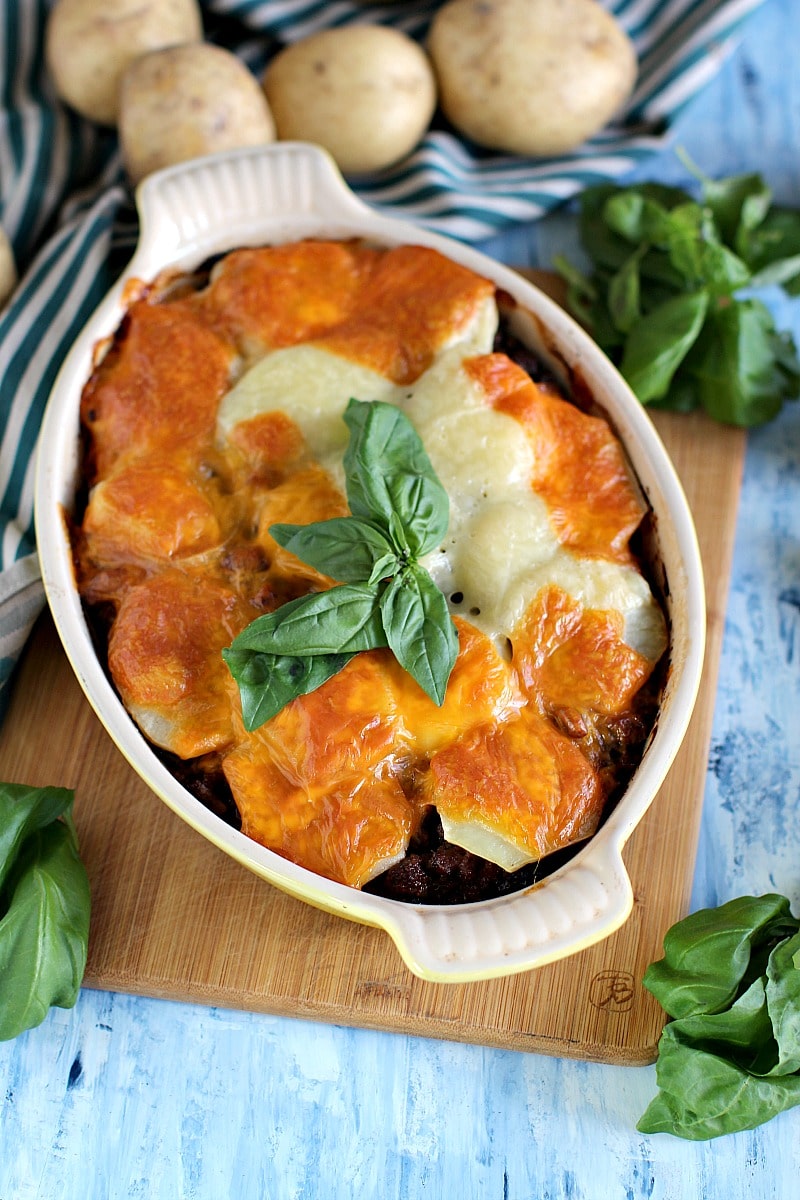 Well, dinner yesterday was good, probably too good as me and my husband went back for seconds of this Cheeseburger Casserole loaded with potatoes and cheese!

I am the type of girl that LOVES a juicy and cheesy cheeseburger! Better with a side of fries! When I got the opportunity to work with Sargento® Sliced Cheese I knew that I wanted to use the cheese into a Potato Mushroom Cheeseburger Casserole that is covered in delicious, melty cheese.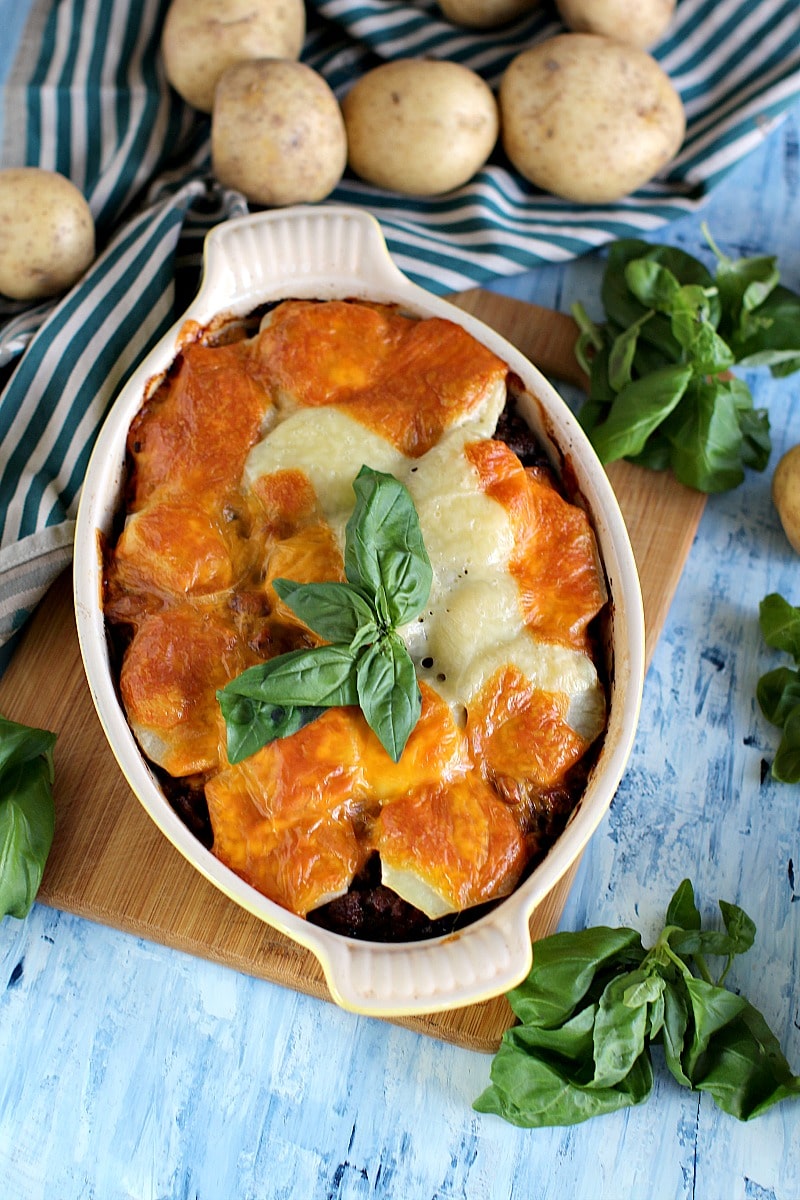 Pasteurized Process Cheese Food (PPCF), sometimes known as American singles, is only required to contain 51% real cheese! However, Sargento® Slices are always 100% real, natural cheese and you can taste the difference.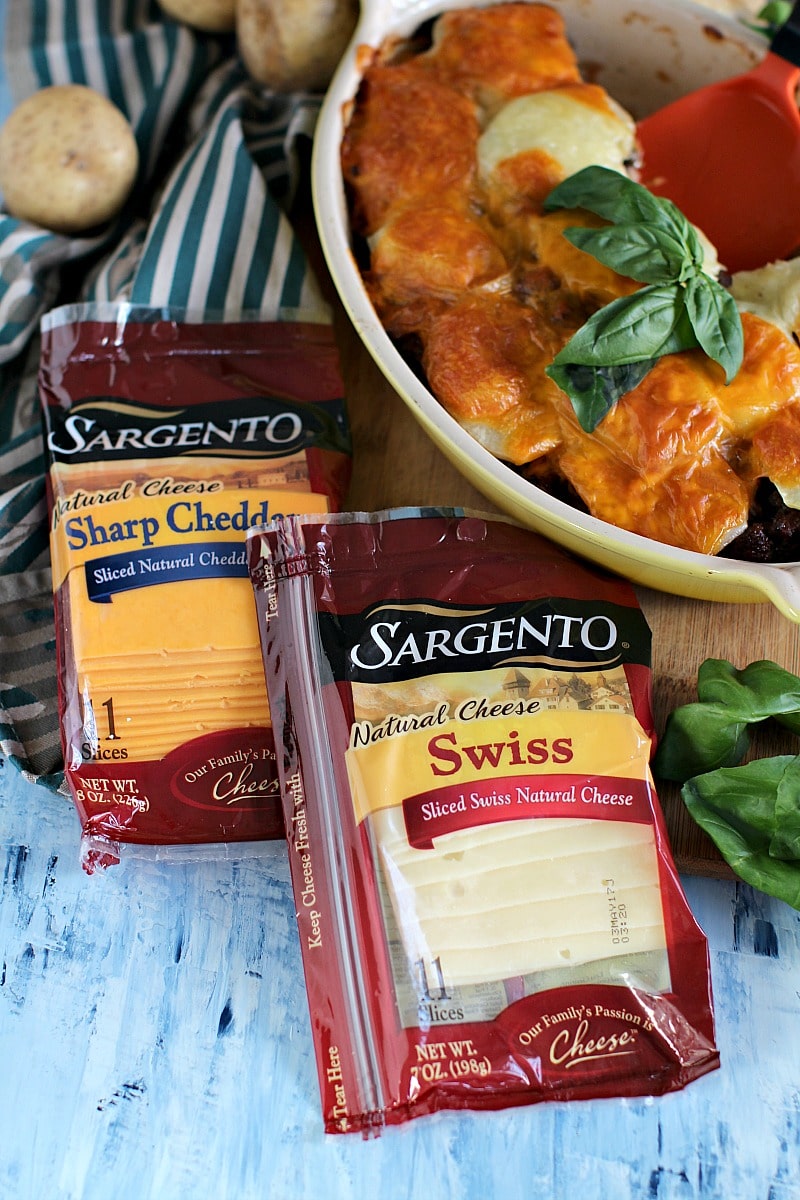 You can see and taste the difference in quality, the cheese is so fresh, it tastes like it was just sliced and served! It melts beautifully and it's absolutely delicious. I used Swiss and Cheddar slices in this cheeseburger casserole and it turned out delicious.

MY LATEST VIDEOS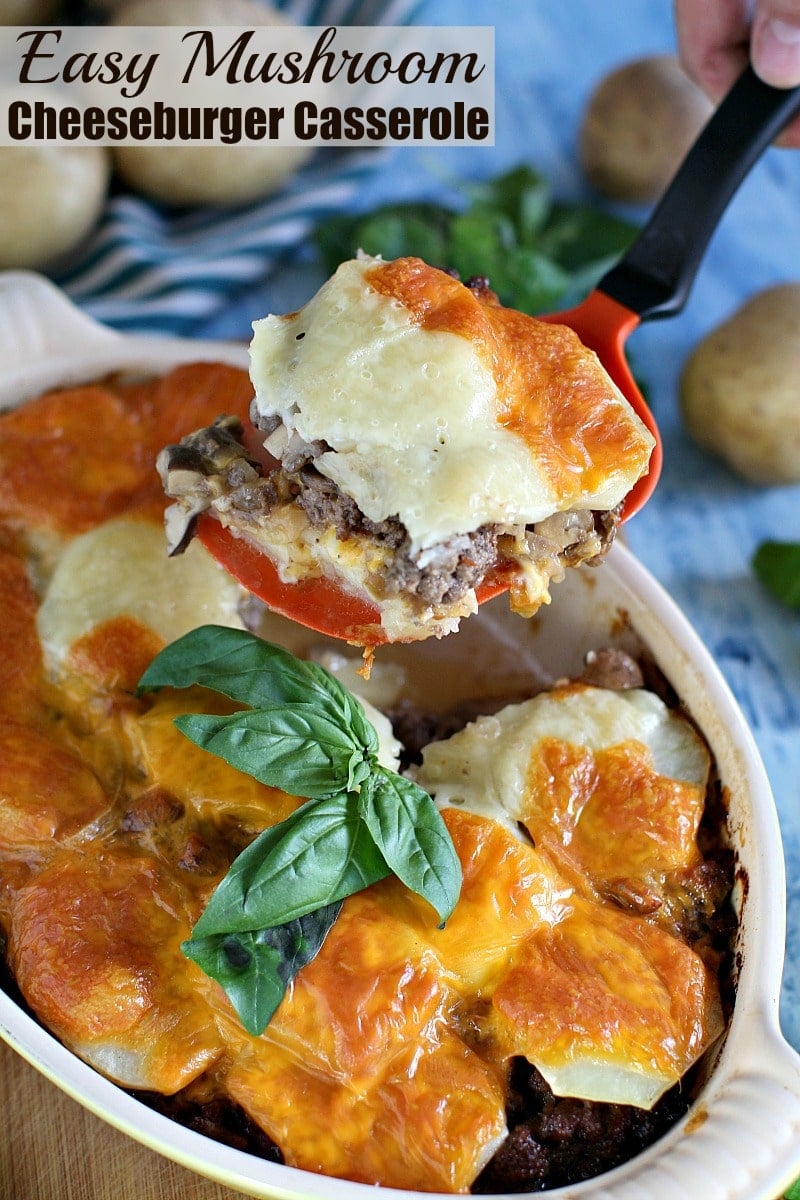 Swiss Mushroom Cheeseburgers are my favorite, so my cheeseburger casserole is basically a take on one! Caramelized onions and mushrooms are cooked with organic, grass fed beef for maximum flavor.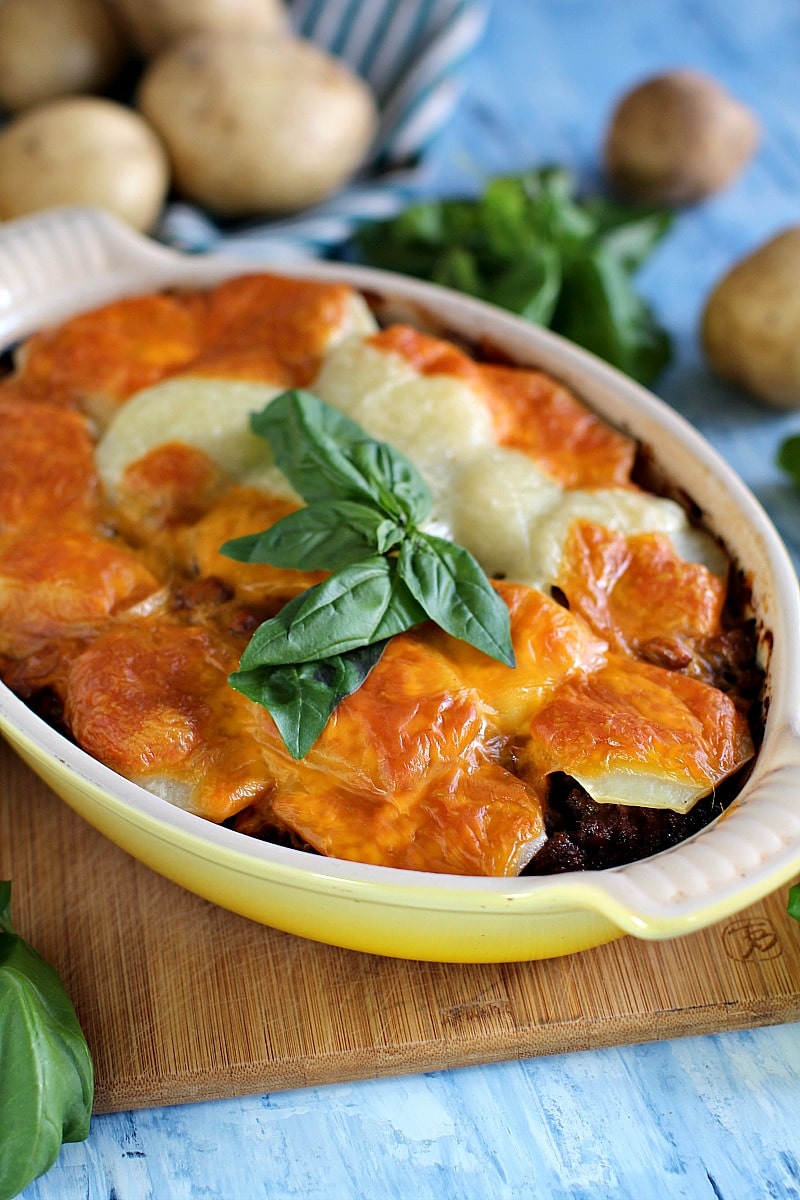 I can't have a cheeseburger without the fries, so I obviously incorporated potatoes into my casserole, which made the dish naturally Gluten Free! This delicious cheeseburger casserole consists of layers of sliced baked potatoes, cheese and juicy ground beef cooked with caramelized mushrooms and onions.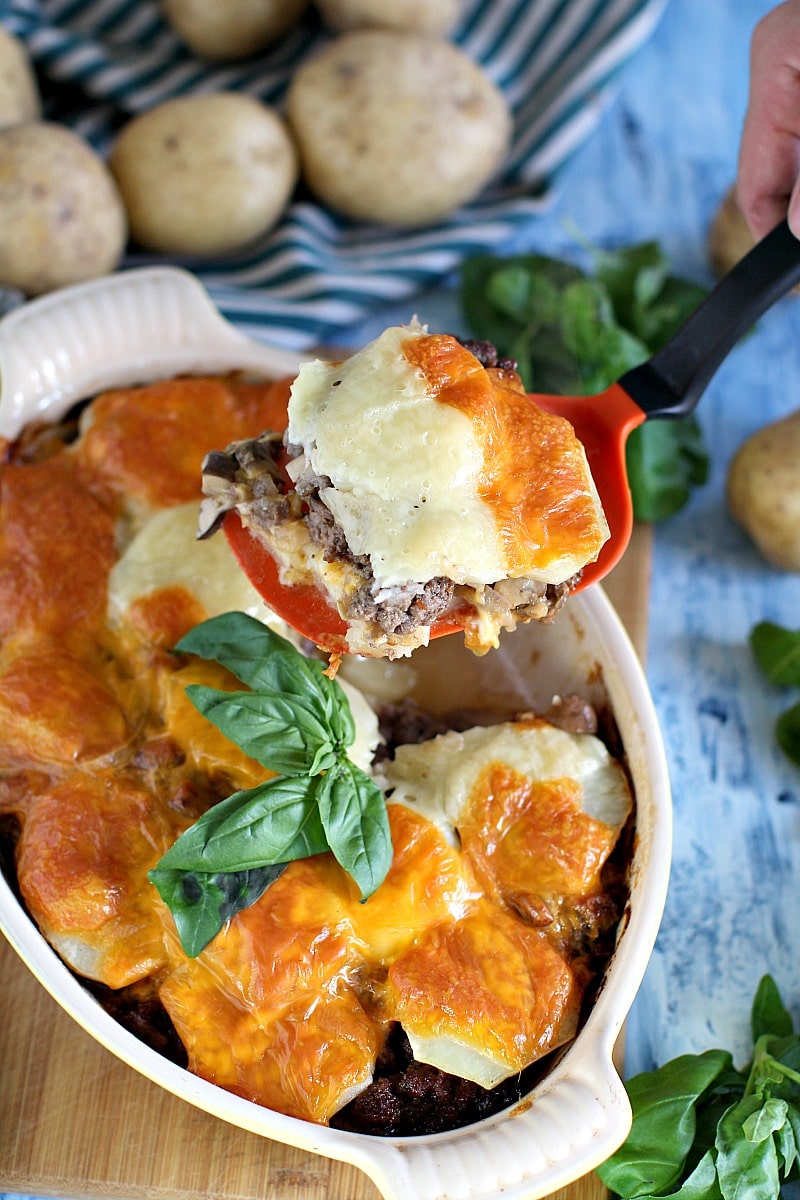 This is such a filling, delicious, affordable and easy to make dish that will be a hit with your family and you will also have yummy leftovers.
Easy Mushroom Cheeseburger Casserole
Gluten Free Mushroom Cheeseburger Casserole that is easy to make, filling and delicious, loaded with cheese and baked potato layers.
Author:
Katalina Kastravet
Ingredients
1 lb ground beef, organic and grass fed
⅓ cup canola oil
1 large onion, chopped
10 ounces baby bella mushrooms, chopped
1 teaspoon dried oregano
1½ teaspoons salt
½ teaspoon pepper
½ teaspoon red pepper flakes
7 ounces Sargento® Sliced Swiss Natural Cheese
7 ounces Sargento® Sliced Cheddar Natural Cheese
4 medium Yukon potatoes, peeled and cut into thin rondelles
Instructions
Preheat oven to 375°F.
Add canola oil to a large, hot skillet. Add the chopped onions and mushrooms, cook for 5 minutes on medium heat, stirring occasionally.
Add the ground beef and cook over medium heat, stirring to break up the lumps, until all of the pink is gone from the meat.
Add oregano, red pepper flakes, salt and pepper to taste. Turn off the heat and set aside.
Layer half the potatoes onto the bottom of a baking dish that you have sprayed with cooking spray. Top with cheese, followed by the beef mixture.
Toss the remaining potatoes into some oil and arrange them on top of the beef layer.
Bake for about 20 minutes, top with cheese slices and bake for another 25-30 minutes, until the potatoes are cooked thoroughly.
Serve and refrigerate the leftovers!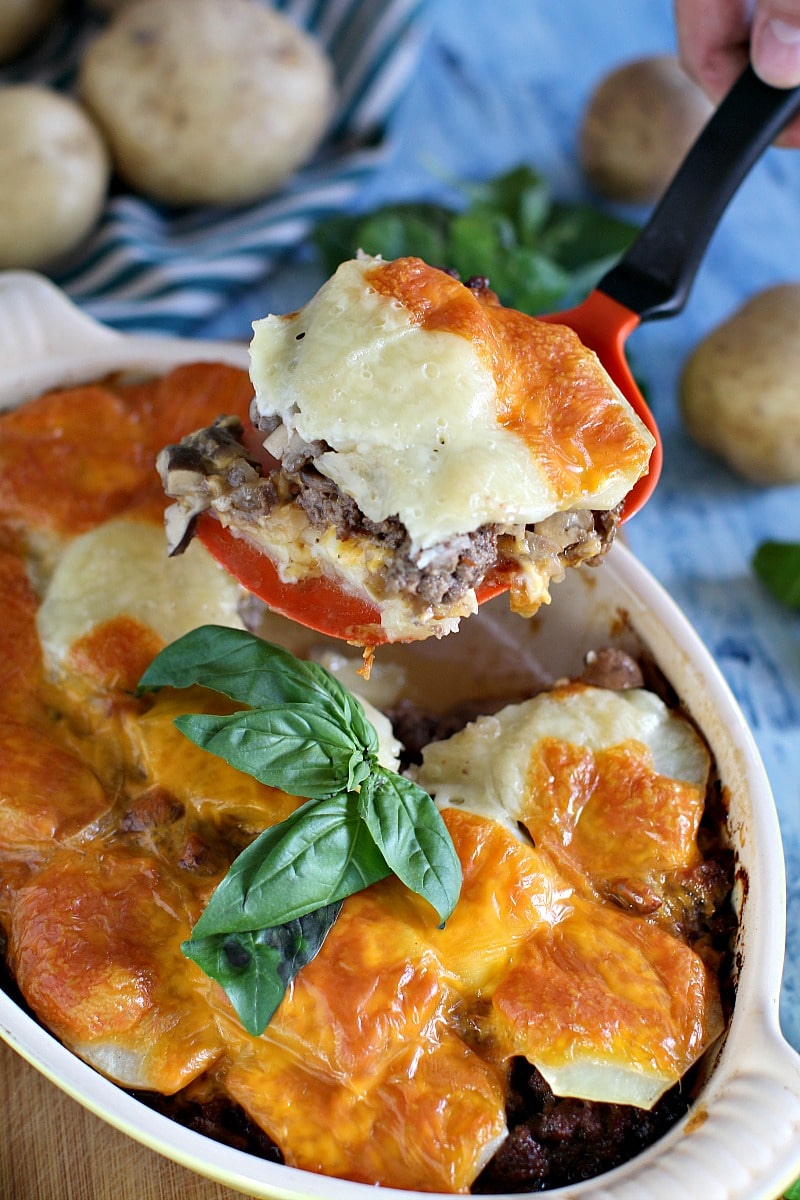 Triple yum!
Follow Sargento® Sliced Cheese on Instagram and on Facebook for more delicious inspiration!
Peas and Peonies, LLC. owns the copyright on all images and text and does not allow for its original recipes and pictures to be reproduced anywhere other than at this site unless authorization is given. If you enjoyed the recipe and would like to publish it on your own site, please re-write it in your own words, and link back to my site and recipe page. Copying and/or pasting full recipes to social media or personal blogs is strictly prohibited. Sharing this recipe is very much appreciated and encouraged. Read my disclosure and privacy policy. This post may contain affiliate links.