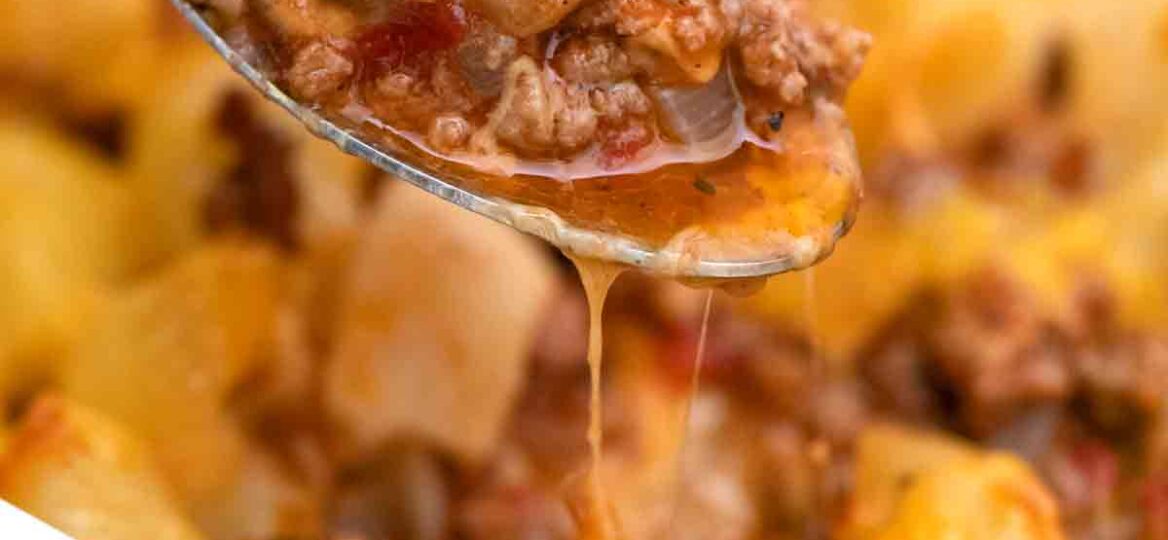 Easy Hamburger Casserole Recipe [Video]
Hamburger Casserole is the best comfort dinner that is super quick and easy to prepare. Made with common ingredients like ground beef, mushrooms, tomato sauce, pasta, and cheese. A great and flavorful meal to feed a crowd!
When I am looking for an easy dinner that the whole family will love, this recipe is on top of the list. It is so cheesy and delicious, that it is usually gone in seconds! I love serving it with a fresh cucumber salad, roasted asparagus, and corn salad.
This Hamburger Casserole is the ultimate classic comfort food! Not only is this a quick and delicious dinner, but it is also budget-friendly. All you need is ground beef, mushrooms, tomato sauce, spices, macaroni noodles, and cheese! Then, simply throw the ingredients together in a baking dish, and your family's favorite dinner is ready!
The fact that it is ready in 30 minutes is another bonus point. Having kids and a busy schedule, this is just the perfect meal for those busy weeknights. Not to mention, it is probably one of the most comforting meals. Kids also go crazy over it, because it is super cheesy and flavorful.
If you make it once, I guarantee you will be making it again and again. It is just that good and delicious, that even picky eaters will love it!
Hamburger Casserole Ingredients:
This dish requires simple ingredients:
Meat – I go with ground beef here that is 85-90% lean.
Pasta – Shell pasta just works the best here because it absorbs the ingredients perfectly. However, if you do not have it on hand, feel free to use your favorite type.
Onion and garlic
Mushrooms
Seasoning – Dried parsley, onion powder, garlic powder, salt, Italian seasoning, and black pepper.
Worcestershire sauce
Diced tomatoes and tomato sauce – You can also use pasta sauce or tomato paste instead.
Cheddar cheese
Pickles, fresh tomatoes, iceberg lettuce, sesame seeds – To garnish the dish.
How to make Hamburger Casserole?
Preheat the oven: Firstly, preheat the oven to 375 degrees F. This way you will save some time while the other ingredients are prepared.
Cook the pasta: Cook the pasta according to package direction. I recommend using macaroni or shell pasta and cook it al-dente. Drain and rinse.
Saute the veggies: In a skillet, add some olive oil, diced onion, mushrooms, salt, and pepper. Saute the veggies. Add minced garlic during the last 30 seconds of cooking. Set aside.
Brown the beef: Next, brown the ground beef in a large skillet. Add some olive oil, garlic, and seasoning. Cook the beef until brown in color. Next, add tomato sauce and diced tomatoes, along with Italian seasoning. Stir to combine.
Assemble the casserole: Transfer the beef mixture to a 9 by 13 baking dish. Next, add the sauteed mushrooms, on top. Then, toss in the pasta shells, and cheese. Combine together, and top with remaining cheese.
Bake: Transfer the casserole dish into the oven, and bake.
Serve warm.
Flavor Variations:
This casserole is super cheesy and delicious just as is. However, you can easily adjust and customize it to fit your taste. Some great suggestions are:
Add other meats: Instead of hamburger meat, you can make it with ground chicken, shredded chicken, ground turkey, or even Italian sausage.
Swap the cheeses: Feel free to use your favorite type. Mozzarella cheese, cheddar, Monterey Jack, Parmesan, all work great here. Also, for even more flavor, combine a few kinds of cheeses together.
Instant Pot Cheeseburger Maccaroni: Do you have an Instant Pot and want to make it that way? Then, try my Instant Pot version. It is equally delicious and flavorful.
Make it a soup: To make a soup version of it, try my beef and macaroni soup.
Add vegetables: Feel free to add or swap the veggies. If you are not a mushrooms fan, then you can use bell peppers, broccoli, cauliflower, green beans, or even zucchini. Also, you can add potatoes to it, or substitute potatoes with pasta.
Noodles: Feel free to use any pasta variety. I love using a small shell or macaroni pasta. However, penne, egg noodles, rigatoni work just as well.
How Long Do You Bake Hamburger Casserole?
This easy casserole is ready in about 20 minutes when cooked at 375 degrees F. You will know it is ready when you will start seeing bubbles on top, and the cheese is getting golden brown in color.
Can I add potatoes to it?
Yes. A great addition to this dish would be adding about 4-5 small potatoes. Simply, peel and slice the potatoes. Then, mix them with cooked pasta and the rest of the ingredients prior to baking.
What to Serve With it?
This is pretty much a full and hearty meal on its own. It has plenty of proteins, veggies, and carbs. To balance it out, I love serving it with:
How to store leftovers?
Refrigerate: To refrigerate leftovers use an airtight container. Then, refrigerate for up to 4 days.
Freeze: You can easily freeze it cooked or uncooked. Just use a freezer-safe container, and freeze it up to 3 months.
Reheat: To reheat it cooked, simply pop it in a preheated oven at 350 degrees F for about 10 minutes. If the dish is frozen uncooked, then cook it at 375 degrees F for about 30-35 minutes.
More easy casserole recipes:
Recipe Tips:
I recommend using 85 to 90% ground beef. This way, you end up with plenty of flavors and without much grease.
Feel free to serve it with some sour cream and chopped green onions on top.
Also, whenever possible, go with organic meat. It is healthier and tastes the best.
If you like it spicier, chop in some jalapeno peppers.
Small shelled pasta workers best here, as it absorbs all the flavors together.
Feel free to add your favorite seasonings. For a twist of flavors, try using taco seasoning, ranch seasoning, and cajun seasoning.
In addition, you can double the size. Just double the ingredients, and follow the same cooking steps.