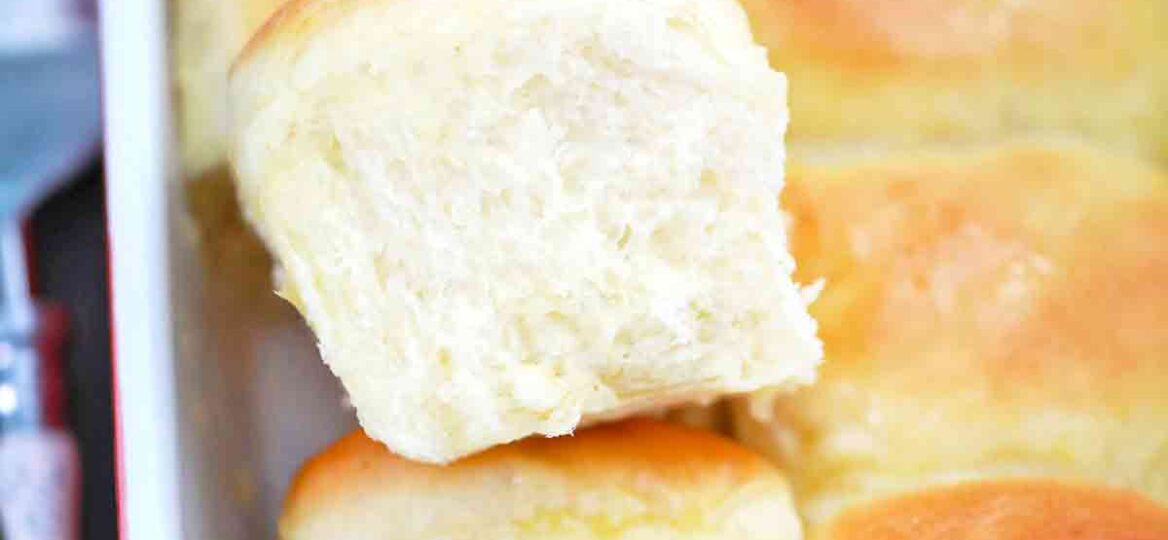 Amish Potato Dinner Rolls Recipe
Amish Potato Dinner Rolls are soft, fluffy, and deliciously flavored with butter and sugar for a unique taste. They will stay fresh and soft for up to a week because of the potato starch so you can make a large batch to last for days. And all you need is a few simple ingredients you probably already have in your kitchen.
If you need your dinner rolls sooner, try our 30 Minute Dinner Rolls recipe made with milk, sugar, and flour. Try these scrumptious soft rolls with our Instant Pot Pork Stew with tender chunks of pork, red wine, and chunky vegetables.
These rolls taste even better the next day if left at room temperature. The potato starch keeps these tender potato buns super soft and ready to eat for up to a week.
You can also use the dough to make crescent rolls or cinnamon rolls as well. Feel free to mix it up and make it your own.
Alternatively, try some of our Vegetarian Recipes like shakshuka, sweet potatoes, and cinnamon apples.
Ingredients needed:
These are the main ingredients you need for this perfect soft dinner roll recipe, but you can scroll down to our recipe card for the step-by-step instructions and measurements.
Warm water: At 115 degrees F.
Instant yeast: Or active dry yeast.
Sugar: I used granulated sugar.
All purpose flour: I used King Arthur Flour.
Creamy mashed potatoes: Unseasoned.
Salt: To taste.
Eggs: Large, at room temperature.
Butter: Unsalted and partially melted butter.
How to make Amish potato dinner rolls recipe?
Begin: To start, mix the lukewarm water, yeast, and ½ teaspoon of sugar in a large bowl. Set aside to proof.
Combine: Then, using the dough hook in the bowl of a stand mixer, add the rest of the sugar, potatoes, flour, butter, eggs, and salt. Mix on low until it is well mixed.
Mix: Next, after adding the yeast mixture to the bowl, mix on medium until a soft dough forms.
Let it rise: After, transfer the dough to a large greased bowl and cover with plastic wrap. Next, let the dough rise for 90 minutes in a dry, warm place until it is doubled in size.

Let it rise again: Next, grease a 9" x 13" baking pan with nonstick cooking spray and divide the dough into 16 equal pieces. Roll them into dough balls and place them in the pan. Cover it loosely with plastic wrap and let it rise for two hours in a warm dark place.

Bake: Preheat the oven to 350 degrees F. Then, remove the plastic and bake for 20 to 25 minutes or until the tops are golden brown.
Serve: Finally, serve these rolls warm with a small bowl of butter.
Recipe variations:
Bread machine: Alternatively, you can make this easier by running it through a dough cycle in your bread machine.
Milky: Use milk instead of water for soft and creamy buns.
Add cinnamon: Make these into cinnamon rolls by adding cinnamon and sugar to the mix.
Sweet potatoes: Use sweet potatoes to make these buns even sweeter.
Spicy rolls: Add some red pepper flakes or jalapeno pepper juice to the mix for spicy buns.
How to serve:
These soft and delicious rolls are perfect to go with any meal or to be eaten as a snack anytime. Here are some other serving suggestions:
Frequently asked questions
Why is it called a potato roll?
Amish potato rolls are made with potato flour as well as wheat flour, giving a sweeter and softer flavor than regular buns.
Some recipes call for mashed potatoes while others use dehydrated potato flakes or instant potatoes. The flavor and texture is different than typical dinner rolls.
Where was potato bread invented?
Also known as Amish dinner rolls, potato buns are thought to have been started in the ancient times by the Irish, not the Amish.
It was originally called boxty or bacstai, although it is made a bit different in other countries.
Chile potato bread is known as milcao, Germany calls it berches, and Scotland calls it tattie scone.
Why does potato bread last so long?
According to the Irish, potato bread lasts longer than traditional dinner rolls or bread because of the high starch content from the potatoes.
As regular bread cools, the starch starts to crystallize, but the potato starch prevents it from crystallizing as fast.
How to store leftovers:
Store: These fluffy dinner rolls stay fresh for up to a week in an airtight container whether you refrigerate them leave them at room temperature.

Freeze: You can either freeze the dough before cooking it or after. Wrap it in plastic wrap and then put it into a freezer bag. They will stay fresh for up to 90 days in the freezer.
Thaw: You should thaw them out in the refrigerator overnight before serving.
Reheat: After the buns are thawed, reheat in the oven for five minutes wrapped in aluminum foil.
More bread recipes:
Cooking tips:
This is a great way to use up your leftover mashed potatoes.
The rise time may vary depending on the temperature and moisture content of your home.

If you would rather have these less sweet, use ½ cup sugar instead.
You could also use potato flakes instead of mashed potatoes.
For round rolls that are brown all over, put them in a larger pan further apart from each other.

Add additional flour if the dough is too sticky.
Use more cups of flour for a larger number of rolls.

Feel free to use salted instead of unsalted butter.
Amish Potato Dinner Rolls
Ingredients
3/4

cup

warm water

about 115 degrees F

2 1/4

teaspoons

instant yeast

1/2

teaspoon

granulated sugar

1/3

cup

granulated sugar

4 1/4

cups

all-purpose flour

1

cup

creamy mashed potatoes

without seasonings

1 1/2

teaspoons

salt

2

eggs

room. temperature

6

tablespoons

unsalted butter
Instructions
In a medium bowl, combine the water, yeast, and 1/2 teaspoon of granulated sugar. Stir and set aside to proof.

Microwave the butter until almost melted.

In the bowl of a stand mixer fitted with the hook attachment, add the remaining 1/3 cup of granulated sugar, flour, creamy mashed potatoes, salt, eggs, and butter. Turn the mixer on low and mix until combined.

Slowly add in the proofed yeast mixture and increase the mixer speed to medium. Mix until a smooth dough forms and it no longer sticks to the walls of the bowl.

Transfer dough to a large greased bowl and cover loosely with plastic wrap or a clean kitchen towel. Let it rise for 90 minutes in a dark and warm place, until almost doubled in size.

Grease a 9x13-inch baking pan with cooking spray or butter.

Roll the dough into 16 equal balls, and arrange in the greased baking pan, seam-side down.

Cover loosely with plastic wrap or a clean kitchen towel and allow to rise for 2 hours in a dark and warm place, but NOT on top of the oven.

Preheat oven to 350 degrees F.

Remove the plastic and bake for 20 to 25 minutes, or until the tops are golden brown.
Deliciousness to your inbox
Enjoy weekly hand picked recipes and recommendations