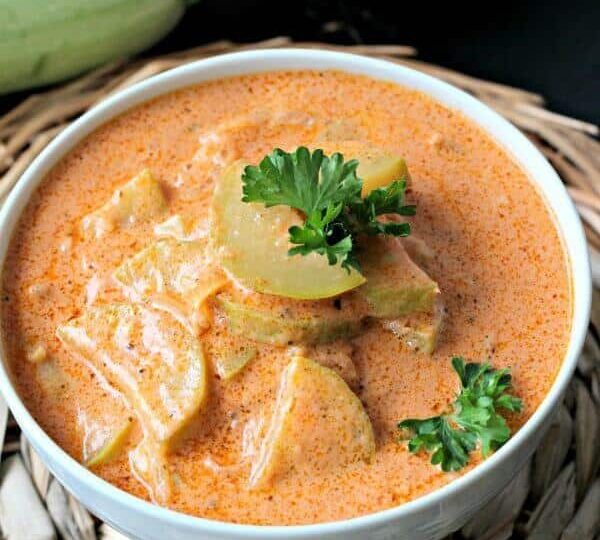 Zucchini Tomato Soup is homemade, creamy, and chunky with only 5 ingredients and is ready in 40 minutes. Serve it with a grilled cheese sandwich or homemade dinner rolls for the ultimate family dinner!
Making easy and comforting soups and stews recipes are a staple around here. You might also like this Instant Pot Lasagna Soup, Instant Pot Tomato Soup, and Instant Pot Baked Potato Soup.
Zucchini Tomato Soup
The Zucchini Tomato Soup is irresistible, it's sweet with a little tartness from the fresh tomatoes. In addition, it is very creamy, the grey zucchini absorbs all the garlicky tomato goodness. The soup requires only 5 ingredients. Also, it is loaded with vitamins and huge chunks of soft, juicy grey zucchini.
Also, I personally find the flavor and texture of grey zucchini more pleasant than the regular zucchini. Similarly, I think it has more body, it's not that watery, also it's more chewy and hearty.
This tomato soup with zuzcchini is a very nice way to celebrate and use summer produce. I am sure everyone gets now CSAs full of tomatoes and hopefully grey zucchinis. I highly recommend hitting your local Farmer's Market and find some grey zucchini's for this recipe.
The taste and texture are milder than regular zucchini, and I think this recipe is much better with them. You will definitely need some crusty bread on the side to dip into that creamy tomato goodness.
Ingredients:
To make this hearty soup, you will only need 5 basic ingredients. Here is the list:
Fresh zucchini: I like using grey zucchini (medium-sized ones). However, feel free to use your favorite type. Also, you could use squash as well.
Tomatoes: They add a nice balance of flavor. Use fresh or canned ones.
Sweet onion and minced garlic: They add plenty of aromas. So, do not skip them!
Heavy cream: For a rich and creamy texture.
Oil: Any cooking oil will work. Such as canola oil, olive oil, etc.
Salt and ground black pepper.
How to make zucchini tomato soup?
Prepare the zucchini: First, wash and halve the veggies. I like cutting them into even-sized cubes.
Saute onion: Next, in a large pot, add some olive oil, and saute the onion over medium heat. Then, add the chopped zucchini and minced garlic. Cook for about 10 minutes, until lightly browned.
Blend the tomatoes: Using a blender or food processor, puree the tomatoes. Then, add the puree to the pot. Season with salt and pepper and bring to boil.
Simmer: Lastly, reduce heat, and simmer for another 20 minutes, on low heat.
Serve: Enjoy it warm!
Favorite toppings:
This hearty soup is creamy and delicious as is. However, to make it even better, top it with some of the following:
Cheese: Sprinkle with some freshly grated parmesan cheese or mozzarella cheese.
Croutons: Use plain or flavored croutons.
A dollop of sour cream.
Chopped dill or parsley.
Jalapeno pepper
More soup recipes to try:
How to store leftovers?
First, let leftover soup cool at room temperature. Then, transfer it to an airtight container and refrigerate for up to 4 days.
Reheat leftovers in a microwave, or on a stovetop until warm.
Can you freeze it?
Yes. here are the steps:
I recommend using quart bags for this soup. First, use a cup to transfer the soup from the pot into the bag.
Then, squeeze out excess air and seal the bags.
The bags can nicely be stored in the freezer for up to 3-4 months.
To thaw the soup, remove it from freeze the night before serving, or put the sealed soup bag in warm water to thaw it faster.
Looking for more comforting soup recipes? Check these out.
Recipe tips:
Feel free to add other veggies to it. Some great additions would be broccoli, bell pepper, squash, green peas, etc.
Also, use your favorite seasonings or dried herbs here, or red pepper flakes.
To make it lighter, use a reduced-fat cream or coconut cream.
You can also use vegetable broth or chicken stock as the base here. This will add some extra flavor to it.