Summer Fresh Creamy Grey Zucchini Tomato Soup
This post may contain affiliate links. Please read my disclosure policy.
A homemade, creamy and chunky grey zucchini tomato soup, uses summer produce, has only 5 ingredients and is ready in 40 minutes.
Happy Thursday my friends! I can't believe that it's Thursday again, where did the summer go? Labor day is getting so close, I already spotted recipes featuring pumpkin on the web and I still have summer related recipes that I want to share. One of them is this creamy zucchini tomato soup, that is perfect for busy moms that want to fix a tomato soup and grilled cheese for their family and don't want to hit Panera bread or serve soup from a can. Those two options are still fine by me, but if you can have fresh, homemade tomato soup ready under one hour, you better opt for the homemade version.

I find it odd that grey zucchini (click here to see it) is not very popular in the US, you can't find it at supermarkets, I have to go every weekend at the Farmer's Market to get my fix. In Moldova it's the opposite, we barely use the regular zucchinis that are in abundance here. In villages, almost every single family would plant grey zucchinis and when they are ready to harvest and consume, they cut them rondelles and fry them, they are served with a delicious garlicky paste and sometimes tomatoes.
Another way to cook them is this delicious grey zucchini tomato soup, that requires only 5 ingredients, is loaded with vitamins and huge chunks of soft, juicy grey zucchini. I personally find the flavor and texture of grey zucchini much pleasant than the regular zucchini. I think it has more body, it's not that watery, also it's more chewy and hearty.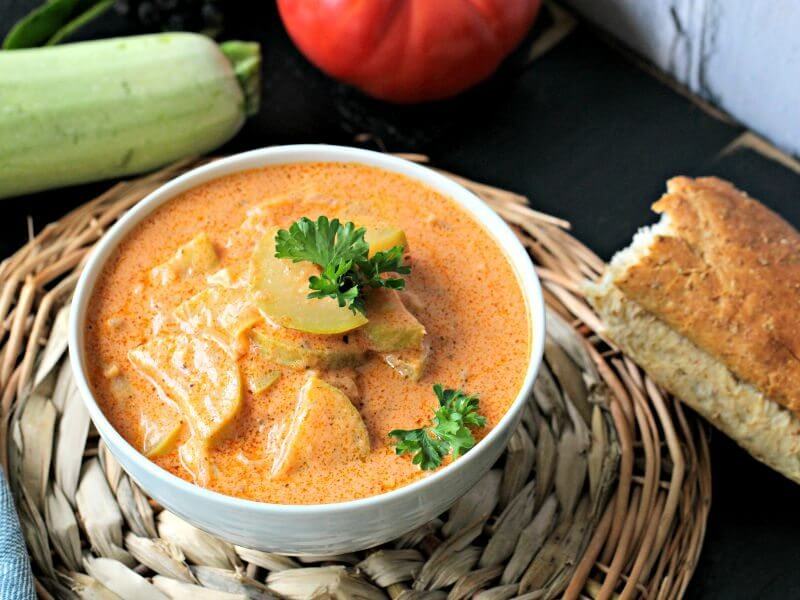 This soup is irresistible, it's sweet with a little tartiness from the fresh tomatoes, very creamy, the grey zucchini absorbs all the garlicky tomato goodness and becomes soft, full of flavor, with just a little chewiness left.
This soup is a very nice way to celebrate and use summer produce, I am sure everyone gets now CSAs full of tomatoes and hopefully grey zucchinis. I highly recommend hitting your local Farmer's Market and find some grey zucchini's for this recipe, the taste and texture is milder than regular zucchini, and I think this recipe is much better with them.
You will definitely need some crusty bread on the side to dip into that creamy tomato goodness, or you can stay traditional and make a grilled cheese sandwich. My two year old goes crazy for tomatoes so he gobbled this soup.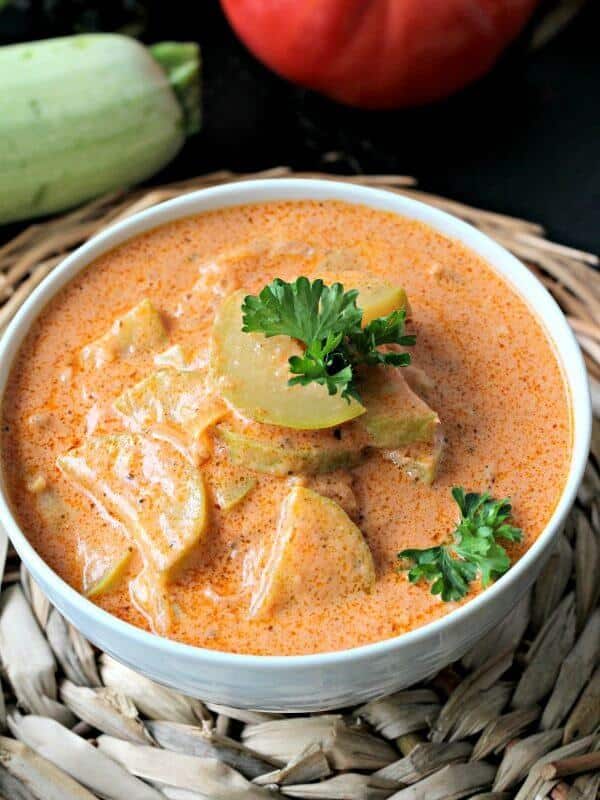 This is the type of tomato soup that will actually keep you full, its also good for your soul and for your waist. It takes no time to prepare it, 40 minutes is very double for a meal as hearty and delicious as this one.
I hope you enjoy it as much as we did.

Summer Fresh Creamy Grey Zucchini Tomato Soup
A homemade, creamy and chunky grey zucchini tomato soup, uses summer produce, has only 5 ingredients and is ready in 40 minutes.
Author:
Katalina Kastravet
Ingredients
1 large sweet onion, peeled and chopped
2 grey zucchini, medium size
3 large tomatoes, cored
1 cup heavy cream, heated in the microwave
⅓ cup canola oil
5 garlic cloves, minced
salt
pepper
Instructions
Wash the zucchini, cut in halves and chop or cut into cubes.
Heat the oil in a large pot over medium heat. Add chopped onion and cook until it just starts to turn golden brown, 2 - 3 minutes. Add the zucchini and garlic and cook until the zucchini starts to brown about 10 minutes.
In the meantime, in a blender or food processor, puree the tomatoes.
Add the tomato puree to the pot. Season with salt and pepper. Bring to a boil and add the warm heavy cream. Give it a good stir, reduce heat to low, cover, and cook for 20 minutes or until the zucchini is tender.
Peas and Peonies, LLC. owns the copyright on all images and text and does not allow for its original recipes and pictures to be reproduced anywhere other than at this site unless authorization is given. If you enjoyed the recipe and would like to publish it on your own site, please re-write it in your own words, and link back to my site and recipe page. Copying and/or pasting full recipes to social media or personal blogs is strictly prohibited. Sharing this recipe is very much appreciated and encouraged. Read my disclosure and privacy policy. This post may contain affiliate links.