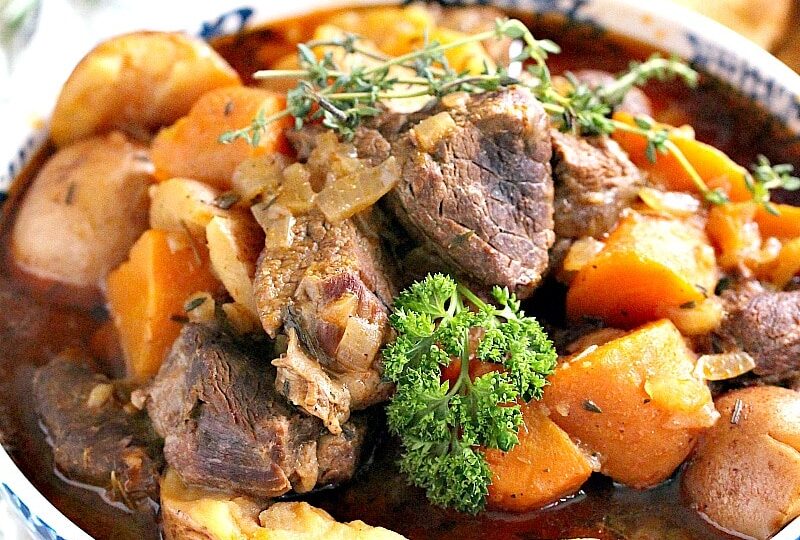 Crockpot beef stew with potatoes
Crockpot Beef Stew with Potatoes is incredibly easy to make and filled with tender beef, veggies, seasonings, and slowly cooked in a delicious beef broth. This is one of the best comfort food to enjoy during the fall or winter season.
Slow cooker recipes are flavorful, hearty, and guaranteed to warm you up during a cold night. You might also love our Crockpot Tortellini Soup, Poat Roast, or Brown Sugar Garlic Chicken.
This traditional beef stew is probably the best recipe you can make in the slow cooker for fall or winter. It is super easy to make and loaded with tender bites of juicy beef, potatoes, carrots, garlic, seasonings, and a hearty beef broth.
I already have a classic slow-cooker beef stew recipe on the blog. However, this version is a bit tweaked and sues more potatoes and various seasonings.
All the ingredients complement each other quite well here. Sometimes, I love adding a bit of red wine to make the broth extra rich and flavorful. This Crockpot Beef Stew with Potatoes is a great recipe to enjoy during cold days of winter months or busy weeknights.
This is the type of meal that can be enjoyed on weeknights while having great leftovers the next day.
Also, it is delicious and good-looking to serve it to the guest, especially if you have some cornbread on the side. I also like to serve ours with delicious, fresh-baked, crusty bread or dinner rolls, that we use for dipping into that amazing gravy!
Ingredients:
Raw beef: I love using stew meat here and cut into about 1-inch cubes. The meat also turns out You could also use rump roast, bottom rounds, or chuck roast.
Oil: Use canola oil or olive oil.
Fresh veggies: Baby red potatoes, carrots, onion, garlic.
Beef broth: Go with low-sodium type.
Tomato paste and Worcestershire sauce: Both of these ingredients add a lot of flavors. So, do not skip them.
Aromatics: Such as dried thyme, rosemary, garlic powder, onion powder, chili powder, bay leaves, salt, and black pepper.
All-purpose flour: To thicker gravy.
How to make it?
Brown the beef: First, add some olive oil to a large skillet. Season the meat and brown it on both sides over medium-high heat.
Add the rest of the ingredients to the slow cooker: Next, add the browned meat, along with potatoes, bay leaf, and the rest of the seasoning to the bottom of the crockpot.
Make the broth mixture: Then, in a large bowl, combine beef broth with Worcestershire sauce and tomato paste. Whisk together to combine. Then, pour over the rest of the ingredients in the pot.
Cook: Cover and cook on low heat for about 7-8 hours, or high heat for 3-4 hours until tender meat.
Add the flour mixture: Lastly, whisk together flour with half a cup of stew broth until there are no lumps. Then, stir gently the mixture into the slow cooker. Cover and cook for another 30 minutes until the texture is thickened.
Serve: Garnish it with some chopped parsley or green onion and enjoy it warm.
Variations and substitutions:
Stove top: If you want to make it in a large Dutch oven on the stovetop, then follow this Stovetop Beef Stew Recipe.
Other seasonings: Feel free to use your favorite seasoning here. Some great addition would be Italian seasoning, cayenne pepper, etc.
Instant Pot: Alternatively, you could make it in the pressure cooker if you are looking for a quick and easy dinner. This will save a lot of time during busy weeknights. Check out the Instant Pot Beef Stew Recipe here.
Red wine: For an extra rich flavor, add half a cup of red wine during the last 10 minutes of cooking time.
What beef cut is best to use for Beef Stew?
You can use a chuck roast or round roast. The chuck roast has more fat, so it will be more tender and juicy. If you prefer less fat, I recommend using round roast beef.
The round roast will be a little drier, so you will have to the meat in the slow cooker for another hour to absorb all the juices.
How Long Do You Cook the Beef Stew in the Crockpot?
It depends on what setting you are cooking. A 3-4 pounds beef brisket, chuck roast, or round roast, needs to be cooked on low, for about 8 -10 hours, and on high you are looking at 4-5 hours.
More delicious crockpot recipes:
Can you refrigerate it?
Yes. After cooking the meat, store it in a large airtight container in the fridge. Make sure that the beef is at least partially covered by the stew so it doesn't dry out. Store for up to 3-4 days.
Recipe tips:
Use grass-fed, organic stew meat if possible, grass-fed meat tends to be extra tender, which is perfect in this recipe.
Also, don't shy away from using carrots, they add a sweet taste that balances that rich and hearty meal.
You can also add chopped celery and pearl onions.
Brown your beef – this has a double purpose, first it locks the meat from the outside together, so during cooking, it doesn't fall apart when it becomes extra tender. Second, it will add extra flavor to the meat and the overall stew.
If possible don't skip the Worcestershire Sauce, a little goes a long way, and it definitely makes the beef flavor shine.
In addition, use low sodium beef broth, you don't want to end up with a salty stew.
When stirring the stew, be gentle as at the end all the cooked ingredients become very tender.
Tools/ingredients that I used to make the Slow Cooker Beef Stew:
Crockpot – very reasonably priced and definitely a kitchen must-have if you are busy.
Dried Rosemary – a kitchen staple, especially if you are into slow cooker recipes, also can be found in the Spice department of most grocery stores, goes along with beef and other types of meat.
Dried Thyme – I like to have dried thyme on hand for many recipes, including different rubs and marinades, it adds a nice flavor.
Garlic Powder – no recipe in my house is made without garlic unless we are talking about cake. Garlic powder is versatile and will add a lot of flavor to your main dishes. Also, it's a must-have if you are cooking Slow Cooker Soups as fresh garlic will get all mush after so many hours of cooking.
Onion Powder – great to have on hand to season main dishes and also to make meat rubs.
Worcestershire Sauce – definitely a specialty ingredient that it's great to have on hand for beef recipes.
Beef Broth – I always use organic in recipes, it also adds a tone of flavor.
Deliciousness to your inbox
Enjoy weekly hand picked recipes and recommendations