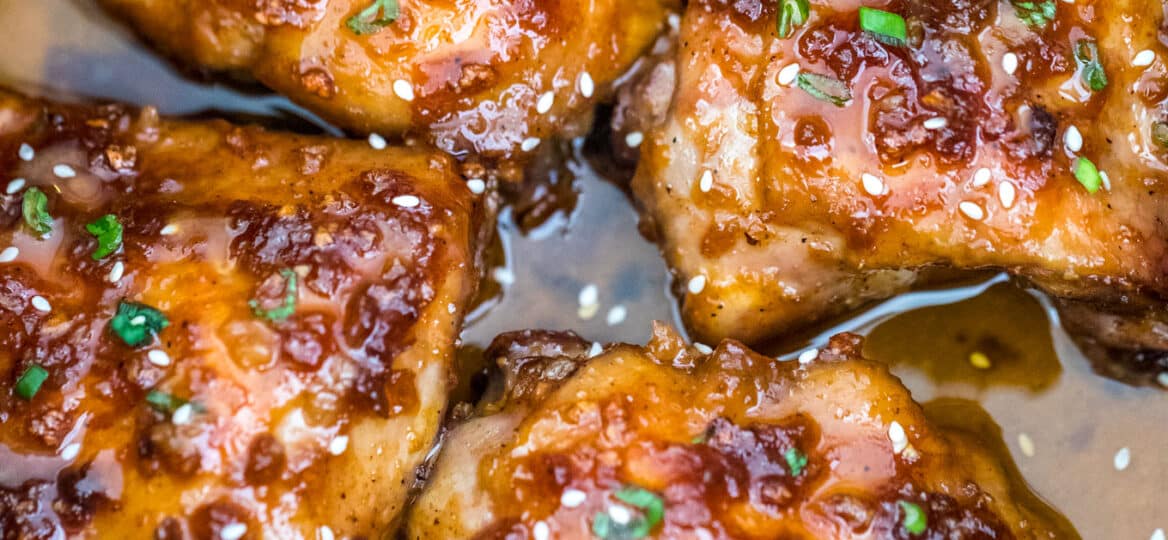 Slow Cooker Brown Sugar Garlic Chicken
Slow Cooker Brown Sugar Garlic Chicken is the perfect weeknight meal. Simply put the ingredients in the crockpot and you will end up with the best chicken dish ever!
We love slow cooker meals and some of our most popular ones are slow cooker ribs, beef stew, and corned beef with cabbage.
Easy Slow Cooker Brown Sugar Garlic Chicken
Slow Cooker Brown Sugar Garlic Chicken is the kind of recipe that will make your family go crazy! It is super flavorful, rich, and delicious. The meat is a little bit sweet, a little bit spicy, and amazingly delicious. This is the one recipe you have to try in the crockpot. Also, it's a kind of meal that both the kids and adults will love.
This recipe is really easy to make. It is budget-friendly and requires only 5 ingredients to make. You basically put everything in the pot, and let it cook itself for a few hours. When dinner time comes, you will have an amazing meal with outstanding flavors.
Trust us, the entire family will simply love it! In addition, this recipe is versatile, and you could use other chicken parts. Our favorite sides to serve it with is definitely white rice, potatoes, or with some roasted veggies.
How to make Slow Cooker Brown Sugar Garlic Chicken?
This is one easy and tasty recipe to make in the crockpot. The meat is super juicy and incredibly tender.
Start by adding all the ingredients (EXCEPT the chicken) and stir to combine.
Then, add the thighs, and soak them completely in the mixture to coat them on both sides.
Lastly, leave them to slowly cook.
How to make Brown Sugar Garlic Chicken in the oven?
Yes. Simply follow the above steps prior to cooking in the crockpot, and instead use a baking sheet pan. Then, place the pan in the oven and bake for about 25-30 minutes at 400 degrees F.
We already have this oven-baked recipe with potatoes as well, and you can follow it by clicking this link.
CAN I ADJUST THE SPICE LEVEL?
Absolutely! We love the balance in this recipe just as is, it's not too sweet and not too spicy. However, if you prefer a spicier kick to it, add a bit of crushed red pepper or sriracha. Just make sure not to overdo it!
Can you use other cuts of chicken?
We love making this recipe with thighs because they are super juicy and flavorful. However, this dish is not limited only to thighs, and you can use any other parts.
Breasts, drumsticks, or wings are the perfect alternatives. You can also try adding some bacon on top that will keep the chicken super moist and add additional flavor to it.
WHAT to SERVE WITH SLOW COOKER BROWN SUGAR GARLIC CHICKEN?
We often serve it with either brown or white rice and some roasted vegetables, such as asparagus, brussels sprout. Similarly, this recipe goes well with roasted potatoes, mashed potatoes, and a salad. It's a pretty flexible dish, so you have plenty of options to mix it with!
How to freeze it?
This dish freezes perfectly well. If you have leftover, simply transfer it to an airtight container and freeze for up to 3 months. The night prior to serving, transfer it to the refrigerator to thaw, and serve the next day.
Also, you can warm it up and served it as is, or mix it up with pasta, wraps, salads, and so many other meals.
More crockpot recipes to try:
Recipe Tips:
We use a 7-quart Slow cooker. It is a bit bigger in size and perfect for a larger family as you can cook a larger portion and have leftovers for days to come.
You can add a few orange slices on top toward the end of the cooking process. This will give the meat a nice citrusy flavor.
Also, through cooking, sometimes we add sliced green, yellow, and orange bell pepper and a small amount of sliced yellow onion to the crockpot.
For better taste and flavor, try using fresh minced garlic instead of canned or powdered garlic.