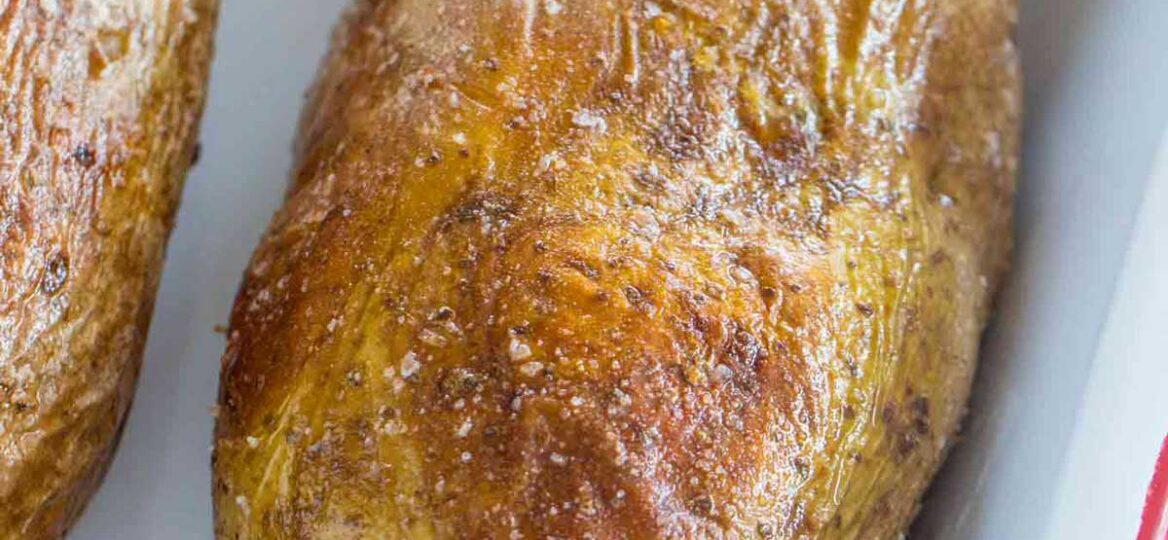 Perfect Oven Baked Potatoes Recipe [Video]
Oven Baked Potatoes are crispy on the outside, and perfectly fluffy and tender on the inside. All you need is some potatoes, olive oil, and sea salt to make this easy recipe.
These Roasted Potatoes are my favorite side dish ever. They are delicious and can be served with chicken meals or beef dishes, and the best part is that they require about 5 minutes of prep work. Once baked, you can serve them as is, or pile them high with your favorite toppings.
Oven-Baked Potatoes have always been my weakness. When I was a child, my mom would always bake them to crispy perfection, and even until now, they are the best side dish in the world. For this recipe, I used skin-on potatoes, as the skin is essential to make them super crispy on the outside, and also it preserves the fluffiness on the inside.
This homemade dish is very easy to make, you basically coat the potatoes with olive oil and sea salt, and roast them in a hot oven. You can also serve them with your favorite dipping sauce, such as ranch or blue cheese.
Follow this easy recipe, and learn how to make the best-baked potatoes with crispy skin and fluffy inside.
Ingredients Needed:
This delicious side dish requires only 3 ingredients! You will need:
Potatoes: I usually go with large potatoes such as Russet potatoes or Idaho potatoes. However, feel free to use your favorite type. Anything from small potatoes, red potatoes, to Yellow spuds, would work.
Olive oil: A bit of olive oil to rub the skin and make it crispy.
Kosher salt and pepper
Sour cream, shredded cheddar cheese, bacon, and green onion: To garnish.
How to bake potatoes in the oven?
Clean the spuds: Start by washing and drying the potatoes. It is very important to pat them dry using a kitchen towel.
Preheat oven: Then, preheat the oven to 425 degrees F.
Poke them: After that, use a fork to poke them a few times. I usually poke three times on one side and three on the other side.
Rub oil: Next, rub olive oil over them. You can use a baking brush as well.
Season: Sprinkle with some sea salt or Kosher salt and black pepper on all sides.
Roast: Place the potatoes on a baking sheet and bake them for about 45-50 minutes. Please note, the cooking time will vary on how large they are. If using extra-large potatoes, give them additional 5-10 minutes to bake. Make sure you flip them on the other side mid-baking. They should be tender inside if you poke a fork into them.
Garnish: Once baked, top them with sour cream, bacon bits, and shredded cheese.
What are the best potatoes for baking?
As a general rule, you want to use starchy potatoes when baking. The best ones for baking would be Yukon Gold and Russet, as they have the most starch in them.
What's the best temperature to bake crispy skin potatoes?
The secret to crispy potatoes in the oven is to coat them with olive oil and bake at a higher temperature. For this recipe, I suggest you bake them at 425 degrees F for about 45-50 minutes.
But note, the exact baking time will depend on the size of the potatoes. Also, each oven is different. Larger potatoes might require an extra 5 minutes of cooking. But the end result should be the same – they should be tender inside if you poke a fork into them.
Do you poke them before baking?
Usually, I do poke the potatoes when baking. The main purpose behind piercing them with a fork is to let the steam escape and prevent the spuds from cracking when baking.
I try to not poke them from time to time because I believe this way the skin becomes even crispier. However, if you feel concerned, feel free to pierce them before cooking.
How to make perfect baked potatoes in the Slow Cooker?
Making this dish in the slow cooker is a great alternative to the traditional oven method. If you decide to use the slow cooker, please follow the recipe in the Slow Cooker Baked Potatoes post.
Is it better to bake them in foil?
This is totally up to you. However, when I want extra crispy skin, I roast them without aluminum foil. When wrapping them in foil, you preserve the steam inside, making them also soft on the outside. For this reason, I tend to bake them without foil.
What should the internal temperature of a baked potato be?
According to the Idaho Potato Commission, the internal temperature should be at 210 degrees F. Use an instant-read thermometer to check the temperature.
What is the most nutritious part of a potato?
I always recommend using organic potatoes when cooking, since they contain way fewer chemicals, and are safe to eat with skin-on.
That being said, potato skin contains significant nutrients. Similarly, the flesh is healthy and has good nutrients. They are a rich source of fiber, iron, vitamin C, and vitamin B-6, but to get the most nutrients you'll need to eat the whole potato.
How much fiber is in a potato without skin?
The potato skins contain a good amount of fiber. However, if you are not a fan of eating the skin, you will still get plenty of fiber. According to the U.S. Department of Agriculture, a 1-cup serving of potatoes without the skin contains about 3.2 grams of dietary fiber, slightly more than half the fiber you'd receive from a large baked potato with the skin intact.
Best topping suggestions:
Sour cream
Bacon bits
Chopped green onions
Chives
Cheddar cheese
Chopped jalapeno peppers
What to serve with this side dish?
For a full dinner meal, pair them with:
How to store and freeze leftovers?
To refrigerate: First, let them completely cool down at room temperature. Then, transfer leftover potatoes to an airtight container and refrigerate them for up to 3 days.
To freeze: All you have to do is to cover each potato with plastic wrap and put them in the freezer. Within a few hours, the spuds will be frozen. You can store it in the freezer for up to 3 months.
Reheat them in the microwave for a few minutes. Alternatively, pop them in a preheated oven at 375 degrees F for 10 minutes until warm.
More delicious side dishes to try:
Recipe tips:
As stated above, try using organic potatoes, especially when baking them with skin-on.
Before baking them, rinse and scrub the potatoes of any dirt. Similarly, make sure to dry them before coating them with olive oil.
Watch them closely after about 30 minutes of baking. For best results, flip them once or twice during the baking process, to ensure even cooking.
Ensure that the oven temperature reaches the desired cooking temperature prior to popping them into the oven.
In addition, use an oven mitt to get the baking dish out of the oven.
Sprinkling them with sea salt is optional, but delicious. If you are watching your sodium intake, you can skip this step.
Also, for deeper flavor, you can sprinkle some dried herbs or fresh herbs on them. Some great suggestions would be Italian seasoning, ranch seasoning, or cajun seasoning.
If you are short on time, try making Instant Pot Roasted Potatoes.
Also, you can cook them in a casserole dish, or in a baking sheet covered with parchment paper, or simply on an oven rack.