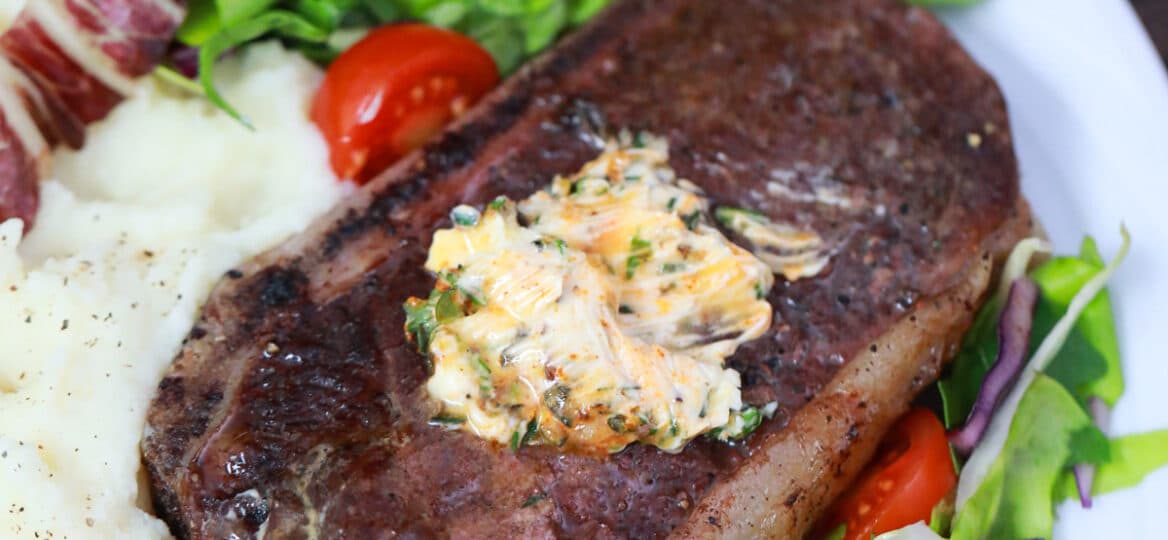 Air Fryer Ribeye Steak [Video]
Air Fryer Ribeye Steak is air-fried until extremely juicy with a terrific crust, then smothered all over with homemade herb-garlic butter. This is a restaurant-quality you can make in minutes at home!
Complete your steak dinner with the perfect homemade sauce. Serve it with this fantastic Chimichurri, Horseradish Sauce, or BBQ sauce from scratch!
Air Fried Steak Recipe
Air Fryer Ribeye Steak surprised us with how good it is! We know what you're thinking— steak? In the air fryer? It sounds strange, but just trust us on this one! This method works because the air fryer is capable of getting very hot, which is how we're able to develop a nice crust without overcooking the meat.
The important thing is, to begin with, high-quality ribeye steaks. We're keeping it simple because we want the meat to really shine. Right at the end, we're flavoring it with a quick homemade garlic butter infused with herbs and a dash of paprika. Enjoy!
Will cooking ribeye steak turn out good in the air fryer?
Yes, again because the air fryer heats up very well, and is able to reach temps of up to 400F and more. We need that for cooking steak because the intense heat cooks the outside while the inside warms up without getting overcooked.
Another reason is that the air fryer won't heat up your home, which is perfect when you're craving some great meat but it's too hot to fire up the grill or turn on the oven!
Ingredients needed:
Steak: Get a couple of good quality rib-eyes, about an inch thick.
Flavored butter: For our homemade seasoning, prep some butter (softened), some minced fresh garlic along fresh herbs (finely diced oregano, parsley, thyme, and rosemary) plus paprika.
How should I season my air-fried ribeye steak?
Rub with olive oil first, then salt and pepper to your liking. As for when to season the meat, here are some nice tips from Serious Eats! For best flavor and texture, either do it 40 minutes overnight before cooking or immediately before you cook it.
How to make the best homemade and juicy Air Fryer Ribeye Steak
Make the seasoned butter. Blend the soft butter with the herbs, fresh garlic, and spices, then chill after shaping it into a log-shape.

Season meat. Rub all over with olive oil, then salt plus pepper.
Air fry. Cook in your preheated 400F air fryer for 12 mins., flipping halfway for medium. Take out the meat, rest for 10 mins., then spread your seasoned butter all over it.
Serve. Enjoy immediately with your favorite sides!
Recipe variations and substitutions:
Other cuts: We love rib-eyes, but equally great cuts (which are generally cheaper, too) are flat iron or top blade, shoulder tender, boneless chuck short rib, New York strip, and tri-tip sirloin.
Grill: Turn your grill to 450F, and give the meat a good sear for each side. Follow our recommended cook times for doneness. Check this recipe out for more detailed instructions!
Stovetop: Use a skillet or cast-iron, get it smoking hot, and follow our suggested cook times. Or, you can use our pan-seared recipe!
Frequently Asked Questions
How long do you air-fry ribeye steaks?
Rare: 7 to 10 mins., flipping halfway.
Medium rare: 10 mins., flipping halfway.
Medium: 12 mins., flipping halfway.
Well done: 12 -15 mins. depending on the size of your meat, then flip halfway.
What to serve with homemade air-fried Ribeye Steak?
Air-fried steaks are PERFECT with the following sides:
Eggs (for a hearty and protein-packed breakfast!)
Fries, mashed potatoes, wedges, or crispy potatoes
Soups such as mushroom soup and pumpkin soup
Your favorite salads (a homemade Caesar salad is always a good option!)
Also delicious with creamy alfredo, Aglio olio, and other pasta dishes
Feeling fancy? Turn it into a turf-and-surf meal with lobsters or shrimp! If you've got time, try making some fondant potatoes or duchess potatoes for that wow factor!
More beef recipes to try:
Storing instructions:
Steak is always best when freshly cooked, but if you use a tender and well-marbled cut, it won't be too tough when you reheat it. Place any leftovers into a sealed container (make sure the meat is completely cool), then chill for up to two days.
To reheat, let it come to room temperature first. Then, give it a quick sear on a lightly-oiled skillet and enjoy.
Deliciousness to your inbox
Enjoy weekly hand picked recipes and recommendations