Grilled Steak and Marinade [Video]
Grilled Steak is tender and juicy on the inside but nicely charred on the outside. Learn how to craft this perfect weekend entree with this easy recipe!
It pairs well with vegetables and fruits for some added fiber like my other recipes. Check out my easy salad recipes for Mediterranean Couscous Salad, Creamy Cucumber Tomato Salad, and Fruit Salad with Honey Lime Dressing!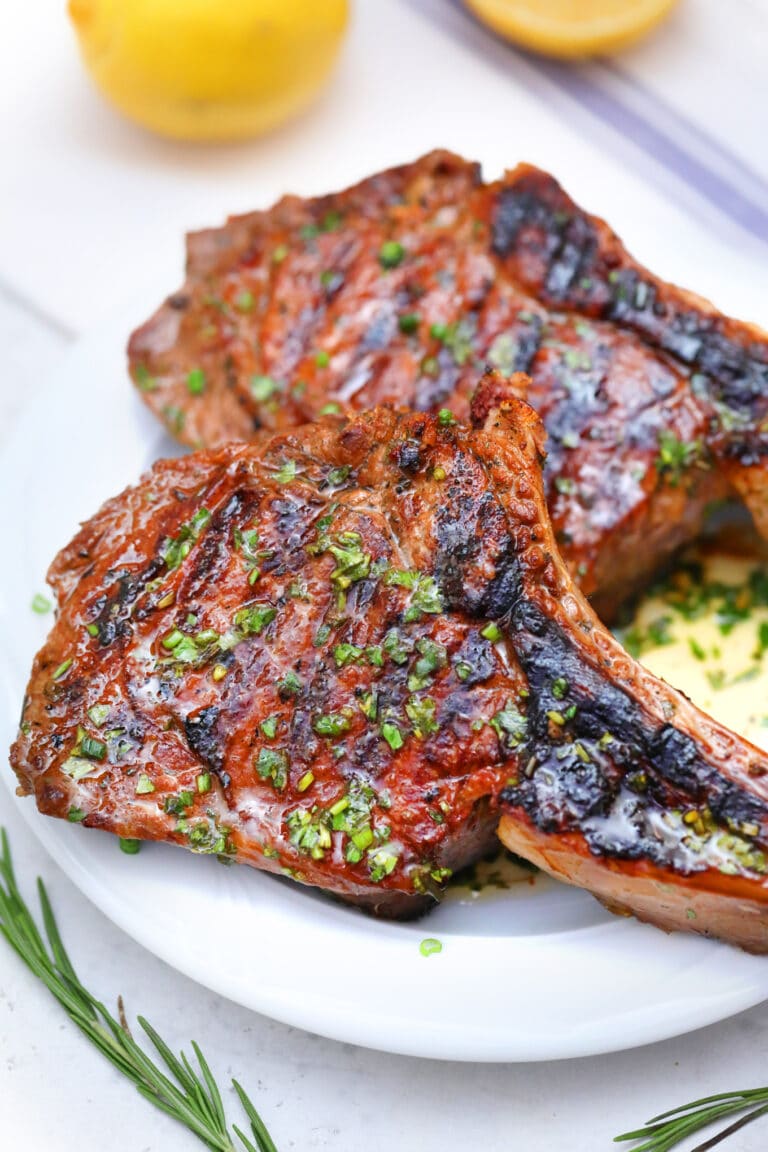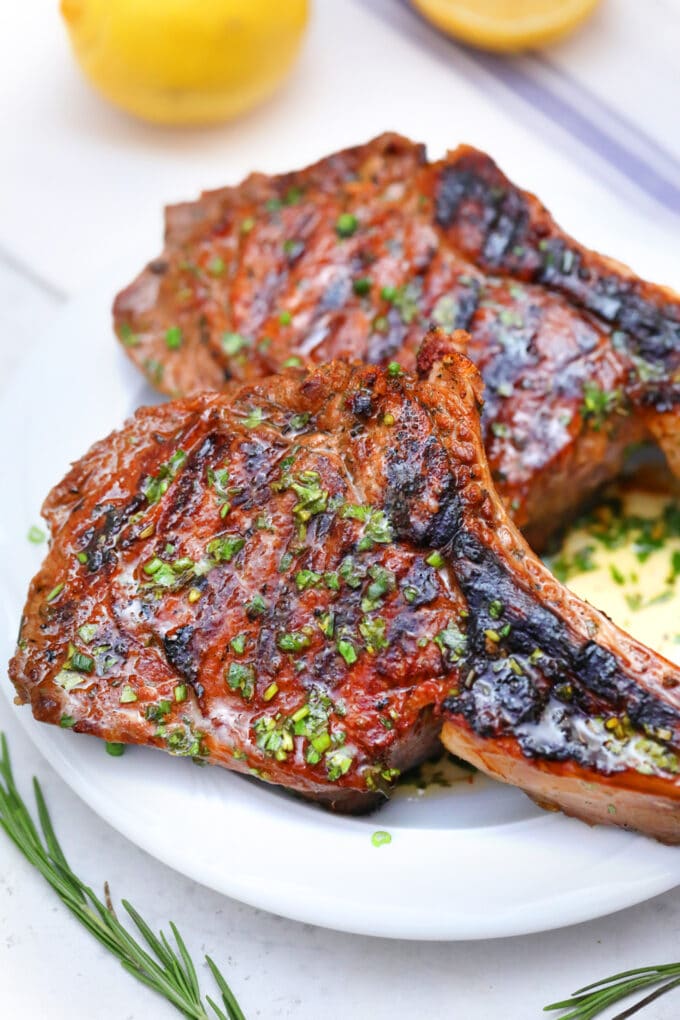 Grilled Steak Marinade and How To Cook
Grilled Steak is something I prepare during a weeknight and cook on the weekend – be it with an occasion or not. It just feels so good to be eating restaurant-quality dishes at home!
And yes, you can do it, too! Grilling meat is not at all rocket science. Yes, it could be difficult to achieve that all-time favorite medium-rare steak you have always craved for. But it is not impossible either especially with this recipe!
What if I told you that I have the best steak marinade recipe? Go ahead and grab some rib-eye steaks now to try it out!
What is a good steak marinade?
It contains all of these necessary ingredients in order to yield a well-flavored beef:
Sodium: It flavors the meat and draws out moisture which then results in a good charred surface when grilling. You can choose from medium-grain kosher salt or sea salt. In this recipe, I use Worcestershire sauce.
Herbs and spices: Pack a lot of flavors by including herbs and spices in the marinade. You can mix your own depending on your preference but for this recipe, I use fresh rosemary, fresh oregano, parsley, garlic powder, chili powder, and pepper.
Acid: I use a combination of lemon juice and pineapple juice. Some say that acid helps tenderize the meat, but for me, they just taste awesome!
Oil: I add olive oil in this recipe as it helps with the flavor as well as with the drawing out of the flavors from the herbs.
Sugar: The honey serves as the source of sugar in this marinade recipe. Adding it results to a caramelized charred surface. It also provides balance to the saltiness and sourness of the marinade.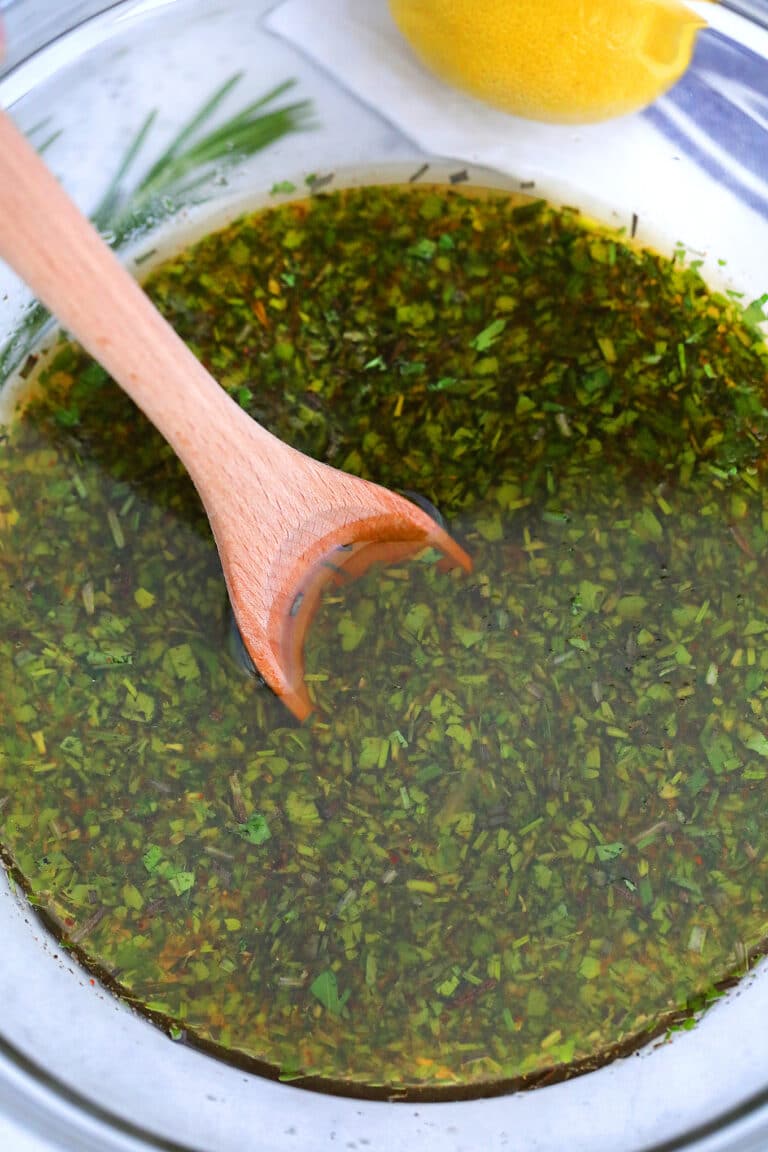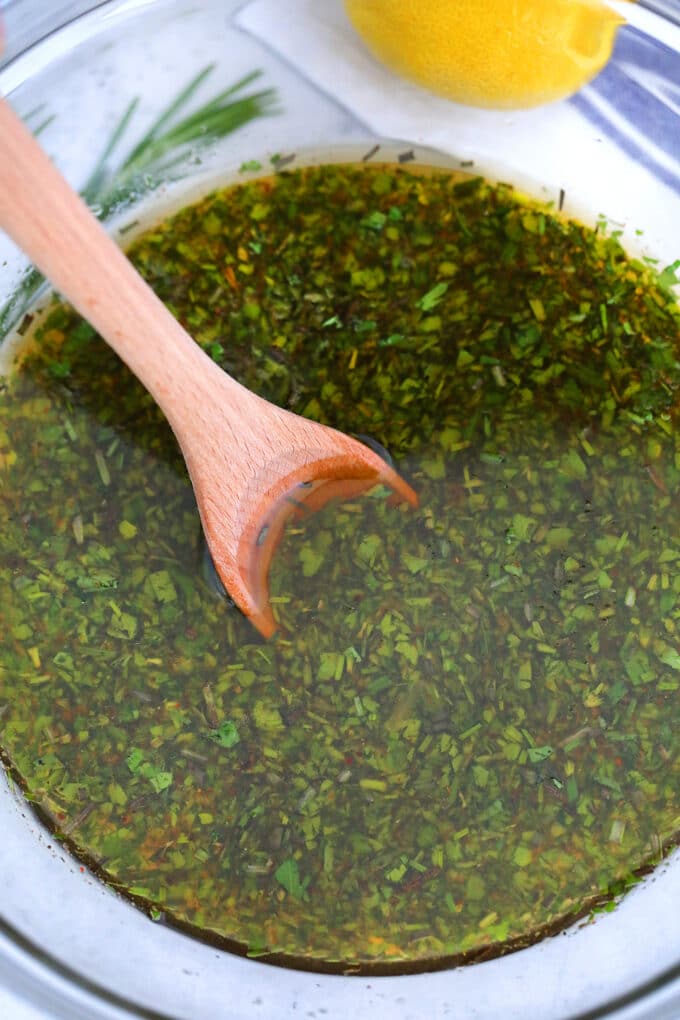 How do you make steak marinade?
Simply mix well all the listed ingredients in the below recipe in a bowl.
How to marinate steak:
Just dunk the meat in a zip lock bag (or a bowl will do) along with the marinade and make sure that the meat is sufficiently in contact with the liquid.
Squeeze out some air and refrigerate for some time before cooking. From time to time, flip the beef in order to expose the meat to the marinade.
How long to marinate steak:
This is highly subjective depending on the type of beef you are going to cook. Marinate tenderloin and other tender cuts for 15 minutes to one hour. Meanwhile, marinate tougher cuts for 6 to 24 hours.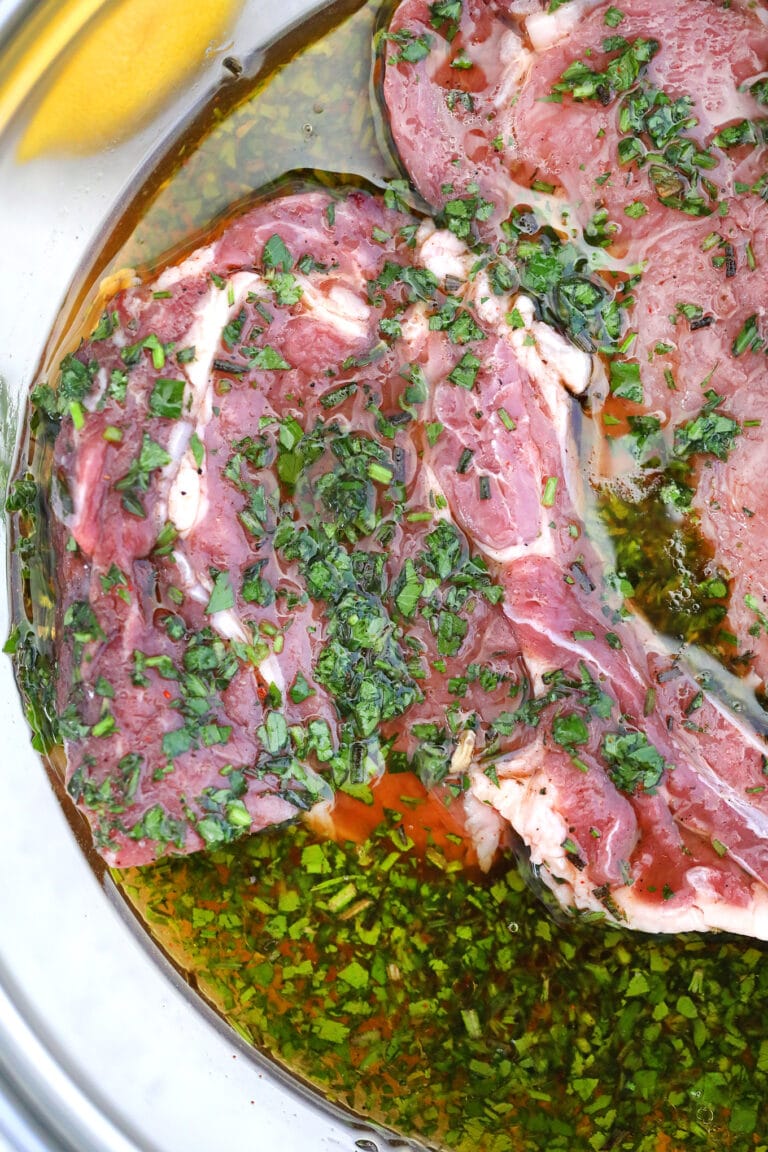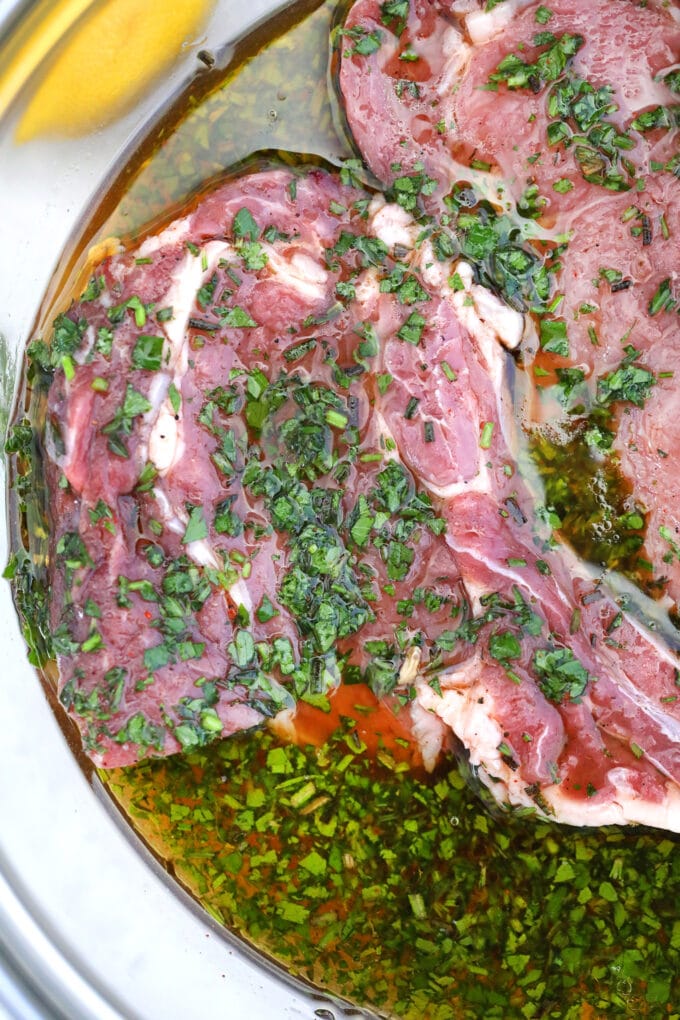 How to choose a good steak?
There really is no hard rule in choosing a good cut of meat. As a rule of thumb, tender cuts will be easier to cook without the need for tenderizers. For this recipe, I use rib-eye as it is flavorful.
However, meat with good marbling is desirable as the fat can prevent the meat from drying out.
Also, consider the thickness – thick ones will have juicier meat in the middle as the outer surfaces char first before the heat penetrates and cooks the center.
How to cook steak on the grill:
Prep the meat: After marinating, take it out of the refrigerator and let it sit in the counter to adjust its temperature to room temperature.
Ready the grill: Heat up the outdoor grill to the highest temperature possible such that the coals turn red. Oil the grates.
Cook until done: Place it on the hot grill and let it cook to your desired doneness. Flip once to cook the other side. If you want it medium-rare, check the internal temperature and it must be at least 130 degrees. Take it off the grill once done.
Let it rest: After removing from heat, then, it must be allowed to rest in order for the flavors to be incorporated. Slice the meat into slices of desired thickness, and then, serve!
How to cook steak on the stove:
You can cook it on the stove by using a cast-iron pan. Note that this pan-searing technique works well with thinner boneless cuts.
Simply follow the above-mentioned steps, the only difference is that you will be cooking on a pan.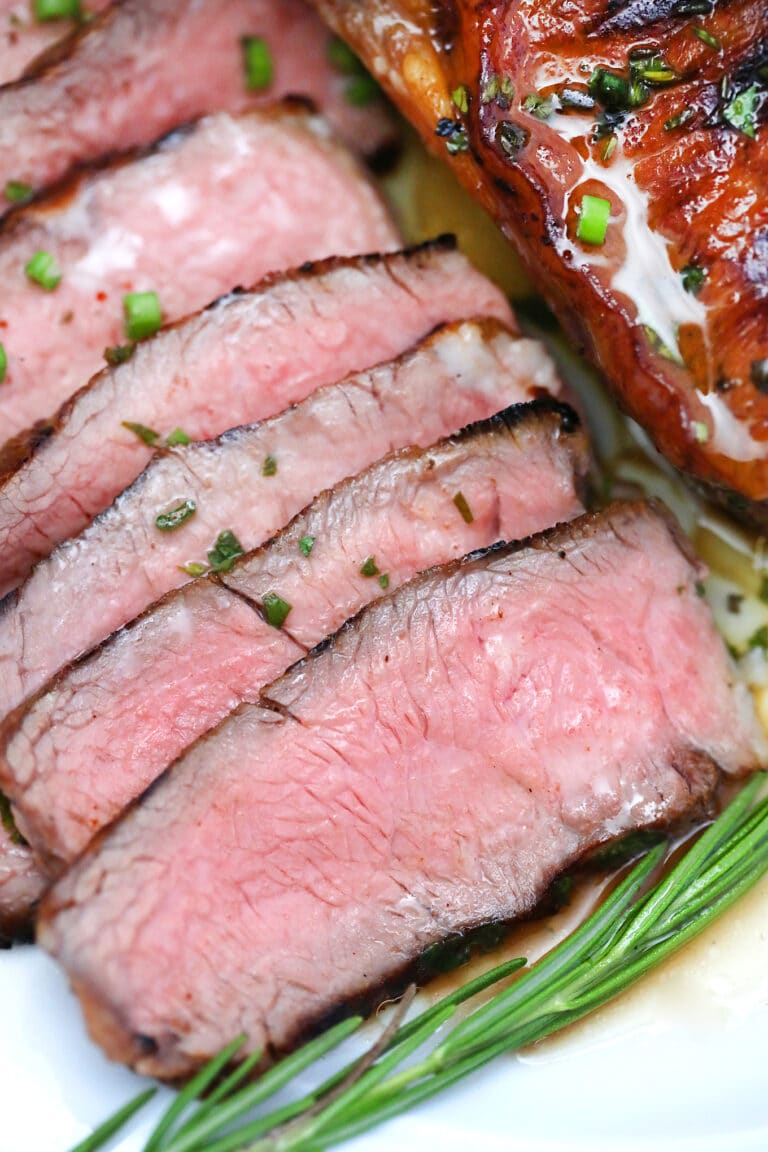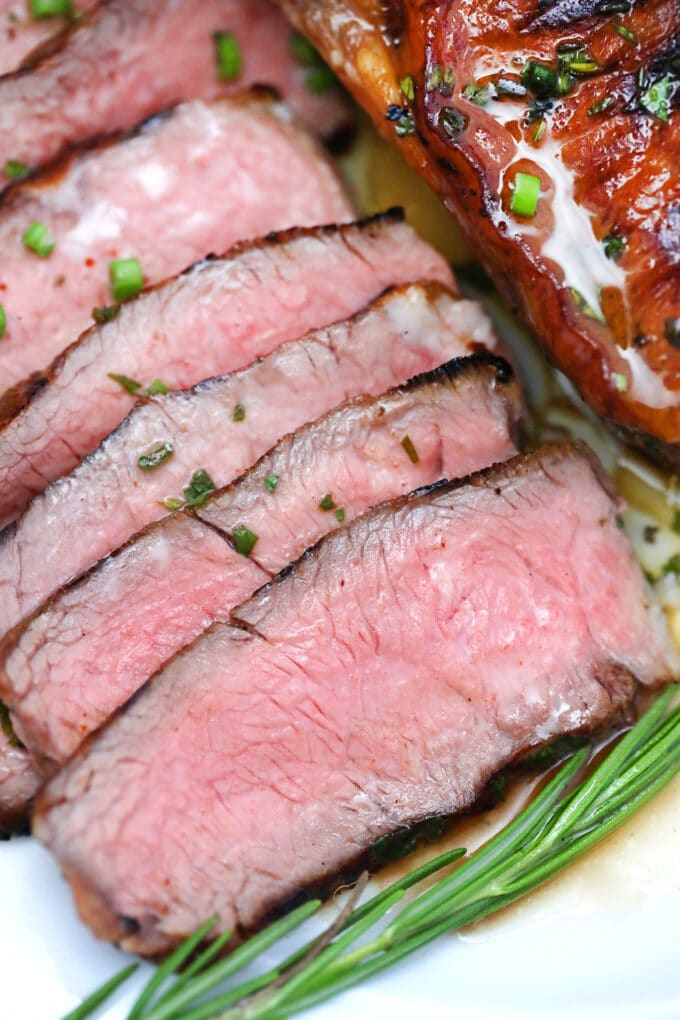 Cooking steak variations
I love my steak medium-rare. But if you have a different preference, then, use this guide in determining the internal temperature required:
Rare: less than 130 degrees
Medium-rare: 130 degrees
Medium: 135 degrees
Medium-well: 150 degrees
Well: 160 degrees
During the resting period, it continues to cook. So, using the thermometer, measure the internal temperature and check if you can proceed with the preparation. Keep in mind that the temperature for Rare, Medium-rare and Medium done steaks are below the official USDA Cooking Meat temperatures.
How to store:
You can store leftovers in the fridge for three days. But wrap each slice with freezer paper first and put in freezer bags. Lay them in a single layer in the fridge. You can also freeze the slices of meat in individual freezer bags for about 2 to 3 months.
To reheat, put the pieces in a baking tray and heat up in the oven preheated to 250 degrees. You can also pan-sear it in butter.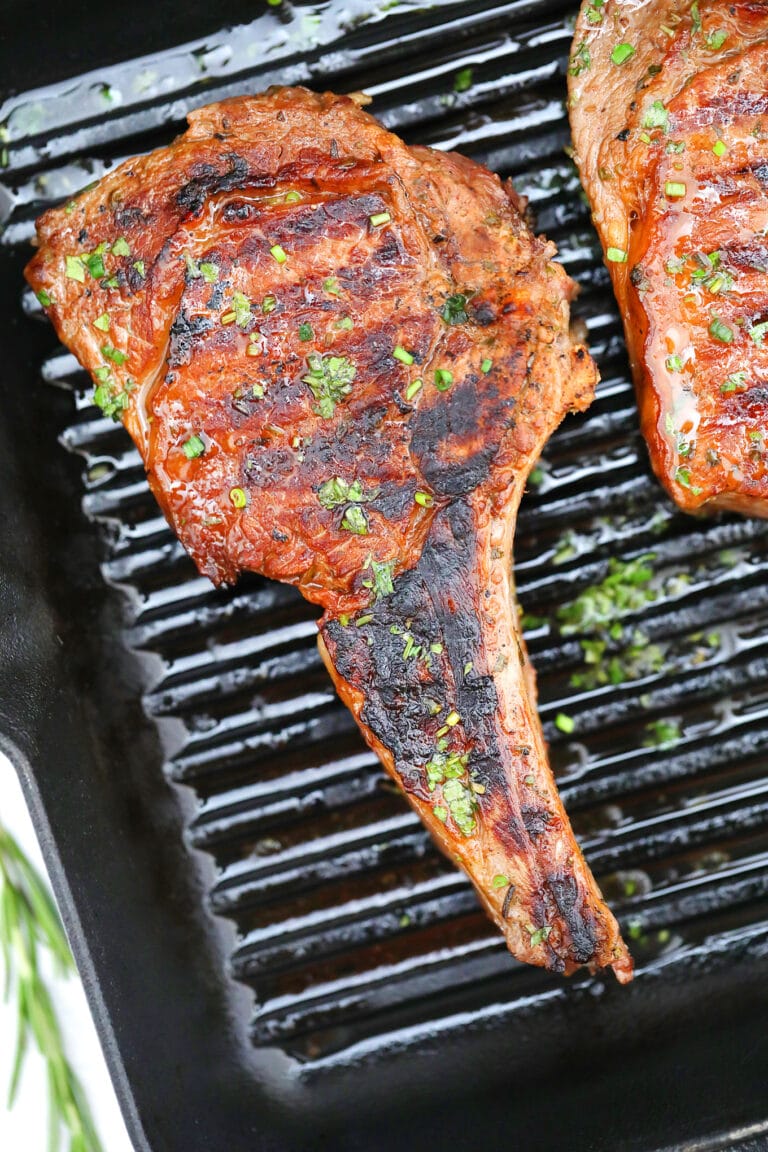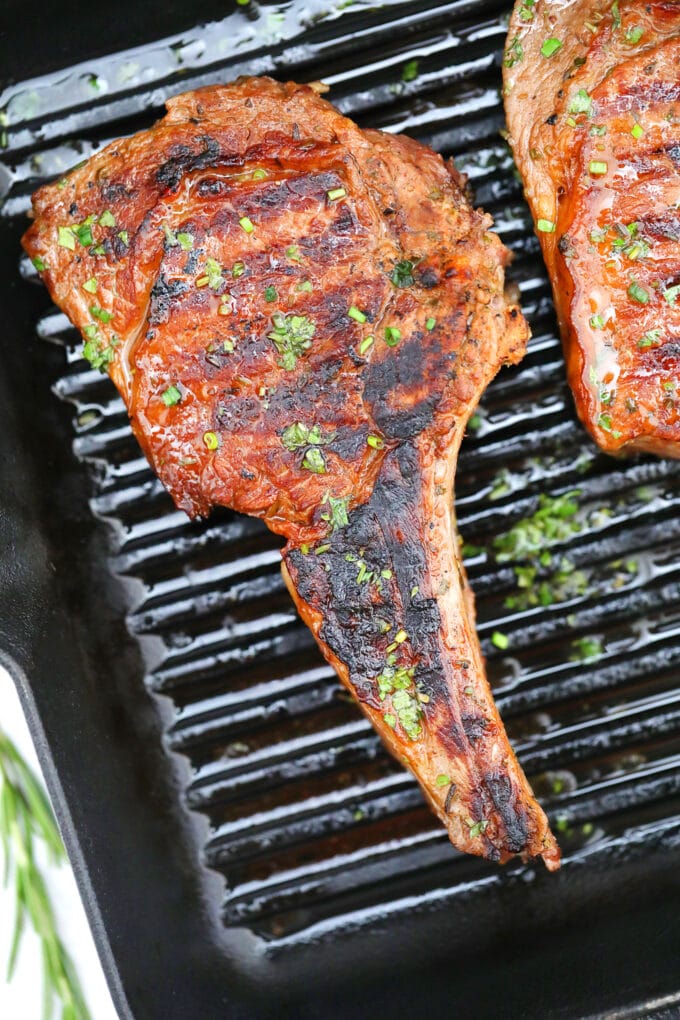 Recipe Tips:
Always measure the internal temperature of the meat by inserting the thermometer from the side, not from the top surface.

While grilling, you can baste the meat with the marinade. But never use the same marinade that you marinated the raw beef in as a sauce.

You can serve

chimichurri sauce

alongside the grilled steak. This sauce pairs well with this dish.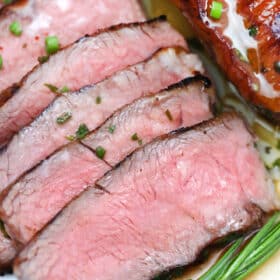 Grilled Steak and Herb Marinade
Grilled Steak is tender and juicy on the inside but nicely charred on the outside. Learn how to craft this perfect weekend entree with this easy recipe!
Save
Share
Print
Pin
Rate
Ingredients
4 8-

ounce

steaks

(I used Rib-Eye)
Herb Marinade:
1/4

cup

lemon juice

1/3

cup

pineapple juice

1/4

cup

olive oil

1

tablespoon

Worcestershire sauce

2

tablespoons

honey

1

tablespoon

fresh rosemary

(chopped)

1

tablespoon

fresh oregano

1/4

teaspoon

chili powder

1

teaspoon

garlic powder

2

tablespoons

parsley

(chopped)

salt and pepper
Instructions
In a large bowl whisk together all the MARINADE ingredients.

Add the steaks and marinade, either in a large ziplock bag or in the bowl, tossing the steaks a few times to coat. If using a ziplock bag, press the excess air out and seal the bag. Chill for at least 30 minutes to a few hours.

Preheat the grill to medium-high and lightly rub it with some olive oil. You can also use a grilled pan, over medium-high heat.

Use tongs to transfer steaks onto the preheated grill. Cook until desired doneness is reached, use a meat thermometer to check the temperature: for RARE less than 130 degrees, for MEDIUM-RARE 130 degrees, for MEDIUM 135 degrees, for MEDIUM-WELL 150 degrees and for WELL-DONE 160 degrees.

Allow steaks to rest for 5 minutes before serving. Garnish with fresh green onions and butter if desired.
Nutrition
Calories:
352
kcal
|
Carbohydrates:
14
g
|
Protein:
17
g
|
Fat:
25
g
|
Saturated Fat:
7
g
|
Cholesterol:
51
mg
|
Sodium:
91
mg
|
Potassium:
338
mg
|
Fiber:
0
g
|
Sugar:
11
g
|
Vitamin A:
255
IU
|
Vitamin C:
11.1
mg
|
Calcium:
36
mg
|
Iron:
2.4
mg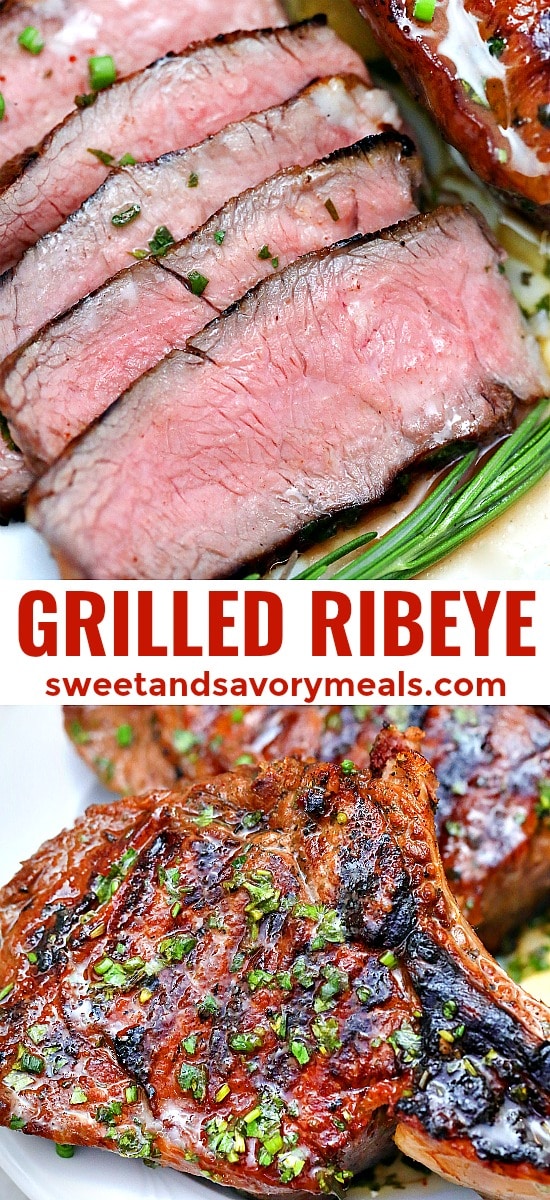 More recipes you might love