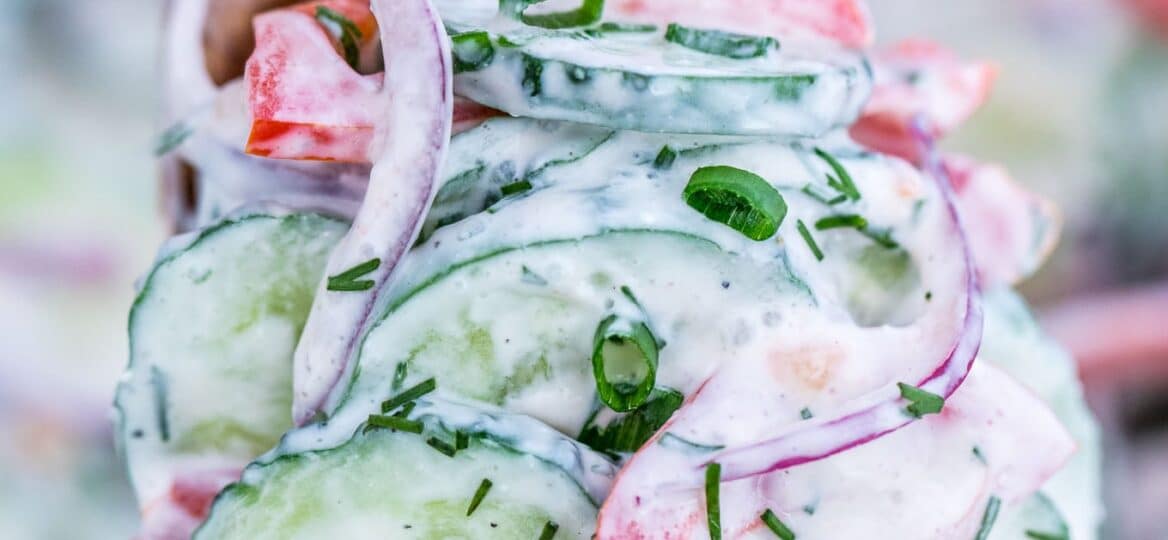 Creamy Cucumber Tomato Salad Recipe [video]
This Creamy Cucumber Tomato Salad is an easy recipe that is fresh, light, and very healthy. An appetizer that is ideal to start any meal for family or guests!
We love combining this dish with Grilled Pork Chops, Grilled Chicken Breasts, or Slow Cooker Kalua Pork. It is refreshing, and pairs well with pretty much any meats.
Easy Cucumber Tomato Salad
Creamy cucumber tomato salad is a staple side dish for our family gatherings. My grandmother loves serving this every time we visit her house during the summer. She always says that fresh ingredients make the best dishes. Crispy cucumbers are her favorite pick during this season.
She likes to pair it with red, juicy tomatoes and a bit of fresh onion. I remember watching her prepare the dressing for the salad and how delicious it always turned out. Therefore, I followed her advice and turned it into this delicious recipe.
It is made of sour cream, Greek yogurt, and lemon juice. This light, creamy dressing perfectly blends with the fresh cucumbers and tomatoes. In addition, this recipe is very simple and easy to make. If you do not like tomatoes, you can follow our simple creamy cucumber salad recipe.
What are the health benefits of a tomato?
Tomatoes are great sources of antioxidants and vitamins. It contains Vitamins C, K1, B9, and potassium. Also, they have a high concentration of the antioxidant lycopene. It is good for the heart and may lower risks for some types of cancer.
What are some nutrition facts of cucumber?
Cucumbers are known to have low-calorie content. A cup of raw, peeled cucumber only has 16 calories. It is also very low in carbohydrates, fat, and sodium.
They are made up of 95 percent water. It promotes both hydration and weight loss. It is also a good source of Vitamin K, giving 11 percent of the daily recommended intake.
How do you make cucumber tomato salad?
This delicious dish can be prepared in less than 10 minutes. Also, feel free to watch the recipe short video tutorial attached.
Start by preparing the dressing. Combine and stir together the ingredients: sour cream, Greek yogurt, lemon juice, and garlic. Add salt and pepper to taste. Set aside in a bowl.
Then, slice cucumbers, tomatoes, and onions into thin slices. Place in a large bowl.
Add the dressing and mix slowly. Garnish with dills and green onions.
Refrigerate to keep it fresh.
How to avoid bitter cucumbers?
The key to avoiding bitter cucumbers is to take note of their variety. Jazzer and Holland types do not have a bitter taste in general. If these varieties are not available, just peel the bitter skin out of them. Also, it is best to cut both ends by an inch before peeling.
How many calories in a cucumber tomato salad?
A cup of this salad contains about 109 calories. Cucumbers and tomatoes only have 7 and 20 calories, respectively. The dressing mix makes up for the remaining calories.
What is the best dressing for it?
The best dressing for this salad depends on your taste and preference. Some people use mayonnaise or olive oil. Many prefer it light and creamy. We recommend using sour cream and Greek yogurt. We also like to add lemon juice or a bit of vinegar in the mix.
What do you serve cucumber tomato salad with?
This salad is a perfect appetizer or side dish for any meal. Also, it is best paired with fish or meats, such as grilled chicken or pork. However, you can definitely enjoy it as a light snack at any time of the day.
How do you store the salad?
This salad is best eaten fresh. However, it can last for about 5 days if properly stored in the refrigerator. Simply, store it in any container that is air-tight. Make sure to place it in the fridge right away.
More healthy salads:
Recipe Tips
For a lighter version of this dish, you can replace sour cream with unsweetened Greek yogurt.
Also, for the best flavor, ensure to mix the dressing well and properly coat all the ingredients.
It is best to chill the salad for about 2-3 hours before serving.
Make sure that the bowl is tightly wrapped to avoid liquid from filling in.
To make this recipe with onions, simply chop some onions into it, and mix with the rest of the ingredients.
In addition, it can be made with vinegar. Just add a little vinegar at the end, and mix well.
Deliciousness to your inbox
Enjoy weekly hand picked recipes and recommendations