Mozzarella Arugula Salad with Black Olives
This post may contain affiliate links. Please read my disclosure policy.
Fresh and easy Mozzarella Arugula Salad, topped with juicy tomatoes, fragrant black olives and sweet balsamic reduction.
And hello, I am here to brighten your day with a glorious and healthy (yes, healthy, I don't eat only cake and drink caramel sauce) Pearl Mozzarella Arugula Salad that is colorful, delicious and perfect with a glass of wine!

Mmmmm yes! Look at it, I am ready to hug it and kiss it, its just so good!
Sunday, when I was cooking a feast which seemed for an entire wedding, but it was actually only for us, my husband kindly offered to fix me a salad, you know, power energy so I can finish cooking up the rest of the food and dessert. And OMG he made us this fresh and super delicious summery mozzarella arugula salad, which features juicy and beefy tomatoes from the farmer's market, little pearls of mozzarella, regal LARGE black olives that we brought from Europe, all on a bed of peppery arugula!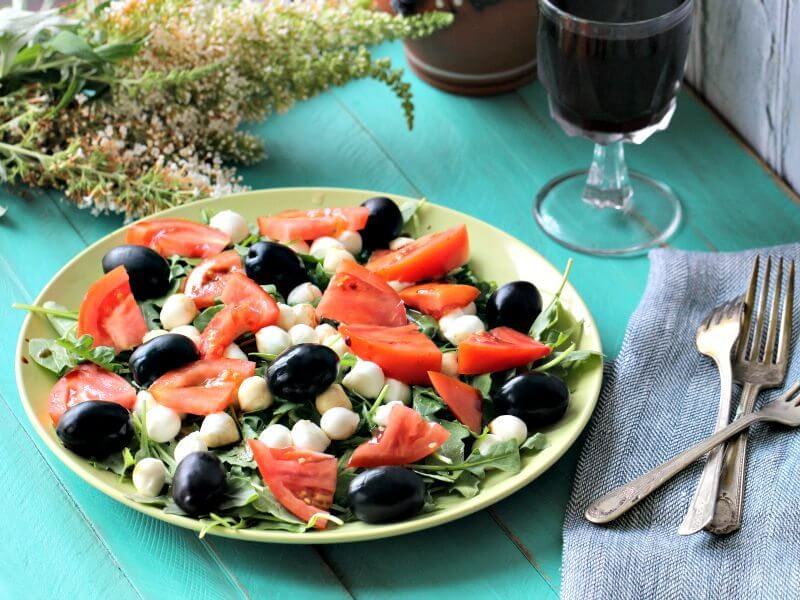 And I needed a salad in my life. Can we all have a moment of silence and just make this really sink in: "I need to eat more salads, not followed by cake". Maybe if I put it in writing it will actually happen? I hope so. I have the "food blogger syndrome" that happens when you have a food blog (duh) and eat too much of what you make, your clothes stop fitting you, so its harder to do fashion posts, and you have to do more food posts, you see its a vice circle?!! And we have to go to Paris in October and  I want to fit in my dress. EAT MORE SALAD! Excuse my desperate rant!

MY LATEST VIDEOS
Now back to the Mozzarella Arugula Salad……He drizzled a little organic cold press olive oil and some balsamic reduction and this salad was perfection. The flavor were to die for, fresh and delicious. The texture is out of this world, the chewy arugula, soft mozzarella and juicy tomatoes. The olives are the cherry on the cake, they are fragrant and have a rich, beautiful aroma!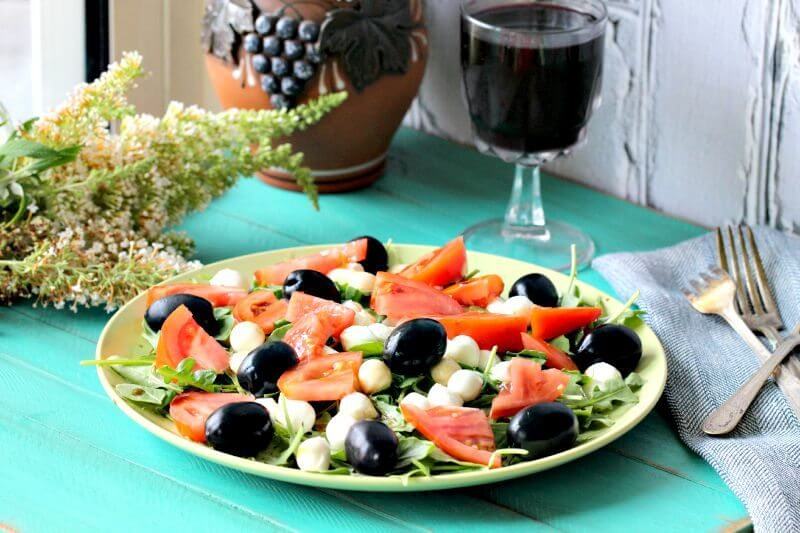 We hit the salad jackpot, and can he served it with homemade wine from my parents, oh man, this is a lunch I can get used to!
The wine, don't forget the wine!!!!

Mozzarella and Arugula Salad with Tomatoes & Black Olives
Fresh and easy mozzarella and arugula salad, topped with juicy tomatoes, fragrant olives and sweet balsamic reduction.
Author:
Katalina Kastravet
Ingredients
3 cups arugula
1 cup pearl mozzarella
1 large (huge) tomato
½ cup large black olives
extra virgin organic cold pressed olive oil
balsamic reduction
salt and pepper
Instructions
Using a good sharp knife slice the tomatoes and set aside.
Lay arugula on the bottom of a salad plate and top with tomatoes, mozzarella and black olives.
Grind salt and pepper on top, drizzle with olive oil and balsamic reduction
Peas and Peonies, LLC. owns the copyright on all images and text and does not allow for its original recipes and pictures to be reproduced anywhere other than at this site unless authorization is given. If you enjoyed the recipe and would like to publish it on your own site, please re-write it in your own words, and link back to my site and recipe page. Copying and/or pasting full recipes to social media or personal blogs is strictly prohibited. Sharing this recipe is very much appreciated and encouraged. Read my disclosure and privacy policy. This post may contain affiliate links.