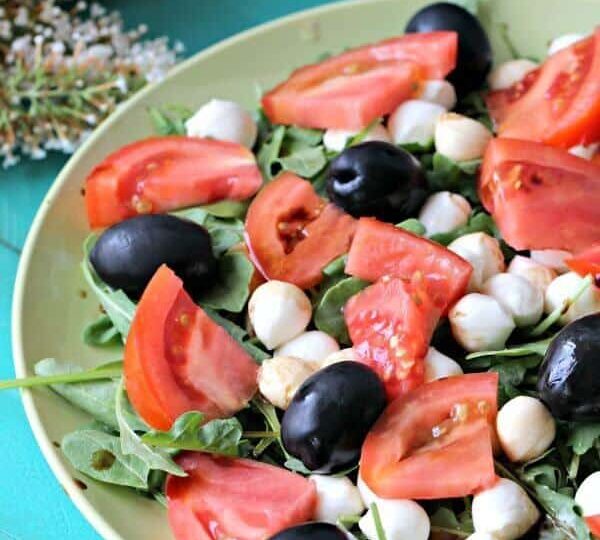 Mozzarella Arugula Salad is topped with juicy tomatoes, fragrant black olives and sweet balsamic reduction.
I love both Mozzarella and Arugula. So combining the two together in a salad was the best logical move to do. The salad is refreshing, full of vitamins and proteins. If you love a good salad, which is easy to make and taste delicious, I recommend checking the BLT Potato Salad and Garlic Kale Salad.
Mozzarella Arugula Salad
This Mozzarella Arugula Salad is healthy, colorful, delicious and refreshing. It features juicy and beefy tomatoes from the farmer's market, little pearls of mozzarella and regal large black olives. Then, they are mixed with fresh arugula. I drizzled a little of organic olive oil, and some balsamic reduction. As a result, the salad came out perfection.
The flavor is to die for since it's fresh and delicious. Also, the texture is out of this world, because the chewy arugula, soft mozzarella and juicy tomatoes just pair extremely well. Similarly, the olives are the cherry on the cake, since they are fragrant and add a rich, beautiful aroma.
Why you will enjoy this Mozzarella Arugula Salad
It is easy to make with minimal ingredients.
Also, it is healthy and rich in protein.
In addition, contains lots of vitamins from arugula.
Can be topped with various flavors, such as tuna, chicken, bacon.
Mozzarella Arugula Salad Recipe Tips:
Use pitted olives, or if you prefer whole olives they can be cut in advance and stored in the fridge.
Also, tomatoes can be sliced and kept in a container in the fridge as well.
Similarly, it's best to use organic or fresh farmed tomatoes, as the flavor will be best.
In addition, for even more protein, canned beans or chickpeas can be mixed in.
Extra veggies can be added to the salad, such as sliced fresh cucumbers, onions, grilled or raw zucchini or grilled mushrooms.