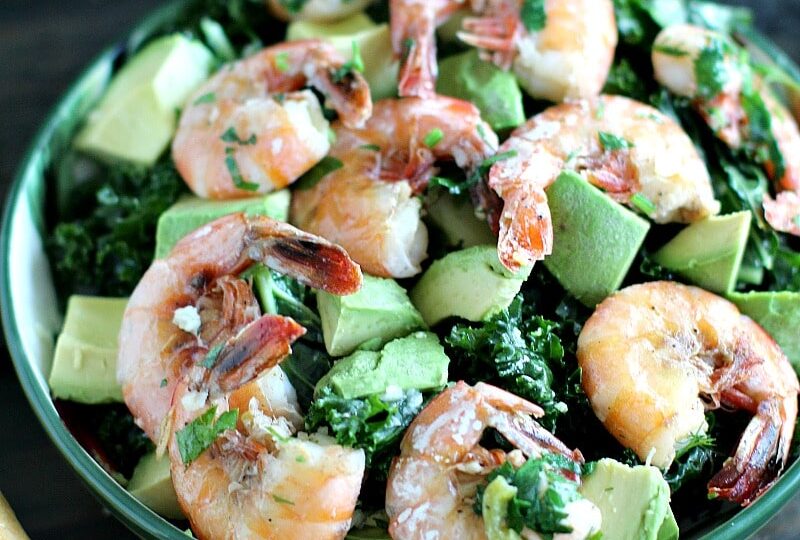 Garlic Kale Salad topped with garlicky shrimp cooked in Sauvignon Blanc and served with buttery avocado is the perfect summer meal.
Easy shrimp recipes are traditional in our house, they make the quickest and most delicious dinners. I also love Bacon Wrapped Shrimp, Instant Pot Shrimp Boil and PF Chang's Crispy Honey Shrimp Copycat, because they all take less than 30 minutes to make and are very tasty!
Garlic Kale Shrimp Salad
This Shrimp Garlic Kale Salad is absolutely delicious, filling, and hearty. In addition, it is very easy to make and its bursting with flavor. Starting with fresh kale that was massaged in oil, lemon juice and lots of minced garlic. The kale gets very tender and garlicky with a beautiful citrus aroma.
Add some wine into the mix and you have a beautiful meal! Sauvignon Blanc is a fresh, fruity wine dominated by tropical and citric fruit such as grapefruit, lime and lemon peel. The wine pairs well in the mix and with shrimp the combo is just perfect. Also, the shrimp has been cooked in a splash of delicious Sauvignon Blanc, spices, lots of fresh herbs and garlic. The Garlic kale Salad is topped with shrimp cooked to perfection. With buttery avocado and served with a glass of wine is how I want to eat all summer long!
Why cook shrimp with the shells on?
For this salad, I always use and recommend to use deveined shrimp but with shells on. The shells add a lot of flavor to them. Not that I expect you to eat them, but when left on for the cooking process, shrimp shells contribute a depth of flavor and perfectly soak the sauce. In addition, shrimp cooked in their shells have a plumper texture, and they don't seem to go from perfectly cooked to overcooked. But if you do choose to peel the shrimp before cooking, below you can find the easy steps to do so:
How to peel and devein shrimp?
First, start underneath, where their legs are attached.
Then, use a paring knife to devein by making a shallow slit down the middle of the back to expose the black strip intestine.
Next, gently remove the black strip of intestines and wipe it off on a paper towel.
In order to remove the shrimp tail, just squeeze the shrimp out from the tail segment, discard the tail.
Deliciousness to your inbox
Enjoy weekly hand picked recipes and recommendations