BLT Potato Salad Recipe [Video]
BLT Potato Salad is the perfect potluck recipe, creamy, tasty, loaded with flavors and textures. Expect tender potatoes, juicy tomatoes and lots of bacon. Also, check out the recipe step by step video below.
This delicious homemade salad is one of the best you can do with potatoes. It is rich, full and very flavorful. It goes well on its own, but you can also combine it with some oven barbecue ribs, fried chicken, or baked chicken parmesan.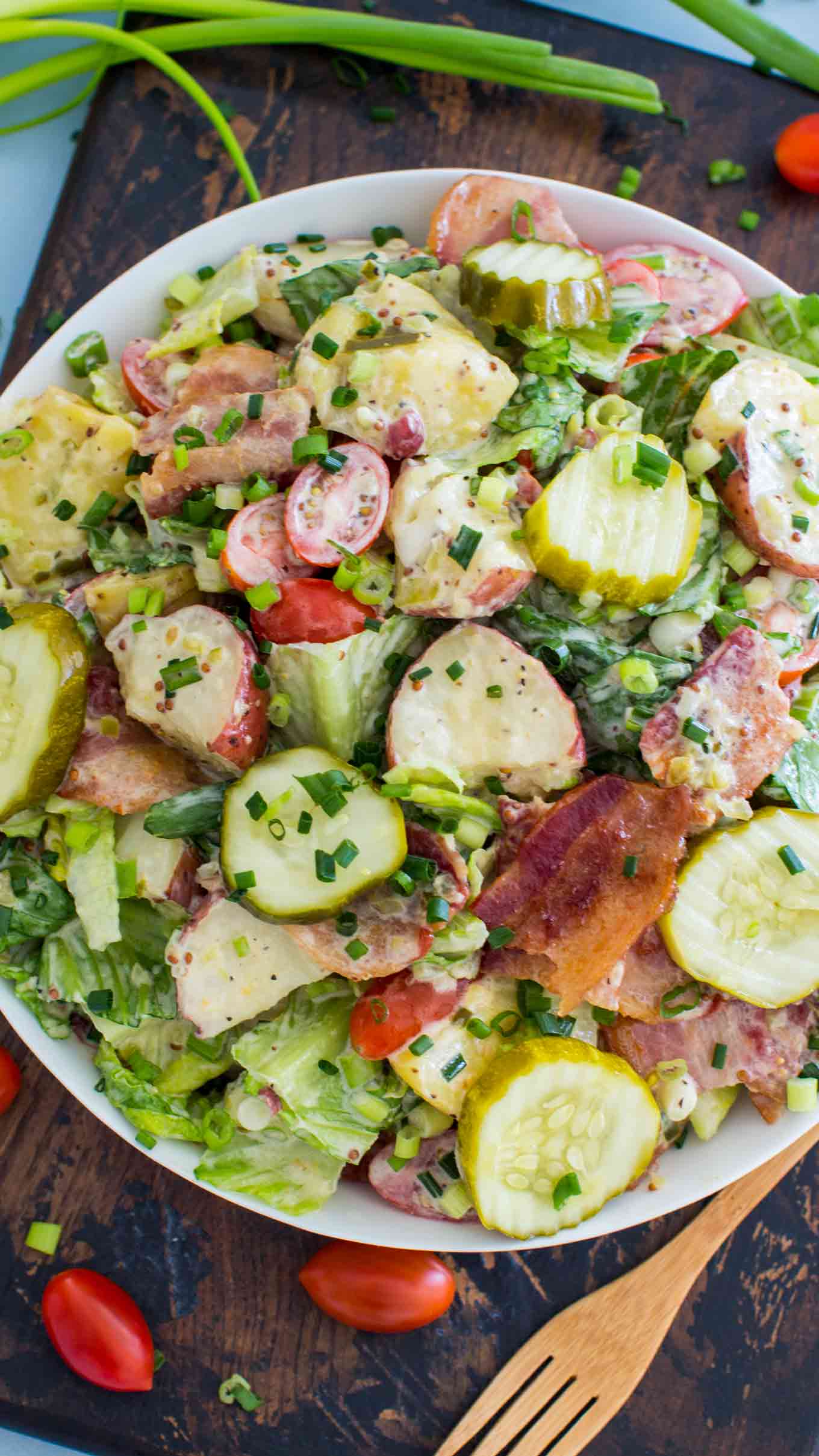 Easy BLT Potato Salad Recipe
This BLT Potato Salad has already made a few appearances this summer because it's just so good! What's not to love about it! The salad is rich and loaded! Think about buttery potatoes, crispy green lettuce, juicy tomatoes, lots of crunchy bacon. Then, all coated in a creamy and tangy dressing.
This BLT Potato Salad can be easily served as the main course because it's so hearty and tasty. Anytime I bring it to a picnic or potluck, it is a huge hit. I like that I can make it ahead of time and just toss it before serving. Its equally delicious served slightly warm or cold. You can make it vegetarian by skipping the bacon. Also, you can also make the dressing healthier by replacing the mayo with whole milk plain yogurt.
This Loaded Baked Potato Pasta Salad is another favorite, because hello cheddar cheese obsession! If you love bacon and potatoes as much as I do, this Tri-Color Bacon Feta Potato Salad is a must-try, you can totally use crumbled blue cheese instead of feta, try that and thank me later! I recently made these loaded Roasted Greek Potatoes and hands down I can eat that for dinner every single day!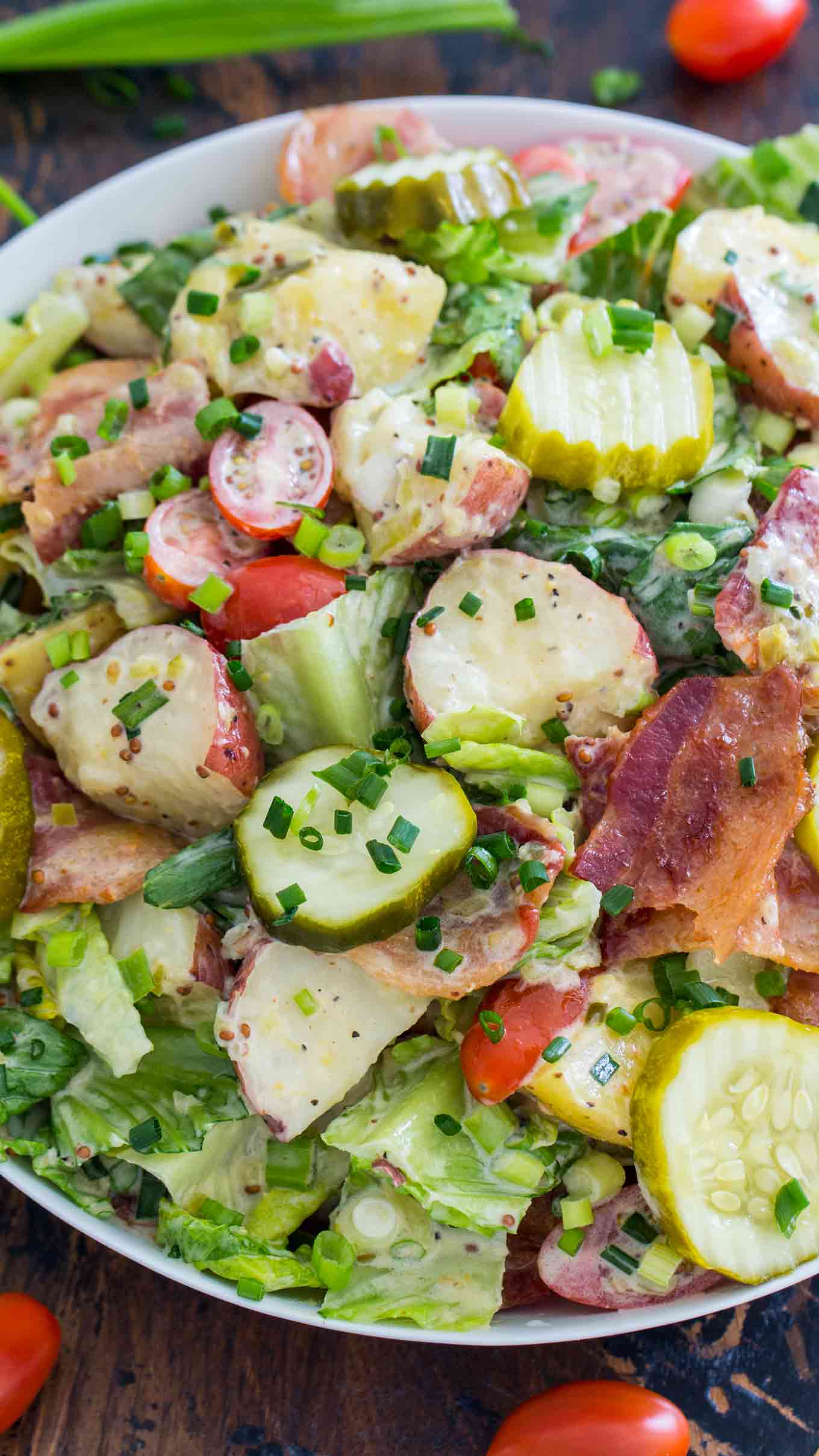 How do you keep potatoes from turning brown/black?
When slicing preferably use a steel knife as some blades have iron in them and till will turn the potato black quicker.
Cover the cut raw potatoes with water by 1 inch to stop them from turning brown. You can prepare them the night before and still have creamy white potatoes the next day.
If you missed to follow these tips and your potatoes turned brown and you are wondering if they are still safe to cook, I have good news: you didn't waste a good batch of potatoes, you can still cook them, they are safe to consume.
How to make BLT Potato Salad?
For a short recipe tutorial, watch the recipe video attached below. The general steps are as follows:
Boil the potatoes: In a pan, boil the potatoes until soft and cooked. You can cut them into about 1-inc pieces, or boil whole. Set aside.
Prepare the bacon: In a skillet, over medium-high heat, cook the bacon until crisp and evenly browned. Then, drain, and set aside.
Make the dressing: Combine the dressing ingredients in a bowl, and whisk together till properly combined.
Assemble the dish: Lastly, c

ombine potatoes, lettuce, tomatoes, bacon, and the rest of the ingredients in a large salad bowl. Toss with dressing, and serve immediately.
What happens when you soak raw potatoes in the water?
Soaking peeled potatoes in cold water overnight removes excess potato starch, which in case you are making fries, will prevent them from sticking together and helps achieve maximum crispness.
It's also good to soak sliced potatoes in cold water for a few hours before you roast them if you want to get really crispy oven-roasted potatoes.
Can you make this BLT Potato Salad ahead of time?
Yes, you can, follow the tips below:
Toss together everything but: Bacon, Lettuce, Tomatoes, Chive, and Green Onions.
When ready to serve, gently fold in the remaining ingredients. Serve immediately.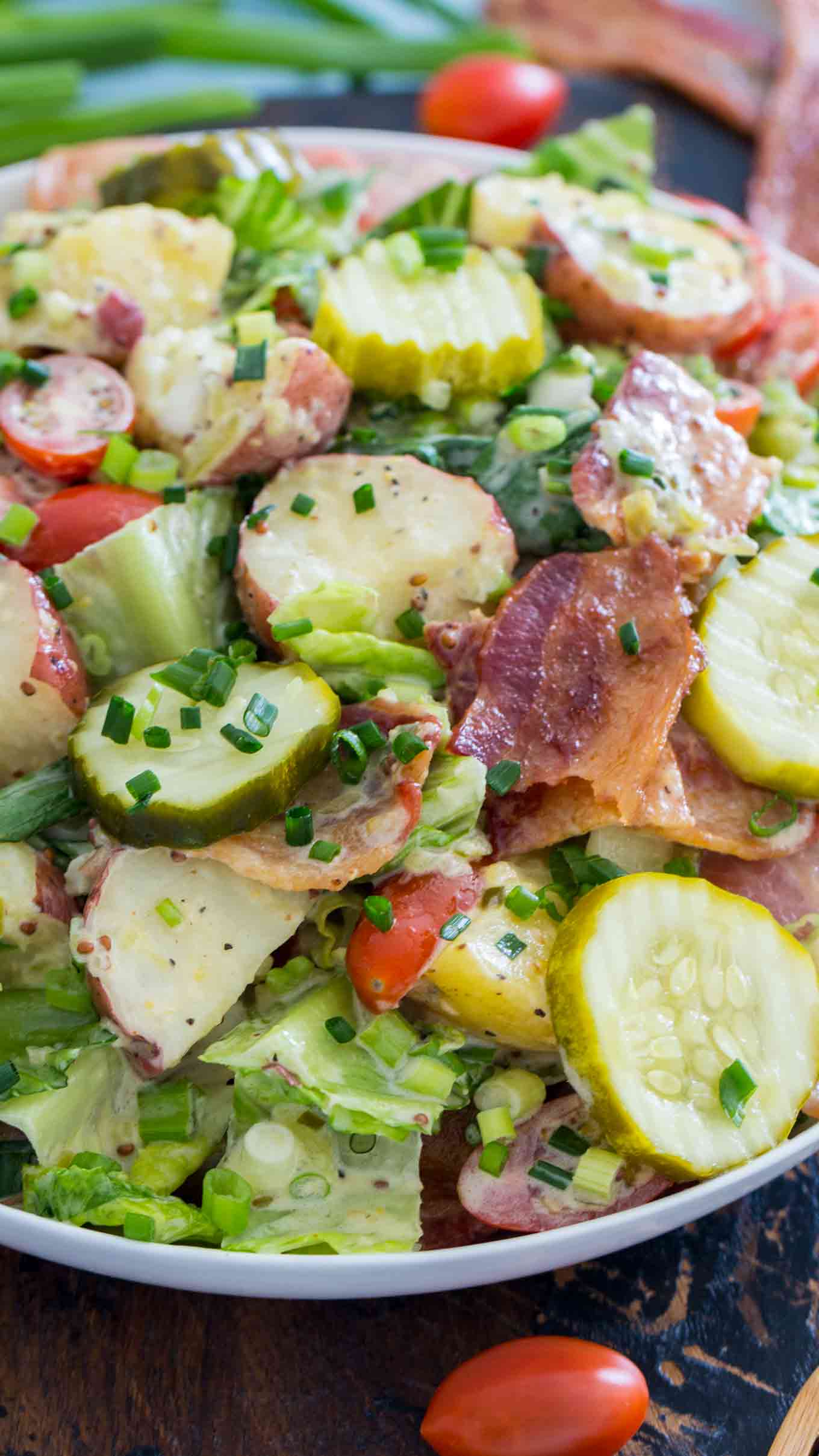 Recipe Tips:
You can use your favorite potatoes in this recipe, but if you are looking for the potatoes to hold their shape well, the best choice would be Yukon Gold potatoes. They are known for their creamy, buttery texture and for holding their shape well.
Also, I prefer using Romaine lettuce in this recipe, it will hold its shape better than other lettuce types and it also adds a nice crunch.
I definitely recommend using sweet cherry tomatoes, as they also hold their shape better and will not add extra liquid to the salad, or turn mushy, which is never a good thing.
Similarly, you could add lots of crispy bacon. Also, the chives and green onions add a nice fresh flavor, if possible don't skip them.
A trick that I like to use when making potato salad is either buying organic potatoes, wash them well and boil with the skin on. If you like the texture and taste of potatoes with skin on, you don't have to peel them!
Another trick that is great to save some time: I like buying potatoes in a bag that is ready to steam IN THE BAG, which means they are pre-washed and all you have to do is microwave the bag of potatoes for 9 minutes, wait for them to cool and slice! This way you don't have to wash and boil potatoes! Winner, winner!
In addition, don't skip the pickle relish in the dressing and the vinegar, it adds such a nice sweet and tangy flavor.
If you want to make the recipe healthier, you can use whole milk plain Greek yogurt instead of mayo.
This recipe can also be done without the bacon, for a vegetarian option.
Watch recipe video: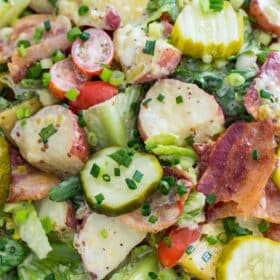 BLT Potato Salad
BLT Potato Salad is the perfect potluck recipe, creamy, tasty, loaded with flavors and textures. Expect tender potatoes, juicy tomatoes and lots of bacon.
Save
Share
Print
Pin
Rate
Ingredients
Potatoes:
2 1/2

pounds

Yukon Gold potatoes or Tri-Color potatoes

(washed, peeled and cut into 1 inch pieces*)

1

tablespoon

salt

1

tablespoon

white vinegar
Other Ingredients:
12

slices

thick cut bacon

(cut into 1 inch pieces)

1

romaine lettuce heart

(cut into 1 inch pieces)

2

cups

cherry tomatoes

(halved)

6

scallions

(thinly chopped)

1/4

cup

chives

(chopped)
Dressing:
3/4

cup

mayo

2

tablespoons

olive oil

2

tablespoon

stone ground mustard

3

tablespoons

white vinegar

2

tablespoons

dill pickle relish

1/2

teaspoon

kosher salt

1/2

teaspoon

ground black pepper
Garnish:
Pickle slices

(optional)

More chopped chives

More chopped green onions
Instructions
Potatoes:
Wash and scrub potatoes well, cut into 1 inch pieces. Place in a large sauce pan and cover with water by 1 inch.

Add 1 tablespoon of salt and bring to boil over medium-high heat. Once boiling, reduce heat to medium-low and simmer for about 12-15 minutes or until tender. Careful not to over-cook, start checking early for doneness.

Drain and transfer potatoes to a large bowl. Gently toss with 1 tablespoon of vinegar and set aside to cool.
Cook Bacon:
In the meantime, place a large non-stick skillet over medium heat, once the skillet is hot add the bacon (no need to add oil, the bacon will release its own grease), cook over medium heat for about 5-6 minutes or until crispy. If needed cook the bacon in batches, you don't want the pieces to overlap much in the skillet, as they won't get crispy. Transfer to a paper towel lined plate and set aside.
Dressing:
In a small bowl, whisk together: mayo, olive oil, mustard, white vinegar, pickle relish, salt and pepper until fully combined. Taste for salt and pepper.
Combine:
Add chopped lettuce, sliced tomatoes, chopped chives, chopped green onions and bacon to the bowl with potatoes.

Pour the dressing over the ingredients, gently toss to combine.

If desired garnish with pickle slices, extra chives and green onions.

Serve and enjoy!
Notes
You can use my tip and buy potatoes that can be steamed in bag in the microwave to save time.
Nutrition
Serving:
0
g
|
Calories:
665
kcal
|
Carbohydrates:
29
g
|
Protein:
15
g
|
Fat:
54
g
|
Saturated Fat:
13
g
|
Cholesterol:
59
mg
|
Sodium:
2149
mg
|
Potassium:
1082
mg
|
Fiber:
5
g
|
Sugar:
2
g
|
Vitamin A:
885
IU
|
Vitamin C:
36.3
mg
|
Calcium:
80
mg
|
Iron:
7.2
mg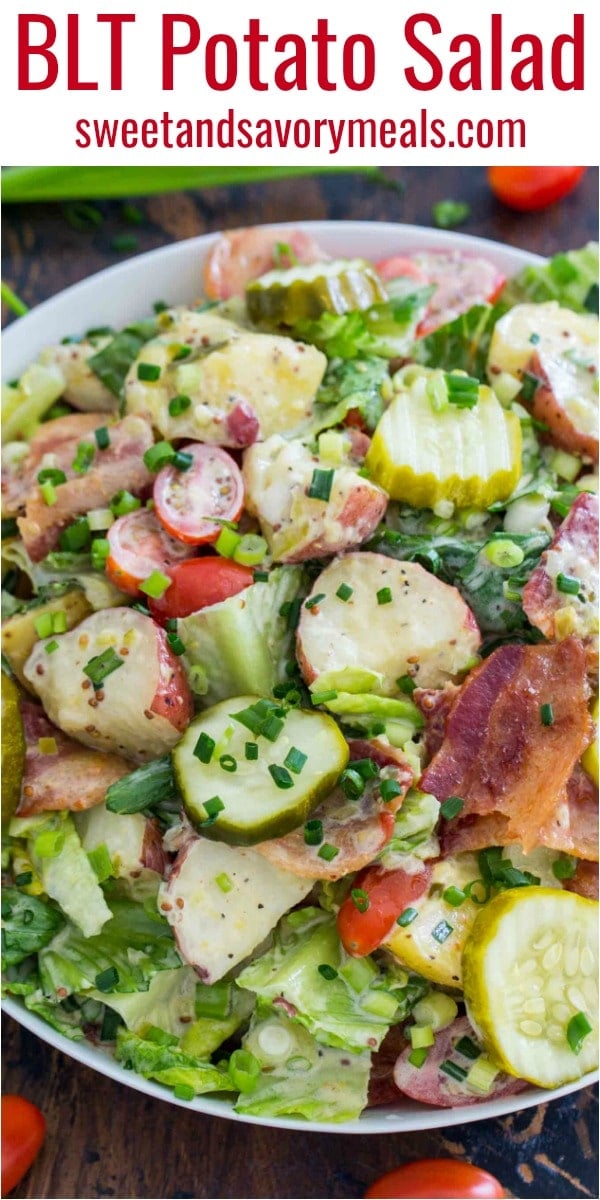 More recipes you might love