Baked Chicken Parmesan [video]
Last updated on June 18th, 2021 at 07:18 pm
Baked Chicken Parmesan is the best healthy alternative to a fried meal. It is easy to prepare, resulting in tender, juicy and flavorful meat. This recipe is great for dinner especially, it will keep your belly full and your heart happy. Another benefit to this meal is that it will stay nice and moist when it comes out of the oven.
This homemade dish is truly one of a kind. It is hearty and flavorful, and the best part is that it goes well with many side dishes. You can pair it with Crispy Roasted Rosemary Potatoes, Roasted Brussels Sprouts, or simply with some rice.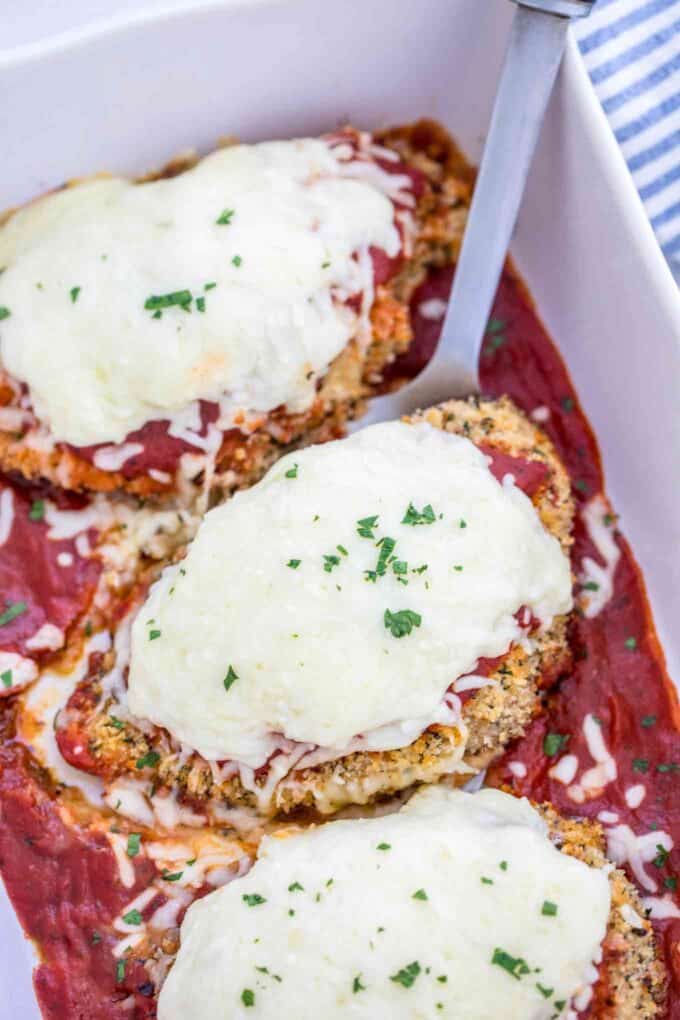 Easy Baked Chicken Parmesan
Baked Chicken Parmesan (also called Chicken Parmigiana) is one of the most ordered and tasty dishes there are. Every time I bake it, it comes out just perfectly tender, with a rich and flavorful aroma. The sauce and melted mozzarella cheese are what makes this recipe stand out. I love how the mozzarella cheese drapes over the chicken and how the marinara sauce compliments it so well. This delicious dish is simple to make and worth every minute invested in it.
Serve it with pasta or potatoes, and a side salad and your dinner party will be the talk of the week. The melted mozzarella on the top adds just the right amount of cheesiness making it melt in your mouth. This is the best-baked chicken parmesan recipe you can get, and it tastes even better if topped with some fresh basil.
It is the right meal for any time of the year. Additionally, it is much healthier and tastier than anything fried. So get your friends and your family ready for an easy and delicious meal.
Is there a difference between Chicken Parmesan and Chicken Parmigiana?
Both words are used interchangeably, which means they are the same. There might be some variations of this dish based on where you eat it since every restaurant is catering based on its own taste.
Some might top this dish with bacon, or use a different type of cheese instead of mozzarella. But at the end of the day, they are essentially the same dish.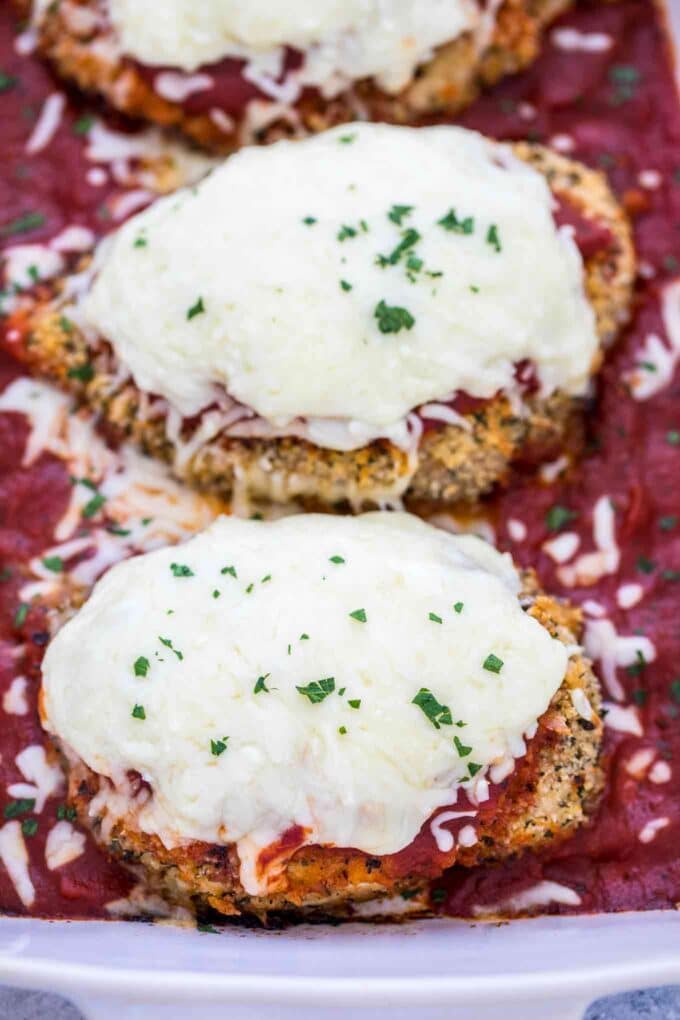 Is chicken parmesan gluten free?
Since this dish uses bread crumbs, it might not be gluten-free. However, this is easily fixed, if you simply replace the regular bread crumbs with a gluten-free version. The best bet would be to use almond-based flour.
How do you flatten chicken?
Take a knife and cut one side of the chicken almost in half.
Make sure the chicken breast is lying flat and cover it in plastic wrap.
Take a flat meat mallet or rolling pin and pound the meat lightly to a 1/4th-inch thickness.
How long do you bake Chicken Parmesan?
For perfectly tender and juicy meat, follow the steps below:
Heat the oven to 425°F.
Next, place the chicken breast on a cutting board and cut it lengthwise. This step will ensure quicker cooking time and also make it absorb the flavors better.
Brush some melted butter (or olive oil) onto the meat before covering in the bread crumbs, to ensure extra crispiness.
Cook for 25 minutes, then remove from oven and spoon 1 tbsp tomato sauce over each piece of chicken and top each with about 1.5 tbsp of shredded mozzarella cheese.
Sprinkle with basil or parsley.
Bake for additional 5 more minutes or until cheese is melted.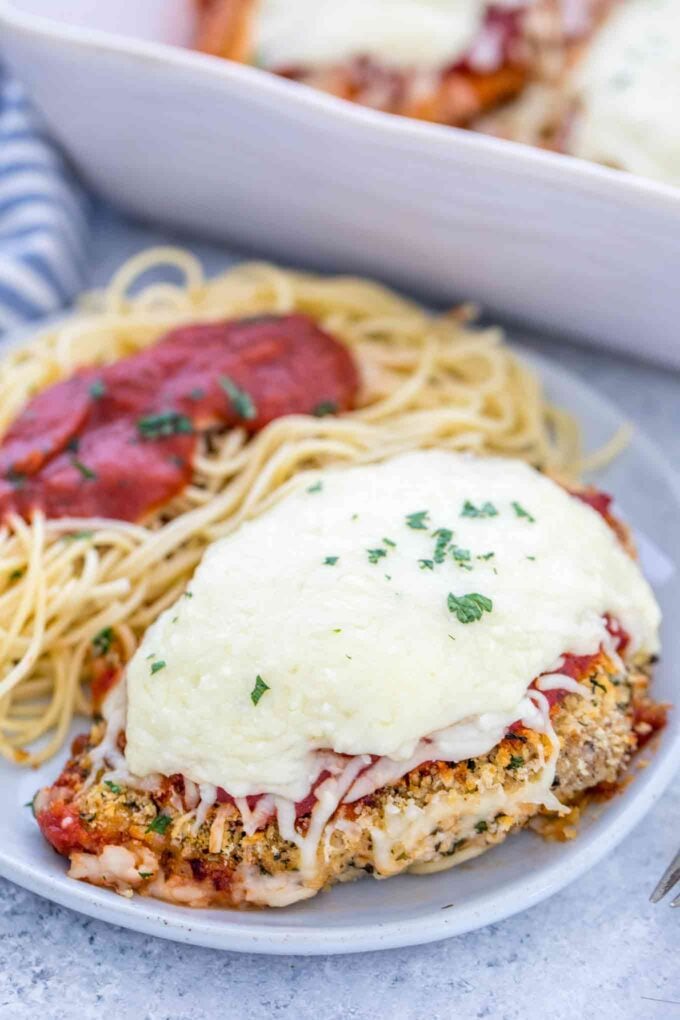 What is the temperature that chicken should be cooked to?
The internal temperature of the chicken should always be cooked to 165 degrees F to ensure there is no pinkness. Check it with a thermometer to make sure the temperature is right. A small tip would be to check on the meat about 5 minutes prior to readiness. If the temperature of it is about 160 degrees F, you could remove it from the oven and let it rest for about 5-10 minutes.
While resting, the meat's internal temperature will keep rising, and it will reach the desired 165 degrees F mark. This way you know for sure the meat is perfectly moist and tender, rather than being dry.
How can Baked Chicken Parmesan be frozen?
This dish is simple to freeze with minimal effort. Just transfer the meat into an airtight container, and freeze for up to 3-6 months. It's great to keep in your freezer and bring it back whenever you deem fit.
The flavor still holds when you reheat it either in the oven or in the microwave. It is better to reheat it in the oven because that way the meat can be nice and crispy.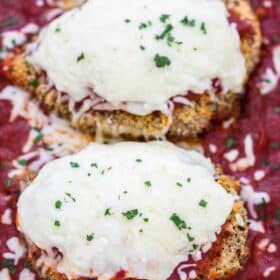 Baked Chicken Parmesan
Baked Chicken Parmesan is the best healthy alternative to a fried meal. It is easy to prepare, resulting in tender, juicy and flavorful meat.
Save
Share
Print
Pin
Rate
Ingredients
3

medium-large

skinless/boneless chicken breasts

(sliced into cutlets or use smaller chicken breasts)

Vegetable cooking spray
Chicken Crust:
1

cup

panko bread crumbs

1/2

cup

regular bread crumbs

1/2

cup

finely grated Parmesan cheese

1

teaspoon

salt

1/2

teaspoon

ground black pepper

1 1/2

teaspoons

garlic powder

1

teaspoon

onion powder

1/4

teaspoon

pepper flakes

1

teaspoon

dried Italian seasoning

1

teaspoon

dried basil

1

teaspoon

dried parsley flakes
Dip Mix:
1

large egg

1/2

cup

buttermilk
Topping:
1

cup

marinara sauce

1

cup

mozzarella cheese

(shredded)

Fresh chopped parsley
Instructions
Preheat oven to 425 degrees F.

Lightly grease a large baking dish with cooking spray and set aside. If desired, for extra crispiness to bake the chicken you can place a cooling rack inside a baking dish.

In a large shallow bowl, combine all the "Chicken Crust" ingredients.

In another bowl, whisk the egg and buttermilk.

Place chicken cutlets on a cutting board and using a flat meat mallet or rolling pin, pound it to flatten it.

Take each chicken cutlet and dip it into the egg mixture, shake to drain and roll it into the bread crumbs mixture. Cover it very well in bread crumbs. Place the chicken into the prepared baking dish (or onto the cooling rack).

Spray the top of each chicken cutlet with vegetable oil spray and bake it in the oven for 15-20 minutes, it should look golden brown and crispy.

Top each chicken cutlet with a few tablespoons of marinara sauce, add the rest to the baking dish. Top each cutlet with some shredded mozzarella cheese.

Return to the oven and bake for another 5-10 minutes, until the cheese is melted.

Garnish with freshly chopped parsley and serve.
Nutrition
Calories:
216
kcal
|
Carbohydrates:
19
g
|
Protein:
21
g
|
Fat:
5
g
|
Saturated Fat:
2
g
|
Cholesterol:
62
mg
|
Sodium:
1082
mg
|
Potassium:
380
mg
|
Fiber:
2
g
|
Sugar:
4
g
|
Vitamin A:
445
IU
|
Vitamin C:
3.3
mg
|
Calcium:
351
mg
|
Iron:
2
mg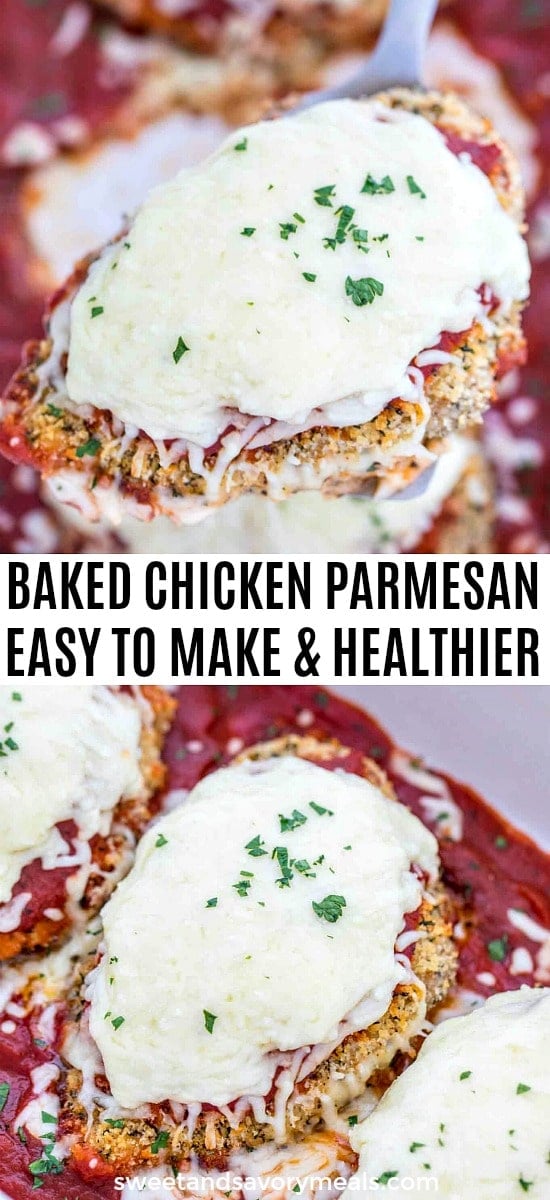 More recipes you might love