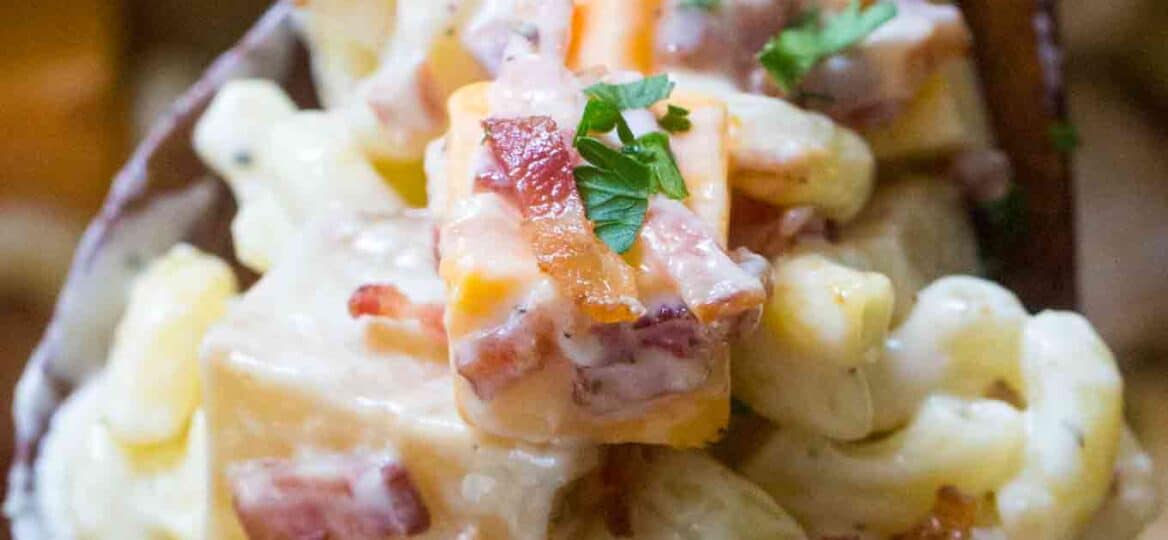 Loaded Baked Potato Salad
Loaded Baked Potato Salad is the perfect meal to bring to a potluck or to make for a party! Delicious, packed with baked potatoes, cheese and bacon!
This salad can be perfectly used as a party food. Like The Ultimate Cheese Ball, Million Dollar Dip and Meatball Hand Pies, this Potato Salad will be perfect to feed the crowd.
Loaded Baked Potato Salad
Loaded Baked Potato Salad is probably salad goals. I mean, we all know that lettuce and green stuff is good for you. Don't get me wrong, I love my green stuff. A salad a day keeps the doctor away. I love my green juices and smoothies, but I also love my loaded baked potatoes and I love pasta. I really love pasta, oh and bacon, never ever underestimate the power of crispy, perfectly cooked bacon. Hence, this Loaded Baked Potato Salad is goals! This is the type of meal you can bring to any potluck and become a star. You can bring it to parties, and you will make new friends instantly. This salad is good!!!! Here is one easy way for you to make baked potatoes in the slow cooker!
Pin This Loaded Baked Potato Salad Recipe to your Favorite Board
Loaded Baked Potato Salad Recipe Tips
Firstly, don't over bake your potatoes. If you have some over baked potatoes on hand, make smashed potatoes instead. They will crumble and make for a messy salad.
Also, you don't need to peel the potatoes if you are using organic potatoes. Just make sure to wash and scrub them well before baking.
If you have time to plan ahead, you can use my recipe for Slow Cooker Baked Potatoes.
You can use any dressing you want. I especially love this recipe with either Blue Cheese or Ranch salad dressing.
In addition, to save time you can buy cubed cheddar cheese. Provolone cheese is also great in this recipe.
Same applies to pre-cooked bacon.
The salad can be stored in the fridge in an air tight container for 2-3 days.