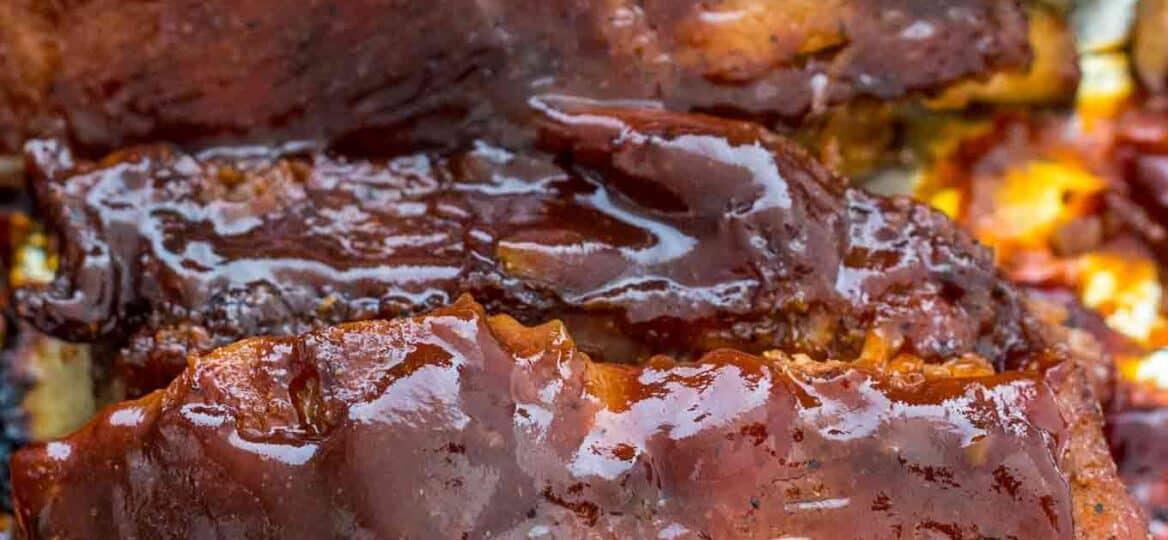 Oven Barbecue Ribs [Video]
Oven Barbecue Ribs are juicy, super flavorful, and fall off the bone tender. Coated with easy to make dry rub first, then seasoned with barbeque sauce mixture, making them irresistible. If you look for the perfect ribs recipe, look no further, this is as good as it gets! Watch step by step recipe video below.
We love cooking them slowly, which makes them so flavorful and melt in your mouth. They are delicious just as but try mixing them up with Corn on the Cob or Crispy Roasted Rosemary Potatoes.
Roasted Barbecue Ribs Recipe
Oven Barbecue Ribs are probably one of the easiest homemade dishes you can make. Many people might have the impression that ribs are complicated to cook and require some skills to perfect them. But this is not true. With this recipe, you can see how simple and little work is required.
All you need is 10 minutes of your time, the rest will be done by your oven. You can sit back and relax while the BBQ pork aromas fill your house. They turn out super juicy and incredibly flavorful.
You can enjoy them to host a party, during game day, or simply on a regular day. They are welcomed at any time in our house! Similarly, if you are in a rush, you might want to try making them in the Instant Pot. You can find the recipe with video steps here.
Follow us on Pinterest for more delicious recipes!
Do you remove the membrane of the baby back ribs?
As a general rule, we like to remove the thin membrane covering the rack. It is just easier to eat them without the membrane, and it can also be a bit tough when cooked with it on. Similarly, removing the skin off the rack will result in fall-off-the-bone meat, which is what we always love.
How to remove the membrane from the rack?
To remove it, turn ribs over with bone facing up. Then, use a knife to gently slide under the membrane, and using your fingers pull the membrane away from the bones. To make it easier, use a sheet of paper towel to hold onto the membrane. Then simply pull and the skin should peel off. This will result in
HOW TO MAKE THE DRY-RUB FOR THE RIBS?
The dry rub is essential to have flavorful ribs, as it truly adds richness to them. We love our homemade dry-rub, and over the years we have perfected it well. It has the right balance when it comes to sweet and spicy. Similarly, it has a hint of cinnamon and some spiciness that just adds another layer of awesomeness. Here is what you need for the mix:
Smoked Paprika – try not to replace with regular paprika, the smoked version is what adds great flavor
Cayenne Pepper Powder – use based on your preference on how spicy you want them
Red Pepper Flakes
Brown Sugar – to balance the heat from the pepper
Cinnamon – a little goes a long way, but this addition will add some depth of flavor
Dill Seeds – both crushed or whole work well here
How to cook Oven Barbecue Ribs?
PREPARE RIBS
Heat oven to 300 degrees F.
Prepare ribs as mentioned above, by removing the membrane, then pat them dry with a sheet of paper towel.
Season both sides of the ribs with the dry-rub mixture as per the above instructions.
Then place, meat-side up, into a large roasting pan.
Cover tightly with aluminum foil, and then bake for about 2.5-3 hours, until very tender.
Next, brush them with our homemade barbecue sauce mixture (see below).
Lastly, broil for additional 3-5 minutes to get them a crispy and perfect brown color.
MAKE BARBECUE SAUCE MIXTURE
While the ribs bake, make the barbecue sauce. You can use store-bought sauce, but we recommend trying this recipe, is finger-licking good!
Ingredients:
1 cup brown sugar
1 1/2 cups ketchup preferably no sugar added
1/4 cup red wine vinegar
1/4 cup water
1 tablespoon Worcestershire sauce
2 tablespoons dry mustard powder
1 tablespoon paprika or smoked paprika
2 teaspoons salt
1 teaspoon black pepper
1/4 cup sweet chili pepper sauce or more
Simply, add all the ingredients to a blender or food processor, and mix until smooth. Stir and set aside. It's that easy.
How to make ribs in the slow cooker?
Slow cooking the ribs is probably one of the easiest and best ways to cook them. It results in super flavorful, tender and moist ribs. You can check out the slow cooker ribs recipe here.
Instant Pot ribs:
Another way to cook them would be under pressure. The benefit of cooking them under pressure is that the cooking time is drastically reduced, and you end up with super tender and fall of the bone meat in less than 1 hour.
See this link on how to make the best homemade Instant Por ribs.
WHAT TO SERVE WITH Oven Barbecue Ribs?
This homemade dish is delicious just as is. However, it can be enjoyed with some side dishes, such as:
Oven Barbecue Ribs
Ingredients
Ribs:
4

pounds

baby back pork ribs

(about 2 racks)
Rub Mixture:
1/4

cup

brown sugar

1

tablespoon

dry mustard

2

tablespoons

smoked paprika

1

tablespoon

onion powder

1

tablespoon

garlic powder

1

teaspoon

ground black pepper

2

teaspoons

salt

1/2

teaspoon

cayenne pepper

1/2

teaspoon

cinnamon

1/4

teaspoon

red pepper flakes

1

teaspoon

dill seeds
Barbeque Sauce:
1

cup

brown sugar

1 1/2

cups

ketchup

preferably no sugar added

1/4

cup

red wine vinegar

1/4

cup

water

1

tablespoon

Worcestershire sauce

1

tablespoon

liquid smoke

2

tablespoons

dry mustard powder

1

tablespoon

paprika

or smoked paprika

1

teaspoons

salt

1

teaspoon

black pepper

1/4

cup

sweet chili pepper sauce

or more
Instructions
Preheat oven to 300°F (150°C).

Remove the membrane that covers the back side of the ribs. Then pat them dry with a sheet of paper towel.

Combine together the rub mixture, and mix together until combined.

Season and rub both sides with the homemade dry-rub mixture.

Place on a baking sheet (meat side up) or tray lined with foil.

Cover the tray with foil and bake for about 2.5-3 hours, until very tender.

During the last 5 minutes of cook time, mix together the barbeque sauce ingredients.

Remove ribs from the oven, uncover the foil and brush them generously with the barbecue sauce mixture.

Lastly, set the oven to broil, and bake them uncovered for an additional 5 to 10 minutes.

Enjoy!